The Third Wheel Band headlined Rodeo Bar last night. Beyond a normal headlining show, it was their CD Release (2nd one) for Family Album.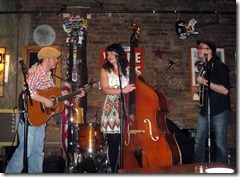 Eleven months ago we accidentally caught half of their set at Rockwood Music Hall. Well, hearing even one note was accidental, catching half the set was because we couldn't tear ourselves away, even though we had to leave! I wrote about that experience.
The intro from that post was as true last night as it was last year:
The Third Wheel Band was a complete joy to listen to from their first note. In addition to playing and singing well, all three are charming on stage. There is a drummer listed on their website, but he wasn't there last night.
Near the bottom, I wrote:
I'm now following the band on Twitter, so we'll be sure to hear about upcoming shows and plan to catch one as soon as we can.
Amazingly, while we had a few close calls, we haven't been able to make a show until now. When I saw that their CD Release was in our neighborhood, I put it on the calendar as a can't move. Even though we had company staying with us, we told them that we were committed to this show.

A few words about the show, then about the CD, then about Rodeo Bar (first time I ordered food there).
We stayed for the first of at least two sets (I have no idea whether they repeated the set). The majority of the set was straight off the new CD (which is exactly what you'd expect at a CD Release show!). Every song was executed wonderfully. The set lasted roughly 70 minutes, long and satisfying!
The Third Wheel Band (TTWB) is a minimalistic Bluegrass band, quite classical in their delivery (read their interesting bio to see how they chose the band name!). What distinguishes them are crisp, tight vocals (individually and 3-part harmony) and excellent musicianship (all three). Also, they're having fun on stage, so it's hard not to have fun along with them in the audience.
Given that most Bluegrass bands play a ton of covers (even the biggies, like The Grascals, who we just saw this past Friday!), there are two things that make a band worth following around: 1) their delivery/execution, 2) their arrangements/sensibility. The point is that many of the songs you'll hear have been done by the greats (the original songwriters/performers and the best touring Bluegrass bands), so you can quickly tire of people who don't do justice to those songs.
Not to worry folks, TTWB can hold their own. The fact that they are locals is the bigger surprise, because there aren't all that many local Bluegrass or Country bands around these parts (I should have thrown in a them  or here somewhere in that phrase).

But, rather than play a ton of really classic Bluegrass tunes, TTWB took more traditional (in some cases downright ancient) Folk tunes and turned them into full-blown Bluegrass numbers. Specifically, on the CD (with most performed during the set we attended): Skip to My Lou, Down By the Riverside, You are My Sunshine, I've Been Working on the Railroad, Buffalo Gals and This Little Light of Mine.
The point is that none of those are sophisticated songs, with lyrics that you better think about long and hard, but they're classics which are ingrained in our culture (at least for those of us over 30) and TTWB's take on them is fun and fresh.
After the set we asked how many originals are on the new CD, and the person selling them said two. I've already listened to the CD and I really like it, but I didn't read the liner notes so I don't know which are theirs.
One more recap of the band, then some thoughts about Rodeo Bar.
Greg Barresi on acoustic guitar and vocals. Excellent on both. His guitar play is really tasty, flat-picking a variety of styles, often mixing chords with mini-leads within the chord. A lot of chord play that he slides up a fret quickly and smoothly. He sings really well, on the lead and harmony.
Step Allen on upright bass and vocals. Also excellent on both. I'm really impressed with her bass play. She's in constant motion, even when it's obvious she could fake it and play every fourth note and still deliver a solid bottom. She's fast, smooth and interesting. Her vocals are classic Bluegrass. She take the highs in the band, often really bright highs.
Ryan Langlois (again I can't find a good individual link) on mandolin, harmonica and vocals. Let's complete the trifecta and label Ryan as excellent on both (he's good on the harmonica too, but he won't rock your world). His mandolin play is quite interesting. He doesn't play traditional leads (at least not many), but he sneaks some very sweet leads in as part of his chord progressions. Whatever he's doing, it works. His vocals are wonderful whether he's singing lead or harmony.
There you have it. Our first chance encounter, followed by 11 months of being sure we wanted to see them again proved to be correct. We were both very happy to have caught last night's show and to have a chance to purchase the CD. We'll see them again, I'm sure!
Here's the set list. Now that I see it, I realize that the second set was likely going to have no repeats. That's very cool and I'm sure we would have enjoyed it just as much. Unfortunately, we've been burning the candle at both ends, and 10:30pm seemed like a reasonable time to head home (not that I got to sleep before midnight, though it would have been 2am if we had stayed…).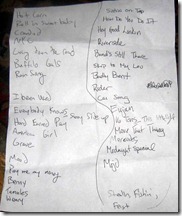 This was our second time at Rodeo Bar. It's way more convenient to our apartment than any other place we frequent, so we're likely to return somewhat regularly.
As we were walking in, the first person we spotted was none other than Chris Anderson. It turns out that he was playing the set before, with Josh Max and The Smash and Grab Band. I don't know if Chris was Smash, or Grab, but I'm sure he pleased the audience either way.
Chris mentioned that his folks were there as well. We went over to say hello and his mom told me she had the Catfish Tacos and enjoyed them. That helped me decide. I had them too, and I have to say, they were great. Thanks Robin!
I like the atmosphere at Rodeo Bar, I like the staff and I like the sound system. But, the first time we were there (for The Brain Cloud) the audience was quiet and respectful, so I assumed most shows would be like that. They have two rooms, so it's easy to avoid being on the music side.
Last night, the crowd (and it was quite a crowd) was super enthusiastic about TTWB's songs, after the fact, with very loud applause, but there was a ton of loud talking during the songs (including from a table of four women right up at the stage). I admit that upbeat Bluegrass music with familiar songs (where you don't have to concentrate on the lyrics) almost begs to treat it as background music, but these kids on stage are playing their hearts out (really well!) and I would wish they got more respect for their musicianship.
Anyway, since I've only been there twice, I can't judge whether this is more of a bar scene with background music, or whether this is more typically a listening crowd. I guess I'll find out, because I intend to go back (for the food, as well as the music).