Send to Kindle
Burlap to Cashmere headlined a set at Rockwood Music Hall Stage 2 last night. We only discovered them exactly one week earlier, when they played the Next Charity Concert Series at Paulies in Pleasantville, NY.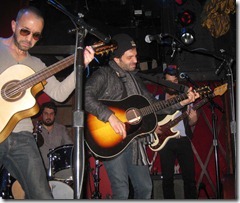 Since that was my first time seeing them, it doesn't make sense to repeat everything I said so recently, so if you don't know them, please read last week's post.
We were extremely excited to get a second helping of Burlap to Cashmere (B2C) so soon. There were some differences (as there usually are), and I'll mention those. First, just a quick recap of the players, one of whom accounted for one of the differences.
Steven Delopoulos on acoustic guitar and lead vocals. In the last post I noted that his voice is very special. Last night it hit me, on many songs, there's a Van Morrison quality to it that just hits my ears perfectly.
John Philippidis on acoustic guitar and harmony. Another outstanding performance on both the guitar (he's crazy good) and excellent vocals. That said, given our specific seats, right up at the stage but as far left as can be (I was actually looking at the keyboards from behind them!), John's guitar was the only instrument that was severely under-mic'ed. It might have sounded loud and proud elsewhere in Rockwood, but not at my seat.
On the other hand, we were just a few feet from him, and the neck of the guitar was in full view throughout (before the show, I was worried that we might be staring at his back), so I was easily able to match up the weak volume of the guitar with his flying fingers, enhancing the sound in my head.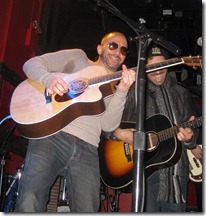 Theodore Pagano on drums. Another stellar performance.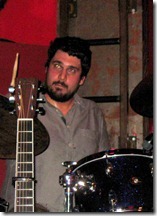 Chris Anderson on electric and upright bass and background vocals. Even though I couldn't see Chris from my seat, I could hear every single bass note on both the electric and the upright. Outstanding! Lois had an occasional view and also got up to get some photos of Chris.
Todd Caldwell on electronic keyboards and background vocals. Todd has been the regular keyboard player for B2C for the past year and half. We didn't get to see him last week because he was rehearsing for an upcoming tour with Crosby, Stills and Nash. He was back in the saddle last night, and all of one foot away from me. He was fantastic, as he's been every time we've seen him supporting Rebecca Haviland. He's more familiar and intimate with the B2C material and I found his performance to be an upgrade from the previous week.
So, in recapping the players, I highlighted the two most significant differences: 1) Johnny's guitar was way too low volume for me (and it's one of the biggest highlights of a B2C set) and 2) Todd Caldwell was a wonderful upgrade to the entire set.
In general, the sound at Paulies was way better. That night the system was brought in by BNK Productions. I noted that it was a system built for a larger place than Paulies, but they didn't blast us out, so the sound engineer knew what he was doing. They were kind enough to comment on the post (about The Callen Sisters, who opened for B2C that night), so I now know who they are.
It's quite possible (even probable) that it was purely my vantage point that caused the sound dropoff. On the other hand, I could hear the bass and keyboards perfectly, every note, so I just don't know.
Another difference was that we got to bring our godchildren along. When I posted last week, I heard from both of our goddaughters that they were each big fans of B2C before their long hiatus. It was fun to take one of them, with her husband, to see B2C all these years later. A few notes into one of the songs, before any of the vocals came on, she leaned over to me and said "That's the title track from their first album, Anybody Out There". Indeed, she was correct.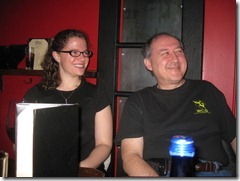 Finally, this was a shorter set than the week before. Rockwood 2 had an unusual lineup of back-to-back ticketed one-hour sets. Amazingly, they accomplished the turnover more cleanly than I would have guessed, but largely because the band that was on before B2C seemed to play an exceptionally short set (unless they started much earlier than the listed time).
I really enjoyed seeing B2C again, and sharing the experience with our godchildren, but given the guitar sound issues, and our particular vantage point (not seeing Chris at all, for example), made the set less magical than the week before. No matter, the next time they play anywhere that I can get to, you can bet we'll be there!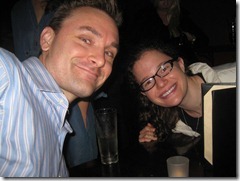 The set list was identical to last week, except that songs #1 and #10 are struck through, because of the shorter set. I wouldn't swear that they got through 11 songs either, but this is the best I can do.