Send to Kindle
Some days are perfect. Yesterday was one such day. It began with a long call with my mom. While relaxing in the apartment (catching up on the last two episodes of Blue Bloods [great show]), the doorman rang up to say that someone left us a package. A few minutes later, I was tasting some incredible fudge, with exactly the right amount of peanut butter flavor. Heavenly!
After that, we got in the car and headed to Philadelphia. Our good friend Wes moved there last year. For a while now (9+ months!) we've been hearing him rave about his lady-friend, Jacklyn. We've almost managed to meet her a couple of times, but our collective crazy schedules conspired against it.
When we noticed that Ian Axel and Chad Vaccarino were playing in Philly on May 8th, we immediately asked Wes and Jacklyn if they could join us for a leisurely dinner followed by the show. Thankfully, that worked for them, so we were finally going to get to meet Jacklyn. Getting to see Ian and Chad perform, well, no need to tell you how exciting that was for us as well.
The show was at North Star Bar. A quick scan of the menu coupled with the 5pm opening made that the perfect place to get together. I'll heap additional praise on North Star Bar (NSB) later on as well, but the most important compliment I can give them is their complete and straightforward FAQ. Perhaps it's because I'm old, but I like knowing what to expect (in advance) when going to a new venue. NSB delivered exactly the experience they said they would. Thanks!
I'll circle back to the dinner later, as most people clicking on this are coming to find out whether Ian and Chad were their usual awesome selves (spoiler alert: they were!), but for us, meeting Jacklyn was reason enough to make the ride to Philly worthwhile, so I'll wrap up with that and more on NSB in general.
Ian opened his set solo. This is from memory, so I could be reversing the song order: Leave Me Alone, Afterglow, Gone and Waltz. At each show, Ian seems to get a little more comfortable telling a story before playing a song. More, please! One of those stories preceded the final solo number, Say Something (this time on keyboards).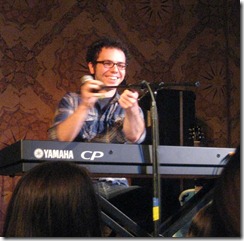 After Ian wrote Say Something (an emotionally draining song, which probably gives only the slightest hint as to how emotionally draining the inspiration had to be!), Ian didn't write another song for a year!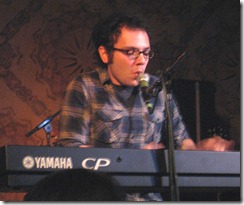 It seemed fitting that when he called Chad Vaccarino up to the stage the first song they sang together was also the first song they wrote (they co-write most of Ian's songs) after the year of Say Something was up, You'll Be OK. Of course, their performance was amazing.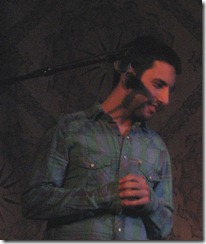 More important than the performance was the story/transition from despair to hopefulness. Obviously, Ian went through that same transition during that year, but he also conveys it in the songs so that we can have a glimpse of the journey. For those experiencing the emotions in their own lives (most of us have, are or will), it's much more personal than a glimpse.
Thankfully, Ian experienced it in the correct order and the songs were played in the correct order for us to be left more hopeful.

Ian then invited Julia Nunes up to the stage. Ian switched to the ukulele and the three of them (Ian, Chad and Julia) shared one microphone. They sang Pacific Sun, with Julia taking the second verse lead (Chad normally sings that verse) and all three singing harmony on the chorus.
Julia joined them for a new twist on Shorty Don't Wait (one of my favorite songs). Chad sang the lead (as he typically does). Julia took a verse and belted it out wonderfully in a gospel-like voice (can I get an Amen!). Ian also sang lead and all three harmonized together. I loved it, no hesitation or reservation. But, with no disrespect to Julia, I missed Mike Campbell's guitar playing and his harmony as well.
After Julia left the stage, Ian and Chad introduced two new songs: Rockstar and Golddigger. Wow! Both are fantastic songs. Add to that the as-yet unrecorded Shorty, You'll be OK (and an ancient, but still favorite of mine, Home), we're well on our way to another amazing CD. Let's get on it guys!

They closed their set with This is the New Year, always awesome.
We bought a ton of merch (they have brand new T-Shirts in great colors). Thankfully, they now travel with a Square reader so they can take credit cards on their iPhones. Whew!

You can see a few of the T-Shirts hanging on the wall over Chad's shoulder: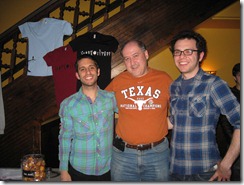 Talain Rayne opened the show on keyboards and vocals. Talain has a very nice voice and plays the keyboards well. His entire set (the music portion) was pleasant enough. Unfortunately, while I could understand every word when he spoke between the songs, it seemed like he added an accent of sorts when he sang, making many of the words hard to follow.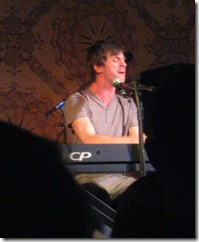 I found him to be quite funny between the songs, including plugging his phone into the PA system and calling his mom to wish her a Happy Mother's Day. Of course, he got her voicemail. All of us in the audience left a message for her. She called back during his last number and we got to say Happy Mother's Day to her live.
I might have preferred that his whole set be comedy though, since the transitions from the comedy to the music (and back) were a little jarring. I spoke to another audience member who had the opposite reaction. That person felt the transitions were jarring, but wished it was all music and no talk/comedy. In any event, Talain is talented and will likely hit his stride sooner rather than later.
After Ian was done, Julia Nunes took the stage. While we were saying goodbye to Ian and Chad, we caught all of her first number, Maybe I Will. It's an echo song (call/answer) and the crowd was totally into it, singing their hearts out with her. Nicely done!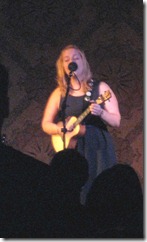 Unfortunately, we left as she started her second song because our garage closes at midnight. We made it back at 11:45pm, so we didn't have much wiggle room and were thankful that there was significantly less traffic coming home than heading to Philly earlier in the day.
OK, rolling the clock back to 5pm. All four of us arrived minutes before NSB opened the front door. Lois, Wes and Jacklyn went in when the door opened and I went to our car to put away something that Wes gave me.
We like to surprise musicians that we're friendly with when they play out of town (and therefore have no expectation of seeing us there). That didn't work out last night. As I was closing the car door, I heard my name shouted out. I looked around and saw Ian in the passenger seat of their car, driving down the side street next to NSB. Oh well, cover blown early.

We got to spend over two hours getting to know Jacklyn (a bit). We love her and completely understand why Wes has been raving about her for so long. We swapped life stories over beer (well, Lois had club soda, which looked like clear beer).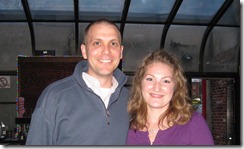 The food at NSB is excellent. I believe it was the owner who told us that he convinced the chef to join him when he (the chef) got tired of working at 4-star restaurants (with all that entails).
This is the opposite. The kitchen is tiny (I was led to believe that it's a solo effort by the chef). The food comes out slowly (as their FAQ states!), because it's all freshly prepared, by one person, in a tiny space. But, the man is truly a master, so get there early, enjoy the company of your friends (like we did!) and then enjoy some great cooking.
Don't be frightened by the next photo. This is not available on the menu, so no one will force you to eat a portion this size. This plate was sitting in front of the owner. Lois took the photo from a few tables away (which is why it's fuzzy). He explained to us that one of the perks of convincing the chef to come over was getting this kind of treatment for whatever special dish the chef chooses to make for him each day.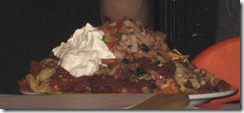 The draft beer selection was large. I had Tiger Beer (highly aromatic with a citrus smell and taste). Aside from draft Smithwick's (pronounced Smiddicks) in Ireland, this is probably my favorite beer (they're so different, let's just call it a tie!). Between 5-7pm each day, beer is 1/2 price. What a deal, you can't go wrong there.
The bartender, waiter and presumed owner (presumed by me) were all funny, helpful and good at their jobs. Even though it's a standing only venue for the show (we sat for dinner), we would return to NSB in a heartbeat to see another show. If we lived in Philly, we'd hang out there for drinks and dinner regardless of the show.
Like I said, a perfect day! Now to create another one today (my goal for every day!)…