Send to Kindle
Matthew Morrison headlined The Beacon Theatre last night. That's a very big deal for a lot of people (I mean his fans). We wouldn't have noticed, except for the opener, Ian Axel (listed as a Special Guest on the marquee). We don't watch Glee, but I'm aware of how big a hit it is and how big a following it has and how beloved Matthew Morrison is to those fans.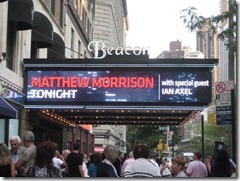 I normally cover the headliner first. The exception is when the headliner doesn't mention the opener. Since Matthew didn't even acknowledge that there was an act before his, let alone repeat his name, I get to cover Ian first (which I am happy to do).
(Apologies for the dearth of photos and the awful quality of the few I'm posting. Lois uses a compact, and we were much further back than usual. It was effectively useless…)
This is the second time in less than a week that we've seen Ian Axel open for a very big headliner. The two shows couldn't have been more different. Last Thursday was an outdoor, full-band show, with a possibly larger crowd (hard to tell, it was in a park), opening for Five For Fighting. Last night was mostly Ian (no band), acoustic.
One thing that was the same, fantastic sound systems and sound engineers at both shows, but the indoor acoustics at the Beacon wins hands down. We've seen Ian solo and with full band enough times that there were only a few surprises.
Ian opened the show with Waltz, which starts with a long-ish piano intro. Considering what an incredible pianist he is, it's a great way to introduce newcomers to his skill. On the other hand, I imagine that some people might have been thinking that they would be listening to classical music until Matthew hit the stage.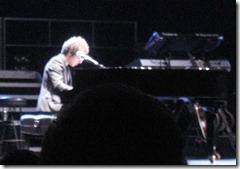 That feeling might have been exacerbated considering that Ian had a single musician accompanying him, the world-class cellist, Dave Eggar. I'll come back to Dave in a minute.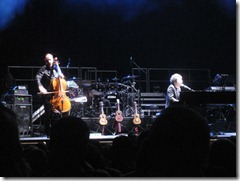 I still think Ian picked an excellent song to open with. The lights went down at exactly 7:30pm (the announced show time), which is awesome, but catches way too many people scrambling for their seats. The piano intro gives people something to latch on to aurally and just when they sit, bam, the singing starts.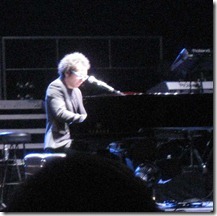 The vocals (for everyone, not just Ian) were so perfectly mic'ed with the volume set just right that on some level, it was like hearing Ian for the very first time (as in chills down the spine effect). Ian's voice is highly nuanced and really portrays (captures?) the emotional content of his songs.
Ian can captivate with just a piano, no problem, but I still prefer the full band sound, partially because he has a great band. Dave Eggar is such a great cellist (no matter the musical format) that having him alone replace a full band was quite interesting. He's not just playing mellow strings in the background. He creates percussive sounds (not quite mimicking a drum, but filling in that feeling), fills in bass lines, etc.
In other words, if you can't bring a band, bring Dave Eggar!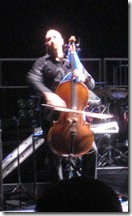 Ian then introduced the next song, Gone, and calmed the crowd down (in advance), lest they misunderstand the purpose of the song. If you listen to it, you'll understand why he feels the need. His intro worked, with the majority of the audience chuckling (appropriately). Dave accompanied Ian on Gone as well, then left the stage.
Ian switched gears and played Leave Me Alone! solo. Such a fun song, delivered perfectly. I was impressed that everyone seemed to be listening to the words (another advantage of great sound engineers and acoustics), because they laughed (hard) at the right places. It's funny on the CD, but Ian's live delivery adds a dimension that can't be captured without the visuals.
Ian asked the audience if they would sing along to the call/answer section, It Ain't Easy. Many did (I sang really loud, sorry to those around me who wished I didn't). People also clapped to the rhythm. Ironically, there is a special clapping part in that song, but to a cool beat, not just straight clapping. I don't blame those that came for Matthew for not knowing that, and I don't blame Ian's fans (me included) for not trying to confuse everyone by doing it right.

Ian then introduced his writing and singing partner, Chad Vaccarino. The two of them performed a very special version of one their newest (unrecorded) songs, Rockstar. This is another song that works perfectly with and without the band. Chad's voice is something that every music lover should experience, live, at least once. Now that I've heard him at the Beacon, I highly recommend that you hear him there.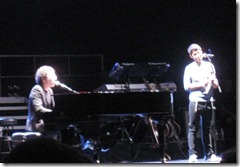 Like they did in Stamford (for the first time), they morphed the song into Elton John's Tiny Dancer. I might be mistaken (and probably am), but it seemed that they sang considerably more of the song last night, their voices blending beautifully together. Before finishing it, they morphed back into the end of Rockstar.
At this point I'll mention the only niggle about Ian's performance. He was playing on a baby grand. If I am correct, it was an electronic device, not an acoustic grand. Typically, Ian changes the pressure he applies on the keys (and pedals?) to create dramatic emotional shifts in the sound of the music, even when he plays alone.
Rockstar and Leave Me Alone! both have such shifts (typically). With a full band, the shifts are easier to create between the bass and drums, but Ian is very effective. Last night, either the nature of the "electronic" piano, or Ian's change in style, or something regarding sound leveling, no such shifts occurred. The volume and feel of the piano was constant throughout each song.
Ian and Chad closed their set with their signature hit, This is the New Year. Perfect.
It was an absolute treat, short though it was, to see them in such a gorgeous venue, supported by excellent sound engineering, playing to an attentive and appreciative crowd, made up mostly of strangers to their music!
On to the headliner, Matthew Morrison.
I understand that we had as little sense of what to expect of Matthew's set as most of the crowd had before Ian's. I also understand the there are big themes in the show Glee, that his (and the show's) fans would be disappointed if he didn't reproduce, or find a way to pay homage to, on stage. The point of this defensive intro is to say that I understand that there was context to his performance, this wasn't just a singer/songwriter coming on stage to share his music.
Ultimately though, Matthew Morrison is touring in support of a new, self-titled CD, that was released in May 2011. While it may instantly appeal to Glee fans, if he is to have real success in the music business, it better have much wider appeal than that.
The show started with a large screen dropping from the ceiling in the back of the stage. There was a short clip of Matthew driving a car, with Jane Lynch sitting in the passenger seat. The clip was extremely funny, well produced and delivered. I also happen to be a huge Jane Lynch fan (obviously having nothing to do with her role in Glee). That set a good tone for me.
When the lights came on, Matthew's band was already on stage. He came out in a tux (complete with bow-tie).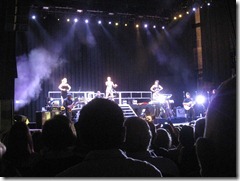 Before I describe the show (from my perspective, for his fans who will want to jump all over me), I'd like to list a few positive things (none of which I knew before):
Matthew Morrison has a fantastic voice. I was really impressed, across a wide range and many genres, it held up on every song.
He moves extremely well on stage (some would call it dancing, which he certainly did a bit of). He even did a split to end one number, so he's certainly more limber than I ever was.
He exudes warmth. I left with the impression that hanging out with him (as a person, not as a celebrity) would be a fun thing to do.
He's a reasonably good songwriter (more on that later).
His new CD is pretty good (more on that later as well).
The show was entertaining (which is not the same as saying it was a good or great concert).
His band is exceptional, each and every one, including the three backup singers.
To summarize, he's extremely talented. I didn't know that he was a Broadway star before yesterday, but I totally get it. He has the voice, he has the extremely fluid moves and he is clearly an actor.
All of the above feels like it's leading up to a but… It is, unfortunately.
But, the show felt like it belonged in Las Vegas. If he had sung Danke Shoen, the image would have been complete in everyone else's mind as well. This was more of a production than a concert. That's fine, many people (millions?) go to see these types of shows in Vegas (and elsewhere) all the time. But, he's promoting a CD, including original music, and I admit feeling completely lost at trying to reconcile the two.
What made it Vegas to me?
More covers than originals
Many covers were actually medleys (often alternating rather than sequential)
Anachronistic dancing (Gene Kelly-like moves to a Rap/Hip-Hop number?!?)
Costume changes (OK, a weak one)
He had a special guest (covered later), who also did a cover
There are probably more examples, but if the above don't give you the sense, we're just going to see it differently, which is fine with me (hopefully it's fine with you too!).
That's not the real problem I had with the show. I like entertainment for the sake of entertainment as well, even though, to repeat, Matthew is really pushing a CD, not a traveling show (I applaud touring in support of CD sales, so that's a positive, not a negative for me!).
For me, given the production, and the nature of the arrangements (even though played by outstanding musicians and sung by someone with a great voice), made the covers feel stale for the most part (a very few notable exceptions). In my head, the words rounded corners (yes, an oxymoron) kept repeating.
He/they were reproducing the originals without the same excitement, nor were they interpreting them in any interesting way. Hence, stale.
On the other hand, he performed at least four originals (perhaps more, I didn't know at least four songs). I really liked all of them, in particular the two singles, Summer Rain and Still Got Tonight! So, he can write songs that I like, but he chooses to play songs that don't differentiate him from anyone else. Oh well…
The real point is that he delivers his own material freshly. It doesn't feel manufactured. It's coming from within him. I know, it's fresh to me because I haven't heard it before, but that's not really it, it's the actual delivery that I'm talking about. Actors (on Broadway) deliver the same lines every day, sometimes for years on end. The great ones make them fresh to each audience, even when members in the audience have seen the exact show many times.
Matthew has been touring with New Kids on the Block and The Backstreet Boys. After mentioning that, he said that of the boy bands, he preferred 'N Sync. He started to sing one of their songs.
Halfway through, JC Chasez (of 'N Sync) walks onto the stage, microphone in hand, singing along with Matthew (and taking some verses himself). The crowd went nuts (well, most did).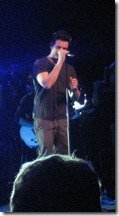 When the song was over, there was some loving exchanged between the two, then Matthew left the stage so that JC could sing a song without him. Above, I used the word manufactured. Here's one example. The last thing Matthew Morrison said as he walked off the stage was: "When I return, I better see you all standing on your feet!" (or something like: "I'll be surprised if you're not all standing on your feet when I return!"). The point being, if you're a fan of Matthew Morrison, you're going to stand, whether you were moved to or not, or you're letting your idol down.
JC gave a long (rambling) introduction before singing. He was self-deprecating (and got a really good laugh for it) when he interrupted himself and said: "This is why they don't usually let me talk into the microphone."

Then he started singing Don't Stop Believing by Journey. OK, great song (by any measure), and he and the band delivered it really well. But seriously, you get one song to sing, and you pick someone else's? Also, this was hardly a Rock Show. But, instantly (and dutifully), nearly everyone in the place stood up (for the entire song). We didn't, and for all I know, we might have been the only two people sitting during that (and one other) song.
Why did it feel odd to me, even though I love the song and thought they did a great job? Because there are a hundred Journey cover bands in the US (probably a dozen in NYC), most of whom can nail the sound (perhaps better than they did last night), and I can guarantee you that 80% of the people who stood and rocked out with JC last night, wouldn't put $5 in a tip jar for those bands, and certainly wouldn't stand throughout the song. They got to pay a heckuva lot more for the privilege of hearing covers last night.
OK, I could go on (an on), but I'll shift gears and wrap up.
First, another shout-out to the band and backup singers, they were really top-notch pros.
Kiley Dean singing and dancing. She was excellent all night, but when Matthew was finishing up a Soul number, he took the opportunity to introduce each of the backup singers and give them a few seconds of lead to show off their stuff. All were really good, but Kiley killed it, hitting some super high notes amazingly for a finishing flourish.
Kamilah Marshall singing and dancing. Everything I said about Kiley applies here as well, with the exception that she didn't quite push the mini-solo. She was otherwise completely outstanding throughout the set.
There was a male backup singer/dancer who also was excellent, though somewhat less highlighted than the ladies. I can't easily find his name, though Matthew Morrison definitely introduced him (I don't take notes, everything is from memory, augmented by searching the Net the next day).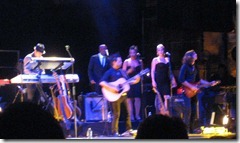 Likewise, he introduced his band, but I assumed I'd have no trouble finding them online. I am giving up, so I'll just briefly describe them without giving them the proper attribution. Left-to-right on the stage:
The bass player (electric) was fantastic. He also played a keyboard/synth on at least one number.
The drummer was incredible (playing a very large kit). For one of the medleys, he came to center stage and played the bongos. Everyone else left the stage and Matthew Sang with only the bongos accompanying him. I applaud the drummer's play on those as well (Matthew asked the lighting person to shine a spotlight on his fingers, which were flying).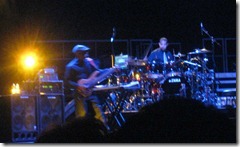 Unfortunately, that was also the lowlight of the evening for me. Matthew sang a medley from West Side Story. His voice? Perfect. The bongos? Perfect. Singing a medley from West Side Story, solo, with just a bit of percussion? Borderline ridiculous. (Not even up to Vegas standards!)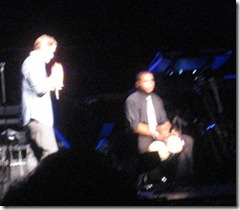 The keyboards player (L-shaped setup with an organ and electronic keyboards that sounded like a piano), was absolutely terrific and was highlighted on one number that he nailed.
Two guitar players. One alternated between an acoustic guitar on which he played rhythm and an electric on which he took a number of excellent leads. The other one played electric all night. He took a number of leads, but his volume was lower than the other guitar and it was a bit harder to pick out his skill level. Given how incredible everyone else was, I have little doubt that he's that good too!
On to the final positive thing, followed by the biggest negative one.
The point of the tour is to promote the CD. If the tour can make a profit, all the better, I'm sure. At those ticket prices, I would guess they accomplished the latter, but did they accomplish the former?
Well, thanks to Spotify, I actually listened to entire CD this morning (that never would have happened if I didn't see the show last night). Since Spotify pays royalties, I've already contributed an additional $.00000034 to Matthew Morrison beyond his take of the uber-expensive $180 (with fees) we paid for our two tickets to the show.
Here's my take on the CD:
I like it! I don't love it, and I'm unlikely to buy it, but I wouldn't swear to that. If any Matthew Morrison fan were to promote it to me, I would not look at them funny, or think they were weird.
I said above that I liked his original music, and that holds true for the CD version as well, so it's not a matter of only coming across well live. Two of the covers that he performed last night are also on the CD, but there they are actual collaborations with the original artists (Elton John and Sting). The songs came across stale/flat on stage, but are better (still not my choice of listening material) with Elton and Sting singing verses as well.
Last night he also sang Somewhere Over the Rainbow (one of our favorite songs). He did a nice job, nothing special. It's not the original arrangement, but rather one that I associate with Israel Kamakawiwo'ole, though perhaps he didn't originate it either. On the CD, it's a collaboration with Gwyneth Paltrow. It's fantastic. After listening to it, I took off the headphones and played it again out loud for Lois to enjoy with me.

So, here's what Matthew Morrison accomplished yesterday by having Ian Axel open for him:
He extracted $180 from my wallet, though he didn't get every penny of it personally
He impressed me with his incredible talents
He entertained (and annoyed) me
He got me to listen to his CD
He got me to promote his CD here
I will speak favorably about his CD to anyone who shows an interest
I will check out his future recordings, especially if they contain original music!
That's not a bad night's work if you ask me.
All of which brings me to a complaint that nearly everyone had (especially in the orchestra section), which had nothing to do with Matthew Morrison (though I'd like to believe that the headliner can and should affect these things!).
As with a number of other venues/shows, but worse last night than I've ever experienced, they continually shone bright lights directly into the audience. These were land airplanes in fog level brightness. Blind you level brightness. There is no reasonable explanation for doing this that I can dream up.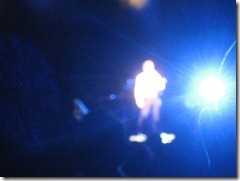 Even if you aren't sensitive, the light overwhelms (and therefore obscures) whatever section of the stage it's coming from at the time (yes, they rotate from all angles!). At the extreme, I can imagine it triggered some migraines! The only thing that could have made it worse would have been to strobe them. That would have surely set off epileptic attacks.
I'm not alone in my feeling. Lots of people around us were shielding their eyes and grimacing. Even on Matthew Morrison's site, there were comments this morning about how horrible the lighting was, questioning the purpose. Like I said, not his fault, unless they did it in rehearsals, in which case I can't imagine they would have done it had he asked them not to.
The best part of everyone standing up for two entire songs? We had human shields to protect our eyes, however brief that was…