Send to Kindle
Erik White headlined a show at Rockwood Music Hall yesterday. I've seen Erik three times before, always in the role of sideman. I had no idea what to expect. I would have gone anyway, on the strength of how I came to know about him to begin with, but when Chris Anderson told me that I would definitely enjoy the set, curiosity turned into anticipation.
Erik White was the original guitar player in The Greg Mayo Band. Greg is my favorite local guitarist, but in the band with his own name, he plays the keyboards exclusively. Considering Greg's talent on the guitar, it's simply not possible that he could have a weak guitar player in his band. Therefore, without even seeing Erik play, it was obvious that he's a talented guitar player.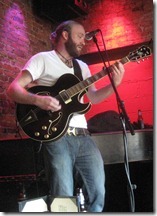 Erik is part of a band called The Brothers McCann. Lois caught of full set of theirs at Rockwood 2 recently. I was next door, but got over in time to catch the last three numbers. Yes, Erik was very good. That same night, he substituted for the current guitar player in The Greg Mayo Band, who was touring with another group. Yes again, Erik was very good.
The set yesterday was a trio. Erik finger-picked his electric guitar throughout. He sang beautifully. He opened the set with a cover (the only one), Ophelia by The Band. Chris sang harmony with him on that, but Erik sang solo on all of his originals.
Erik reminded us of Colin Hay in his vocals and even in some of his songwriting (lyrics and style). We love Colin Hay, so that's a good thing.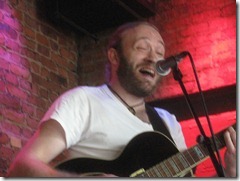 I would describe most of the songs as jazzy (the trio setup might have biased that) with a country tinge overlaid. There was one number that was a soft, but unmistakable southern rock sound. I don't have a set list, because Erik and Chris made it up as they went along.
Chris Anderson on upright bass (with and without bow). We've seen Chris so many times that even going back through my posts would make it hard to get an accurate count. He's nailed every performance. That said, I think I can say with reasonably surety that this was his best performance yet.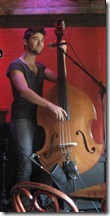 In addition to the trio bringing Chris' sound front-and-center, the jazzy guitar often called for the bass to be the lead/melody instrument, and Chris obliged perfectly. So glad I took Chris' advice to attend this show, even though he never said a word about him being such a focal part of it.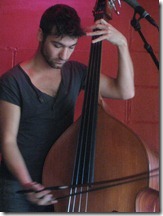 Kenny Shaw on drums. Kenny was solely responsible for layering the country feel on top of the jazzy sounds. His drumming is always superb, and with only three of them playing, needed to be extra sharp yesterday. He was.
Unfortunately, Erik lives in Boston, so he doesn't play in NYC as much as we'd like. We'll keep an eye out for other opportunities to catch him.