Send to Kindle
Our godson came to visit for a long weekend, with four of his friends. They arrived yesterday, early evening, landing 40 minutes early, and with the help of an enterprising driver (apparently, he confused the shoulder and exit ramps for the right lane a little too often) 😉 were able to get here an hour earlier than we expected. Yay!
Here's the obligatory welcome photo that all guests are required to pose for. 🙂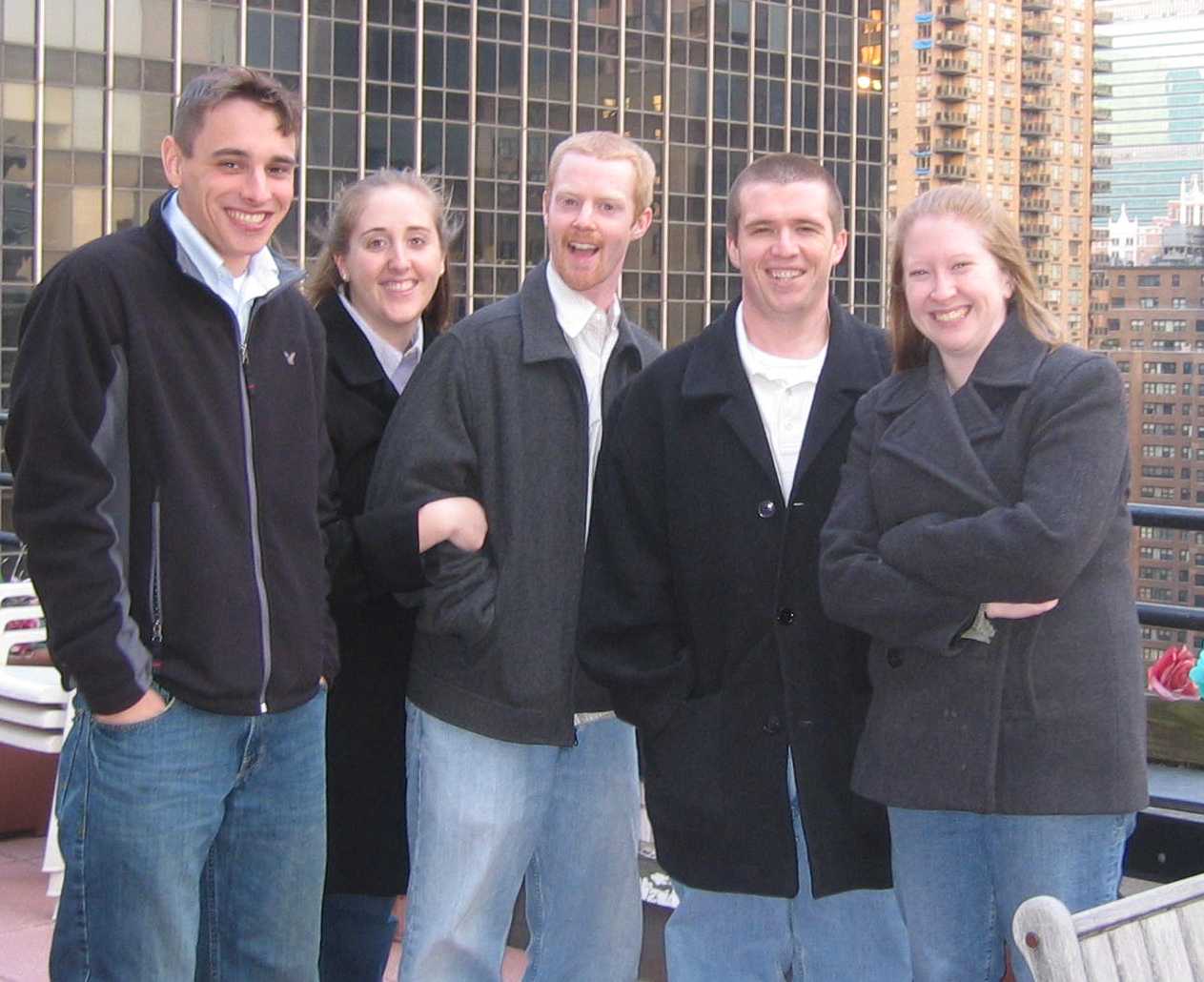 We have a number of fun activities planned, so there will be at least one posting a day recounting the one before. Since we thought that last night would start a little later, and that our guests might be a little travel weary, we only planned a nice dinner across the street at our favorite Mexican restaurant, El Rio Grande.
When they arrived earlier, in addition to moving up the reservation, we improvised an after-dinner plan to go to the Top Of The Rock (the observation decks on top of Rockefeller Center). Lois and I have never been up there, nor have we been to the Rainbow Room (a very high-end restaurant right below the observation decks), so we were interested in this activity as well. Our goddaughter told us that between Top Of The Rock (TotR) and the Empire State Building (she's been on top of both recently), she favors TotR.
We headed over to dinner, and had a great meal and great margaritas. We headed back to the apartment to grab some heavier clothing before braving the cold (but nice) weather outside. The seven of us were split between two apartments (the second one being temporarily empty awaiting our goddaughter and husband-to-be moving to NYC in short order).
As we were leaving our apartment, we stopped on the other floor, just to drop some leftovers in the fridge there. It's interesting how things are meant to be, because the guy with the leftovers was about to put them in our fridge, but I said "Hey, we can easily stop down and put them in yours on the way out."
Well, when we got down there, no one could unlock the door! The key turned easily, in both directions, but it wouldn't double-lock or unlock. After 45 degrees in either direction, it would just hit a wall, and not move any further. The doorman came up to use his spare set of keys, and couldn't get in either. He tried the trusty WD-40 to no avail. If I hadn't offered to use the second fridge, we wouldn't have discovered the problem until late last night.
What to do? Independently, one of the guests ended up not feeling too well after dinner. Since I was going upstairs anyway, she decided to skip TotR and rest on our couch. Lois decided to stay behind as well to take care of the lock. She ended up calling an emergency locksmith who showed up at 9:30pm to work on the problem.
In the meantime, the remaining five of us walked to Rockefeller Center, walking through the lovely Grand Central Station and MetLife buildings.
The elevator ride to the top is pretty cool. Very smooth and faster than expected. The ceiling of the elevator is transparent, and there are soft blue lights on each floor, making the ride up an enjoyable part of the experience.
At the top, there are three levels of decks. Different than the Empire State Building, there are no metal bars to interfere with your view. There are large glass/plastic panes that you can easily see through. Between the panes, there are a few inches of open space, so you can even take photos that aren't going through the glass.
On the top of the three levels, there is only one side that has any glass panes. It's significantly narrower than the other levels, making it safer (you can only fall two floors if you try really hard), so they remove the glass. Absolutely fantastic!
Here are two shots:
We spent some quality time on each of the three levels. I got a business call when we at the very top. Unfortunately, while my Sprint service is normally impeccable in NYC, it wasn't at TotR. I ended up dropping the other party twice, and he smartly gave up after that.
We walked down Fifth Avenue on the way home, and got in a little after 11pm. Lois was downstairs with the locksmith. I went down to keep her company. In a small world story twist, the locksmith was from the same tiny town that my mother was born and grew up in.
Anyway, since he was still there, more than 90 minutes after he arrived, clearly, the problem wasn't small. It took him nearly another hour to finish up. It wasn't until after midnight that Lois and I went back upstairs, and allowed our very sleepy guests to go back to the other apartment and sack out.
A good time was ultimately had by all, and a lock that was clearly going to fail sooner rather than later was replaced, before it locked out our goddaughter at an inopportune time, so another AWTEW story. 🙂