Send to Kindle
I've known for a few weeks that Candy Dulfer would be playing last night at BB King. As much as I like her music, I didn't purchase tickets in advance for two reasons: I thought we might be up at the house over the weekend and Lois isn't that big of a Jazz fan (yet).
When we went to see Dave Mason this past Friday at BB King and the show was canceled, we already knew we'd be in town over the weekend (all of this previously reported here and here). I asked Lois how she felt about coming back to see Candy and she was fine with that, so we bought two tickets on Friday.
I own each of Candy's first two studio CDs, Saxuality (released in 1990) and Sax-a-Go-Go (released in 1993). I got each of them when they first came out, so I've been a fan for a very long time. One of the reasons I don't own more of her stuff, and don't listen to either of those two CDs all that often, is that in addition to being a brilliant smooth jazz artist (which is my favorite form of jazz), she's also a world-class funky jazz artist (words and music), which is more of a mix of hip hop and rock.
Even on those early CDs, there's a mix, and I'm nuts about the smooth jazz pieces, but I found (in the past) the funky stuff a little too repetitive (not bad, just not as creative).
True to form, last night, Candy and band played both smooth jazz and funk. They were literally amazing at both. Seeing the funk done live is dramatically different than listening to it on a CD. It's fun (ahhhh, perhaps that's where the term funky comes from) 😉 and more visual when you see them play with the song. For the record, I still much prefer the smooth jazz stuff.
She played a bunch of stuff from her new CD (released in 2007) Candy Store. Late in the show, she started what appeared to be an impromptu discussion with the audience about requests, without actually ever using the word request. Lots of stuff was shouted out, but Candy said that she was surprised not to have heard the "L" song, and the crowd went nuts, knowing she was talking about her early hit Lily Was Here.
She played it right then (how could she not after that reaction?). Here's a YouTube Video of her playing it with Dave Stewart (of the Eurythmics) a long time ago. The version on the video is classic smooth jazz. While last night's version was awesome, it was much more funk/rock, including the lead guitar being hard electric, not the acoustic version played by Dave Stewart in the video.
Her band is amazing.
Regular keyboardist and vocalist, Chance Howard. Actually, Candy's band had two keyboardists last night, and Chance plays more of a synthesizer (to my ears). The first time he played a solo, it sounded more like a flute than a piano. He sings well, and the two of them harmonize during the show.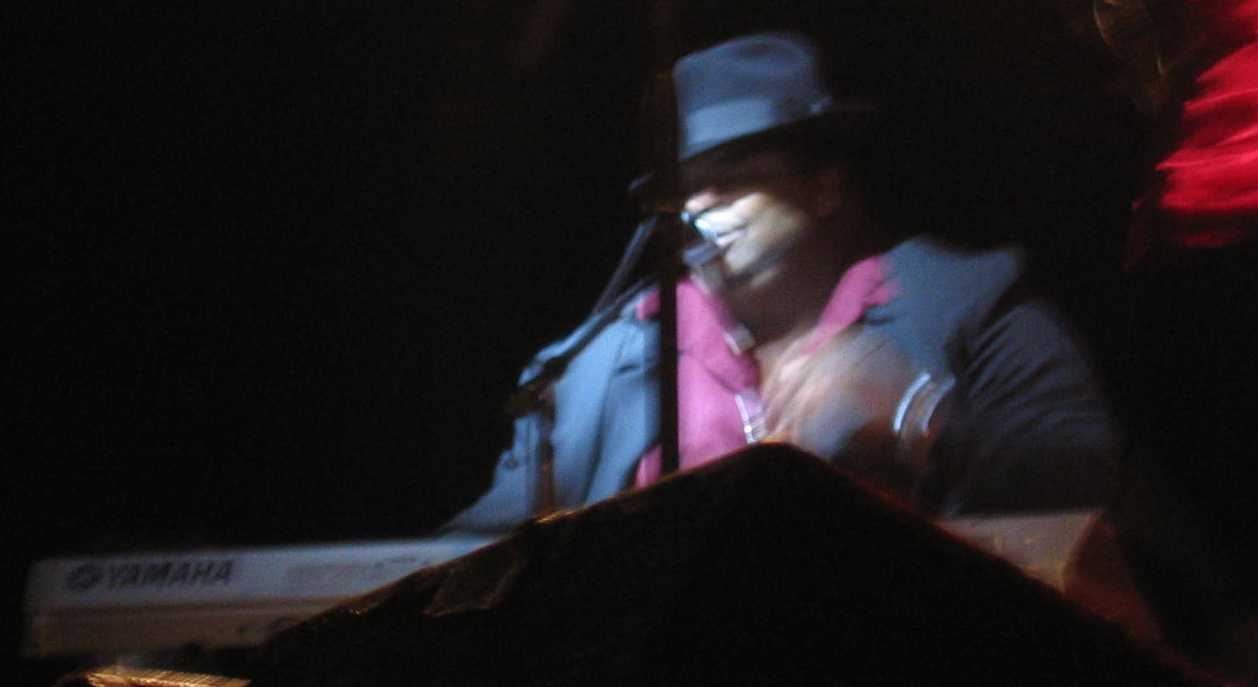 Kirk Johnson is the drummer. He also sings backup vocals (Chance also sings lead). He is incredible! In addition to just keeping a tremendous beat the entire night, with all of the appropriate smooth jazz rolls and symbol play, he took one solo very early on that was stupendous. One thing you can never experience on a CD are the visual tricks which always delight the crowd. I described some pretty incredible ones performed by Kentric Morris, Najee's drummer in this post.
Kirk did two things (one of which I hadn't seen before). During his solo, he kept flipping one of the drumsticks in the air, of course never missing a single beat in a fast-paced romp. I've seen it before, but it's cool nonetheless. Then he lifted his right leg up in the air, and put it straight out over the drums, and continued playing at a frantic pace, without missing a beat. The crowd ate it up.
Kevin Walker on bass, was new to the band, only with them for a week! I didn't know that until the end of the show when Candy mentioned it. It would have been hard to guess, as he was flawless the entire night. She also gave him two solos that rocked the house. He's fast and interesting. My only complaint about nearly all bass players in these lives shows is that their instrument overwhelms the others. It literally shakes the house on every note in every song (as does the bass drum). Still, he's amazing.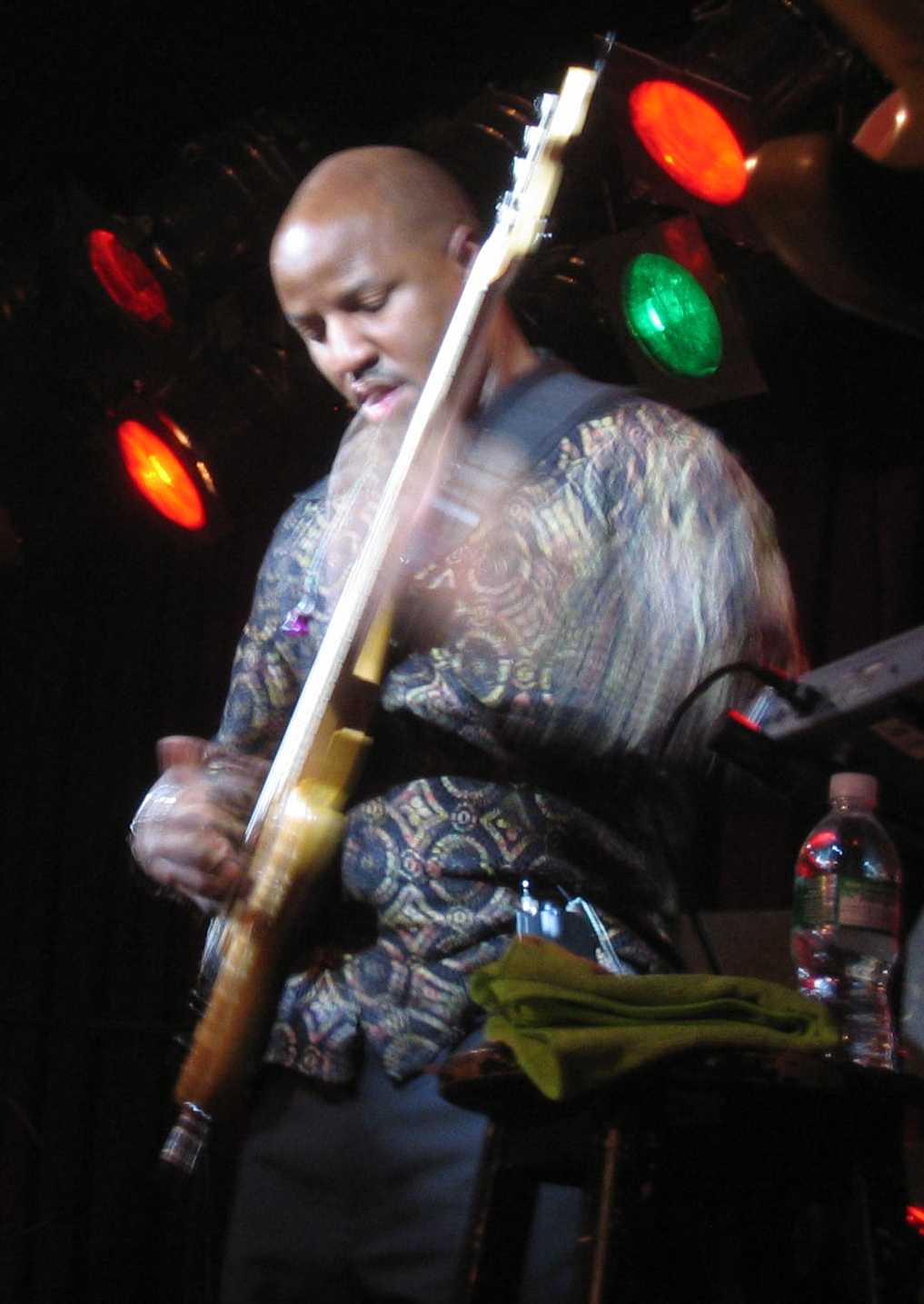 The other keyboard player is Thomas Bank. He's also excellent, but to be fair, unless he was taking a solo (only two or three last night), he can barely be heard over the rest of the instruments. He had a Macbook Pro sitting next to him, so perhaps I didn't hear him because he was checking email rather than playing out loud. 😉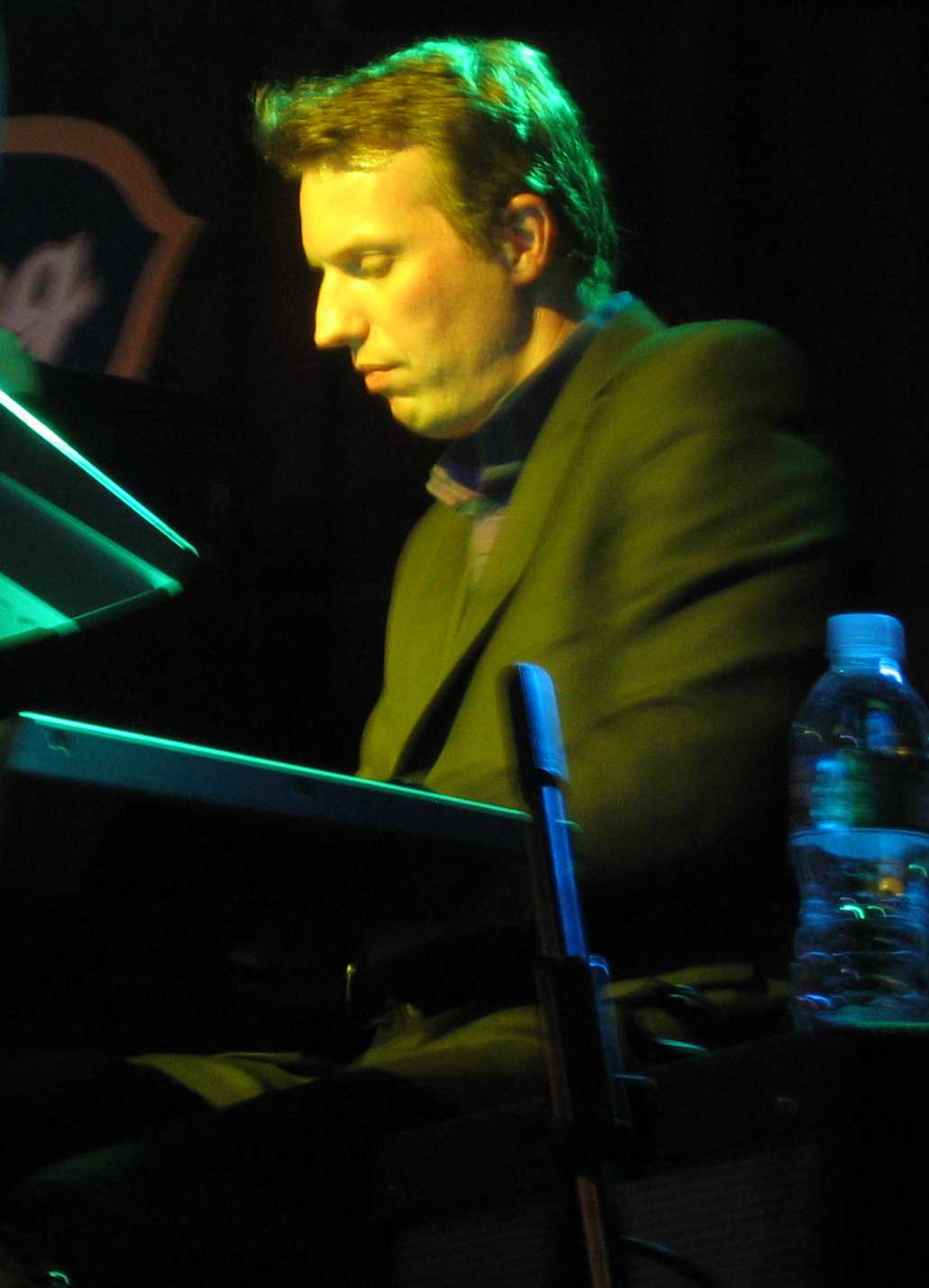 Finally, the lead guitarist Ulco Bed. He's excellent as well, playing mellow smooth jazz really well, and then taking some super full-blown rock leads that were awesome.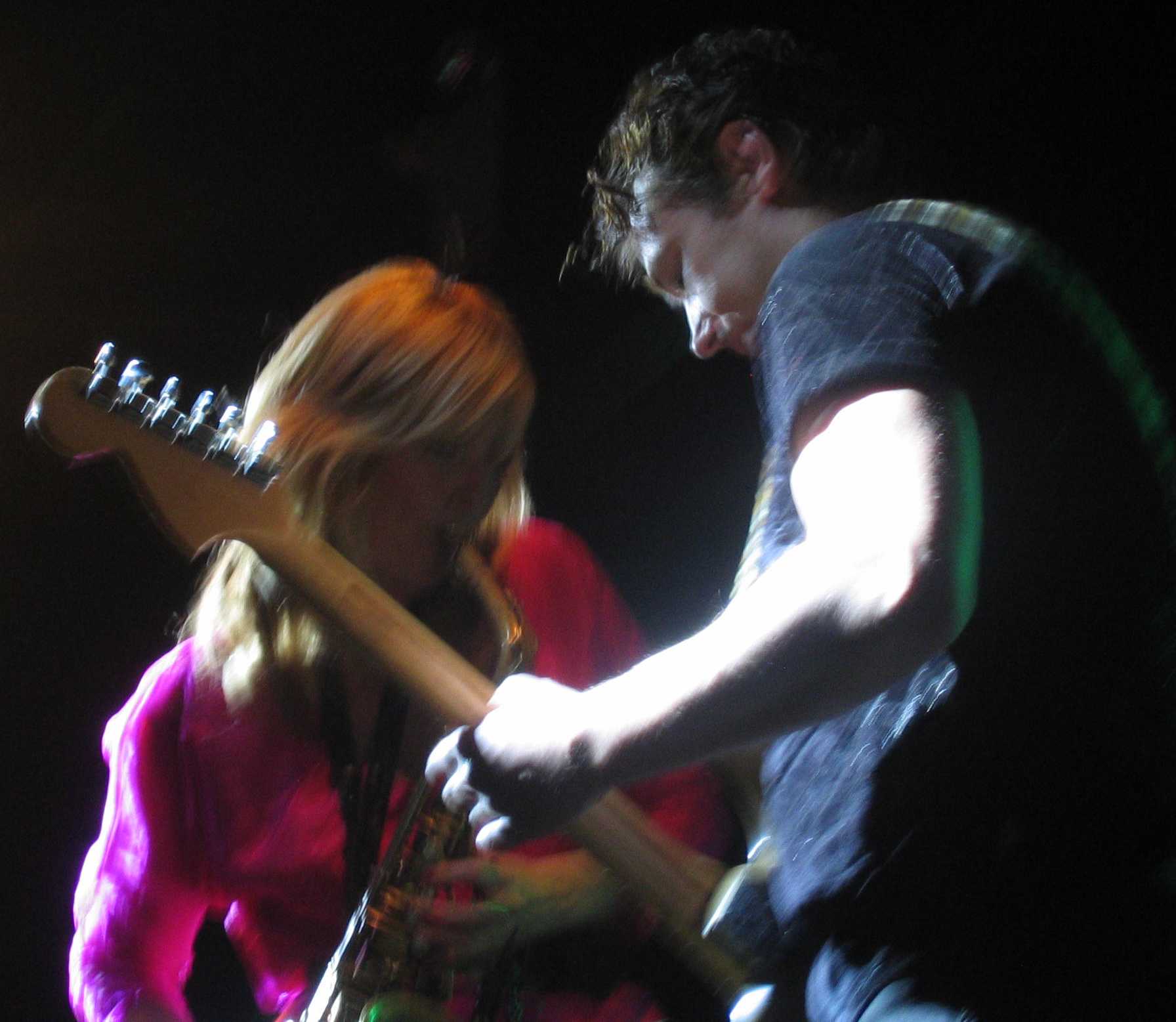 Candy Dulfer was mind-bogglingly good on the sax, but there was no surprise in that. She also sang a bunch more than I expected. The other day I noted that Tim O'Brien played fiddle while singing (solo) and that it looked funny (but sounded great). Candy couldn't sing and play the sax at the same time, proving that she's human after all. 😉
Lois totally disagrees with me, but Candy's face is a dead ringer for Courtney Thorne-Smith to me. 😉
Toward the end, she played the sax accompanied just by Kirk on the drums. It was long and stunning. She was perfect on the sax, but Kirk lit up the joint. She had her back to the audience facing Kirk the entire time, and the spotlight was on him. It was way more interesting than just a drum solo (even though I'm a sucker for a good drum solo), but there was little doubt that the focus of that long segment was the drums. Perfect!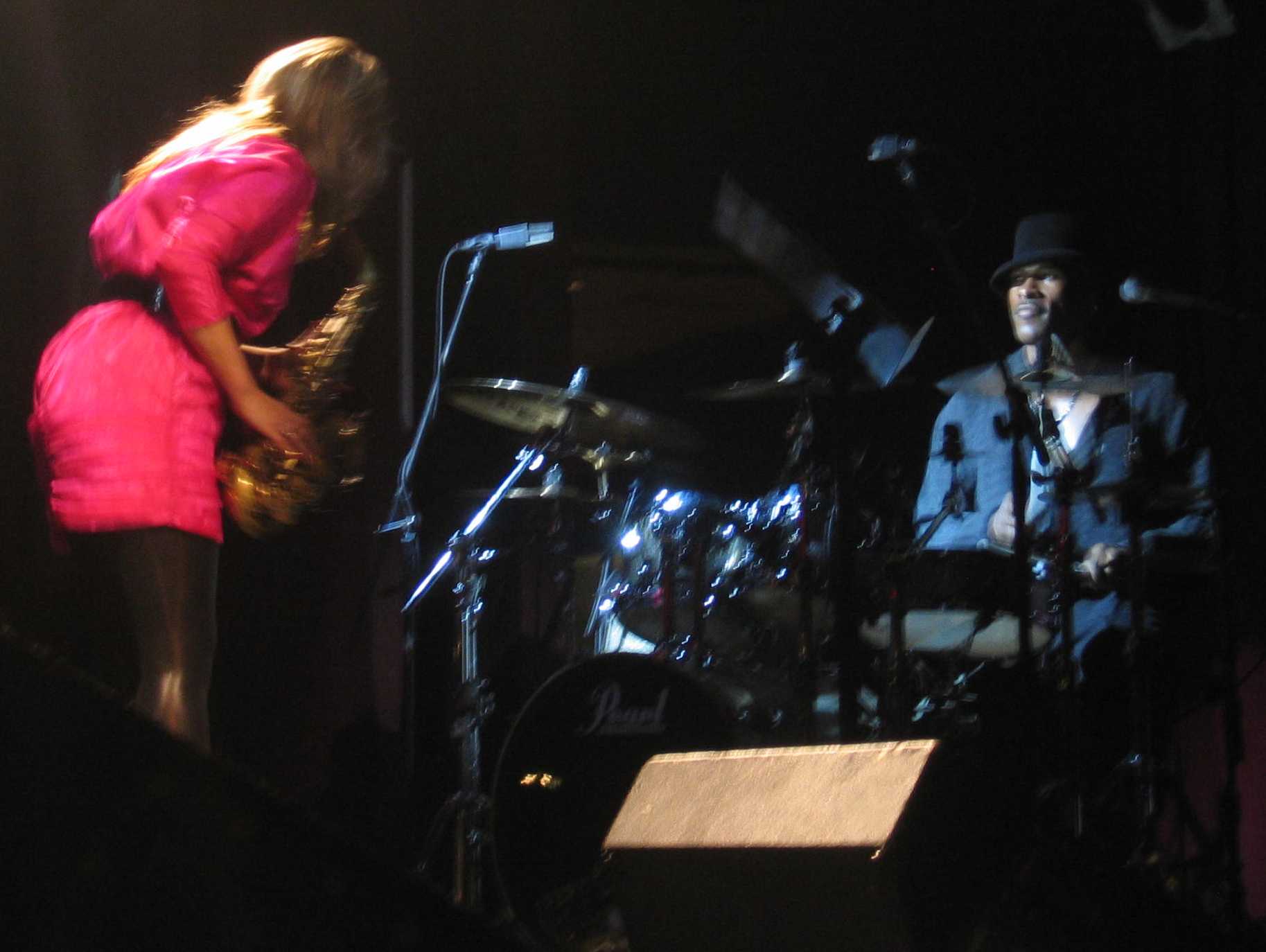 Kevin's face reminded me of Michael Jordan. 😉
We had a fantastic time. The only downside of the evening was that the music was deafeningly loud. It was also balanced perfectly, and clean, so it was purely a volume problem, not a distortion one, etc. My ears weren't really ringing, exactly, but there's little doubt that there was a real effect.
Last November, we saw Girlyman at the Highline Ballroom. Opening for them was Garrison Starr, a solo performer who also plays too loud (in my opinion). That night, we brought a family as our guests, which included a 4-year-old girl (she loves Girlyman!). The person working the door saw her and offered us a pair of ear plugs, warning us that she might very well need them!
Lois loved the idea, and has since bought a bunch of pairs to take to shows just in case. Last night was the first time she felt the need to use them. Thankfully, she had them. I know (not just because she told me so) 😉 that she would have insisted that we leave if she didn't have them! She loved the show, but was only able to tolerate it because she had the plugs in the entire night!
She might have needed them no matter where we sat, but last night we sat at the stage. Also, since we were on the far right side we were right in front of a bunch of the speakers and amplifiers, which didn't help with the volume problem. Here's a shot of me hugging the stage, looking at Candy play the sax.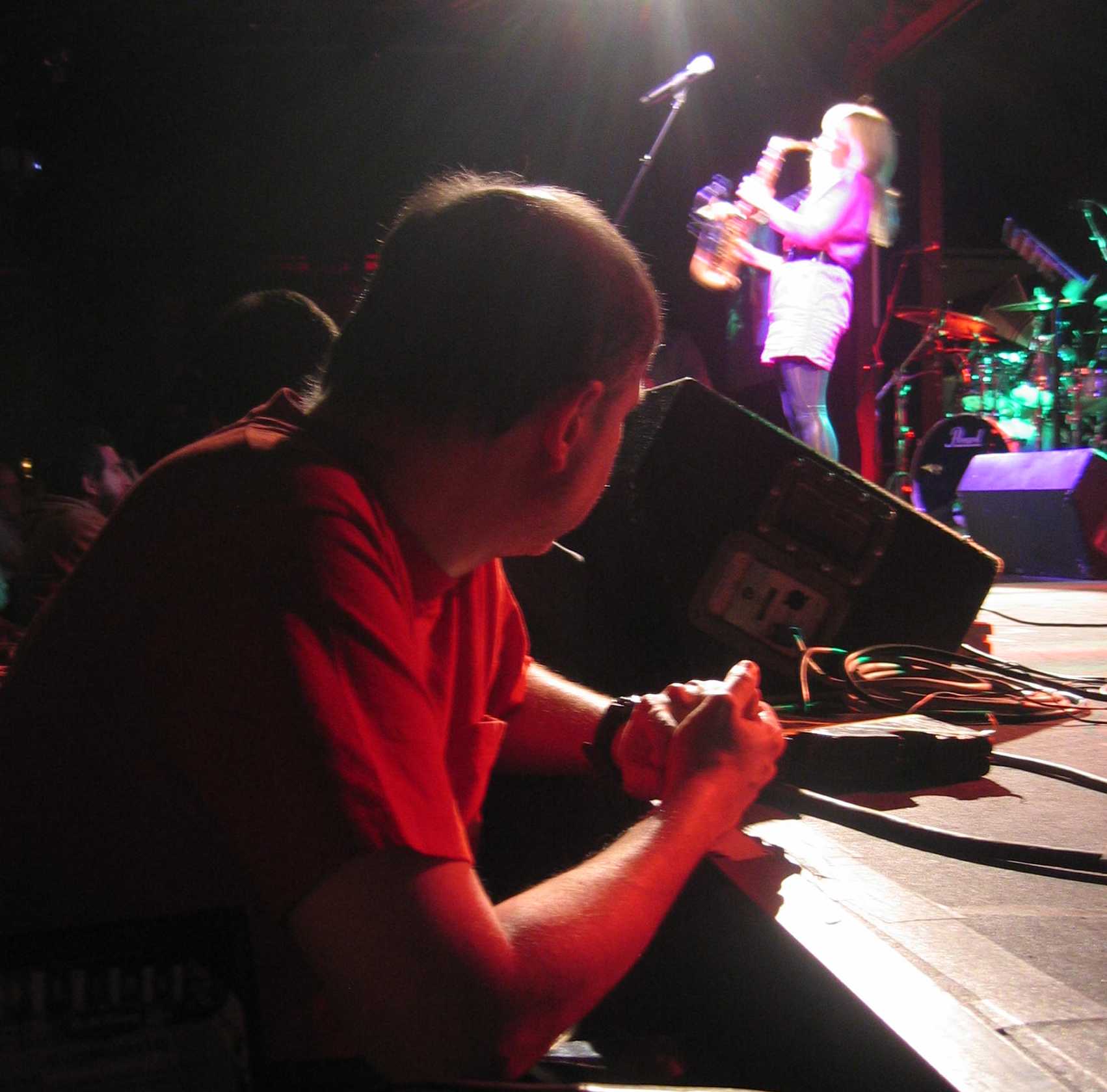 As I wrote on Saturday, I started my regular exercise routine this weekend. Yesterday included walking up and down 30 flights of stairs in our building. I prefer the long walks outside, but I didn't have the time yesterday, and the stairs really cram a lot of sweat and elevated heart rate into a shorter workout.
We walked over the to show, and on the way, Lois made it clear that she would prefer (I'm being polite here) that I not have my usual Lucille (BB King's version of a chocolate martini), and that I not have fries either. Bummer! I had club soda, and a Caesar Salad with Grilled Shrimp on it. Tasty, but not the same.
There are benefits to eating healthy. The meal cost much less. I had zero gastric distress. The liquor didn't add to my usual exhaustion (because there was no liquor).
The downside is that I didn't help prop up the economy, though I over-tipped our excellent waitress, partially out of guilt for what she would have gotten had I been eating my usual there. 😉
We walked home and chatted about the show the entire way. We were both still feeling the energy.
Tonight we're seeing The Wailin' Jennys at Joe's Pub. I have written about them many times in the past, and will most definitely write again tomorrow. You can't imagine how excited I am to see them at Joe's!
Finally, as always, here's a link to the current month-long Girlyman Live CD Contest. Enter early and often, and win a signed copy of the new Live CD. It's an awesome CD, and the contest is for a good cause, creating more awareness for this brilliant group! 🙂