Send to Kindle
Last night finally came, our third time seeing The Wailin' Jennys live, but our first time seeing them at our favorite place, Joe's Pub. The last time we saw them was their last show of 2007, at Gravity Lounge in Charlotesville, VA, covered in this post.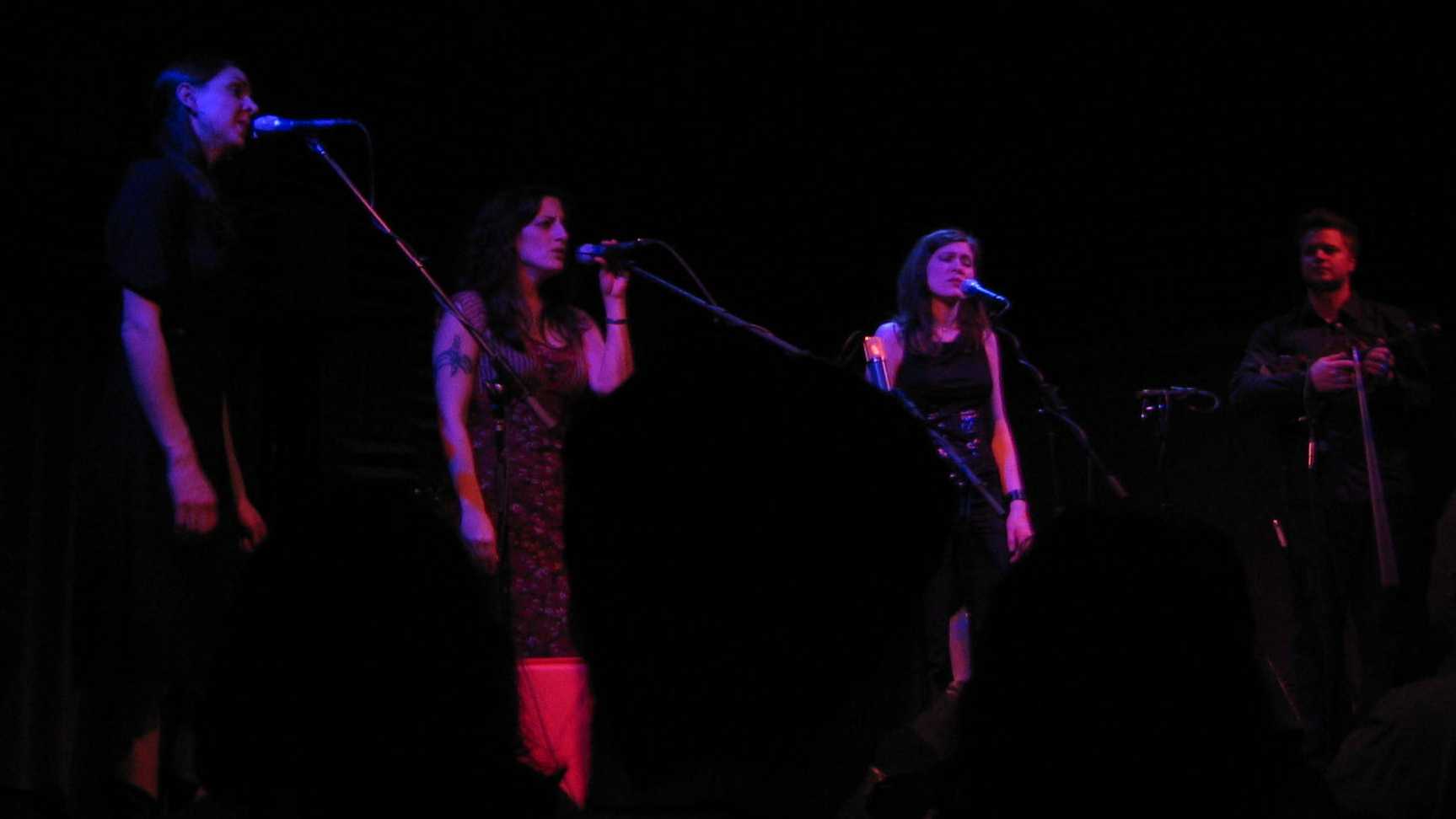 Unfortunately, there were quite a number of frustrations last night (though nothing really horrible). I'll save those for the end.
Last night, the Jennys voices were as awesome as always. Their harmonies are so tight and gorgeous. All of them are excellent musicians and were on last night as well. Jeremy Penner (the one boy Jenny) is an amazing fiddler (I've written about him a number of times already) as well as a wonderful mandolin player (though last night I believe he only played the mandolin on one number, possibly two).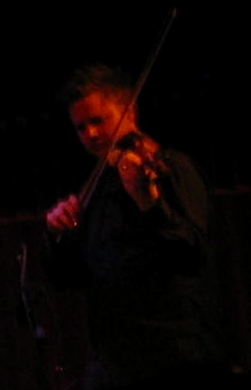 They were funny and personable (as always) and even had a few new tales (which was refreshing). There's something very pure about all four of their faces, and there's a spirit in them (which shines through) and mirrors their songs / philosophy on life. Simply put, they are a joy to be around!
Their sound engineer has a terrific ear. The balance is perfect, and you can easily concentrate on any one of their voices or instruments, and pick it out clearly. No one sound overwhelms any others, and no one sound gets lost in the whole of the others. It doesn't hurt that Joe's has wonderful acoustics in general, but we've also been there were the sound was messed up (due to the sound board person, not the venue).
The crowd couldn't have been more loving and appreciative of the show and the clapping was thunderous and long after every single number. On the songs we were encouraged to sing along, many did, and did it well. 🙂
They sang a few of our favorites (not nearly all!) including Glory Bound. They saved One Voice for the one-song encore, and the crowd sang the last verse with them. Gorgeous!
Here are some more individual shots:
I could praise them more, but it would be repetitious from the above and previous posts. Instead, I'll switch gears to some of the frustrations with the evening (including some with the Jennys themselves, heaven forbid!).
If you are the type of fan who believes that other fans should never criticize the artist, you will definitely want to click away this very second, seriously!
I went into last night ranking the Jennys as my second favorite group behind Girlyman. This has been my consistent feeling since the first time I saw the Jennys live at Tarrytown Music Hall on September 29th, 2007, covered in this post. I came out of last night with them firmly entrenched in #2, so nothing that I'm about to say on the negative side affected that.
First, a very high percentage of the early shows at Joe's start at 7pm. Some start at 6:30 and some start at 7:30. I didn't pay attention before we got on line (we were third and fourth person on line last night, just like for Tim O'Brien the week before), but it turned out that the Jennys had a 7:30pm start time last night.
That's already a black mark (but I don't know who to apply that mark to, the Jennys or Joe's!). Why? Because 99% of the time, there is a 9:30pm show, no matter what time the earlier show starts, so there is a hard stop for the early show at roughly 8:45pm, including the encore. So, while waiting on line at 5:45pm, we already knew that at most, including encore and banter, the ladies and Jeremy would only be on stage for a max of 75 minutes. 🙁
It's possible that Joe's asked them to start later, but I can't think of a reason why, since they still opened the doors at 6pm (well, actually 6:10 last night), so they had to staff the place, etc. as if the show started earlier.
They came out at 7:33pm. OK, only three minutes late, who could possibly complain? Me. 😉 I know it's only three minutes, but it was a scheduled late start anyway, with a hard deadline on the back end, so at least give us every possible second of bliss when it's under your control.
The encore ended at 8:47pm, so 74 minutes in total. Unfortunately, as is often the case, stuff happens during a live performance. During the second song, Heather's bass amplification went dead. She realized it right away, as did most of the people sitting near us (and therefore I assume most of the people in the audience did as well). She was a pro, and kept strumming her heart out, though no one could hear a note.
When the song was over, lots of fiddling around with the electronics ensued, including Jeremy coming over to help, and the sound engineer coming down as well. One of the marks of a good live show is the performer's ability to handle these kinds of situations with class and humor (listen to Postcards from Mexico on the new Girlyman Live CD for a perfect example!). The Jennys qualified last night, as the mood remained lighthearted with Ruth and Nicky bantering with the crowd while the work was ongoing.
Here are two shots of the fiddling around. The first is a little blurry, but you can see Ruth entertaining the crowd while the rest of them try to fix the problem. The second doesn't include Ruth, but is a little clearer view of the fixit crew. 😉
My only point in mentioning it (though it was no one's fault!) was that it stole another few precious moments from listening to them perform. That one goes in the frustration category, not the don't do that again one.
This next set of complaints is ultimately my biggest one (as a single grouping). The context needs to be set, or I will most definitely annoy every other fan (I'll likely annoy them anyway, but perhaps I can blunt the counter-attacks slightly). What I am about to complain about is a relative complaint. On an absolute basis, even these complaints are about an otherwise nearly blissful exprerience compared to most other music!
Please re-read that before you chop my head off (but feel free to comment here and take a whack at me anyway). I believe that at their worst, the Jennys are near blissful! Got it? Good!
So, what does it mean to say at their worst? Essentially, it means playing songs that are relatively uninteresting (as songs in and of themselves), when they have a repertoire that has so many more richly deserving songs. To be fair, even the most boring song that they play is absolutely, stunningly beautifully delivered. In those instances, their voices just become phenomenal instruments, because the words are completely boring and can easily be tuned out (unfortunately).
Another unfortunate thing in this exact vein is that it isn't one single song. It's also not one single show. We've seen them three times now, on two different tours, and every time, they've played Bring Me Little Water Sylvie. To repeat, their harmonies are stunning on the song. Even their facial expressions while they sing it are wonderful (they get lost in the song). But, in the end, the song itself is just one long repetition of boring words. This is one example, there are more.
I know that many bands (including our beloved Girlyman!) love to do covers that are meaningful to them. Some try to be ultra-true to the original, some like to show how they arranged a favorite to make it their own. So, I'm not generically complaining that the Jennys choose to play any covers rather than just their material, but rather that they aren't picking the right covers. In my opinion.
Also, only in particular to last night, when you know you're going to be on for significantly less time than usual, ditch the covers (or at least most of them), and play your bigger hits for your fans.
I have a theory as to why they do the Bring Me Water Sylvie like numbers. I could be wrong, obviously, but I think it's because they want to highlight the amazing talent that Heather Masse has (and she most definitely has it, in spades). A very noble ideal, indeed. Unfortunately, while the talent shows through, in all of them, even in those songs, there's no reason not to shine the talent on more interesting songs.
So, why not allow Heather to fill in for Annabelle, and sing the lead on songs like Firecracker and Apocalypse Lullaby, which suit her voice perfectly?
OK, I've gone on enough on that topic. Let me wrap that up by saying that the crowd (and we too!) absolutely loved the show, and we heartily gave them a standing ovation before and after the encore, so read the above with that in mind. I want the Jennys to connect even better than they already do (which sounds harder than it is).
On the high crimes and misdemeanors front, this is the first time that we've seen them that Ruth didn't sing Heaven When We're Home. It's one of the greatest songs in history, so yes, I rank it as a crime not to get to see her do it again (and again, and again…).
On to a frustration with Joe's. I complained last week that they made Tim O'Brien and Caroline Herring sell their own CDs in the tiny entranceway in the front after their show, rather than at the typical full-blown merch table in the back. I assumed that it was something special going on that night only.
Last night, it happened again. Worse, at least Tim and Caroline were out there selling and signing their own CDs. The Jennys had other people selling the CDs, and I doubt all four of them could have fit in the space to sign anyway. Very disappointing.
This is made worse by the fact that the Jennys over-price their CDs at the shows. They charge $20 for each of their full CDs (Firecracker and 40 Days). They are cheaper online. There are two reasons to pay the $20 and not complain: you get their signature, you support the group.
If they aren't going to sign (perhaps not their fault, if Joe's has a new policy), then paying the premium is purely a support the group thing. We chose to do that, but I can't say it left a good taste. We own both CDs already (obviously), and have bought five more copies (three Firecracker and two 40 Days) as gifts for others in the past.
Last night we brought both of our copies to get signed, with the intention of buying two more to give as gifts. Even though we couldn't get ours signed, we still paid the premium for two more (obviously, also unsigned) to give as gifts, to support the band, and we also bought the solo CD by Ruth for ourselves. I'm happy to support them, but Girlyman used to sell Joyful Sign for $20 at live shows, and now sells it for $15, and the Jennys should follow suit. This week we'll be buying yet another two copies online, as gifts as well.
To put it into perspective, the show itself cost $18 last night. That means that for a show, which lasted longer than the CD (which is already nearly two years old for the newer one), was cheaper than the CD. That just doesn't feel right (though I'm not complaining about the price of the show). 😉
OK, aside from the fact that I need to again plug the month-long Girlyman Live CD Contest (enter early and often, and definitely check out the new entry from this morning, it's hysterical!), I want to take this opportunity to do a small comparison of Girlyman to the Jennys.
The Jennys are awesome. Girlyman are awesome. No need to go further, except that I always end up ranking Girlyman higher than the Jennys. Why? For one, Girlyman has twice as much original material, so they are more prolific in their writing. The Jennys original stuff is fantastic, I just wish they wrote more new material.
Some of the Jennys original stuff is thin in content. The songs are beautifully arranged and sung, but at times it feels like the lyrics are built around a single clever line, which just repeats. It's not egregious, and there's probably a Girlyman song or two that this could be said of, but in general, there's more of a consistent depth to the Girlyman lyrics.
Also, while Girlyman does covers in their live shows, it's rarely more than three in a show. The Jennys have less original content, but they play a smaller percentage of it anyway, choosing to do a significant number of covers. I don't get that part (that's independent of my critique of the particular covers noted above!). One of the points is that a Jennys show is more predictable than a Girlyman one.
There's no doubt that the predictability of a Jennys show is predictably wonderful, but still, very little variation in the three times we've seen them (except for this one leaving out stuff due to time constraints).
Finally, what you've all been waiting for, the food part. Once again, I had the extraordinary Tuna steak, and it lived up to my previous ravings. Unfortunately, as I noted in my Candy Dulfer review, I skipped the fries and the chocolate martini again (Lois was proud of me, so I guess it was somewhat worth it) 😉 so I continue to be (temporarily) virtuous.