Send to Kindle
I've written quite a bit about acoustic guitarists in this space over the past year. In addition to listening to tons of acoustic guitar on my iPod, we have also seen quite a number of the current great ones live.
In my Acoustic Guitar Update post, I mentioned one of the current (and for a long time) greats, Leo Kottke. The preceding link goes directly to Leo's Tour Date page. Here is a link to his bio on Wikipedia.
Last night he was playing at Tarrytown Music Hall. Very exciting for us since we live less than four miles away. We bought tickets in the 11th row, left orchestra, aisle and one in (similar to the seats we had for Joan Baez on Monday, with the exception that the Paramount Theater is larger than Tarrytown Music Hall).
Show time was 8pm. We got to the theater at 7:50pm and couldn't believe how many people were strolling on Main Street. The weather was perfect (70 degrees) and people rightfully couldn't resist being out and about. Even though Tarrytown is infinitely friendlier about street parking than Peekskill is (see my Joan Baez review for that complaint), given the number of people on the street, we were nervous that we might end up cutting it close to park and be seated.
Luck was wildly on our side, as we found a spot half a block from the theater and we were in our seats three minutes later. It was clear that the show wouldn't start on time, but that's been true the past two times we were at this beautiful theater as well…
Leo came out at 8:11pm to thunderous applause. While there were a reasonable number of empty seats, the place was nearly full, and it seemed that the majority of the people in the audience were there because they love Leo, not because it was an interesting local event.
Leo is famous both for his six and 12 string guitar playing. In fact, in my Acoustic Guitar Update post, I mentioned that his album called 6-and-12-String Guitar (released in 1969!) was on the 100 best acoustic guitar albums list at DigitalDreamDoor. I bought a copy (downloaded from Amazong.com MP3), it's awesome.
He began with the 12 string guitar. He played a few songs before saying much. Then he started to tell some stories or introductions to some of the songs. He has a self-deprecating, soft-spoken style when speaking to the audience. At times, he seems to trail off not actually finishing a story, or even if he finishes it, the original point of telling it seems lost on the crowd.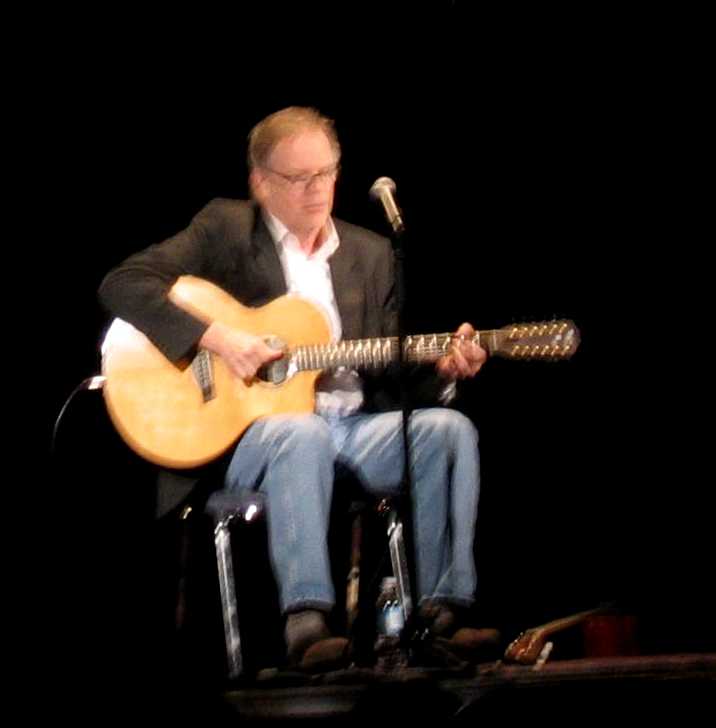 While I own two of his CD's, and love them both, I was not aware that he also sings (at times). He has a very deep voice. It's pleasant, but I doubt anyone would go to see him just for his singing prowess. I think he sang four songs (max five) last night.
After nearly 40 minutes of 12 string guitar, he switched to a six string. He was magical on the six string guitar. The difference (last night) was breathtaking. I love the sound of a 12 string, so it's not that I have a bias against it (I even used to own a 12 string in my teens). It could easily be his particular selection in the first set as I will note later on that he also dazzled when he returned to the 12 string.
Essentially, the selection in the first set bordered on repetitive. There was nothing wrong with any one song, but there wasn't enough variety between them either, that it almost felt like a loop. When coupled with his trailing-off stories, there wasn't as much energy in the room as one could have hoped for.
That all changed when he picked up the six string. To me, the tunes were livelier, and his fingers created a much cleaner sound as they flew around the frets. The 12 string has a gorgeous sound, and is really rich, but it's a little harder to hear the crispness of his amazing leads with so many strings vibrating at the same time.
For the last song (before the encore) he returned to the 12 string guitar and played one of his famous numbers, Jack Fig. Here's a YouTube video of him playing it (also on a 12-string guitar) from a very long time ago. As you can see, his fingers fly even on a 12 string, and he's extremely crisp as well.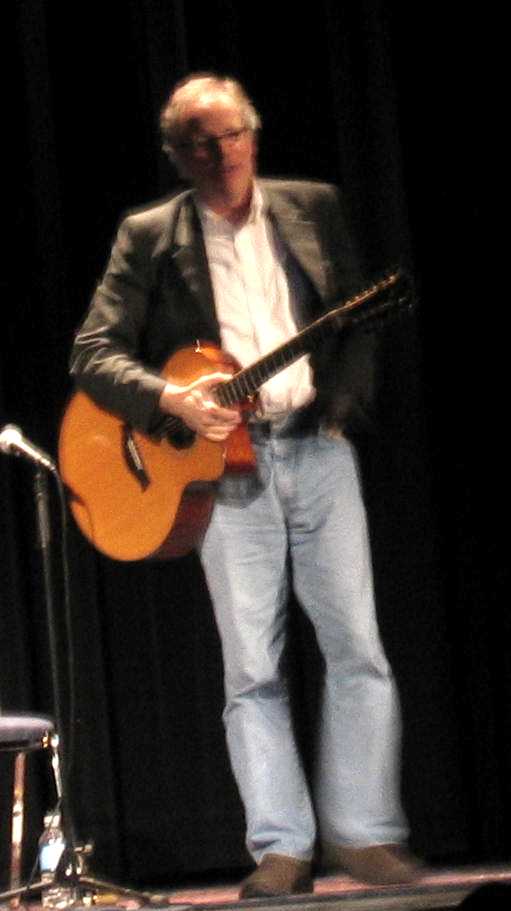 When he came back out for the one-song encore, he also stuck with the 12 string, and was brilliant again on it. That's why I am chalking up the first 40 minutes to selection rather than skill.
In total he was on stage for 100 minutes. As mentioned before, he spoke quite a bit, so it wasn't all playing. I, for one, thoroughly enjoyed his tales. I found him to be charming and quite amusing. I chuckled an awful lot of times. Many people did as well. That said, it was definitely not unanimous. A number of people were clearly uncomfortable with the amount of talking. A few occasionally yelled out Play when he paused for a breath during a long story.
Lois was in the second camp. She was unfamiliar with any of Leo's music before last night, so the repetitiveness of the first set caught her off guard. Coupled with the banter, she was on the bored side. She too changed her mind when he picked up the six string. She didn't enjoy the stories any more in the second half, but she at least was anxiously awaiting his next number, knowing that she would enjoy it when he got to it. 😉
There's little doubt that in general, the crowd loved the performance on balance, and there were a reasonable number of people who gave Leo a standing ovation (us included). Clearly, this type of show wasn't for everyone, and it's understandable. It's somewhat difficult for a solo guitarist to hold the audience in the palm of his hand for nearly two hours. For many of us, Leo came close.