Send to Kindle
Robbie Gil headlined a set at Rockwood Music Hall Stage 2 as one of many artists to wind down a spectacular week-long CMJ shows.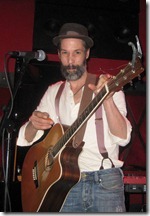 Rockwood was jammed and they removed all of the tables near the stage (except for one row to create a barrier between the audience and the stage).
Robbie delivered his usual high-energy show which caused many people in the audience to dance (to the extent that they could without knocking over their neighbors).
Robbie sings with such passion, with a gravelly voice, accompanied by a loud, top-notch band, that it's sometimes hard to understand the lyrics. All you had to do was look around the room and read the lips of dozens of people who were singing along to every word.
In addition to singing, Robbie played acoustic guitar and grand piano. He also sang a song with no instrument, accompanied by the band. Songs ranged from soulfully quiet (at least the beginning) to raucous rock 'n roll.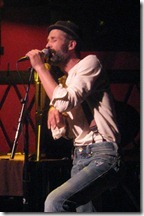 Robbie had a great band, as he always does. Left-to-right on stage:
Update: thanks to the kind person who gave me the info on the keyboard player. 🙂
Chris Lopresto Keyboard player (on grand piano and electronic keyboards) and some background vocals. I've seen him before, but can't remember his name at the moment (sorry). I'll update and link when I get it. He played the keyboards really well. Rather than stacking the electronic one on top of the grand (like most do), he had the electronic keyboards on a stand behind Robbie, and he walked back-and-forth between them whenever he switched.
On one of Robbie's signature numbers has him leaving center stage to join the keyboard player Chris at the grand piano. They played together, giving the song a huge finish.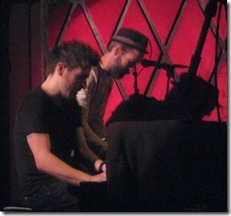 Zach Jones on drums and background vocals. Zach always does a great job on the drums, no matter who he's supporting. Robbie's sets are so high energy that drumming for him can be a challenge. Zach exceeds any expectations.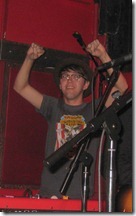 Nick Morrison on electric bass and background vocals. We've seen Nick play with Robbie once before (but at the time I couldn't find a good link to him). He did a great job that first night, and again last night.
Greg Mayo on electric guitar and background vocals. What can I say about Greg that I haven't said before. Nothing. He's that good every time, so coming up with new ways to say it is hard. Robbie is obviously a huge Mayo fan because he gives Greg long leads. To close the show (during the encore), Robbie gave Greg a really long lead.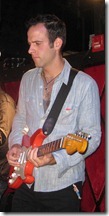 When Greg was done, Robbie signaled the band that he wanted to take another round. They wound down the song in slow fashion, while Greg took leads between each of the down beats, extending what was already a bone-crushing performance. Awesome!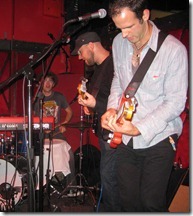 As he's done before, Robbie understands how much the crowd enjoys watching Greg's fingers fly up and down the frets. During one long lead, Robbie knelt down to give people on the opposite side of the stage a view of Greg. That turned into a series of maneuvers that included laying on his back. At all times, he continued playing the acoustic guitar. It was a hoot!
Here's the set list: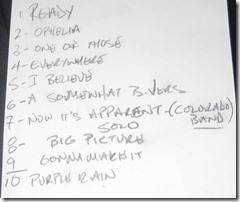 The set right after Robbie was headlined by none other than Greg Mayo himself.