Send to Kindle
Paula Valstein headlined a set at Rockwood Music Hall Stage 2 last night. I've been wanting to see a full set of Paula's for a while now. The fact that she was on right after the amazing Burlap to Cashmere meant that I would already be there and didn't have to leave my seat.
I've seen Paula do a couple of numbers, at two different benefit concerts. The first was back in January 2010 at the Haiti Benefit show. The second was three months ago at the Holiday Benefit #5 show. Both times, Paula impressed, albeit briefly.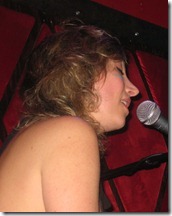 Paula has a fantastic voice and plays the piano extremely well. Last night she also played the electric guitar on one number, very nicely. I liked every one of the songs, which ranged from Pop to Rock, with Jazz tinges here and there. So, she's a good songwriter too. In other words, Paula's one talented lady.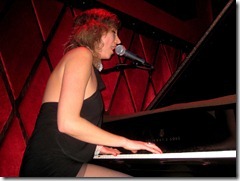 Given my seat for the previous set, I had the misfortune of staring at her back for all but the song when she played the guitar (nice tattoo by the way)

. It didn't affect what I heard (thankfully). Lois had a better angle, which is why you can even see Paula's face.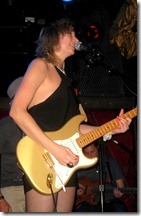 I didn't know what to expect (other than I knew about her voice and piano skills). What I found out is that Paul has a regular band, of very talented musicians, helping create a big sound that has a high energy level throughout the set.
Her guitarist was out sick. In addition to the rest of her band, she had one special guest, who I'll mention after listing the band members.
I've complained in the past when an artist makes it hard to find their band members' names. That complaint is valid to me when they have a regular band. In this case, let me do the opposite and praise Paula. She has a separate page that names each band member and has a photo of them as well. It's named THE BAND. Thank you Paula. I admit that I would have had to spend considerable time tracking down the spelling of some of the names I thought I heard on stage last night!
Left-to-right on stage:
Ben Antelis on vocals and tambourine. Ben's site lists him as a drummer, among other skills. Last night he sang a ton of harmony, perfectly. I sometimes hesitate to say sweetly when I'm writing about a guy, but I always mean it as a high compliment, so I'll say it here. Ben sang harmony sweetly! His tambourine play was really good too, not surprising for a drummer/percussionist.
Aaron Comess on drums. Aaron was excellent on the drums (more on that when I get to the guest). I admit to not recognizing the name, but when I visited his site now to get the link, I was quite impressed with his accomplishments, including being a founding member of Spin Doctors!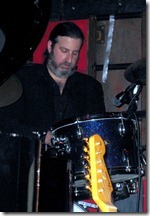 Daniel Ori on electric bass. Daniel was also excellent throughout the set. Clearly, talented musicians like to play with talented musicians, and Paul is one, and has gathered like-minded and like-talented people around her.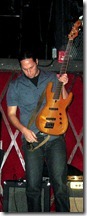 Michael Feigenbaum was a special guest. He provided great beat-boxing on one number. Toward the end of the song, he started a long-running duel with Aaron on drums. Michael would beat-box some rhythm, then turn and point to Aaron, who would wail on a drum solo, then back to Michael, etc. At first, the solos were on the longer side, showing each person's individual talent. Each one got shorter, turning it more into a call-and-answer duel, with Michael belting out some short beat, expecting Aaron to mimic him. Extremely cool and very well done!
I very much enjoyed the entire set and look forward to catching Paula again, perhaps from a better angle next time.

Here's the set list: