Send to Kindle
The Foggy Dudes closed out the St. Patty's weekend at Red Lion with three consecutive sets of traditional Irish music. Not fiddle/pipes stuff, rather, hardy sea shanty tunes.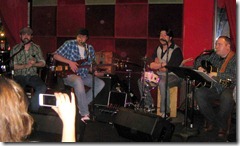 Most of the numbers are very upbeat, often with hysterical lyrics (those seamen needed something to keep them awake). A few are more traditional protest songs, both slow (soulful) and upbeat.
We love Irish music (though in general, most of what we listen to is more Celtic, with lots of fiddle and flute parts), so we were happy to come out for this.
John Schmitt is the primary lead singer for the Dudes. We're big fans of John's own music, so when he announced this event we put it on the calendar. In addition to singing, John played the acoustic guitar (mostly) and switched to the banjitar (6-string banjo) on a few numbers.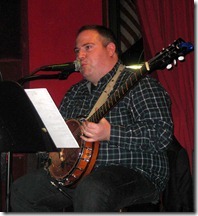 John and I traded a number of tweets about the show, because I had another one on the calendar for 10pm that night. When I told him I had to leave after the second set he tweeted the following:
@hadarvc great so we will play the most fun songs up front 😉
Ha! I'll never know, though there were a ton of "fun songs" while we were there.
In addition to all of the Dudes playing instruments all four of them sing, often in 4-part harmony. Each sang lead on at least one song as well.
John posted before the show that he thought he had just enough voice left for this last show. The Dudes have been all over NYS performing during the big weekend. His voice did hold up (wonderfully), but there was one change that disappointed me mightily. On the second song, John asked the band to play one fret down because of the wear and tear on his voice. Man, I was really looking forward to hearing that song one fret up!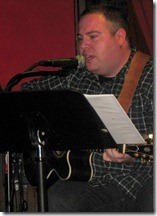 The rest of the Dudes, left-to-right on stage:
Carl Gallagher on banjo, electric guitar and vocals. No good individual link, so here's his Tumblr page. In addition to playing the banjo on most numbers, Carl played lead electric guitar on two numbers (turning them into a bit more rock than traditional Irish, but I'm not complaining). Carl sang a lot and generally provided a bunch of merriment.
At one point John noted that Carl said he would keep the drinking to only one. Carl shot back instantly: "I only bought one tonight!". I can't attest to how many Carl bought, but I can attest that various people in the bar did indeed buy the band multiple drinks, but Carl more than the rest. Poor guy couldn't insult his fans, right?

Brandon Warren on electric bass, harmonica and vocals (sorry, I couldn't find a good individual link). Brandon has the deepest voice of the bunch. In addition to adding color/flavor to the 4-part harmonies, he had a lot of one-line zingers throughout the sets, delivered in that booming bass voice. Very nicely done!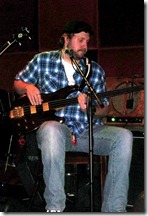 Brandon is likely a professional harmonica player. Not only did he have a slew of them (defined at six or more that were visible), but they had their own very fancy carrying case.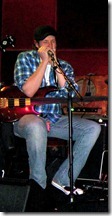 The strange thing was that he looked like he could be Matt Simons older brother. It was strange because Matt happened to be in the audience, so I was compelled to keep looking back-and-forth to reverify my feeling. Yup, could be brothers.

Scott Tofte on drums (modified kit) and vocals. Scott sat on a cajon which he used purely as a kick drum. This was the first time I've seen someone use an actual pedal, with a soft-mallet-head, to hit the cajon. Most other times, when using the cajon to deliver a kick drum sound, the heel of the shoe is used to strike the cajon directly. The pedal worked perfectly.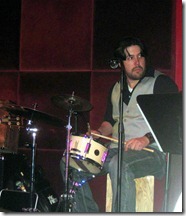 Scott also had a baby snare drum (which he was masterful on) and two cymbals (one full size, one baby size). He also had a tambourine under his left foot. He played the tambourine only (in his hands) on one song where Carl sang lead. I really want to see Scott on a full drum kit, because he was great even with the incredible constraints of such a tiny kit.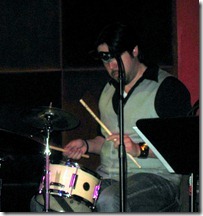 This was only the second time I've seen Scott (Carl and Brandon were new to me last night). I saw Scott eleven days earlier, supporting John Schmitt during a show at Rockwood Music Hall. That night Scott wore a knit cap. I admit to having no idea that I was watching the same Scott until we walked out. Our friend Rachel said she was pretty sure it was the same guy. Color me surprised, oops.
The Dudes had their new, self-titled CD (seven songs) available for sale. We bought it and I've listened to it twice this morning and I really like it a lot! As we walked out last night, I teased John that he hadn't played The Parting Glass. He told me it was going to be the last song of the last set. It turns out it's the last song on the CD, so I got to listen to him singing it twice this morning despite his best efforts to keep that song from me! It's the only song on the CD that John sings/plays solo.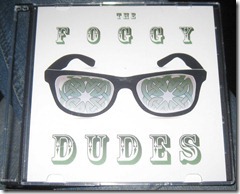 You can stream the entire CD at their Bandcamp page and buy it for download there as well.
Sorry we missed the last set, but glad we caught the first two! A bunch of familiar faces in the audience, and we even got to introduce ourselves to Evan Watson finally, after enjoying his music a number of times at Rockwood. Woot!
Here's the set list, and I see something suspiciously missing from it. The last song listed is not The Parting Glass. In fact, it's not on the list at all. Perhaps John just wanted to make me feel guilty for leaving early.