Send to Kindle
The weekend began as great as it could, with a Girlyman show at the Birchmere. You can read about it here. It ended as well as it began, with Girlyman at The Southern Cafe.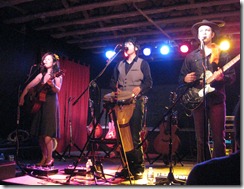 The Southern is the reincarnation of Gravity Lounge (in Charlottesville, VA). If I understand correctly, the sound engineer from Gravity Lounge bought the place, ripped out the décor and created a better listening room (not that it was bad to begin with). He did a very nice job.
Girlyman always delivers. Put them in a place with an excellent sound system, operate that system perfectly, fill it with an adoring (and respectful) crowd, and the magic is indescribable. Therefore, the rest is for my memory, since I can't describe it to you…
There was no opening act so Girlyman performed two sets. They mingled with the audience during the 30-minute intermission (signing merch and chatting).
The set list had a fair amount of overlap from Friday night, but there were a number of significant changes (including kicking it off with Born at the Right Time by Paul Simon).
The request section is always a hoot. This time, they played Maori (with Nate cracking us up with the story behind the song). But, in typical fashion, dozens of songs were called for. A few people yelled out "Do the rest!" (meaning, play all of the songs that you didn't play already). I can get behind that!
They closed the show with the same number from Friday, Postcards from Mexico, with them leading the audience in three-part harmony again. At Birchmere, while I was belting out my part (well, Nate's part), I couldn't hear a lot of other people joining in (even though the crowd loved Girlyman). Perhaps it was the acoustics, or perhaps there were 100's of people there who don't have confidence in their voices.
Last night, with a smaller crowd (just due to venue size), all three parts were being belted out (beautifully!). The audience sounded so good that Girlyman made us sing it (without them) a number of extra times, so they (and we) could soak it in. Fun!
I mentioned in Saturday's post that their banter has migrated more toward the song intros rather than tuning songs. That continued last night. Even though some of the intro humor was similar, it wasn't canned/rehearsed. We heard new twists, including things we had never heard before (like how/why Doris thought she was anemic, which turned into the discovery that she had Leukemia, not anemia).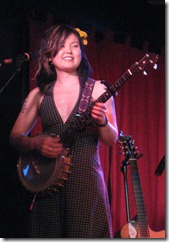 After Postcards from Mexico, everyone shot out of their seats to give Girlyman a standing ovation. They returned shortly for an encore. Nate gave what appeared to be an emotional speech about how grateful they were that Doris was still alive (which at the time, seemed like a somewhat strange way to phrase her/their ordeal). He said that they wanted to arrange an old Spiritual to convey how they felt about it.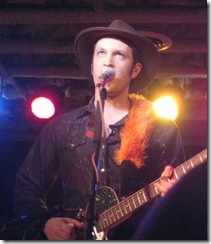 They then proceeded to play Staying Alive by the Bee Gee's. They were flawless. Doris and Ty sang most of it, with Nate filling in some of the low parts on the chorus. So much fun, and yes, spiritual in the sense that it got everyone in the crowd moving to the beat and smiling throughout the song.
When they finished, there was another immediate standing ovation. It continued, so eventually, Girlyman was forced to come out yet again. Since they hadn't prepared for a second encore, they solicited more requests from the audience. Again, dozens of titles were yelled out. They settled on The Shape I Found You In. Ty said it was the first love song she wrote, and she dedicated it to Genevieve who was in the audience.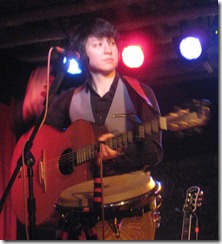 This picture of JJ is blurry, but captures her ever-present smile and gives you a glimpse into her wonderful soul: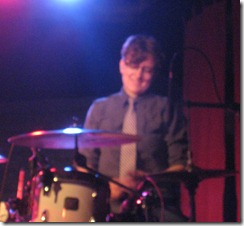 Because we got to say hello during intermission, we ran out when the second encore was over, since it's a long ride back to Fredericksburg. We got to the hotel at 11:45pm.
The Southern is a great place to see a show. They also have excellent food. Unfortunately, even though they've been open for over a year (we saw Girlyman there in March 2010), they are still completely disorganized. They couldn't tell us what time the show started when we called earlier in the day (in fact, they delivered some contradictory answers). Good luck finding out any useful information on their web site either.
Last year we missed most of the opening act because we were leisurely eating their excellent food with no clue that the show had started. We decided not to make the same mistake twice. Instead, we decided to make a new one!
We met the same friends that we attended last year's show with. They are both UVA grads so they are familiar with Charlottesville. We asked them to pick a place to meet for dinner. They gave us three choices and we picked Christian's Pizza. They mentioned that it was a short walk to The Southern from there.
We showed up early and grabbed a table. After about 20 minutes, I realized that we were in the wrong location. There was no way that the one we were in was a short walk from anywhere other than the other stores in this strip mall. Oops. I called and verified that I was correct.
We headed to the correct one. The best part of the error was that someone was pulling out from the best possible spot near The Southern, just as we pulled up. We still had plenty of time to enjoy the pizza and catch up with our friends for 70 minutes before the show started. Whew.