Send to Kindle
Last night we attended a show at Lagond Music School. I have implored my readers once in the past to contribute to the school, and I'll do so again, now that I've seen first hand what their students are capable of. If you click on the link above, you'll spot a yellow Donate button right in the middle. Click it and donate, you'll feel better.
There were two headlining acts, each of which is fronted by one of the teachers at Lagond. I love both bands, independent of their connection to Lagond, so attending this show was a no-brainer for me. I've already posted about each of those sets. Here's the one about the Greg Mayo Band. Here's the one about The Thang Band.
Before either of those sets began, we got to see two different groups of students perform, each with one of their teachers in the band. The first was un-named (or at least unannounced). While people were entering and milling about, they were being entertained by a Jazz Quintet in the background.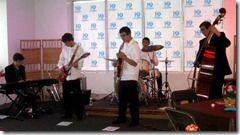 Their teacher was at the keyboards and was subtly (and effectively) coordinating each number (who was to take a lead, how long, etc.). There were two guitar players, a drummer, a bass player, along with the keyboards. All of them were quite good. In addition to playing the notes correctly, they had a feel for the music (jazz can be tricky, not just technically).
Charlie Lagond (who the school is named after) is an accomplished musician and teacher. Along with his wife Rosanne, they run the school. I was chatting with him while the group was playing. He told me that in addition to regular music lessons, Lagond Music School (LMS) prepares their students to perform. This was an opportunity for this group to learn how to play background music in a cocktail party atmosphere.
While they pulled off that task wonderfully, perhaps they were a bit too good. Quite a number of people (us included) were drawn away from their conversations to directly listen (very quietly) to the music itself.
Shortly before the real show began, Charlie sat in with the quintet (instantly turning it into a sextet). This was the first time I heard Charlie take a saxophone solo and he was awesome. Thankfully, it was long too, so I got to savor it.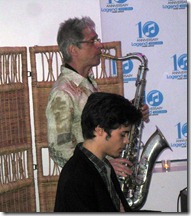 We all moved into the next room, dubbed The Haven (LMS is on Haven Street). Another band of students called The Speakers was set to kick off the first of three sets. Their teacher participant was none other than Greg Mayo, so this was sure to be a delight on a number of levels.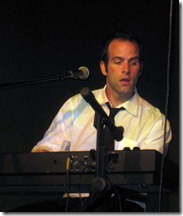 There were four students playing with Greg, but there was nothing even remotely similar to the earlier jazz quintet. The four of them played electric guitar, drums, trumpet and saxophone (the sax player switched to electric guitar later in the set). The guitarist sang lead and harmony with Greg.
They put the audience in the right mood for the next two sets. Nice job fellas and kudos to LMS and the teachers for getting both bands well prepared for their big night!
Here's the set list for The Speakers: