Send to Kindle
We saw this group at BB King in NYC nearly 18 months ago. I briefly mentioned the show, including that they were awesome, in my uber rediscovering live music post.
We've been to Wolftrap twice before, but both shows were at The Barns. Last night's show was in the Filene Center, which is the main pavilion for concerts. It's an outdoor venue, with a cavernous covered area with proper seating, and a large two-tiered lawn system that is completely outoors behind the main structure.
We bought our tickets months ago and even back then were forced to select seats way to the right of the stage. They were in the fourth row, so that part was great, but we were three and four seats off of the extreme right aisle. I'll cover the opening act later (a group we've seen before and like as well).
Ricky, Bruce and Ricky's band, called Kentucky Thunder came on stage at exactly 9pm. The crowd wasn't just there for an evening out, as it was clear that they were giant fans of either Ricky, Bruce, or both (as we are).
Let's do a 30,000 foot tour of what's great about these guys:
Bluegrass music is fantastic, and these guys are amazing, individually and collectively
Ricky and Bruce have excellent voices, and sing great individually and collectively (great harmonies) together and most often with Paul Brewster
Every single member of Kentucky Thunder is a phenomenal musician. I'll call out three of them in a bit
Ricky is one of the best mandolin players
Bruce is a mind-bogglingly great piano player
Each has written a body of music that stands the test of time
They are fun and have tremendous stage presence
I could go on, but if you don't get the point already, a few more whacks on the head won't convince you. 😉
Last year they released a CD called Ricky Skagss & Bruce Hornsby (catchy title). In March of this year, they released another, named Honoring the Fathers of Bluegrass: Tribute to 1946 & 1947. They played a bunch of songs from both CDs. They also played a few more of Bruce's big hits, done reasonably differently than the original Bruce Hornsby and The Range versions.
For the most part, the Bluegrass versions (of Bruce's songs) work great (even though I still prefer the originals). In the case of Mandolin Rain (which is on last year's CD), it's not even 20% as good as the original (IMHO). It's cool, and if I didn't know the original, I would like it more, but I feel teased when I hear this version. A better example is their rendition of The Way It Is (title cut from Bruce's album of same name). It's a really great Bluegrass version (though I still like the original a little more).
As you'll see below, Lois didn't have her usual unfettered access to the camera during the show. She didn't get off many shots to begin with, and under the circumstances, most of the shots came out poorly at best (lots of ghosting and lighting problems). I would have foregone putting any pictures in the post, but Lois works hard for all of you, so to honor her effort, I'll put them in. I won't make any more excuses on each individual picture, this is my one disclaimer. Please don't blame her photography skills for the results… 😉
I've already said that both Bruce (on piano) and Ricky (mostly mandolin, but also amazing on guitar on three numbers) are incredible. Let's cover the rest of the band, left-to-right on the stage.
The only guy to the left of the grand piano, and reasonably far behind it in the back of the stage, is Andy Leftwich on fiddle. He's truly amazing. We've seen some great fiddlers in the past year, so I'm not sure I can say that Andy is the best of the best, but I'm equally unsure of any flaws that he has that would keep him out of that group, so suffice it to say he's a joy to listen to! Andy was obscured from our view the entire night, so unfortunately, no photos of him.
Behind the piano, just to the right of it, dead-center stage, is Mark Fain on upright bass. Excellent all night, but only highlighted in one number, late in the evening. Solid, never a distraction.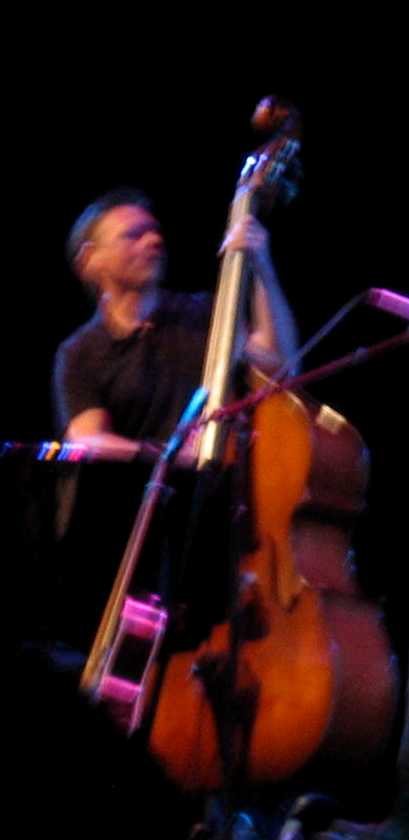 Toward the right side of the stage were three acoustic guitarists in a row (slightlly unusual). The first of them is Cody Kilby. Of the three, he plays primarily lead guitar. Run, don't walk, to his MySpace page and listen to the four songs on there. His fingers move so fast and his leads are extremely interesting. I had to stare at his fingers to really beleive that one man could make the sounds that came out of his guitar. It sounded like two great lead guitarists playing at the same time. Nope, it was all Cody. Wow! I'm definitely getting his new CD!
Next was Ben Helson. Bruce introduced Ben as being new to the band. Unfortunately, the Wikipedia page I linked to above shows him as a former band member, and still shows Darrin Vincent on the main page. In any case, it's definitely Ben in the middle of the guitar trio. He plays excellent rhythm guitar and sings backup vocals on a very few numbers. Solid, but not highlighted at all.
Next was Paul Brewster. Also played rhythm guitar, but featured on background vocals on nearly every song. He has an excellent voice, complementing Bruce, Ricky and both together whenever he joined in.
The three guitarists together: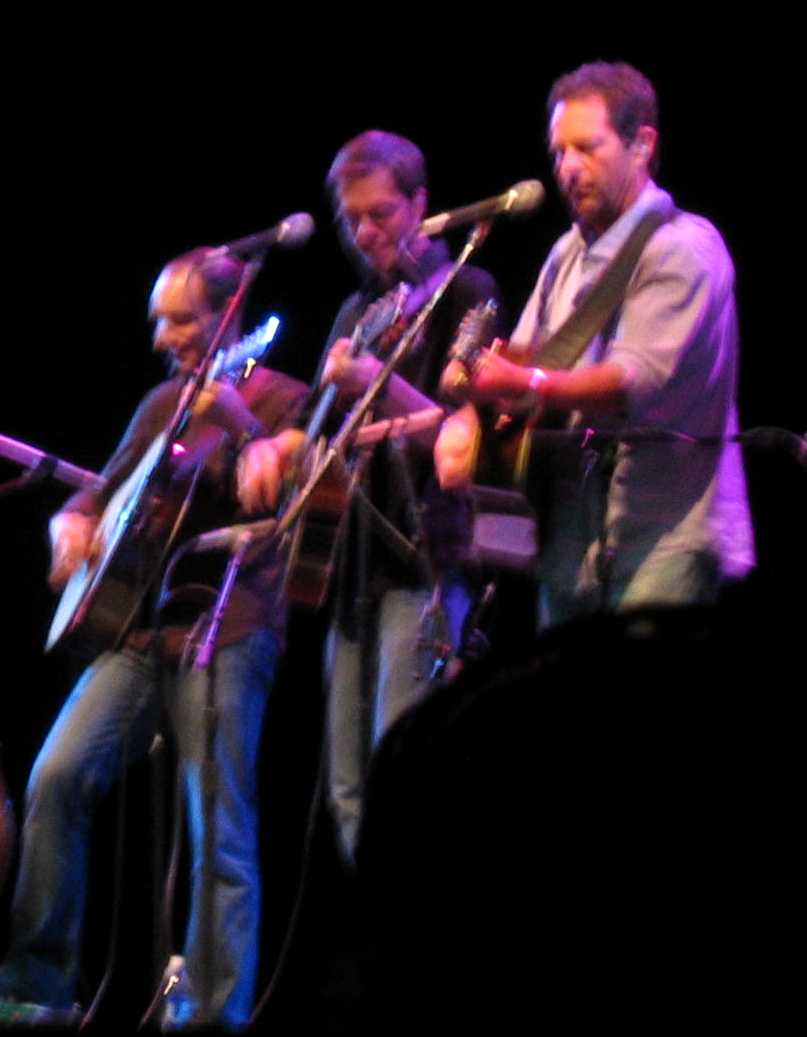 Finally, Jim Mills on banjo. He has won quite a number of Banjo Player of the Year awards (the site says four, but I recall Ricky say six or seven when we saw them at BB King last year). He definitely deserves it. His banjo playing is so crisp, clean, fast, interesting, driving. We've seen some truly great banjo players in the past year as well (like with the fiddle and mandolin players), and for my taste, Jim is probably in third, very (very) close to number two. My top pick is Bela Fleck (more on him in a minute). Second is Ron Stewart (currently part of the Dan Tyminski Band).
Here is Kentucky Thunder, minus Andy Leftwich, who is to the left and behind the piano, out of our view: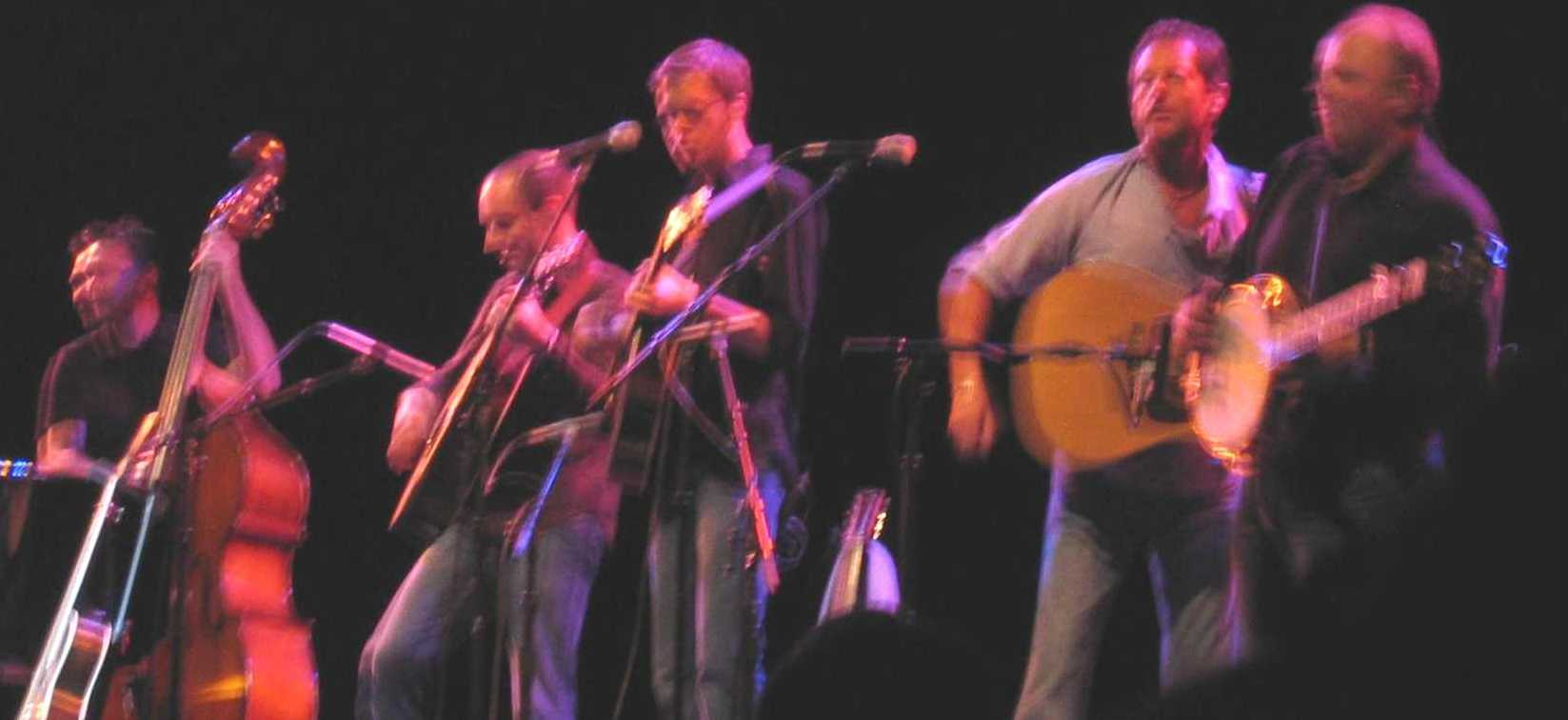 Here is a YouTube video of Ricky Skaggs and Kentucky Thunder. There are a few nice highlights of Andy playing fiddle, Ricky on the mandolin and Cody on guitar.
In the middle of the set, they asked anyone in the crowd who wanted to come up and do some clog dancing to join. No one volunteered, and you had to wonder whether people thought they were just joking around. After some more teasing a few people climbed the stage, which started a flood. There were roughly 30 people on stage with them, dancing around in a frenzy. It was cool.

It also highlighted a truly idiotic policy on the part of Wolftrap. There are a few signs around (not all that prominent, but also not invisible) that there is no photography permitted (even without a flash). That's just silly in this day and age. Of course, not only were tons of people taking photos throughout the show, many were doing it with flash on as well. Ushers were flying all over the place admonishing people, even as others a few rows away kept snapping.
The reason I say that the clogging highlighted it is that even with 30 people on the stage dancing around, clearly to the delight of the crowd, ushers were trying to stop people from taking pictures (of their loved ones, etc.). Truly silly, but what can you do… Lois got off some shots (and got yelled at once) but she took five percent of the number of shots she would have if it was permitted. She never uses a flash during a performance, even if it's allowed.
I will come back to one cool part later (you'll understand why I'll tell that part out of order when I get to it).
They played an amazing 97 minutes before saying goodnight. After a rousing standing ovation, Ricky, Bruce and Jim Mills came out on the stage alone. For this one number, Ricky played the fiddle (really well!) and Bruce played the accordion (to the delight of the crowd!). Then the rest of the band came out and rocked the house with another full-energy number which ended with another standing ovation. Total time on stage 112 minutes of pure joy!
Here are Bruce on the accordion and Ricky on the fiddle during the first song of the encore: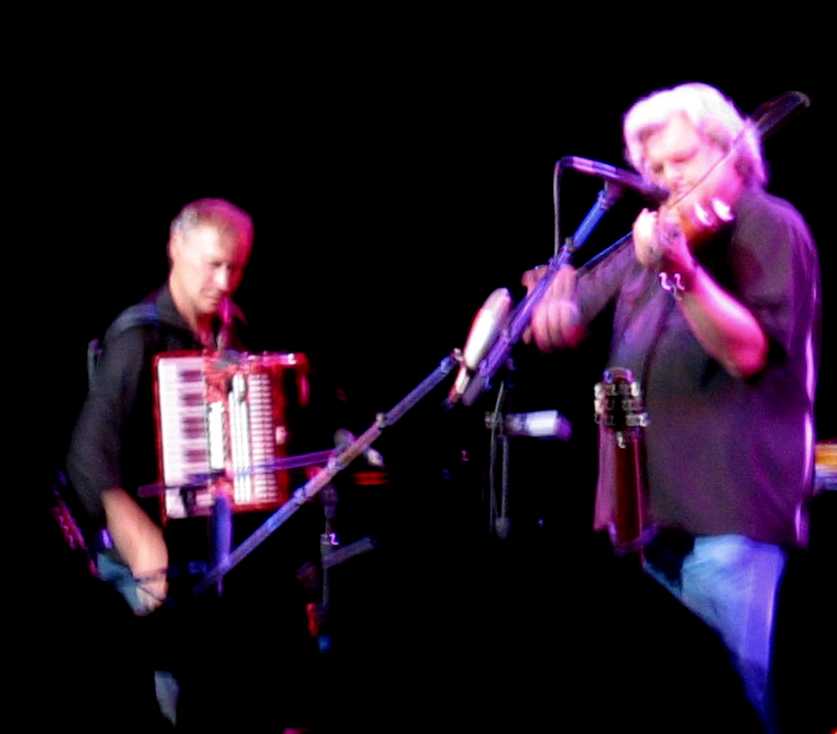 The opening act was Abigail Washburn and the Sparrow Quartet. They too have a new CD out called Abigail Washburn & the Sparrow Quartet. We saw them at Joe's Pub in January this year, described briefly (by my normal standard) 😉 in this post.
I mentioned above that Bela Fleck is my favorite banjo player. He plays every conceivable style (bluegrass, classical, jazz, country, dirges, etc.), all fantastically. Abigail Washburn has a great voice, and plays the banjo extremely well too. Casey Driessen is an incredible fiddle player and Ben Sollee is a superb cello player who also sings gorgeous harmony with Abigail.
Here's a shot of Abigail and Bela. Ben and Casey were obscured in this photo so I cropped them: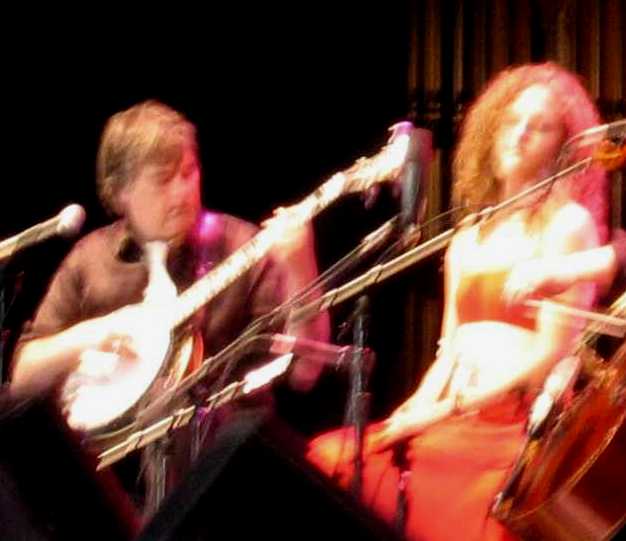 The four of them play extraordinary instrumentals. That said, while Abigail's voice is wonderful, her song selection leaves Lois and I a bit puzzled (in both concerts). They could be a super group, but the selection will relegate them to also-rans in my opinion. Lovely sound, well executed, but just off target…
They came on stage at 7:58pm (two minutes early, a rarity indeed). They were introduced, and started playing at 7:59pm. They left the stage at 7:47, so they gave a very nice warm-up show, with very little down time between acts. I was very impressed by Wolftrap in that regard!
The surprise I alluded to above is that well into the Ricky and Bruce show, they invited Bela to play with them. He's recorded with Bruce a couple of times (and probably Ricky as well). He was on stage with them for 25 minutes (very nice indeed) and on one number, played a cool banjo duet with Jim Mills. Tons of fun. Bela is just a superstar in my opinion.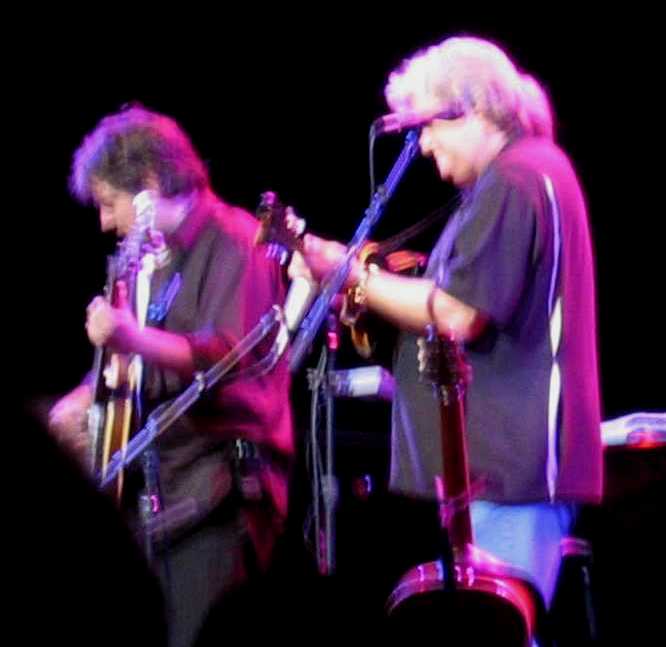 Wolftrap can hold 7,028 people in total (at Filene), with 3,868 under the structure and 3,160 on the lawn. During the Sparrow Quartet set, there were hundreds of seats empty including the six to Lois' immediate left. There were entire sections left and right of the stage, at the back of the seating area, without a single person in them. We were shocked, given that I didn't have that much choice when I purchased tickets months ago.
I assumed that when Ricky and Bruce came on, it would be full. It wasn't. Barely a few dozen of the empty seats were filled in the intervening 13 minutes between performances, so we slid down five seats and got a better angle for the main event. By the time the show was over, the seats were practically full (an empty seat here or there, like the one Lois left empty between her and the person she slid down next to). I don't know if people just showed up late, or if they allowed people from the lawn to come down. The lawn still seemed pretty crowded so it could have just been late folk.
Anyway, a fantastic show all around that we thoroughly enjoyed.
On the downside of the evening, getting out of the parking lot there is a total zoo. It took nearly 30 minutes to get out. Then we were making great time down I495/I95. When we were 15 minutes from the hotel, taffic came to a dead stop. Oh oh. Highway repaving. Fun. It made the last 15 minutes take 45 minutes, which turned out to be not as bad as it first appeared it would be. Still, we didn't get to bed until nearly 1am, which for us, is the equivalent of dawn. We slept for 5.5 hours and came back to the office, exhausted, of course…