Send to Kindle
A long while back, there was a crew at CBS TV that were customers of ours at Zope Corporation. That crew broke up, and after having moved to different places, has reassembled again at CBS Radio. CBS Radio is a very small customer of Zope Corporation, but this crew has no part of that.
Lois and I have remained friendly with our former customers, in particular with the boss of the crew. We knew the second guy in the chain second best. The third guy is someone I had only met once or twice until recently.
A few months back, we invited the crew to dinner at our favorite NYC Mexican restaurant, El Rio Grande. That's the first time we got to know Jonathan Pytell (the third guy). At dinner, we discovered that he was a musician. He plays regularly (every Wednesday from 6:30-9pm and every Saturday from 7-10pm) at F.illi Ponte.
We've been wanting to go see him every since that dinner, but our schedule is just so crazy that it didn't work out. Last night we finally got to go. F.illi Ponte is a very high-end restaurant (prices and likely food quality), and we weren't in the mood for a big (rich) meal, since both of us had separate business lunches out yesterday. So, we ate at home first, and intended to have a drink in the bar, which is where Jonathan plays anyway.
The restaurant is gorgeous. The dining room has beautiful views of the Hudson River. The staff at the restaurant is one of the nicest that we've seen (at least 8 different people that we noticed). The bar doesn't have a view of the river, but in addition to the traditional bar (with stools), there are a number of plush couches and leather chairs. We chose a sofa behind Jonathan, 2 feet away from him.
The bartender (a very sweet and cute, likely Russian woman named Natalia) made me a perfect chocolate martini. Yummy. As bad as I look in the photo below (I know, it's accurate), I included it so that you could see Jonathan, and more importantly, the chocolate martini, which stars in the photo. Click on the photo to see a larger image of the martini. 😉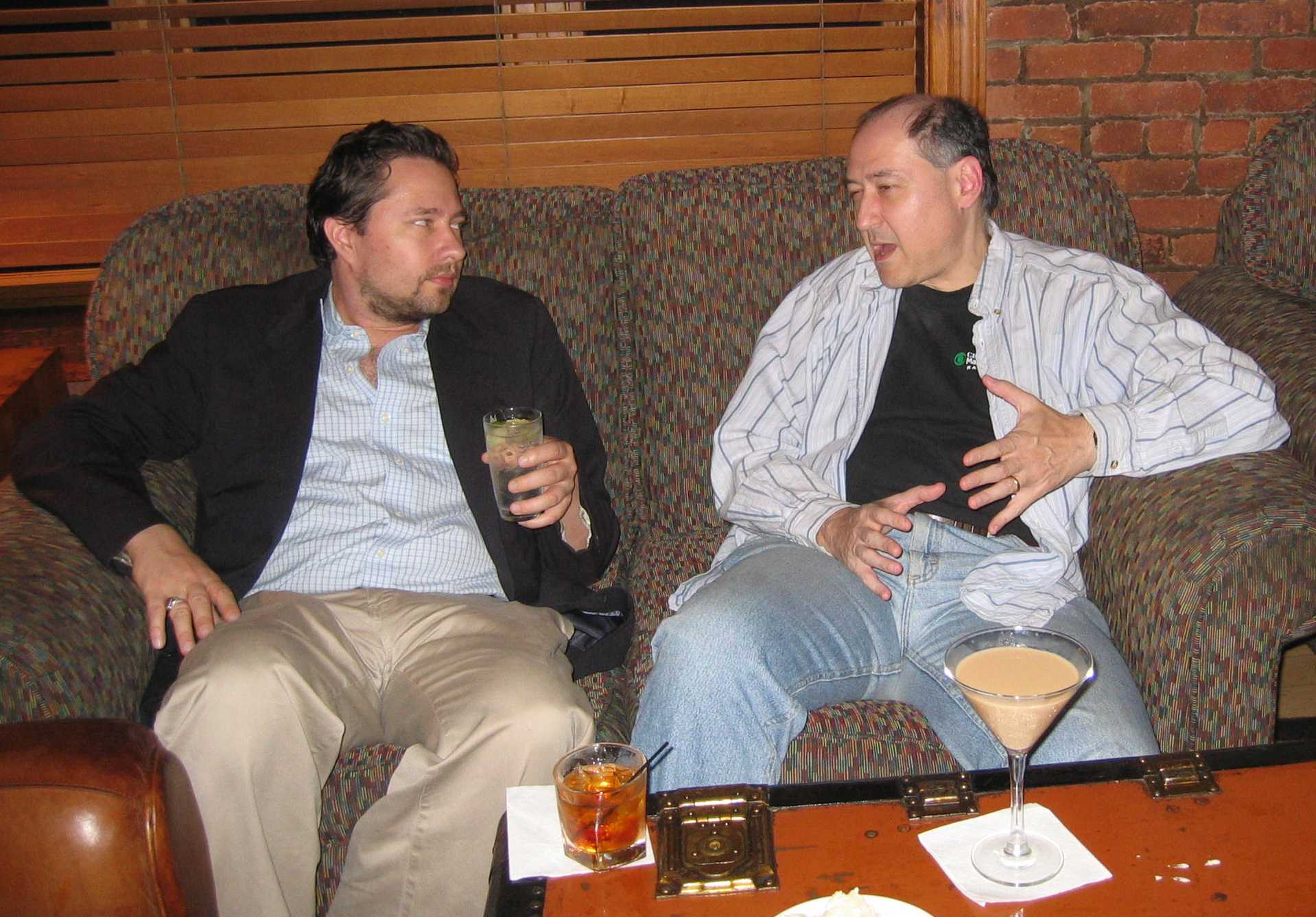 Jonathan played a wonderful set of classic songs, including taking at least 10 requests from Lois and me. Thanks for that Jonathan. He's a wonderful musician with a real feel for the music. He brings a very nice creativity to a number of the classics.
In between, as the bar cycled through people waiting for dinner, we got to talk a lot with Jonathan and get to know him better. He's as nice and interesting a person as you could want to know.
If you find yourself in lower Manhattan on a Wednesday or Saturday evening, I highly recommend stopping in for a drink and catching Jonathan tickle the ivories. Feel free to ask him to play one of your favorites, and tell him I sent you. 🙂
While I can't recommend the food at the restaurant, simply because I haven't tasted it yet, the ambiance is amazing there, so it's definitely worth trying out at least once, if you have lots of cash or credit handy…
I'm sure we'll be doing this again in the near future, in particular, when I have a hankering for another perfect chocolate martini. 😉