Send to Kindle
Friends of ours were coming into town this week from Vancouver. They were free Monday night (last night) so we suggested an early dinner followed by a concert at Joe's Pub at 9:30pm. Rhonda Vincent and The Rage were performing. She's the queen of Bluegrass Music (which I love). We sent them a link to a YouTube video of her, and they agreed to the plan.
As my regular readers know, Joe's Pub is one of our favorite places. That said, they are not without their problems, and the cumulative effect is getting a little annoying. This is only the second time that we've gone to the late(r) show. We discovered Joe's Pub when I was looking to see if The Duhks were playing in NYC. They were playing the 9:30pm show at Joe's, and we didn't know any better, so we booked the tickets and went.
The doors are supposed to open at 9pm for the 9:30pm show. They never do, because they never clear out the folks from the earlier show in time to do that. That's not the biggest issue, although on a night as cold as last night was, and with us arriving too early (8:30pm), an extra 15 minutes standing in the frigid cold was less than pleasant.
What's annoying is that they insist on you ordering dinner in order to reserve a table. That's not a problem with the early show, because they open the doors at 6pm (well, never before 6:05, ever, and sometimes later), but the shows generally start at 7 or 7:30pm. So, you have time to relax, order dinner, and not be rude to the performers.
For the 9:30pm show, you order at 9:29, and the food doesn't come out until after 10pm, when the show has been on for 30 minutes already. I don't mind buying the same amount of money's worth of drinks in order to reserve the table, but the food part and the slow service is marginally annoying.
Anyway, last night's plan was to challenge the written policy of dinner only, and have dinner in advance, and only drinks (possibly dessert) at the show. The best laid plans…
Our friends spent the day doing something that sounds incredible, flying around in Zero Gravity! They were part of a five hour program run by this company. The program ended with some kind of food, so when our friends got to our apartment, they weren't that hungry. So, we hung around our apartment for a while, and then headed straight to Joe's, intending to eat there.
Since I had had the Seared Tuna twice there in the past 10 days, I switched to a cheeseburger. Excellent as well.
On to the show. The only substitution from the normal band was the banjo player. Kenny Ingram's wife had some medical problem, and he stayed behind to be with her. Daniel Grindstaff sat in for him (or rather, stood all night), and he was amazing. While all of them (including Rhonda) are excellent musicians, Daniel (on the banjo) and Hunter Berry (on the fiddle) were particularly notable.
Rhonda's voice is excellent. Unfortunately, they never quite got her microphone level right the entire night. I've never had that happen before at Joe's. Considering that I was closer to her than anyone else (other than the band), having my left elbow on the edge of the stage right in front of her, I was able to hear and enjoy the performance, but it could have been better.
As evidence of how close we were to her, here's a not-so-great shot, that did not use a telephoto lens. 😉 (as always, click to enlarge):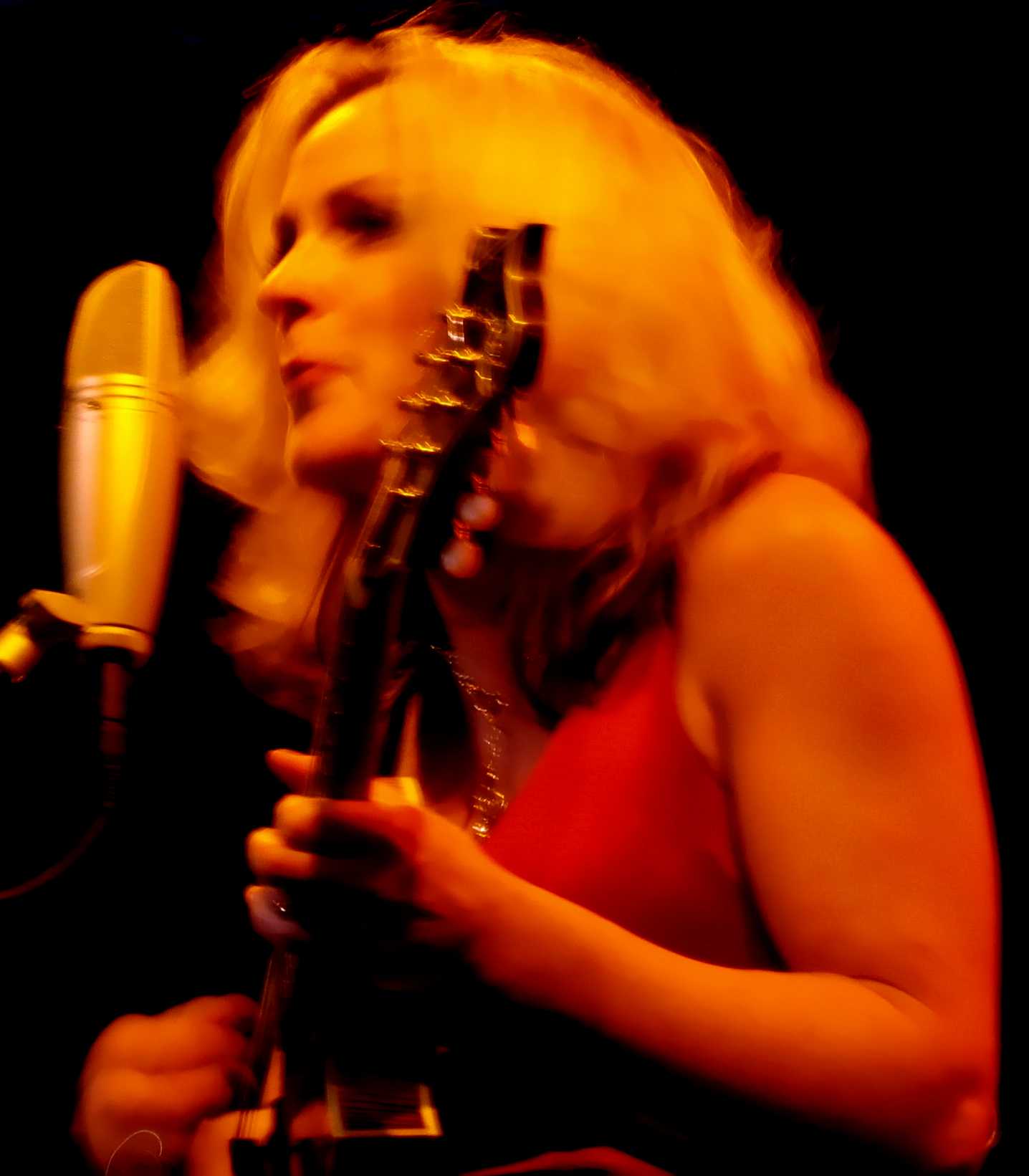 One minute before the show started, a guy from the back came up to Lois and told her that there were a bunch of guys from Fort Hood in the back (at least that's what I heard), and could she (Lois) make sure to ask Rhonda to play God Bless The Soldier (which is a beautiful song, specifically inspired by a female soldier from Fort Hood!). I guess that Lois projects an image of getting things done (which is interesting, since she's most definitely the get it done person in most groups). She said she would.
Immediately (before they started to play), Lois called over the guitarist (Darrell Webb) and relayed the message. He said he would tell Rhonda. He appeared to a minute later, but for all I know, he was telling her that they needed to call security on Lois, or at least keep an eye on her. 😉
All in all, an excellent show. She's really wonderful, and so are The Rage. She's really beautiful, and looks like she's 30. That's not likely, as she told the crowd that she's been married for 24 years, and has two daughter's, ages 21 and 19! Lois and I need to get some of the water that they have in the Missouri town that she's from. 😉
When Joe's Pub personnel signaled Rhonda that she needed to get off, she sang one last song before leaving the stage. To that point, she hadn't sung God Bless The Soldier. Lois tried to catch her attention before she got off, but I stopped her. I suspected that she was saving that for the encore.
When she came out for the encore, she had a guitar (first time for the night, as she played the mandolin for all other numbers), and only Hunter Berry (the fiddler) came out with her. Lois called her over (have I mentioned that Lois is a get it done person?). Rhonda leaned down and Lois told her about the Fort Hood request. Rhonda said that's exactly what she intended to play for the encore. All was good with the world, as she did a wonderful version, including telling the inspiring story behind the song, and we all left on a high note!
We had a great time, and would definitely see her again given the chance. We'd also go back to the 9:30 show if the right performer was there, but we'd be gnashing our teeth all the way. I am grateful that the majority of the shows we have been interested in are the 7-7:30 ones, and I hope that it will continue to be the case.