Send to Kindle
The Beacon Theater has been running a Valentine's Day Concert for some number of years, sponsored by CD101.9, the local NYC Smooth Jazz radio station.
Last year was the first time Lois and I went, and we saw Dave Koz, along with David Benoit and Jonathan Butler. The mention of that concert was one paragraph buried in a very long post about Rediscovering Live Music. That's too much to read, so here's the relevant paragraph:
We saw Dave Koz at the Beacon Theater on Valentine's Day. It was an amazing show, even though the acoustics were horrible! He had two special guests that played most of the evening with him and his band. David Benoit and Jonathan Butler. David Benoit is one of the great jazz pianists. Lois is now one of his biggest fans. I had never heard of Jonathan Butler before. He's a South African singer and guitarist. He blew me away. Anita Baker was supposed to be a special guest, but she got snowed in and couldn't make it. Koz got his buddy Be Be Winans to step in at the last minute. Be Be sings "The Dance" on the Koz album of the same name, and is one of our favorites. It was a special treat to see him sing that song live!
When I saw that there was another Valentine's Day Concert this year, headlined by Al Jarreau with Najee opening for him, I grabbed the tickets immediately. A little over a week ago, I received an announcement that CD 101.9 would no longer be playing Smooth Jazz (they're switching to some kind of Rock format). They made sure to point out that the concert was going to be held as planned.
I've written about the Beacon Theater a number of times, and the fact that they are owned by Cablevision, which also owns Madison Square Garden and Radio City Music Hall. Of the three, I've also noted that the Beacon starts its concerts on the late side.
Last night, we decided to take the bus. I left plenty of time, and we didn't have to wait for the bus that long. Lois always wants to leave earlier than I do, but last night, she relented. Unfortunately (for me), there was more traffic than I anticipated, and a police action in Times Square, and a Fire Engine a little further up, and it was clear that we wouldn't get there as early as I had hoped. Still, I wasn't nervous, because they always start late.
We got there at 8:04, so not too late. The house lights were still up, whew. But, as we walked down the aisle to find our seats, the lights went off, and Najee's band started to play. Oops. Luckily/thankfully, the usher at the head of the aisle guided us perfectly. She said: "You're in the fourth row from the stage, five and six seats in from the aisle." We were able to find our seats without reading the numbers. Another whew.
The seats were a huge (and very pleasant) surprise. I knew we were in row DD, but in some theaters, AA comes after Z, in others (perhaps most Broadway theaters), AA is the first row, as turned out to be the case at the Beacon. Yay!
I wasn't familiar with Najee's music, though I've know of his reputation as an amazing musician for many years, so I was excited to see him. He was awesome, as was his entire band. He plays a number of instruments (different forms of Saxophones, a flute, etc.). Here he is playing the flute (click on any photo to see a larger version):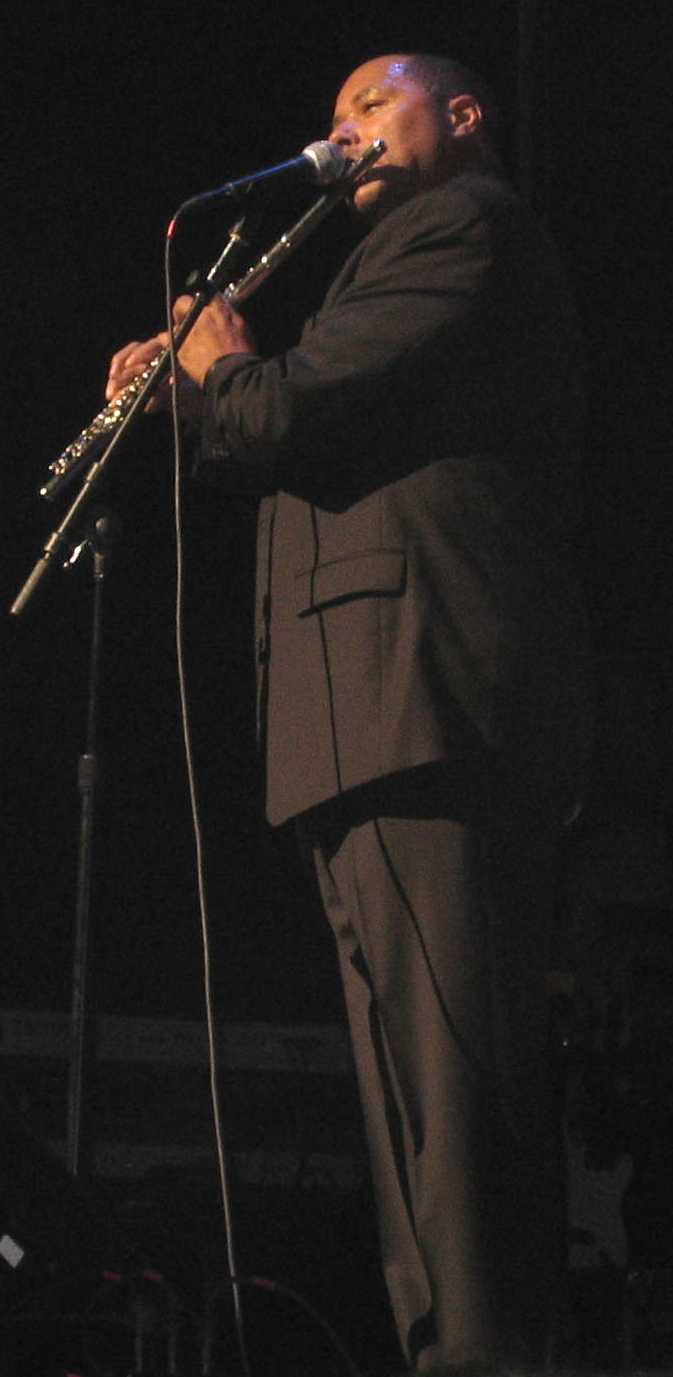 While every member of his band was incredible and deserves a direct mention, I'll cop out and call out two of them. Unfortunately, while I paid attention each time Najee named the band members, I also assumed that I could easily find their names on the Internet today, and for whatever reason (brain addle, etc.) I simply can't! 🙁 The only name I am sure I can recall is the percussionist (different than the drummer) who is Victor Williams.
The drummer (feel free to leave me a comment and fill in his name! Update: as you can see in the comments, his name is Kentric Morris) was extraordinary. While he was playing an awesome solo, Najee came on the stage, grabbed a bottle of water, showed it to the crowd, then handed it to the drummer. He drank the entire bottle (holding it in his left hand), and continued the solo (feet and right hand), without missing a beat, in a pretty wild (in the good sense) solo. Wow.
Then, while still playing the same solo, a minute later, Najee came on the stage with a Blackberry in his hand. He asked the audience to yell "Hello" as he pointed it to the crowd. We did. He asked us to yell louder, we did. Then he handed the phone to the drummer. Again, the drummer continued the solo while speaking on the phone. It turns out it was his mother, and he had to excuse himself for having to get off so quickly. It was hysterical, especially when he promised her that he had attended church this past Sunday. 😉
The other guy to single out was the guitarist. He was formerly with the B-52s. I thought the name was "Chuck", but I can't find any mention of that, so I'm sure I was wrong. Anyway, aside from being an excellent guitarist, all but one of Najee's numbers were instrumentals. The one exception was sung by the guitarist, and he did a heck of a job. He's from Roanoke, VA if that helps identify him. 🙂 Perhaps, one of you can recognize him from his photo: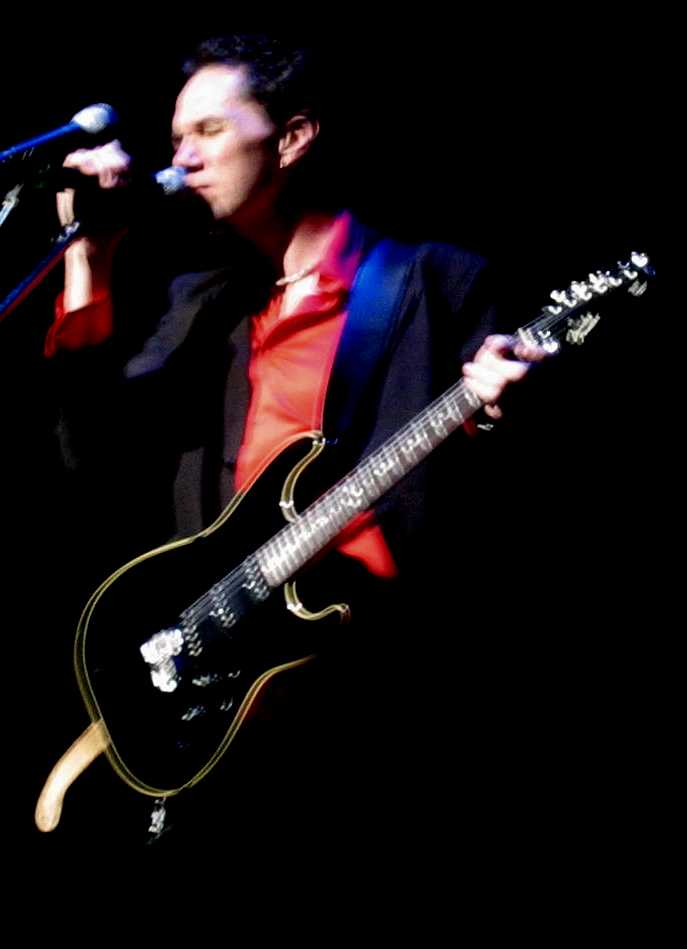 Update: People in the comments confirmed that the guitarist is Chuck Johnson.
Aside from making great music, Najee is personable and very conversational with the crowd. They were on for just under one hour, leaving the stage at 9pm.
As happened the previous night at MSG, they didn't cover the stage between acts. Since we were in the fourth row, we got to see the entire disassembly and reassembly of all of the equipment for the two groups. They opened up the back of the stage to get the equipment straight out to the trucks. That meant that the outside air was rushing in during that operation. I was in a T-Shirt, but loved the breeze. Lois was in long sleeves, and had to put on her winter coat. 😉
Al Jarreau's band came on the stage at 9:32, and they started to play at 9:34 while the lights were still on. The lights were turned off by the third note, and people rushed to their seats. A minute later, Al came on the stage to a thunderous applause, along with a female singer (again, really sorry about not nailing people's names last night!). She joined him on four or five numbers, and they sang wonderfully together.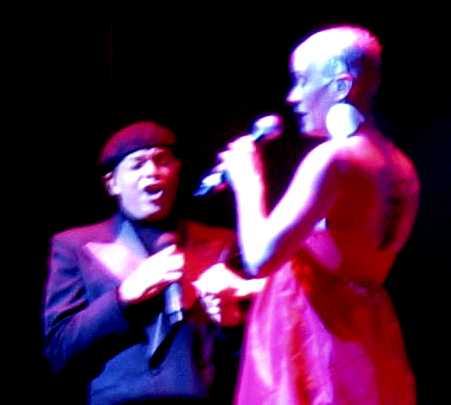 In addition to having one of the silkiest voices around, with a mind-boggling range, Al is also a great entertainer, who is enjoying himself on the stage as much as the crowd is enjoying him. He's 68-years-old, and hasn't lost even a touch of his vocal capabilities. When he sings in a deep register, it's smooth, clean, powerful, and you'd think he was a 400 pound bassist. When he reaches for high notes, there's no strain in his voice, and he can whisper them, or belt them out. To repeat my characterization above, simply mind-boggling.
I've been a fan of Al's forever. I bought Breaking Away on vinyl, when it first came out (in 1981), so it's at least 27 years that I've been listening to him. I love that album so much, that I also own the CD.
If you don't know him, get to know him. 😉 In addition to phenomenal singing, he also scats with the best of them. But, in addition to normal scatting (whatever that means), he scats all of the instruments in his band. If you close your eyes, so that you don't know it's him, you could easily confuse his voice for a real instrument. It's cool, trust me. 🙂
As with Najee (who joined Al for one wonderful number!), Al has an incredible rapport with the crowd. There's something Buddha-like about Al. He radiates love, peace and joy, and openly promotes prayer and mindfulness throughout the show. Here's a photo of the two of them together: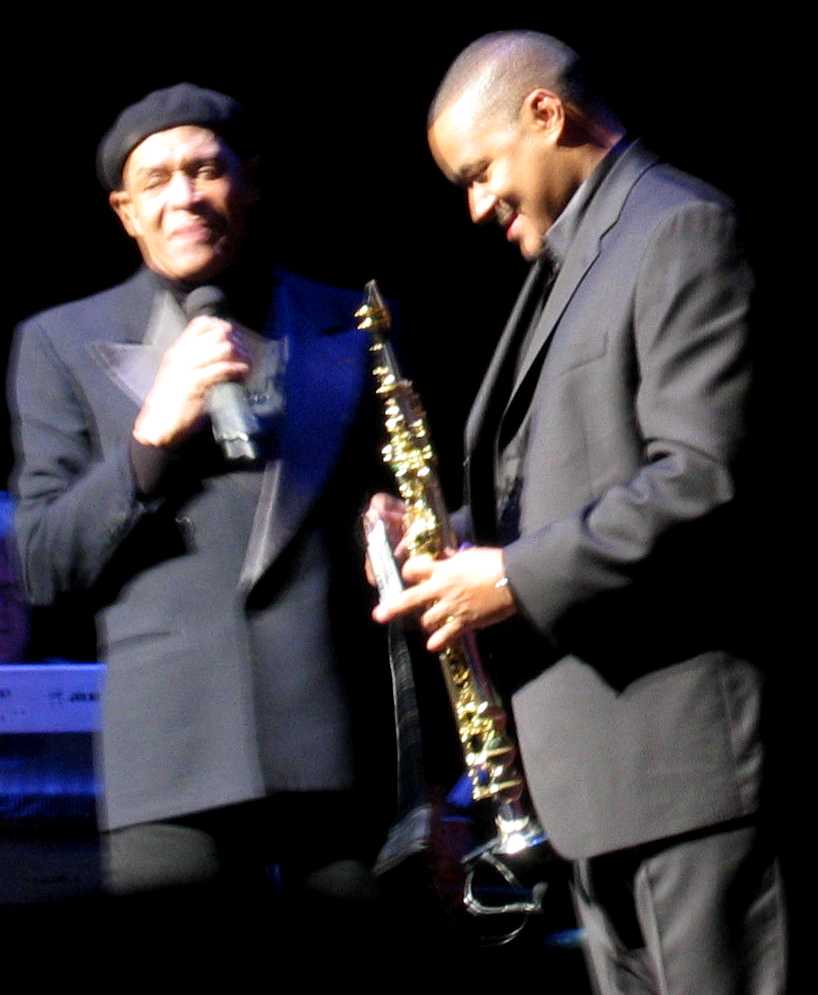 He played an extraordinary set for just under 90 minutes, including an encore. He never left the stage after saying the first goodnight, slipping into the encore. I was thrilled to be there last night!
One political footnote.
If you've read my stuff before, you know I really can't stand when an entertainer mixes politics into the show. I've also said, if you're going to do it, make it part of the music, not a speech.
Both Najee and Al made exactly one reference each to something that could be considered political. In both cases, it was classy and understated, and most definitely not preachy. Both could have (and possibly should have) avoided it, but I can't imagine they offended anyone, certainly not me.
First Najee. He pointed out that he was in LA (Ventura Boulevard I think) and saw 25 people demonstrating on behalf of Obama. What amazed him was that all 25 were white people. He (Najee) pointed out that 50 years ago, that sight would simply have been inconceivable, and it made him proud to be an American, and very hopeful about what it meant for our collective future.
I completely agree with him, as did the crowd. This wasn't an endorsement of Obama, nor a refutation of Hillary, nor a put-down of Republicans. Merely, an observation that something fundamental may finally be changing (for the better) in this country, when it comes to tolerance of differences (racial and otherwise). Amen!
Al's was more political, but as classy as could be in that regard. In introducing one of his more famous songs, We're In This Love Together, he said that he was dedicating it to sending a message to Washington that we don't want any more war. He then wove that theme into the song itself, two or three times.
But, I say it was classy, because he never once mentioned Bush, The Administration, Republicans, Conservatives, Right-Wingers (those who conspire vastly and those who don't), etc. He didn't need to curse any of the above, to get his message across.
To that, I also say Amen. We can all have our own points of view, but we'll never come to any collective understanding if the civility in our dialog continues to be rhetoric and defamatory based.