Send to Kindle
Last night, Lois and I went to Canal Room to hear three amazing acoustic guitarists, Andy McKee, Antoine Dufour and Craig D'Andrea.
I have written about all three before, as well as their label Candyrat Records in this post. I also posted about Andy McKee (including how I discovered him) in this post. I owned all seven albums that the three artists had out between them (or so I thought). 😉
It was my instinct to cover the bad parts about last night first, and then end on a high note. Lois intuited that I was leaning that way, and asked me to cover the good parts first. Since Lois is always right, I am acceding to her wishes. 😉
Even though Andy McKee was the clear headliner, he came out first, and introduced the other two guys. Well, aside from saying who they both were, he actually introduced Craig D'Andrea, who opened the show. Here is a photo of Andy during the intro (click on any photo for a larger version). I'll describe more about the place and the stage and other things you will see in the photos, in the bad section of the post. 😉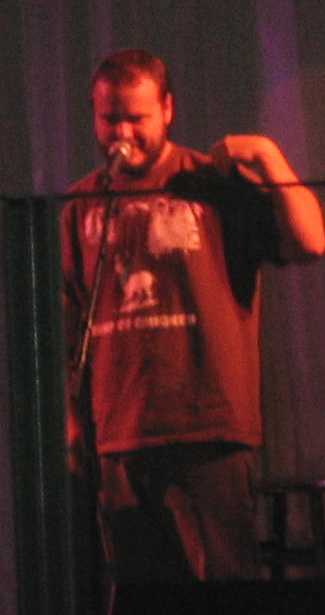 Craig had an instant rapport with the crowd. Perhaps that was partially because his parents were there as well (two tables over from us). Just kidding, since we didn't know it was his parents until near the end of the show. He's a superb guitarist, who entertained both with his music, and his self-deprecating humor, which he worked well. He played for roughly 25 minutes.
He opened the show with Morrison County. Here is a YouTube video of him opening his show at CMU with the same song (therefore live, and close to the experience we had last night). He's being introduced by Antoine Dufour, so you can get a sense of his gentleness on stage as well. You can also get a sense of the pacing of this type of concert. The song itself doesn't start until nearly the two minute mark, but watch the whole thing, it's most definitely worth it!
Next up was Antoine Dufour. In my Candyrat post, I mentioned that while I love all of them (that includes Don Ross, Kaki King and Peter Ciluzzi as well), I probably have an ever-so-slight preference for Antoine. The rest are brilliant, so I feel silly sharing such a razor-sharp distinction, but, if I didn't say it, I wouldn't be sharing my complete thoughts.
Antoine was a little slow to engage the crowd with banter, but when he got going, he was quite hysterical. He is a soft-spoken Canadian (I covered that fact in a short Canada Rocks post) with a French accent. Completely entertaining in every way, including his amazing guitar playing.
So, earlier I mentioned that I owned all of the albums that the three had between them. It turns out that Antoine released a new album last week. I bought it at the end of the show, and got to shake his hand and tell him how awesome he is, so now, again, I own every album that they have released. 😉
Antoine played half of the songs from the new album, so when I listened to it today at home, it was comfortable and familiar. Here is a YouTube video from the same CMU concert of Spiritual Groove, which is off of his Development album (not the newest, which is Existence).
Antoine played for roughly 35 minutes. Here is a fuzzy photo of him. I like to think it's fuzzy because his hands are moving at the speed of light while he's playing. 😉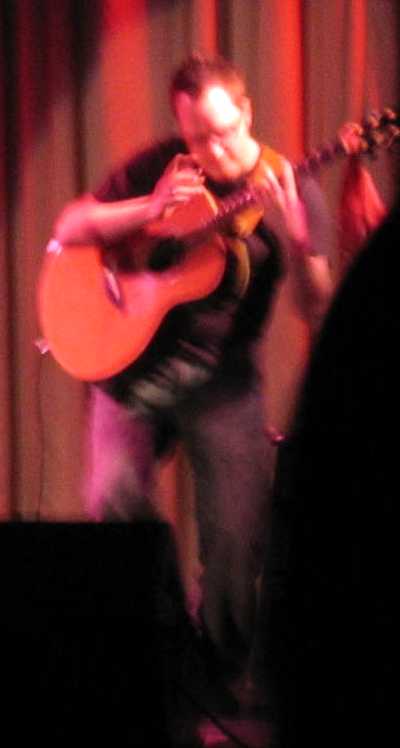 After an intermission (there was no break between Craig and Antoine), Andy McKee took the stage. He too is completely personable, and when he tells a story, you hang on his every word. He too is a genius with the guitar.
Here is a YouTube video of him playing Art of Motion at the same CMU concert. The music starts at the one minute mark, and he tells a story about how the song came to be named, which he also told last night.
Andy played for roughly 70 minutes. When he was done, he called Antoine and Craig up to the stage, and they played one of Antoine's new songs, A Hiding Place for the Moon. The only word to describe it is Wow! Here is a YouTube video of them playing it together. While it's incredible, it really doesn't match the quality of sound or experience that we enjoyed last night. The CMU recordings are better quality…
Here is a still photo of them during our show last night: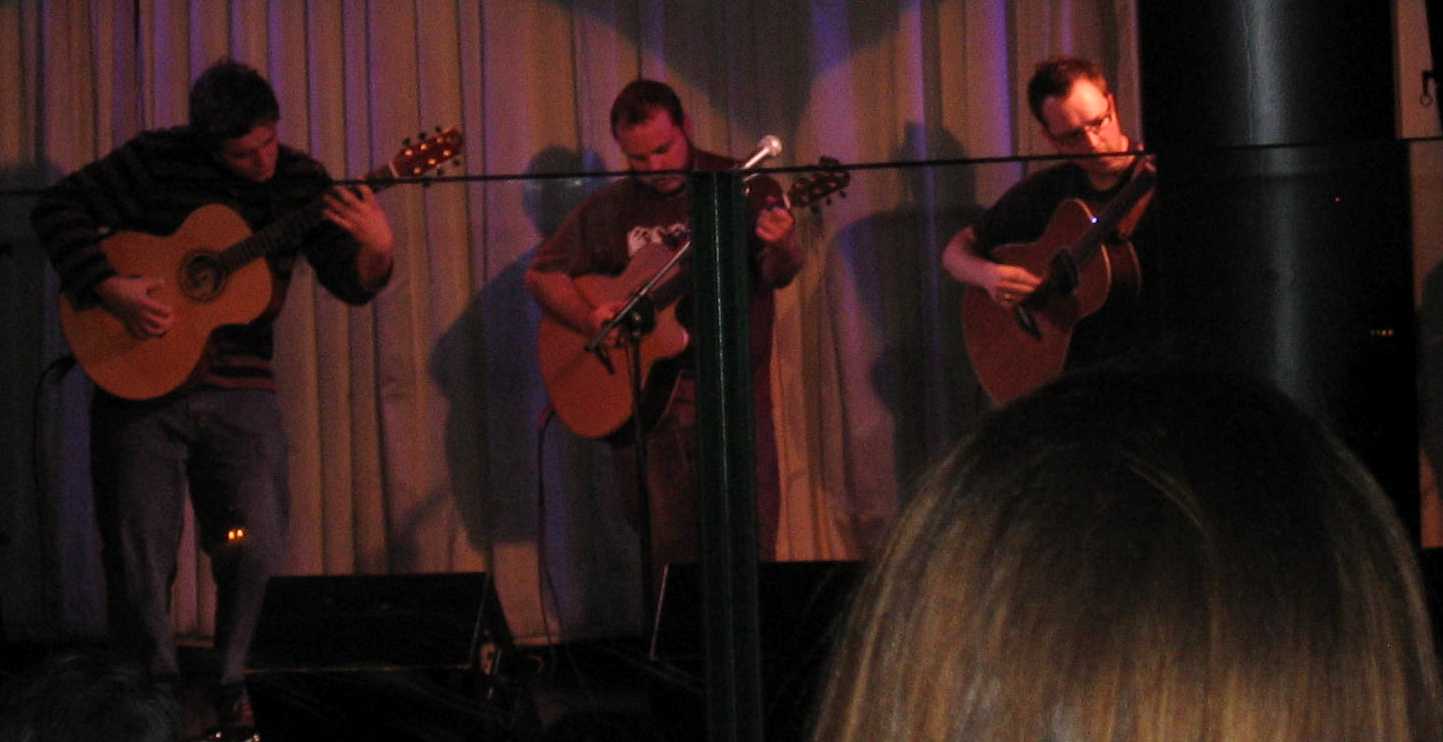 After the trio played that song, Andy stayed on the stage for one final solo. Between the trio and the solo, the encore was roughly 20 minutes, and was awesome.
The crowd was nuts about all three of them, with ovations lasting a pretty long time after each number.
That ends the good part of the post, and if you are spiritually averse to negativity, this would be a very good time to close your browser.
Last night was far from perfect (though the music was as close to perfect as you could hope for in a live show!). Let's start with the one part that was entirely my fault. 🙁
We have never been to Canal Room before, so I committed the cardinal sin of assuming I knew where it was. From the website, I just zoned in on Canal and Broadway. I know where that is. Given that I cut it way too close on Thursday for the Al Jarreau and Najee concert, I decided to grab a cab rather than risk another bus ride. It was raining, but not too badly.
We got to the corner of Canal and Broadway at 7:15pm, and the doors were scheduled to open at 7:30pm. Perfect. Except for the fact that from the addresses, it was obvious we were in the wrong place. Oops. I used Google Maps on my Treo to see that it was on West Broadway. I knew it was close, so I didn't panic, but I didn't know exactly where. Again, Google Maps with Directions, led the way. It was a three block walk, and we got there at 7:34.
The doors were open, but the line was still outside, as only a few people at a time could get in. It's completely unclear whether we would have been near the front of the line if we had gotten there 10 minutes earlier, but it's possible, and might have made a world of difference.
Canal Room is not a full-time concert venue (like Joe's Pub, BB King, Blue Note, etc.). As an example, there are only three nights in the next 11 days in February that have a show listed, and 10 dates in March. Perhaps because of that, it's a complete waste of space as far as concerts are concerned. If you click on the link to their site (at the top of this post), you can see an automatically rotating slide-show of photos of the place. It's beautiful, and comfortable, but not oriented to maximum quality seating for a concert.
So, comfy leather chairs and booths, but spread out for their bar/lounge business. By the time we got in, there were no seats left on the lower level, near the stage. You could stand there, but we weren't interested in standing for hours on end. We went upstairs, where most of the seats were taken as well, but one round booth that comfortably seats six, and could easily accommodate eight (though more snugly), was empty.
The two end seats on one side had a reasonably good view of the stage (you can judge for yourself, as all of the photos that Lois took were from that seat). I would say that we were between 30-50 feet from the stage (so not far), and elevated (which was good), so they weren't awful seats. The acoustics turned out to be excellent, so hearing the subtleties of their guitar playing was not a problem.
That ends my contribution to the bad parts. While our seats were fine, it was still very annoying that there was a ton of wasted space right near the stage. On the top level (as can be seen in all of our photos) there was a glass divider. You could easily see through it, but it also often cut the performers at the neck, meaning, part of them was above the glass, part below. It was mildly irritating.
Much more irritating were the gigantic columns that obscured the view of many people on the upper level. While it didn't obscure ours at all, it affected where people wanted to stand, sit, etc., and possibly caused some people to talk more than they otherwise would have, if they had a clear view of the stage.
Next, the service. Most people started off walking to the bar (downstairs) and bringing back their own drinks. Neither of us was in a hurry to drink, so we just relaxed at our table. After a bit, a waitress came over and asked if we wanted drinks. I asked for a chocolate martini (surprise!) 😉 and Lois asked for club soda (because, at the time, we just assumed that there was some kind of drink minimum).
The waitress asked me what the ingredients were for the chocolate martini (which didn't bode well), but, when it showed up, it was perfect, so no complaints there. Lois' club soda came completely flat (which I guess, technically makes it water). The waitress knew it in advance, telling Lois that the machine lost it's compression, but that she would bring her another one when they fixed it.
At that point Lois asked if there was a drink minimum, and we were told no, so she just canceled the drink. Now it got weird, very weird. The waitress asked me if I wanted to run a tab. I said yes. She asked me for my credit card (for her to keep until the tab was closed), and for my driver's license. When I showed her my license (should I have been flattered that I was being carded, or was it just to check photo id to match to my credit card?), she said "I need to take it with me."
What? We were incredulous. We're no youngsters, and this has never happened to us at any restaurant, bar, club, concert, etc. Perhaps when renting a car. She said she needed to photocopy the license because of credit card fraud. Wow, Canal Room must attract some type of crowd for this to be such a problem there, and not at our other haunts. I've gone on too long about this, but suffice it to say, it was weird at best…
More peeves on the way. The show was scheduled for 8pm. No announcements of any sort were made. Andy McKee walked on to the stage at exactly 8:30pm. No apologies or explanations for the late start. At best, it's rude. Why not just print 8:30pm on the tickets and be done with it?
I've already covered the show, which was simply awesome, so in the midst of these complaints, I need to reiterate that point! 🙂
Craig D'Andrea's set was relatively unmarred, in other words, completely enjoyable. One other couple was sitting at our booth (and they got there just minutes after we did). The booth is a large semi-circle. We were at the left edge and had a clear view. The right edge had an obstructed view. So, the couple slid in, but not entirely to the middle. We all seemed OK with our situation.
When Antoine started his set, a bunch more people started drifting upstairs, looking for seats. I feel like dragging this part out, because it completely annoyed us, but I'll cut to the chase. An extremely rude couple ending up sitting back-to-back with us (meaning, they were the right edge of the next booth over). The people at their table warned them when they asked if the seats were available that they would provide little-to-no view. They sat down anyway.
They then proceeded to talk to each other, rather loudly, nearly non-stop. Stares did nothing. This continued into Andy McKee's set as well. When Andy was playing a song he wrote for his father, who had passed away (a clearly emotional part of the show), finally, someone shushed them. They looked around angrily, to see who might have been so rude as to interrupt their conversation.
Listen up folks. There are a million places in NYC to sit and chat, with and without drinks, with and without food, with and without music. A concert, where people specifically pay to see a specific artist is not once of those places. Thankfully, due to their annoyance at being shushed, they moved far enough away from us that we were able to enjoy the rest of the show without having to hear them on their date.
Anyway, we're old folks, and this is the third night this week that we've been out later than we're usually awake. Last night was 30 minutes later than it needed to be, just because they started late.
I'm probably leaving out a number of additional nuisances. We basically don't like the place, even though it's reasonably beautiful on some levels. We are hoping that these (and other) Candyrat artists discover the joys of playing a place like Joe's Pub, where you hear zero conversations during the performances, ever. We also hope that no one else that we love ends up playing Canal Room. We'd likely go, with eyes wide open this time, but prefer not to find out if this was unusual or not…