Send to Kindle
The wait between Girlyman concerts wasn't quite as challenging this time around. As I reported in this post, it had been 143 days between concerts until we saw them last Wednesday at the Barns at Wolftrap. This time, we only had to amuse ourselves for four days. How we came to see them first in VA, then four days later in NYC is a long story, which I'll tell after reviewing the concert itself.
The show was at Joe's Pub. Aside from being our favorite place to see concerts, it also happens to be the first place we saw Girlyman, on August 19th, 2007. We were back at the same table, right up against the stage.
Girlyman took the stage at 7:03pm, so we were cheated out of three minutes of their wonder. 😉
They opened the show with the same song that they had opened the previous two shows we saw, On the Air (from the Little Star CD). If you read my post about the Wolftrap show, then you know that I took them to task about experimenting with the song. I have no idea whether they read the entry, nor if they did, whether it had any influence on them at all. That said, they played On the Air straight down the middle (which is to say, awesomely), and it was obvious that this night was going to be pure magic.
Lois prefers for me to share my bottom line first, mostly because she says people who skim won't know how I really feel. I think she's just too polite to say that people will likely fall asleep trying to get through my post before they get to the bottom line. So, in honor of Lois, here's the bottom line on last night's concert, followed by the details:
Girlyman was/were PERFECT last night!
OK, you can safely stop reading now, and go back to your real lives.
The banter was great (as always), but it wasn't 100% identical to last week. That's very cool. I've discussed this before, where some groups have great stories, but they're repeated identically at each show. I still like those stories, but fresh is always good.
The set list was close to Wolftrap as well, but also not identical, and that too was great. One of the marks of a creative group is that they have too much material to fit into a single show. That means that you have to leave wanting more, because inevitably, they simply can't play everything you'd like to hear.
Putting to rest the other problem from Wolftrap, Through To Sunrise. That was the other song that they played with. Last night, perfect. Whew.
The night before (therefore not in time for the Wolftrap show), the band finally started selling their new Live CD, Somewhere Different Now (Live). The link to the CD is an earlybird special. Run (don't walk) to your favorite browser and buy this CD now, you have five days left (if you're reading it shortly after I'm writing this). I'll have more to say about this CD in one (possibly two) more post(s). The point of buying it now, is that all of the money goes to the band, so show your support, and just order it, don't think about it!
The reason I mentioned the CD above, is that they tailored the set (at least that's what I read into it) to match some of the selections that are on the Live CD. To me, it was a very nice touch, because it meant that those who would take the CD home could instantly relate to their own personal live experience with the band.
Their singing and playing was simply spectacular. Above, I described it as perfect. If you've made it all the way here, I'll tell you a secret. While playing Kittery Tide, Doris actually missed one riff on the banjo (shhhhh). Why did I call the performance perfect then? Because Doris handled it perfectly. She laughed, made a funny exasperated face, and plowed on wonderfully. I got a big kick out of it, and that's part of the live experience. We're not paying to see automatons.
Last comparison to Wolftrap. In that review, I took Ty to task for getting a cheap laugh at Bush's expense. Last night, she didn't, but during the introduction of the same song (Through To Sunrise), Nate took a similar shot, and received a similar reaction (positive, of course). OK, next time, we'll let Doris get the cheap laugh, so that no one is ahead in the collection of cheap laughs, and then we can all take a deep breath. 😉
Because we sat touching the stage, we could see the set list. That meant that we knew what songs they were going to play, in what order (it pays to learn to read upside down!). They got through every song on the list, except for one of their new songs. Usually, when they do their request section, I scream Through To Sunrise at the top of my lungs (that's Lois' favorite song, and near the top of my list). We saw that they were going to play it so I showed a drop of class (not typical for me), and I didn't call out for anything.
The problem is that I wanted to yell out at least five different songs. They settled on Hey Rose, and did it wonderfully! It happens to be on the new Live CD as well, so I think that may have influenced them choosing it from the many songs that were yelled out at them.
OK, I could give more details, but I'd end up repeating myself saying things like "They sang great! They played great!", etc., etc.
Instead, on to the back story leading up to the show, then the after show stuff. I've decided to follow this post with a separate post on the new Live CD.
The second I noticed the tickets to Girlyman at Wolftrap, I snagged four of them. We invited our friends in Richmond, knowing that if they couldn't make it, finding other people wouldn't be a chore. We like to introduce new people to Girlyman live (they already have copies of Joyful Sign as gifts from us) so we buy extra tickets.
We were scheduled to work at Zope that week (or rather, once we bought the tickets, we were committed to making that a work week at Zope), and we were intending to work through the next week (this week) as well. Because we knew we'd be down here already, I snagged two tickets to see Kathy Mattea (and Bill Cooley!), also at Wolftrap, tomorrow night (Tuesday, April 1st). So far, so good.
Then, a few weeks later, Girlyman adds a previously unscheduled show to their site, Joe's Pub on March 30th! I went to Joe's Pub site, and the show wasn't even up yet. Hot off the presses. We discussed it, and even though we knew it was crazy (or least those that don't understand the magic of Girlyman would think we were crazy), we decided to do it. Do it meant coming back to NYC over the weekend, then returning back to VA no later than Tuesday to see Kathy Mattea.
A few days later, Joe's Pub listed the show, and I grabbed four tickets and a dinner reservation.
I had just connected in an interesting way with another VC in NYC, who also is a music fanatic. We've never met, just exchanged some emails and commented on each other's blog. Lois thought it would be nice to invite him and his wife along as our guests. She sent him an email, and he never replied. From everything I know about him, it doesn't seem to be his style, so we both assumed it went to a SPAM folder, never to be seen again.
I could have written (and Lois wanted me to), because he was getting my emails (and responding), but I didn't want to, mostly because if he had seen Lois' email, we would essentially be stalking him, which was most definitely not our intent.
Then we had a brainstorm. We're very friendly with a family of five in Leesburg, VA. Dad, Mom, 10-year-old boy, 7-year-old boy, 2-year-old girl. We thought that we could take the two boys, picking them up on our way back to NYC, dropping them back home on Monday, since we had to return for Kathy anyway.
When we called, it turned out that the 7-year-old was attending his ceremony for attaining a first-degree black belt in Tae Kwan Do on the day of the concert. No way he was missing that. The older boy already has his, and was getting a certificate at the same ceremony. He was willing to miss the ceremony. So, we locked in picking him up on Friday, on our way back to NYC.
That left us with one ticket. The universe likes to fill these kinds of voids, usually elegantly (at least if you pay attention to the cues). A day or two later, I received an email from someone in MN that I had only met once, through a mutual friend. We got along great during that one dinner. Of course, during that dinner, I raved about Girlyman (do I ever shut up about them? No!). He bought Joyful Sign on iTunes the next day.
In the email, he mentioned that he was in love with Joyful Sign, was ready for another dose of Girlyman, and could I recommend Remember Who I Am or Little Star as the next taste. They're both fantastic albums, but I recommended Remember Who I Am. Even though he lives in MN, I mentioned that we had an extra ticket to the March 30th show, and he was welcome to join us. I couldn't believe it when he replied that he already had a business trip scheduled to NYC and would be in that night! Wow, thanks universe! 😉
So, on Friday, we drove from Fredericksburg to Leesburg and took the Mom and the three kids to lunch, then headed to NY with the 10-year-old. On Saturday we took him to the circus (and I wrote about that here).
Backing up, when we got home on Friday night, there was an email from my new friend in MN saying that he had to cancel his trip due to a nasty cold. He kindly offered to pay for his ticket, and I told him that was unnecessary. First, the show was sold out and I could have sold the ticket if I wanted to. Second, I expected the universe to bail me out again. 😉
I quickly made a phone call to someone I know loves live music, and lives in Manhattan. He was busy and had to pass. We then sent out a number of emails, but in particular, wanted to take someone I've written about before in this space, Jonathan Pytell. He's a wonderful pianist, who we've also previously raved to about Girlyman, and I thought he'd really appreciate them. The rest of the people were informed in their emails that if Jonathan said yes, we'd have to rescind our offer.
Again, the universe delivered. Jonathan was the first to answer, with a Yes, so I was able to send emails to everyone else before they responded.
Here's one part of an unedited response from one of my friends who received an invitation. He happens to be as funny (to me) as any professional comedian out there, and this is but a tiny example:
I was sooooo looking forward to a mention in the inevitable blog entry on the Girlyman concert. "Last night, Lois and I took our two favorite boys, one who's 10 and another who often acts like he is, to the Girlyman show at Joe's Pub. What a night! The set selection included…" Perhaps you could still squeeze me in with "Although distraught that our favorite pre-teen compatible friend could not make it, we nonetheless loved Girlyman at Joe's Pub last night…"
Here's a photo that Lois took of the three boys in our party at Joe's Pub: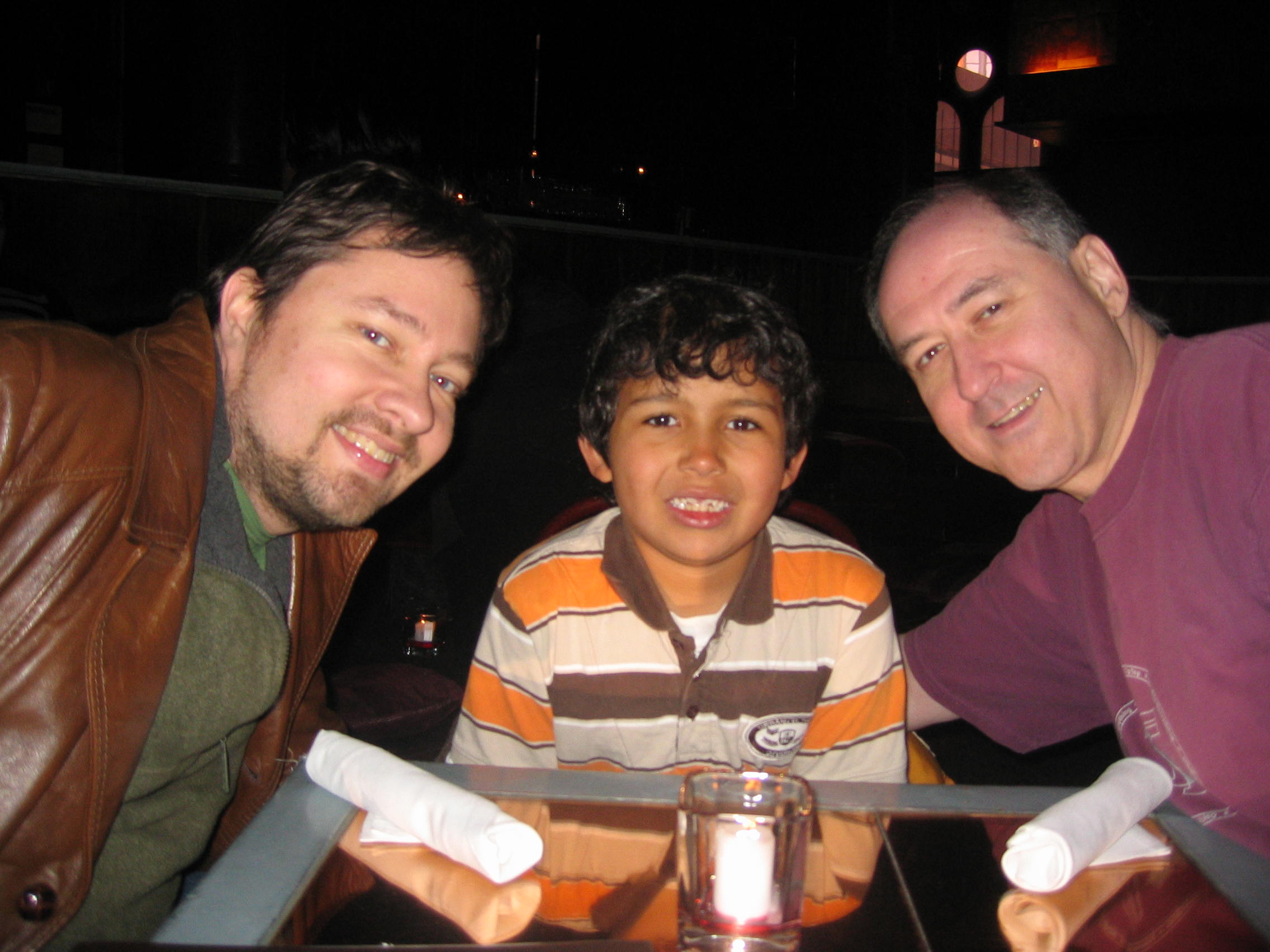 We had excellent meals (as always) at Joe's. I had the Seared Tuna Steak, on top of Artichoke Hearts and Pine Nuts. It too was perfect. The other boys had burgers. Lois had a salad, because she's always so good…
While we were eating, we were staring at the shiny GIrlyman instruments on the stage, just tantalizing us. Nate's electric guitar is not in this shot, as it was hiding behind another piece of equipment: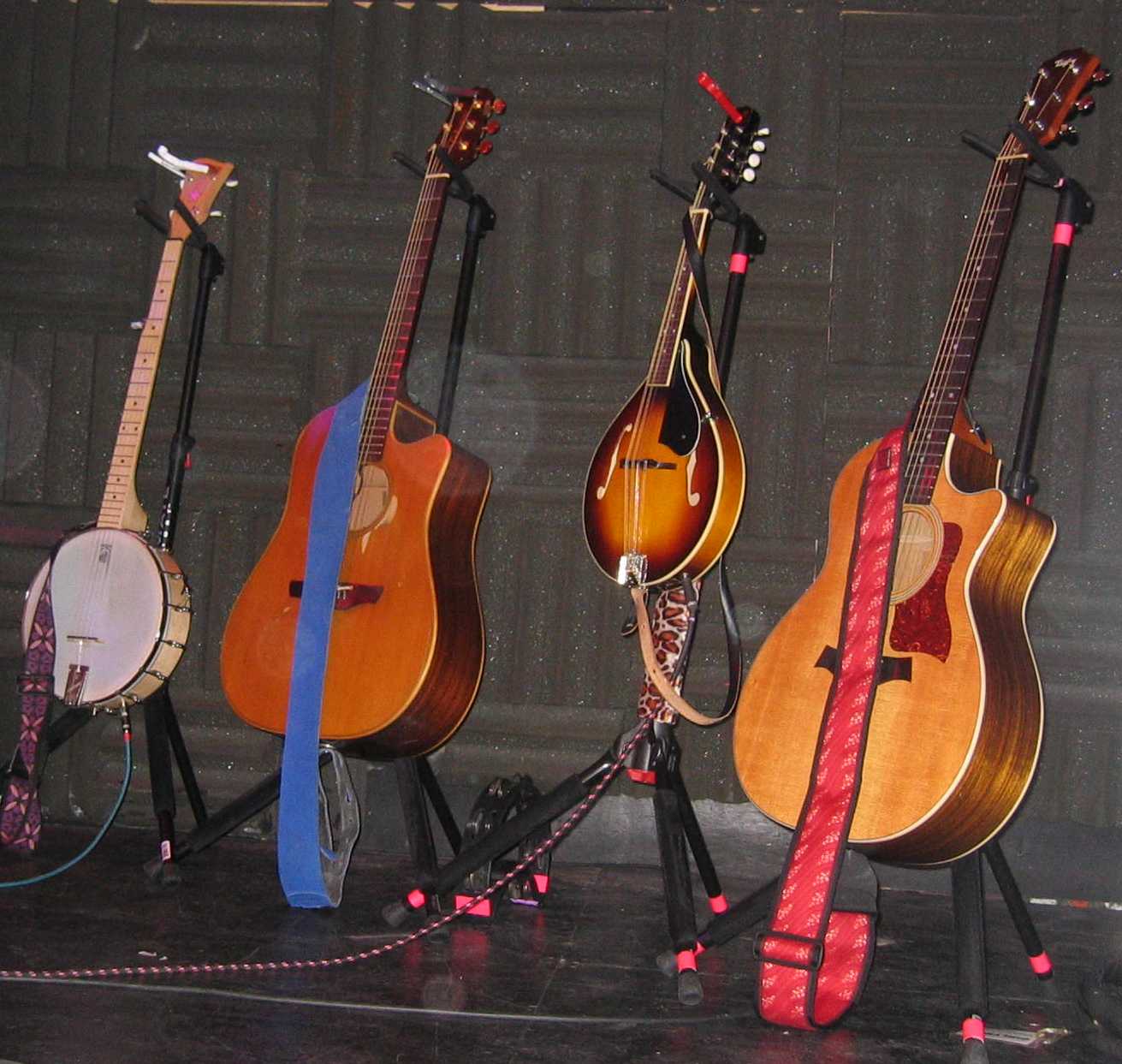 After the show, we lined up with tons of other fans to finally meet the group. We did, and we can prove it: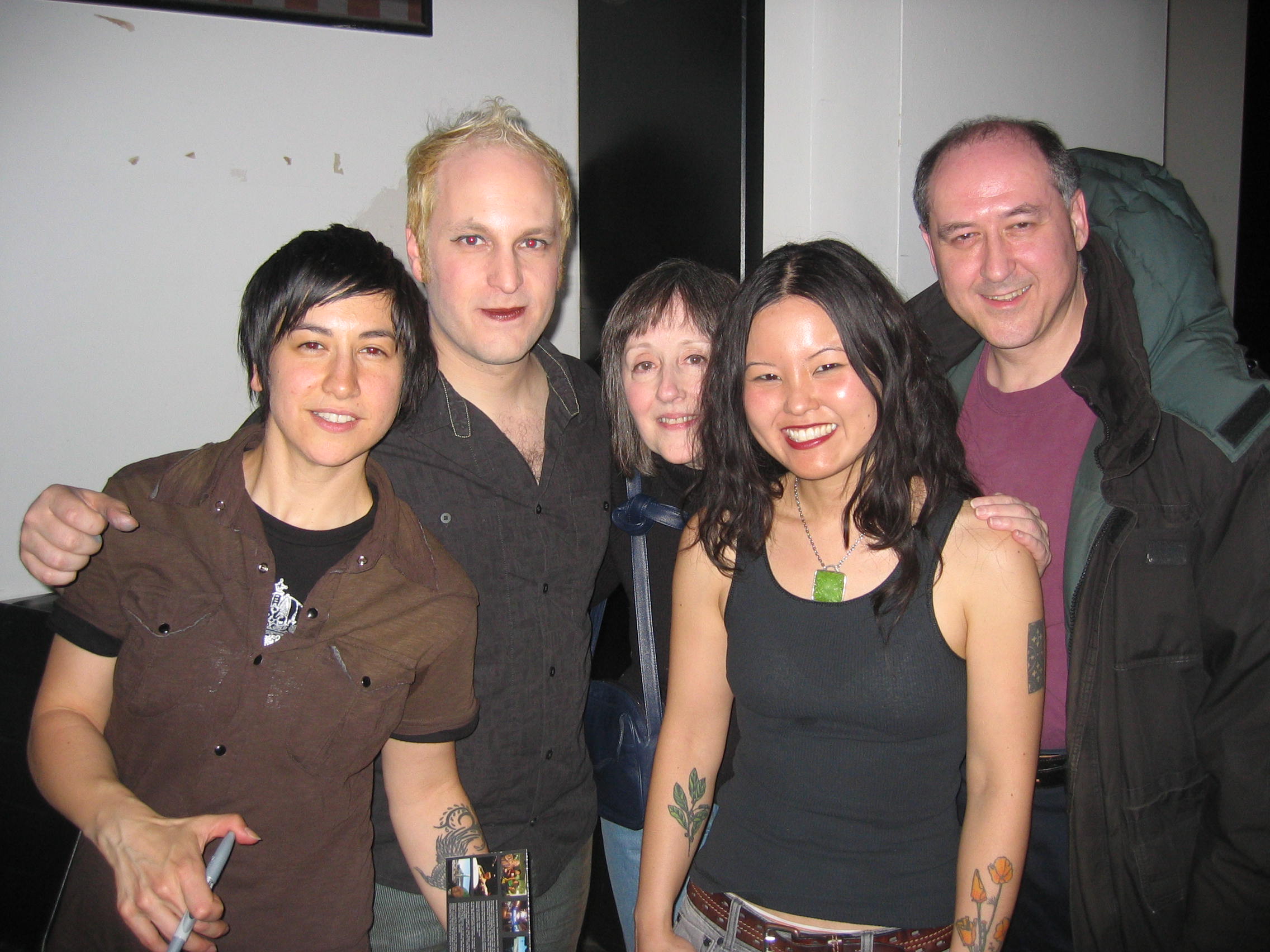 It was a very exciting moment for us. Thanks Ty, Nate and Doris, we'll never forget it! 🙂
This morning, we woke up and drove our young guest back to Leesburg. After dropping him off, we headed to the office in Fredericksburg, and are now in the hotel. A very long day. I don't know if I have the energy to bang out the post about the CD, but if not, it will arrive early tomorrow morning. Look for it! 🙂