Send to Kindle
I've been a huge fan of everything Dolly Parton forever. Her music is great, her movies are great, her larger than life look and persona are great and she's an all around fun and nice person. She also comes across as a genuine and caring person, including leading and being involved in a number of worthy charitable efforts.
The above site is coming soon and at the moment is just a cute flash intro to her other properties. On the music front, here is Dolly's website.
We had tickets to see Dolly at Radio City Music Hall on March 7th, 2008. It's one of the most beautiful theaters around, with pretty good acoustics for a place that large. We've seen a few shows there in the past year, including Martina McBride and Harry Connick Jr. I was way more excited than Lois about seeing the show and was very disappointed when she had to cancel (thankfully, it turned out to only be a postponement) due to health problems.
The show was rescheduled for May 1st (last night), and we hung on to our tickets and sat in the same seats. Very rear orchestra (10 rows from the back, 41 rows from the stage). Not so great seats for seeing, but just fine for hearing and experiencing the entire show.
The show was called for 8pm, and at 7:35pm it started to rain, so getting in was slightly less than pleasant. We were in our seats by 7:50pm and the place was at least 1/2 empty so I knew the show wouldn't start on time.
The house lights went off at 8:12pm. When the curtain was pulled back, only the drum was playing (keeping a very straightforward beat) and one other musician was on stage, just clapping to the beat. The crowd started clapping along, keeping the same lively beat, with the excitement building. Then, one by one (or possible two at a time, etc.), more musicians kept coming on the stage, each clapping to the same rhythm (meaning, not playing their instruments, except for the drummer).
They kept coming out. Meaning, she has quite a large band. When they were done, there were 11 people on stage! Three back-up singers and eight musicians. Then Dolly came out (from the back of the stage, or even possibly from below or above, but not from the sides like the rest of them, I just couldn't see). The crowd literally exploded.
All of the photos in this post are terrible, sorry. We were very far back, the lights were dim, flash photography wasn't permitted (of course, it was going non-stop all night anyway!), and it wouldn't have made a difference from our seats. The worst part is that Dolly's outfit in the first set was the brightest white, and the rest of the stage and band were muted, so the contrast makes Dolly look like a cut-out. Anyway, just to give you a flavor, I'll sprinkle in five photos in all.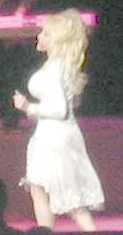 She burst right into a number. Her voice is/was fantastic. She hasn't lost anything over the years. The back-up singers were great as well. The band is excellent too, but as opposed to many other shows we've seen, they really take a very backseat role to Dolly, with very few if any leads/solos. In a way (though the scale can't be compared!) this was more like the Joan Baez concert, where the band faded and let her shine.

For the one person out there who doesn't know this fact, Dolly writes most of her own songs, brilliantly. She's been a prolific songwriter for over 40 years, with lyrics and music that span a wide range of topics and styles. If you're over 20 years old and don't know the song 9-to-5, then I don't know what to say to you. That's one end of the spectrum, purely fun stuff. As a contrast, she also wrote I Will Always Love You (and performed it brilliantly last night!), which was covered by Whitney Houston (earning Dolly a ton in the process).
She's campy, in looks and personality. Her bubbliness (notorious) and incredible energy level were both in full gear last night. Whatever ailed her, forcing the postponement of this tour, is well behind her now. In addition to singing many crowd favorites (she can't possibly do them all in one show, given how many she has!), she tells very long and detailed stories throughout the show.
With some acts, you might be screaming inside your head for them to play more music. With Dolly, you are putty in her hands, and are delighted to be taken wherever she wants to take you. Seriously, everyone in the audience was hanging on her every word. She's funny, warm, interesting, thought provoking, etc.
Early on, she mentioned that they were ready and raring to go at 8pm (Radio City is very good about starting shows on time), but they mentioned to her that because of the rain, it was taking longer to get the crowd seated. By the time her third number was done, the place was jammed (as in full).
Also different than acts as large as hers, playing venues as large as Radio City, there were no big screens, pyrotechnics, razzle dazzle (other than Dolly's innate razzle dazzle!). On the one hand, we were marginally disappointed that the two big screens on the sides of the theater were dark, because it would have made it easier to see her up close and personal (like they had for Martina). On the other hand, there was something slightly refreshing about a straightforward concert that was about the music and the stories, rather than techno distractions (as cool as they often are).
They played for 55 minutes and then took a break. The break lasted 22 minutes. When they came back out, Dolly had changed outfits (the only change of the night). She then did a romp of partial covers (meaning, cover songs, that they only played parts of). She basically covered big hits chronologically through the years (50's, 60's, 70's, etc.). Just a few examples: Great Balls Of Fire, R-E-S-P-E-C-T, among many others.
She used this mini-set to showcase the singers and some of the band members. Each singer sang at least one solo (really well!). The lead guitarist did Johnny Be Good. Because none of the covers was full length, they were able to get a majority of the 11 singers/band members involved in the showcase. It was very cool and very well done. Afterwards, Dolly introduced each of them by name. I couldn't have possibly remembered each of their names, and they're not listed on her site (always a disappointment to me when that happens). Anyway, like I said above, all were excellent, no exceptions.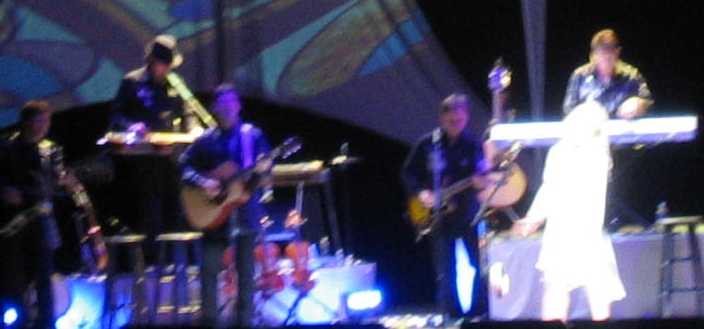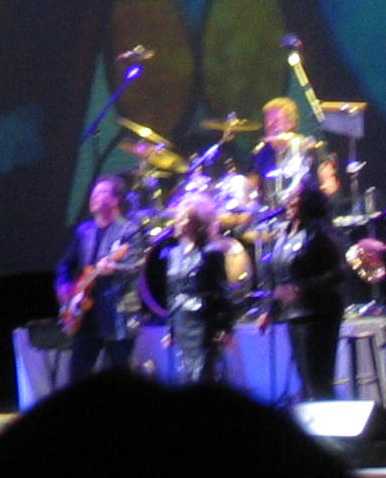 Dolly herself is quite an accomplished musician, though for the most part, she sings without an instrument. Last night, she played a bunch of instruments, at least for part of a song, really well! Here are the ones I recall:
guitar (acoustic and electric, both really well)
piano
penny whistle
dulcimer
harmonica (wailing!)
banjo (for just a few seconds, in a very funny bit)
fiddle (a little longer than the banjo, but not much)
I don't think I'm forgetting any other instruments, but perhaps I am. To repeat, we're talking about an extremely talented lady, in every respect imaginable. Here she is on the piano, though you can't make her out (other than her figure) at all: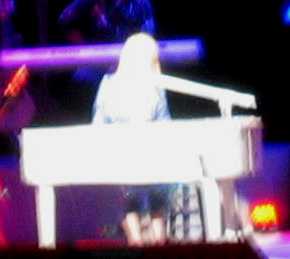 The second set was nearly 50 minutes. When she said goodnight, the crowd were all on their feet and clapping wildly. Thankfully, even though she left the stage, they didn't try to trot off the other 11 people and then trot them all back on for the encore. Dolly came back out a minute later and did one number. When it was all over, she was on stage for 132 minutes, including the 22 minute break. A very nice length indeed.
For each of the two sets, the people in the front stood for the first song, causing a rolling wave of everyone else standing up so that they could see the stage. In other words, for the first song of each set, everyone in the crowd stood up.
When she sang 9-to-5, the entire audience stood and sang along (really well!). When it was over, and the crowd was still going nuts, she made the crowd sing one verse all by themselves. It was pretty cool. The crowd also stood for the entire song during I Will Always Love You.
We've seen lots of shows filled with crazed adoring fans (Keith Urban, Rascal Flatts, Kenny Chesney, Martina McBride come to mind, but it feels unfair to leave out Jerry Jeff Walker and many others!). That said, there was something qualitatively different last night. The fans seemed overjoyed just to be there. I can't describe it, other than to give two tiny (insignificant) examples:
You could see the gratitude on the face of one person, when it was clear that the other person (of the couple) arranged for the tickets
People kept turning to complete strangers (including to us!) and beaming, saying things like "is this fun, or what?" In other words, they just couldn't help sharing their joy
Ultimately, for me, the proof positive was seeing Lois enjoy the show (and the experience) much more than she (much less I) expected her to. I felt vindicated in insisting we not miss this.
We have good friends across the cul-de-sac from us. The husband is a huge Dolly Parton fan. When Lois realized how big a fan he was, she practically offered her ticket to him. I would have been delighted to go with him, but thankfully, Lois decided that she really wanted to see what all the fuss was about. 😉
Finally, Dolly played a bunch of songs from her new CD, Backwoods Barbie. The songs were all good. I already have Better Get To Livin' on my iPod, as it was offered as a free download of the week a while back on Amazon.com. It's great, as are a number of other songs on the CD that I've heard. We're definitely buying a copy soon!