Send to Kindle
So, you may have noticed that this space has been pretty quiet in the past two weeks. Exactly two posts since the Dolly Parton one. There are two reasons, we're down at Zope for two weeks, so the days tend to be a bit busier for me (don't even get me started on what Lois' life is like down here) and our weekends are filled with joyous celebrations.
Last weekend was our goddaughter's graduation with a Masters in Accounting from The Mason School of Business at William and Mary. She was the only person in her class to finish the degree with a 4.0 GPA (can you see my proud smile?).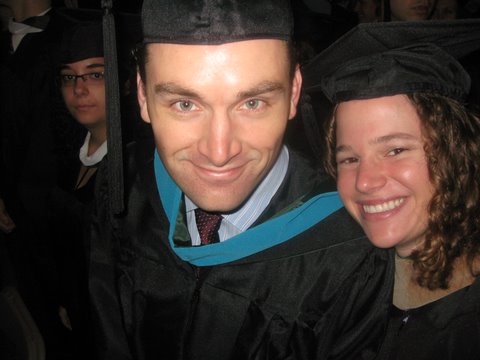 Last year, when she graduated with a double major (English and Business) she won two awards: Highest GPA in the Business School and the Wall Street Journal Award (yes, her name appeared in the Journal as the representative from W&M).
If you're a regular reader of this space, then you know that she's getting married this summer (busy, busy, busy). Her fiance was in the Navy for six years prior to going to W&M, so even though he's older than she is, he graduated from the Mason School of Business at W&M this year (undergrad). Amazingly enough (or not, for after all, she chose him!) 😉 he won this year's Wall Street Journal Award at W&M! We were there to see both of them accept their awards.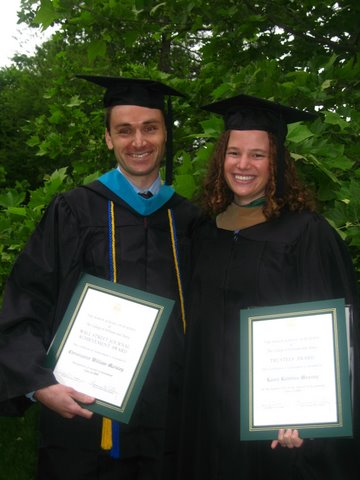 Pretty cool. Just as her free subscription to the Journal expires (that's the prize), his begins. I'm sure he'll let her peek at his copy. 😉
Congratulations to both of them on all of their amazing accomplishments, especially in light of their incredibly hectic schedules planning a wedding and a move to NYC right after their honeymoon! We couldn't be prouder of both of them!
The title says one down (covered above), and one to go. This weekend is our godson's graduation from Medical School. We'll be attending various ceremonies and celebrations with the extended family throughout the weekend. There are times when life can be very sweet and rewarding, and this is definitely one of those times! 🙂
Update: added two photos to the post above.