Send to Kindle
If you're one of the few people who reads the comments to these posts, then you probably know how we spent last night. Angel Band performed at Joe's Pub. It also happened to be the official release party for their brand new CD With Roots & Wings. It's also available as a download from Amazon.com.
We've seen Angel Band twice before, at BB King when they opened for David Bromberg (Nancy Josephson's husband, and a long-time favorite performer of mine!) and when they opened for David at Paramount Theater in Peekskill, NY. In both shows they were wonderful (as reported here and here) and we bought their one CD, Beautiful Noise, and have listened to it many times since.
Last night it was all about them (though David Bromberg's band backs them, so he was on the stage the entire time). It was their show, their party. More to say about that after the review of the set itself.
Regular readers know that Joe's Pub is our favorite place to see live music. Angel Band came out at exactly 7:30pm (the announced show time). The three ladies, Nancy Josephson, Jen Schonwald and Kathleen Weber were joined by David Bromberg (guitars), Bobby Tangrea (mandolin and fiddle), Bob Taylor (bass) and Nate Grower (fiddle). Here they all are on stage:

After getting their positions set on the stage, the ladies erupted with an a cappella rendition of Hey Papa Legba, the first cut from the new CD. The acoustics at Joe's Pub are among the best, when the person working the sound board knows what they are doing. Last night, the person working the sound board was nearly perfect! (Bromberg's guitar had terrible feedback for five seconds, and at the end of one song, Nancy's microphone nearly exploded, otherwise, one of the best blended sounds ever!)
One of the things that distinguishes Angel Band from a number of other vocal groups that we love (Girlyman, The Wailin' Jennys, The Weepies, etc.) is the raw power that each of Nancy, Jen and Kathleen produce. And yet, even though they are belting it out (with all of the emotion that connotes), their blended sound is perfect and never overwhelms. I can't explain the acoustics behind that (other than to credit their sound person again!), because it feels like you should be knocked out of your chair by their individual and collective power.
You are, sort of, by the beauty of their sound, not by being overpowered by it.
They performed at least seven of the 13 songs on the new CD (perhaps one or two more). They were all fantastic. On the first CD, few (if any, sorry, I'm not sure) of the numbers were written by Angel Band. I've reported in the past that Lois is drawn more to music written by artists that perform their own creations. I never cared, but am more sensitized to it after 26 years with Lois. 😉
The new CD has a number of songs written by Nancy, Bobby Tangrea or the two collaborating together. It still has covers, including Angel of the Morning, which is the one duplicated song from Beautiful Noise, though the version on the previous CD is nearly one minute longer. They performed that last night as well, amazingly, with Nancy holding a note at the end for so long that she received an ovation that lasted through the normal end-of-song ovation. She had a good joke about it too, which I'll keep secret, so that you have another reason (aside from their singing talent) to see them live.
So now, I have four versions of Angel of the Morning in iTunes. Two by Angel Band, one by Juice Newton, and one by Girlyman on their new Live CD. Guess which one I like best? 😉 Seriously, I love them all, and I've been listening to Juice Newton's version for the longest time (and have never tired of it!), but Girlyman's is the mellowest, and most soulful rendition of the four.
In an irony (for me, since I was unaware of it), Nancy explained that the author of Angel of the Morning, Chip Taylor, also wrote Wild Thing. The irony is that one of Girlyman's funniest bits on stage is their rendition of Thing Wild, singing Wild Thing backwards. So, they cover two different Chip Taylor songs, one forwards, and one backwards. 😉
After saying goodnight, they returned to the stage for a one-song encore. It's one of their signature numbers, One Voice, written by Ruth Moody of The Wailin' Jennys. I'm nuts about this song, and Angel Band does it wonderfully, each and every time.
They were on stage for exactly one hour (including the encore). I'll have more to say about that in a minute. When the show was over, we sprinted to the back, where they were selling the new CD. We were first on line, and I also got to finally meet Nancy.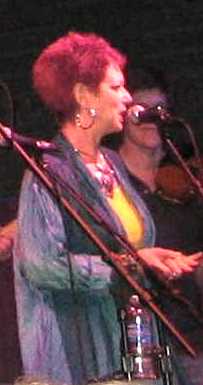 We have traded a few emails since I bought Beautiful Noise directly from her nearly two years ago! It was nice that she remembered my name (not that it's all that common). 😉 Of course, we got the CD signed by all three of them, thanks Angel Band!
The CD is gorgeous, and I recommend it highly! The cover shot for the CD was taken before last night, because you'd have trouble recognizing both Jen and Kathleen from that photo. Kathleen cut her hair to just below ear length, and Jen chopped it all off in a complete buzz cut. 🙂
Here are close-ups of Jen and Kathleen, so you can see the difference:
Here are individual shots of the rest of the band:
Now the back story to last night. Having seen Angel Band twice before, both times opening for David Bromberg, we were used to seeing them for exactly one hour (which for an opening group, is actually on the generous side nowadays!). We were really looking forward to seeing them at Joe's Pub for two reasons:
It's our favorite place, regardless of the band
We expected a longer show than usual
Unfortunately, when I saw that the start time was 7:30pm, not the more typical 7pm, I knew the show couldn't be more than 75 minutes long (with encore), given that there was a 9:30 show as well.
They are also playing tonight, at BB King, a place we also like a lot, opening for David Bromberg. So, we could have had the same length show, and the enjoyment of a full David Bromberg set as well, by going to BB King. Of course, I prefer Joe's Pub, and an early night, so I had a real dilemma.
I started this post by mentioning that you might have known we were going. That's because the Angel Band publicist commented on this blog a few weeks back, pointing out the upcoming CD Release and the Joe's Pub date.
I wrote to him asking about the short show. He contacted a member of the band (my guess is Nancy, but I have no way of knowing), and he replied with the following direct quote:
…we'll give 'em everything we got and leave 'em lying in the aisles
OK, it was only an hour, but I will heartily admit, she (whichever of the Angels it was), was right. We left thoroughly satisfied with the performance, other than always wanting more from any artist we really like. They really do give every show their all, and the fans completely appreciate it!
Last night was unusual for another reason. The majority of the audience was related to at least one member of the band. The release party was more of a family get-together. It was pretty cool. We walked in right behind a group of them, which included David's brother Charney. He sat immediately in front of us. Nancy spent an hour before the show making the rounds with various family members. A number of the cousins had never met before, and we were smack in the middle of all of the introductions.
This kind of scene was right up Lois' alley, and even if the show wasn't good (which you now know wasn't the case), she might have called the evening a success just for the people watching. 🙂
So, the concert was a complete success. Unfortunately, the aftermath wasn't. We intended to head up to the house last night. We boarded a bus heading to the apartment. The air conditioning was blasting (a good thing for Lois). After a stop or two (perhaps the bus driver overheard one woman complain when she got on), he shut off the air conditioning.
Lois doesn't do well (in general) with motion, in particular fits and starts, and when you add stale warm air to the mix, she gets sick instantly. She also doesn't recover for long periods of time. By the time we got to the apartment, she was violently ill (nauseous and dizzy). I suggested we spend the night in the city instead of going to the house. She insisted. As silly as that was, I have learned (the hard way) not to argue (at least not too much).
We made great time going home, but it did nothing to help her get better. She's totally out of it today as well, having recovered not even a bit, no doubt made worse by being in a car immediately after the bus ride. Hopefully, she'll be back to normal tomorrow! 🙁