Send to Kindle
We've been to three previous shows in this series and loved all of them. The first one, was the only show we've had to stand the entire time at Joe's Pub. We were away a few weeks ago and missed one show. Last night was another in the series. We didn't find out about it until last week, but were lucky enough to get tickets. These shows always sell out.
Here is a shot promoting the sponsors of the series. They deserve the attention!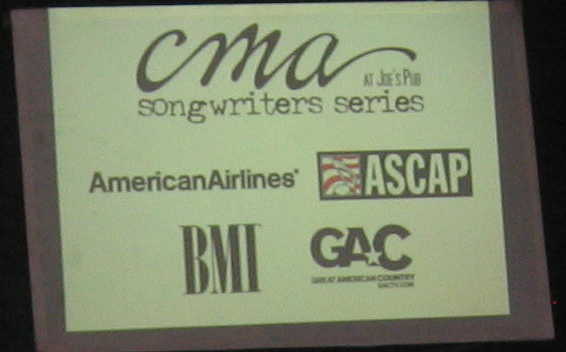 As I've mentioned in the past when reviewing these shows, typically, these aren't the most polished performances by seasoned performers. It doesn't matter. There is a raw power to hearing a song (that you know well!) sung by the person that actually wrote it. You often get a completely different image than the one you associate with the star who made it famous. They also tell some great back stories, which are interesting and often hysterical as well.
In the past, there has been an occasional ringer in the bunch. By that I mean someone who does indeed perform a lot, and therefore raises the level of the performance beyond the others. One notable example of that was Ronnie Bowman. He's been a star in his own right for ages, and deservedly so. As you'll see below, all four guests (Bob DiPiero is always there) were great performers!
Last night there were five people on stage. The one staple is the host for each of these shows, who is also in the CMA Writers Hall of Fame, Bob DiPiero. He always does a great job as both host, and performer, and last night was no exception. The crowd loves every story he tells and every song he sings.
Here's a broad shot of the stage:

He sat in the middle of the stage. The format is the same each time, all of the artists sit on the stage together, but they go one at a time in line singing one of their famous songs. The others join in on occasion but often, the songwriter is doing their song solo (Bob is the most common accompanist).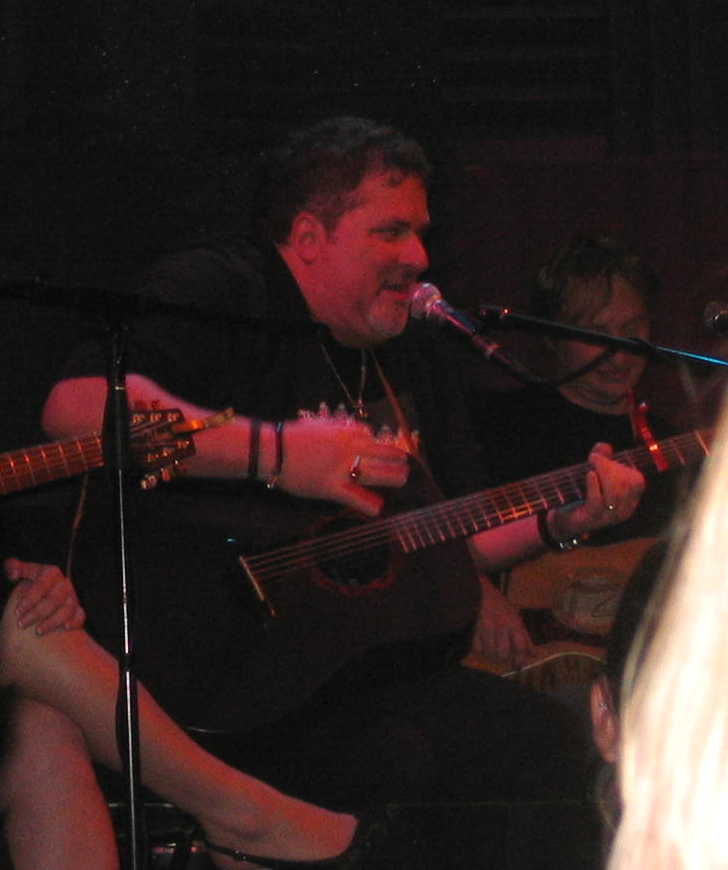 With that, I'll name last night's performers as they sat on the stage, left-to-right:
Chris Tompkins had an electric keyboard in front of him. He's excellent on the keyboards and sings quite nicely. His songs are fantastic. The crowd loved every second of Chris. He's a Grammy winning songwriter, for the Carrie Underwood hit Before He Cheats.
Last night was Chris' wife's birthday, and she's pregnant as well. I had the privilege of sitting shoulder to shoulder with her, so I got to congratulate her personally, and tell her how awesome her husband is. They were definitely having a blast being in the Big Apple. 🙂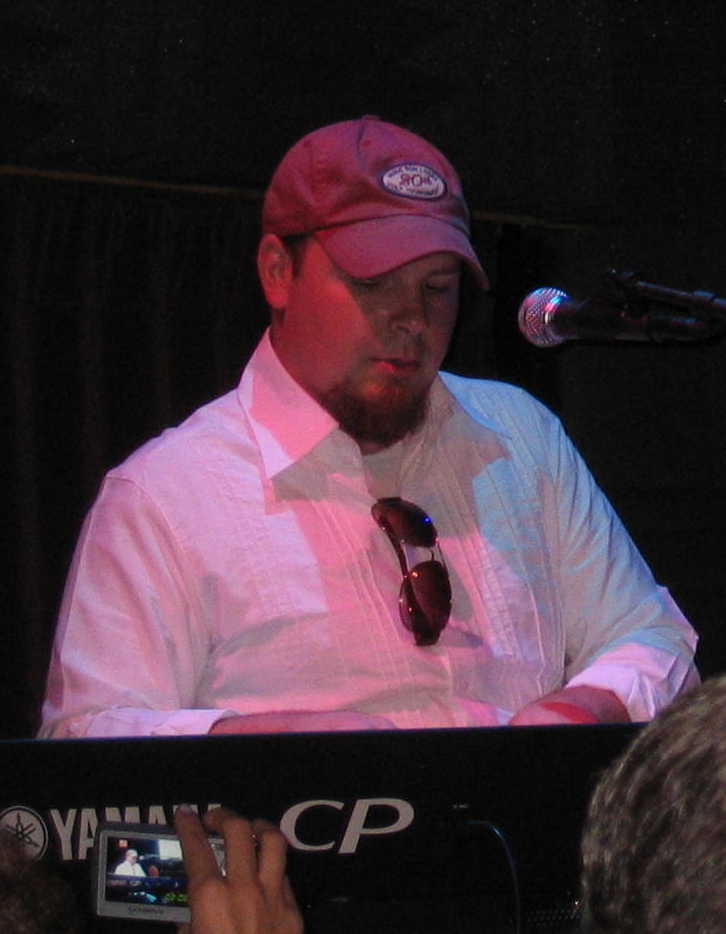 Karyn Rochelle was next, with her acoustic guitar. Karyn only played the guitar on her own songs, but she also sang backup for some of the other artists. She has a stellar voice, and of course, by virtue of being invited to this series, writes great songs as well! She penned Kellie Picklers hit Red High Heels (for example). Bob joked (though it was clear that it wasn't really a joke!) that Kellie sings it like Karyn, rather than the other way around!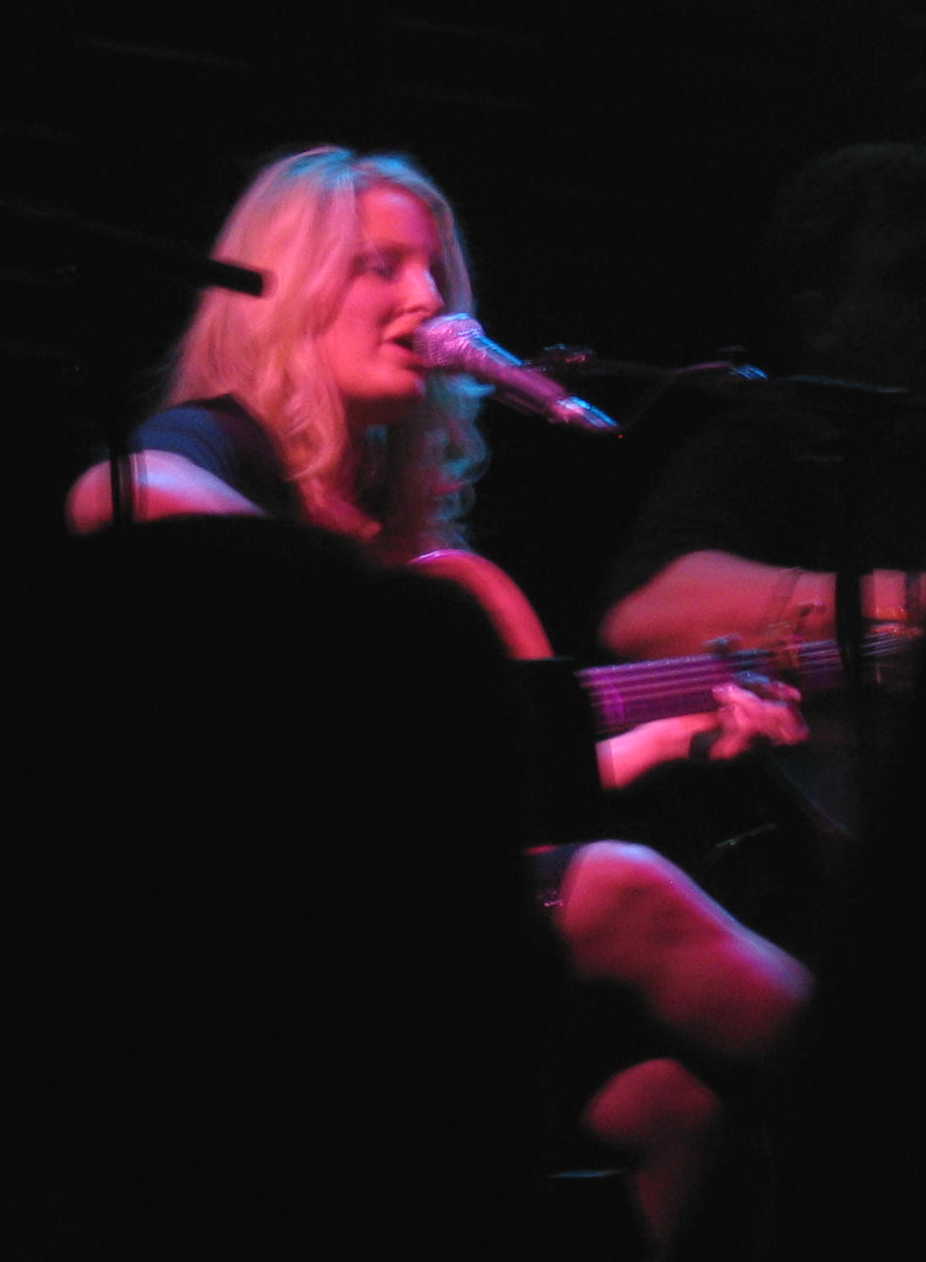 On the other side of Bob:
Dave Berg played acoustic guitar. He has an excellent voice, plays the guitar well, and writes fabulous songs. He has a great stage presence as well. He did the first verse of one of his big hits in Bob Dylan's voice, and it was a hoot!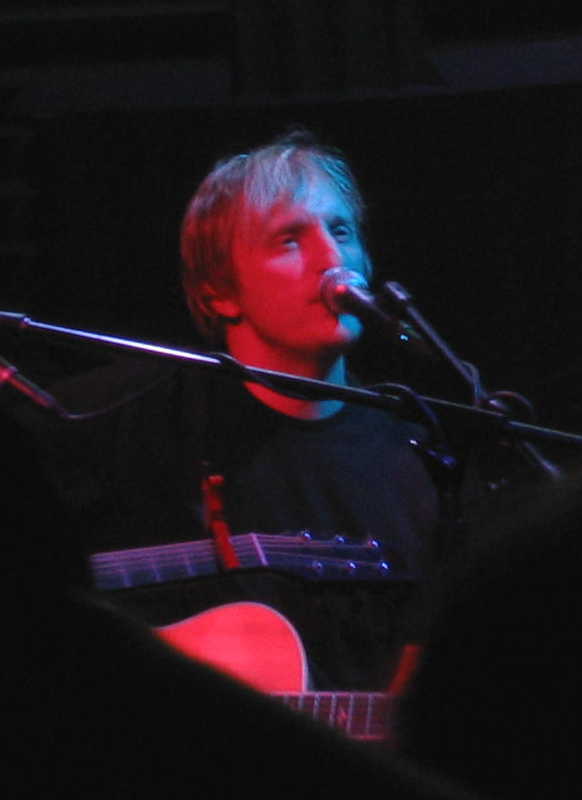 Jedd Hughes (an Aussie!) rounded out the group, playing the acoustic guitar. Of all the performers we've seen in the four times we've been to this series, Jedd is the best musician. His guitar playing is superb and the others often highlighted him playing lead during their numbers, which was always good for a big ovation from the crowd. He sings well too, and writes beautiful songs.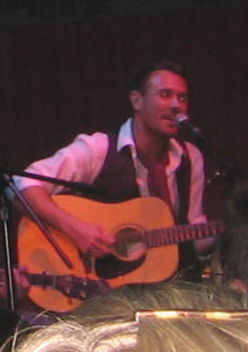 So, we have loved all four of these. Last night we already purchased tickets for the next one in the series, September 9th. We also bought tickets to one of my favorite groups, The Duhks, for the next night, September 10th. The Duhks are the reason we discovered Joe's Pub to begin with, so it will be great to see them there again!
Last night was different (and in that sense very special) from the other CMA Writers Series shows. All of the performers were individually polished and collectively much more polished than previous shows. We're happy even when that isn't the case, but when the performances also match the quality of the writing, it's just double goodness! 🙂
Since we purchased our tickets late, we got a little bit of a shock when we were told that no dinner reservations were available. That meant that we'd be standing again, like we did the first time we attended one of these shows. That's simply not fun for us (even though we did love that show!). Luckily, and thankfully, Lois called two days in a row to check, and indeed one table opened up. It turned out to be our favorite table, so that ended up being a wonderful surprise as well!
My Seared Tuna was perfect, as was my chocolate martini (which I hadn't had at Joe's in many months!). Welcome back chocolate martini, I missed you! 😉