Send to Kindle
Last night we saw Earl Klugh perform at the Blue Note in NYC. There is a good back-story to this, but in deference to Lois' tastes, I'll leave it for the end. I encourage you to read all the way through, especially if you know us personally. 😉
A few weeks back we went to the Blue Note to see Chuck Mangione with Laura and Chris. We sat right up against the stage, dead center, and we really liked the seats. I wanted to get the same seats last night, and we did.
I've been a huge fan for very long (I'll prove it in the back-story) but haven't seen Earl in concert for quite a while. Suffice it to say I was very excited.
For the majority of the evening, there were five other people on the stage with Earl. Left-to-right, they were:
(apologies for the quality of all of the photos, and for the complete lack of a photo of Ron Otis. The Blue Note is very dark, and they don't permit flash photography during the show…)
Al Duncan on keyboards. Sorry, I can't find a good link directly to him… He's been with Earl for a long time (over 10 years) and plays solidly. He was featured on two numbers early on, and played beautifully.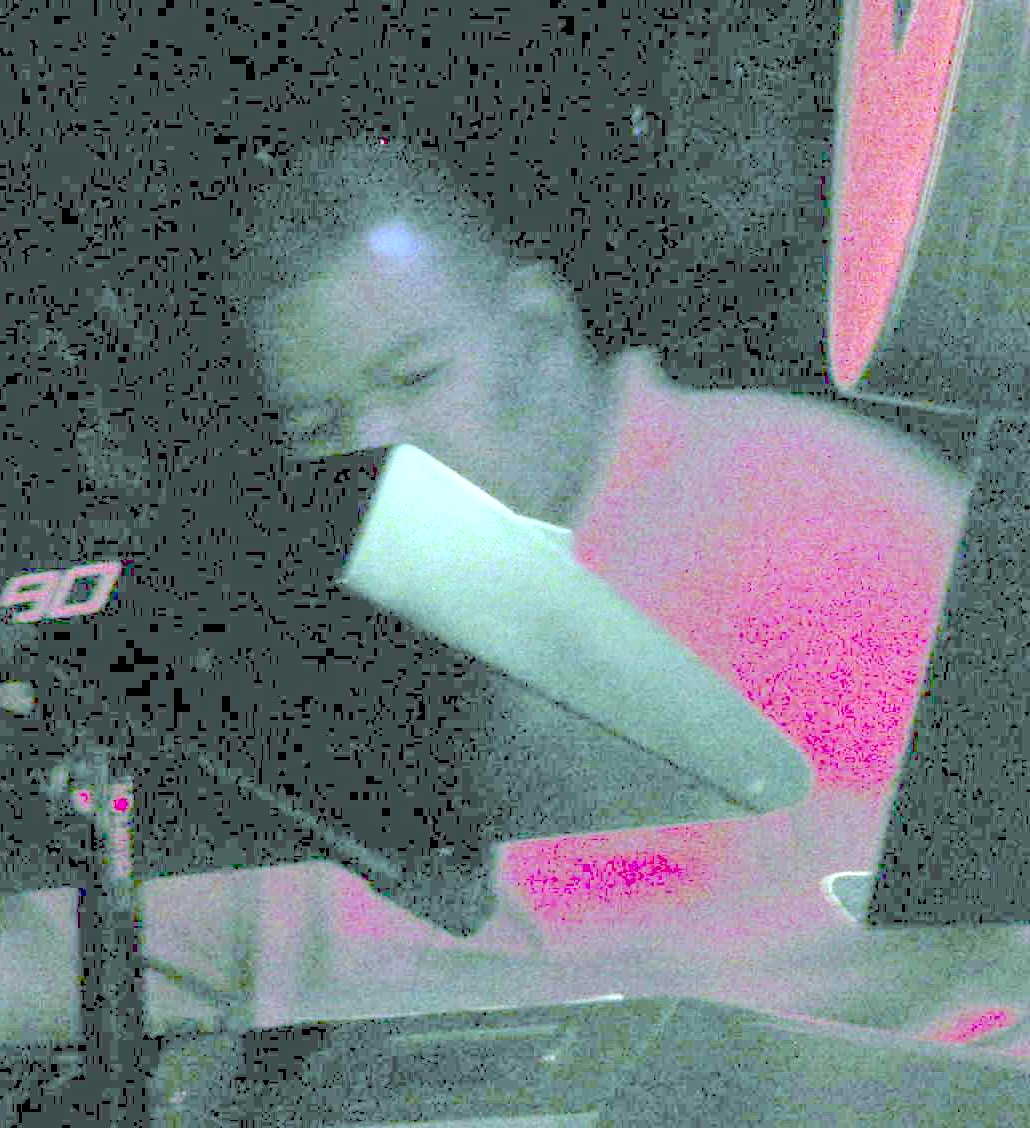 Lenny Price on Sax, Clarinet (or something that looked like a square clarinet!) and Wind Synthesizer (a great sound, from an instrument I've never seen before). He was amazing all night long. At the end of the evening, he played both the Sax and Clarinet at the same time. The audience went wild!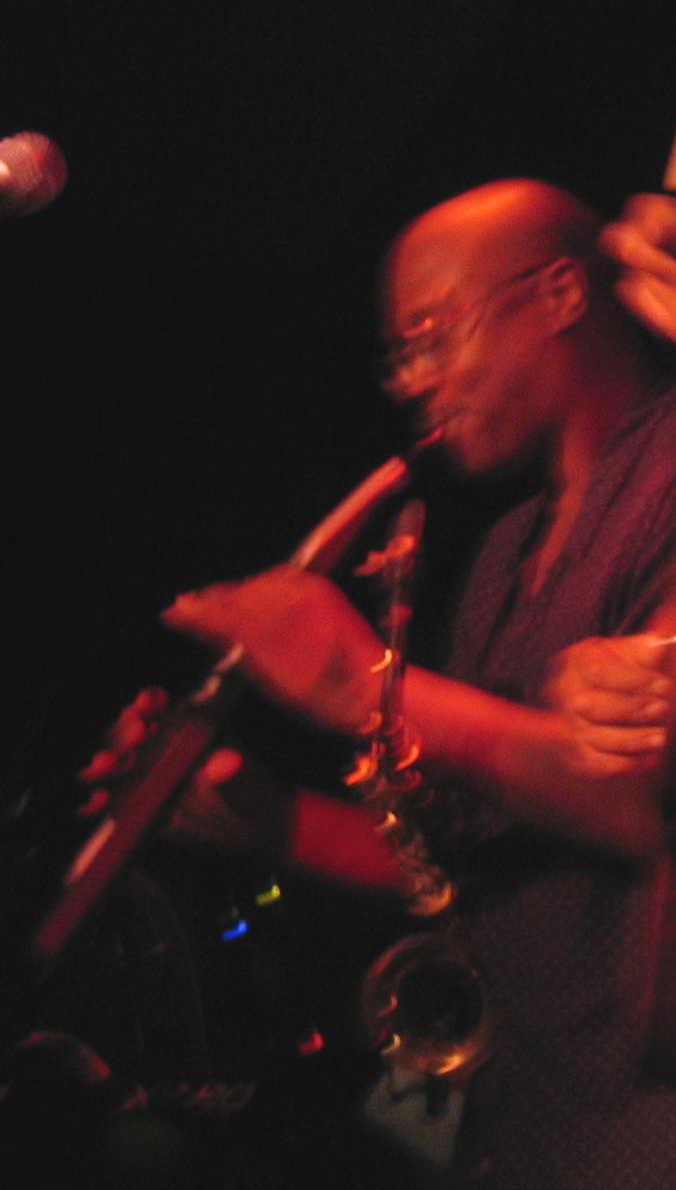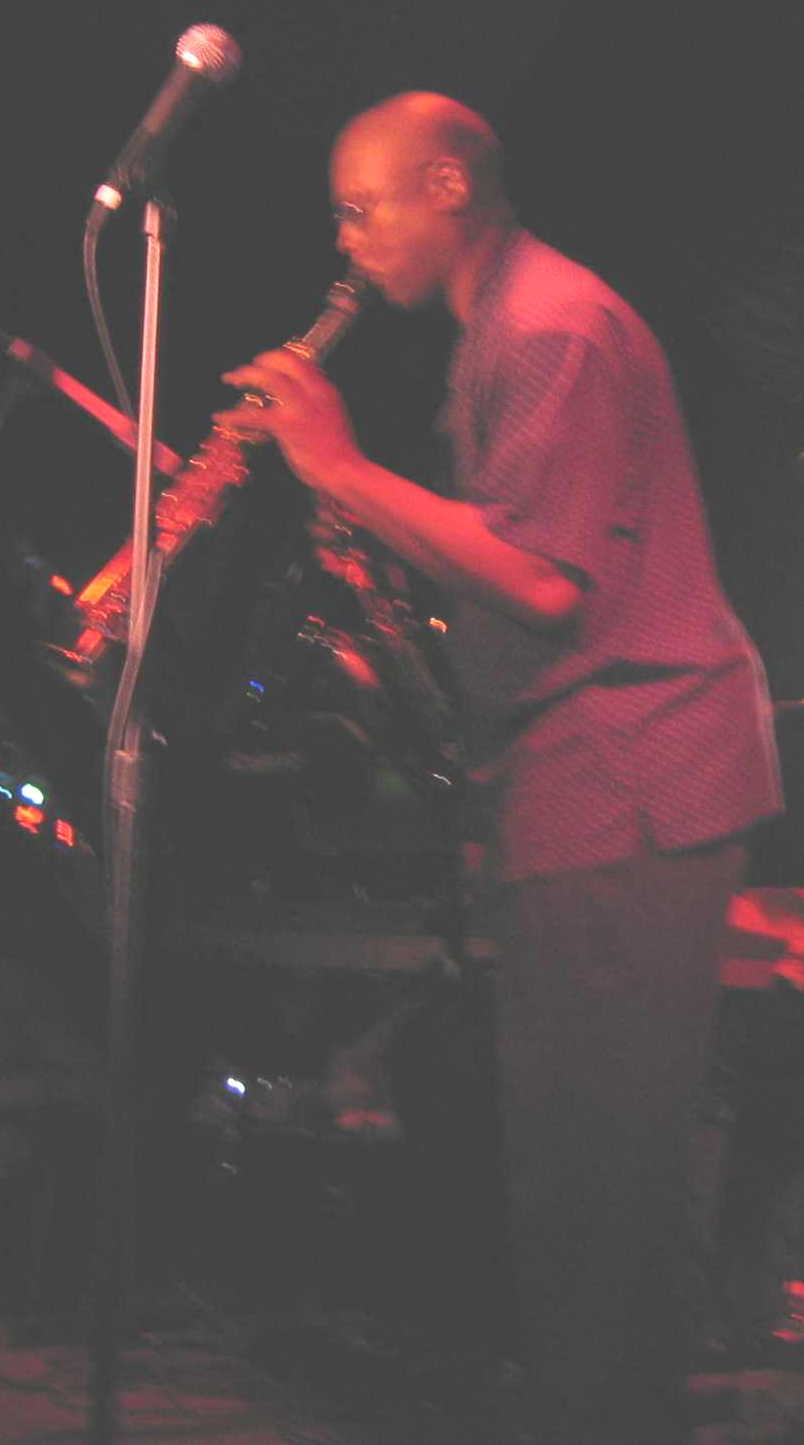 Earl Klugh was in the middle. I'll come back to him after I say a few words about the rest of the band.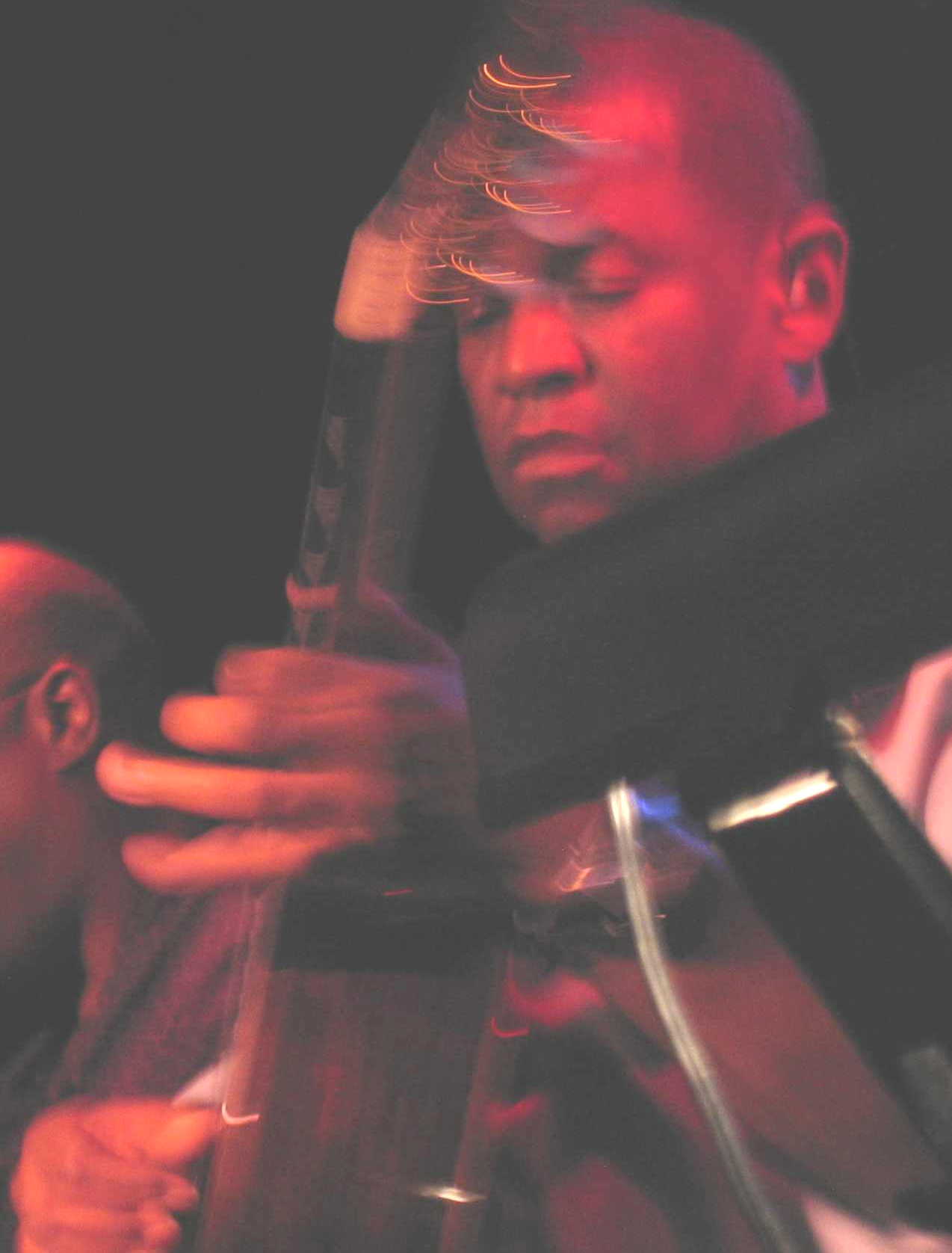 Al Turner played bass (both electric and a funky upright bass on a few tunes as well). He is an incredible musician. Lois and I had the double pleasure of sitting directly in front of him (1-2 feet away!) so we really got to see him cook. One of the songs they played last night, was the title cut from his new CD Movin'. It features Al playing a smoking bass throughout the song. Excellent!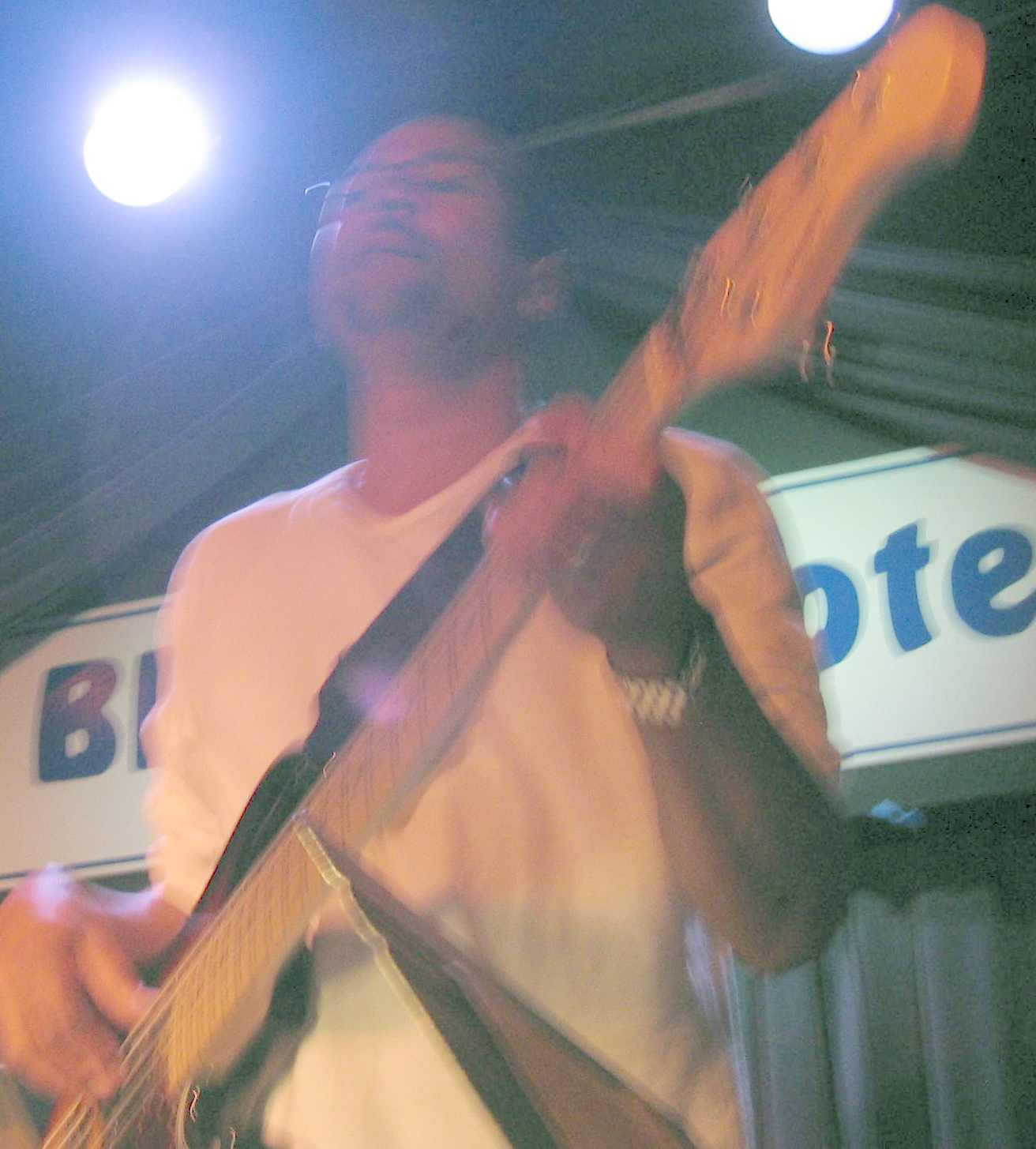 David Lee on keyboards. David was great all night as well. Al Duncan (above) was featured in the early numbers, and David was featured on the later ones. In the fantastic Earl Klugh and Bob James number, Kari, David played the part of Bob James.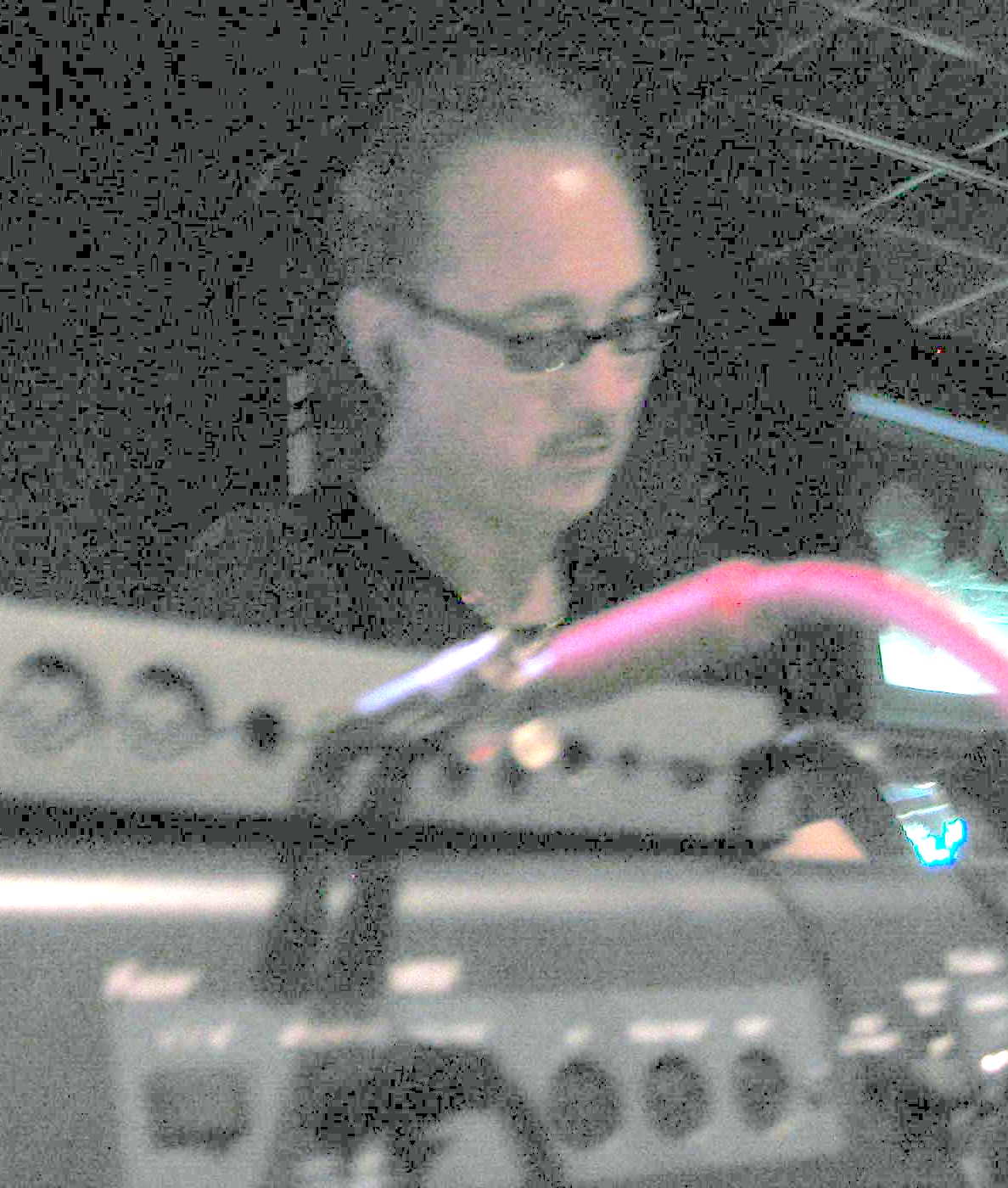 Ron Otis on drums (tucked away in the far right corner of the stage). I couldn't find a good link for him either, but on this page, there is a good photo of Ron and Al Turner as well, about 3/4's of the way down. Just search for Otis and/or Turner. Ron is a great drummer who kept us all tapping, swaying, bobbing and grooving all night. He kept the band tight and clean the entire show.
I really didn't want to include this next photo, since it's so out of focus, but Lois insisted that I put at least one in with both Earl and me, and I relented, only so that you could see how close we were: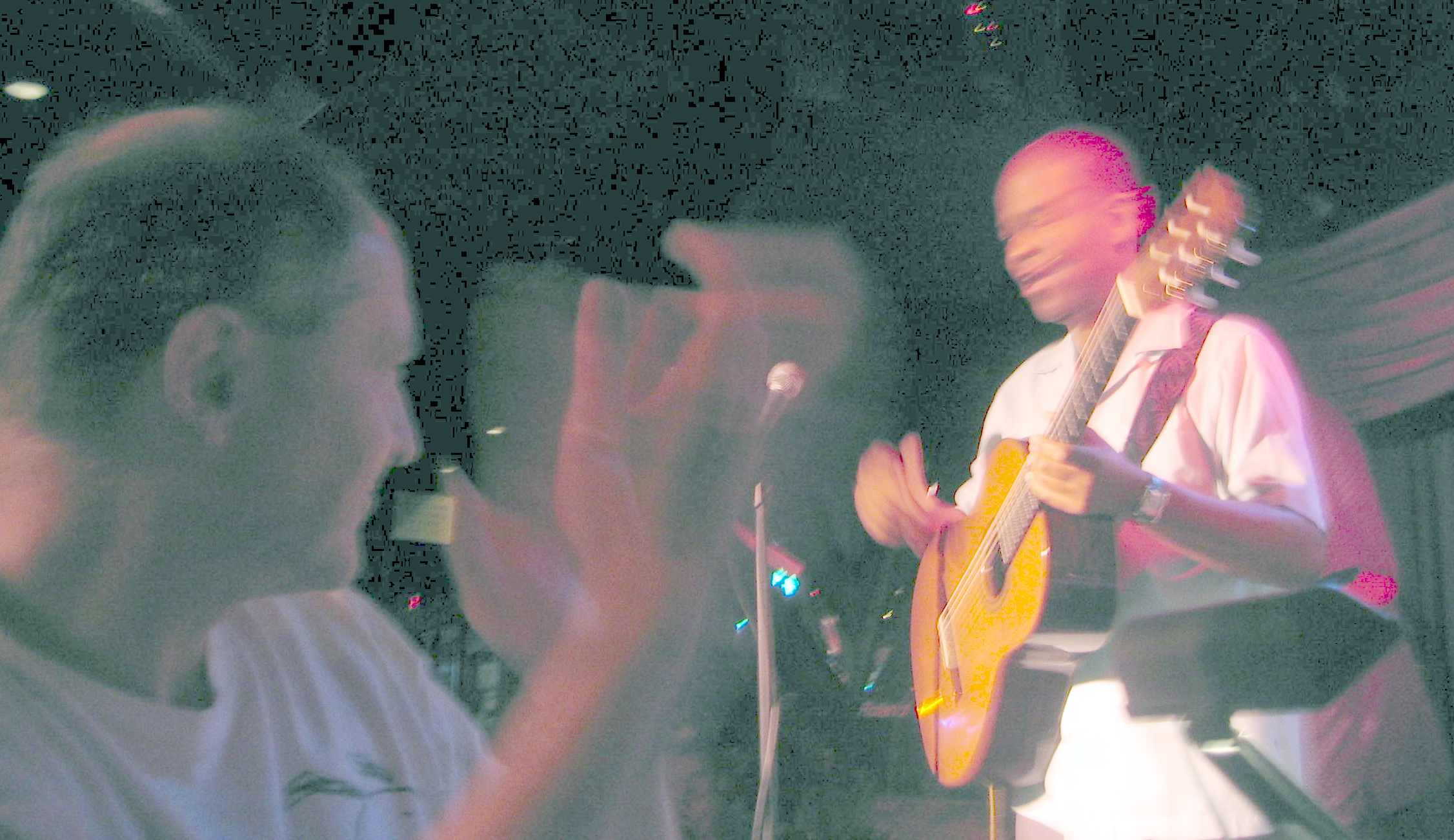 All of the above have played on so many albums, with so many greats, you should take the time to read each of their discographies, etc.
Now the great man himself, Earl Klugh. To begin with, I've been a fan forever. I just checked my iTunes/iPod and I have 17 of his CDs on there (yes, including the latest, The Spice of Life). I also have Cool by Bob James and Earl Klugh on there. I know that I own both of the other Bob James and Earl Klugh CDs, One on One and Two of a Kind, so now I realize I need to rip them this weekend when I'm back at the house. I might even have some additional vinyl albums of Earl's, or some CDs that are hidden in the house and never got ripped. Suffice it to say, I've been in love with his music forever.
He's a fantastic guitarist by any measure. But, he's also a fantastic songwriter. His music is so soulful (like much of Acoustic Alchemy). As I've said to Lois (and even Laura) many times, even though they're mostly instrumental (with a few exceptions), I hear words in my head when I listen to his music. His melodies and leads are so evocative emotionally, that ideas and thoughts spring into your head when you listen closely (which I always do).
He was great last night, but I do have a tiny complaint. The volume on his guitar was just a tad too soft. In fact, thankfully, they/he raised it a drop after the first song, when it was barely audible. That said, I sat between 2-3 feet away from him, with the neck of his guitar pointing in my direction. I also know every note of his songs by heart (I had never heard Movin' before, because it's an Al Turner song). So, even on the first number, Slow Boat to Rio (on the Sudden Burst of Energy CD), I could follow his fingers with the melody in my head, even though I could barely hear the guitar.
He was awesome nonetheless. It made me want to see him live again, as soon as possible. 🙂
I can't describe how many Earl Klugh songs I count as favorites. It's silly to even use the word favorite, when there are so many. So, seeing him live is also an adventure in finding out which of my favorites he will play. In addition to Movin' (by Al Turner) and two songs from the new CD, he played a very tasty selection, including Living Inside Your Love, Dr. Macumba, Vonetta, Twinkle (where Al Turner rocked the house as well!), etc. A fanstastic set list. So fantastic, that we (and others!) swiped a Set List from the stage when they were done. Another advantage of sitting up against the stage. 😉
OK, finally, the back-story I've teased you about…
Lois and I met on the job in October 1981. I took an instant shine to her. She, not-as-much to me. At the time, Earl Klugh was my favorite musician. I listened to his records (yes, vinyl only at the time), non-stop. Even though I was as poor as dirt then, I bought two tickets to see Earl perform that November at Carnegie Hall. It was a birthday present from me, to me.
Lois and I lived 10 blocks apart, and we were hanging out some after work (mostly at her apartment). Again, to reiterate this very important point, she had little interest in me other than as a friend. Got it? Good!
But, I decided to take a shot anyway. My first attempt to formally ask Lois out was to invite her to join me for the Earl Klugh concert. She indeed said "No". She told me that she was attending a wedding of her friends in Rochester, NY. I only found out later that this was a little white lie. Her friends (now my very good friends as well) were indeed getting married in Rochester that weekend, but Lois wasn't going. She just wasn't interested in dating me, and the fact that this was a big thing for me (birthday, expensive for me, etc.) freaked her out a bit as well.
In other words, she didn't want to give me the wrong message, but she didn't want to be explicit either. 😉
So, I took an ex-girlfriend instead, and had a great time. Speaking of ex-girlfriends, one last digression to explain how I discovered Earl Klugh to begin with.
A friend of mine set me up on a blind date (either in 1979 or 1980, I can't recall). We double-dated once, then I took her out perhaps three or four times after that. On our first alone date, she suggested we go to a bar in midtown, where they had live jazz. It ended up costing me a bit more than I could afford, but we had a nice time. When I took her back to her apartment, she put on Heart String (that link is to the LP, obviously, the CD is available as well).
I was instantly mesmerized, and the next day went out and bought everything of his that I could find, and I've kept up with every new album ever since. So, even though the relationship didn't work out, she gave me a great gift nonetheless!
So, it was not without a little nervousness, that I asked Lois whether she would go with me to see Earl Klugh this time around. Thankfully, this time, she said "Yes". 😉
I got tied up with something in the middle of the afternoon, and we left a little later than we had hoped. It worked out fine as we still got the exact two seats we were shooting for. But, instead of taking the bus, I knew we would need to take a cab.
I flagged down a cab that had the off-duty sign (but still available). He pulled over to the curb 30 feet away from us, so I wasn't sure he was responding to my hail. After a minute of staring at him, he waved for me to come over. I had to tell him through the passenger window where we were going. He didn't know where it was (including not really being sure where Washington Square Park was). Uh oh.
He then said "If you can tell me how to get there, I'll take you". Deal! 😉
So, we hopped in. It turns out that this was his very first day driving a cab in NYC. Wow. Amazing that he passed the test, given that he doesn't know where anything is. At least he followed my directions well, and got us there in reasonable time (of course, he wasn't aggressive like most cab drivers, which was likely a good thing…).
In a full-circle, small-world happening, we drove right in front of the apartment of the ex-girlfriend who introduced me to Earl Klugh way back when. I found it at least a tad ironic…
I had the same dinner that I had when we were there a few weeks ago for Chuck Mangione. A perfectly cooked Marinated Skirt Steak. Yummy.
Anyway, a great night all around. If you aren't familiar with Earl Klugh, and you like Smooth Jazz, you must buy some of his stuff. If you visit EarlKlugh.com, it will instantly start streaming some of his hits, so you can get a sense right away, or click on his MySpace page to hear some others.