Send to Kindle
Last night we (finally) saw Girlyman again (fifth time for us). It was a long dry spell, lasting exactly 200 days in between shows. During that time, we saw 27 other live shows (all blogged about). If you are a complete masochist, you can see all of those, including a few other music-related but not live-show related posts, at this link.
While the vast majority of the past 27 live shows were awesome, in every respect, there's something more magical about an evening spent with Girlyman. You have to experience it to understand that, even if you love their CDs.
Not only was last night no exception, it was particularly special, because the venue (Gravity Lounge in Charlottesville, VA) is a very special place to see this kind of group. We've been there once before to see The Wailin' Jennys, and that evening was magical as well.
Gravity Lounge is ultra-intimate. The stage is raised roughly a foot off the seating area, so you're not craning your neck to look up at the performers. The worst seat in the house isn't bad, and 80% of the seats are fantastic.
Girlyman has a large repertoire of songs, and we love nearly every one of them, so going to a show will always yield surprises and some (extremely minor) disappointments, given that they simply can't play everything we'd want to hear. In addition, they are continually writing new songs (all fantastic) and arranging new covers, so the pool of available numbers keeps growing.
They recently started a video blog (low-res version available on YouTube, hi-res version available on Vimeo). You can also video podcast them at iTunes. In those video blogs, you can hear snippets of two new songs and one complete new cover. Last night, they performed the full version of all three.
Easy Bake Ovens hooked me even in the video (as short as it was, from the first video blog). The song is perfect for their soaring harmonies, and the lyrics are fun and insightful as well. They performed it flawlessly last night. They performed Tell Me The Reason (which Doris lip-sync's on the most recent clip, labeled Video Blog, Part 2). Gorgeous!
Sandwiched in between Part 1 and Part 2, is a video labeled Islands In The Stream, their new cover. The song was made famous by Dolly Parton and Kenny Rogers, but was actually written by the Bee Gees (Lois and I were quite surprised at that, but Wikipedia confirms it). We've always liked the song, and there's nothing wrong with Girlyman's arrangement, but in my opinion, it was the weakest song of the night (not weak, just weaker than any of the others), and I would personally have preferred them to substitute any of their other songs.
At the very end of the show, they played another new one by Nate. Unfortunately, it isn't in a video yet, and wasn't on the printed set list (which we snagged), and I don't recall the title. Another big winner though, so we (and the rest of you) will need to be on the lookout for the name. 🙂
Speaking of the set list, there was only one song that they planned to play that they didn't (James Dean). In addition to playing two requests, they also played at least two additional songs that weren't on the set list. A very generous show indeed!
Of course, they also played many crowd favorites (Joyful Sign, Through To Sunrise, Kittery Tide, Postcards From Mexico, Somwhere Different Now, Storms Were Mine, and quite a number of others!). Speaking of the audience, the overwhelming majority of them were clearly super Girlyfans. The energy in the room was electric and the rapport between Girlyman and the audience was seamless and relaxed.
Ty added a snare drum to her customary djembe. Two of us (I was one of them) simultaneously teased her about not bringing along her collander highhat. You'll have to watch the first video blog to understand the reference…
After a standing ovation, they returned for their signature encore: Girlyman Benediction and Son Of A Preacher Man. Wonderful! They were on stage for roughly 105 minutes. Given that they had an opening act, the show was long, and satisfying.
Here's the only picture Lois snapped of them together on the stage. Given that we were in the front row, center, and they were spread out, all other shots have only one or two of them together: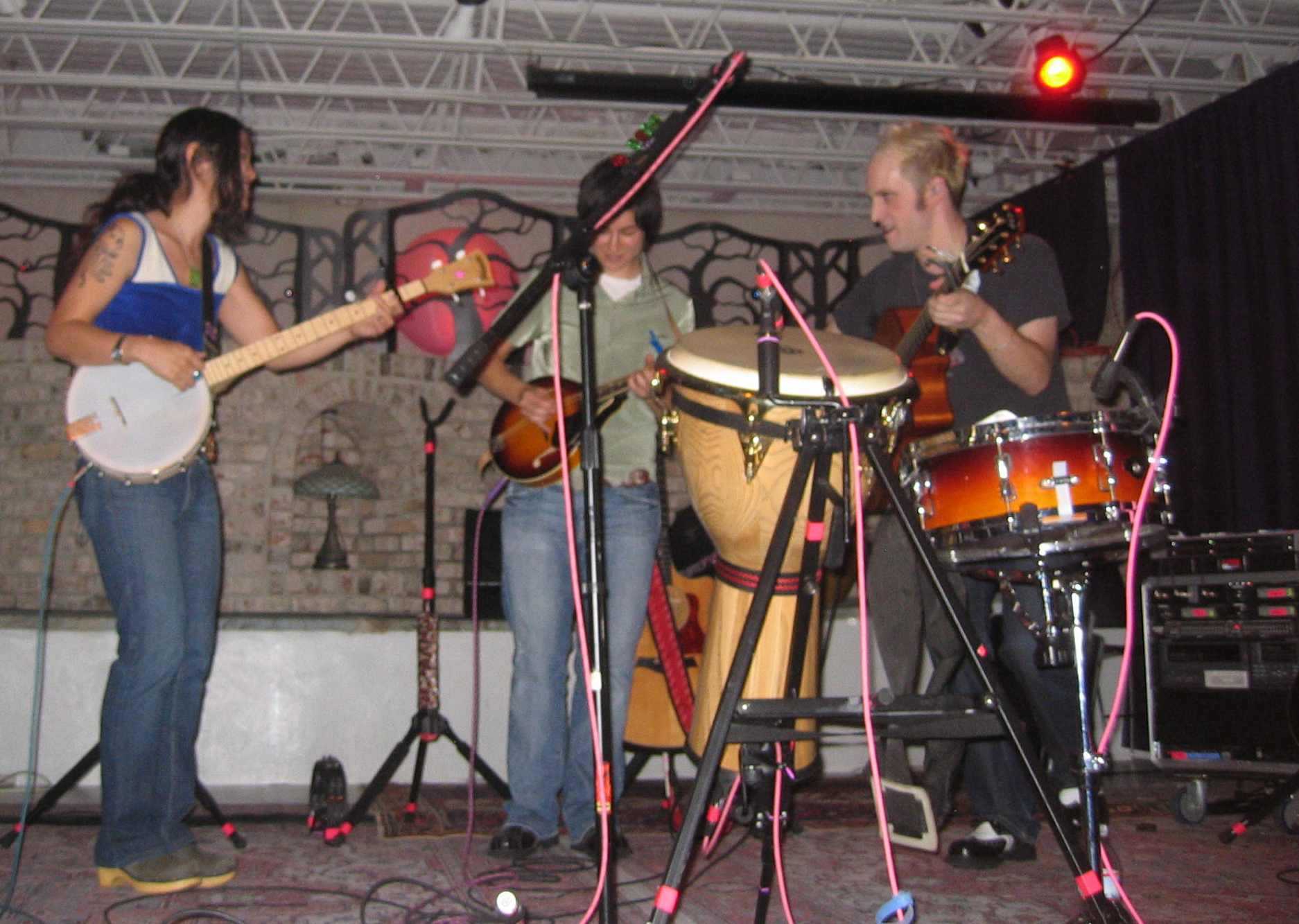 Speaking of opening acts, Nervous But Excited opened for Girlyman last night. The group consists of Kate Peterson and Sarah Cleaver. Both talented singer/songwriters who harmonize well together (though not as often as they could). They performed five or six numbers. All were good, but they don't produce the kind of sound Girlyman does, so there was anticipation of the real show, even though they were good.
They ended with Smaller Taller. You can hear that (and a bunch of other tracks from their live CD) here. It was the coolest/best of their stuff, but to repeat, all of their stuff was pretty good. On this last song, Girlyman joined them on the stage. Musically, it was an unecessary addition since they had the audience sing the chorus with them, canceling out the wonderful Girlyman harmonies. But, Nate performed special duties during the song, so it was a blast from that perspective, but you had to be there to appreciate it, so I won't even describe it. 😉
They were on for exactly 30 enjoyable minutes.
As you may know, I'm on a personal mission to increase awareness of this simply amazing group (this == Girlyman). One way to do that is to make sure that people actually see them live (the fastest way to fall in love with them). Toward that end, Lois and I invited 10 Richmond based friends to join us (we were coming from Zope in Fredericksburg). The place only seats about 150 (max), so we would be roughly 10% of the crowd, all by ourselves. 😉
Of the 10 friends that we invited, two had seen them before (with us) at the Barns at Wolftrap. That made eight newbies, though half of them have received a Girlyman CD from us in advance well.
We arrived at 5:50pm, thinking that the doors would open at 6pm (which is what they did for the Jennys). When we got there, the door was open, with no one on line, so we walked right in. Girlyman was in the middle of their sound check, and no patrons were there yet. That was a very cool experience for us because the sound checks are off limits to customers, nearly 100% of the time. 10 minutes later, six more people from our group arrived, and with all of the hugging and catching up, the owner of Gravity Lounge realized he should never have left the door open, and he kicked us out. Oh well, at least we were still first in line.
Here's a shot of them during the sound check. You can also get a good sense of the setup of the room, given that it was empty: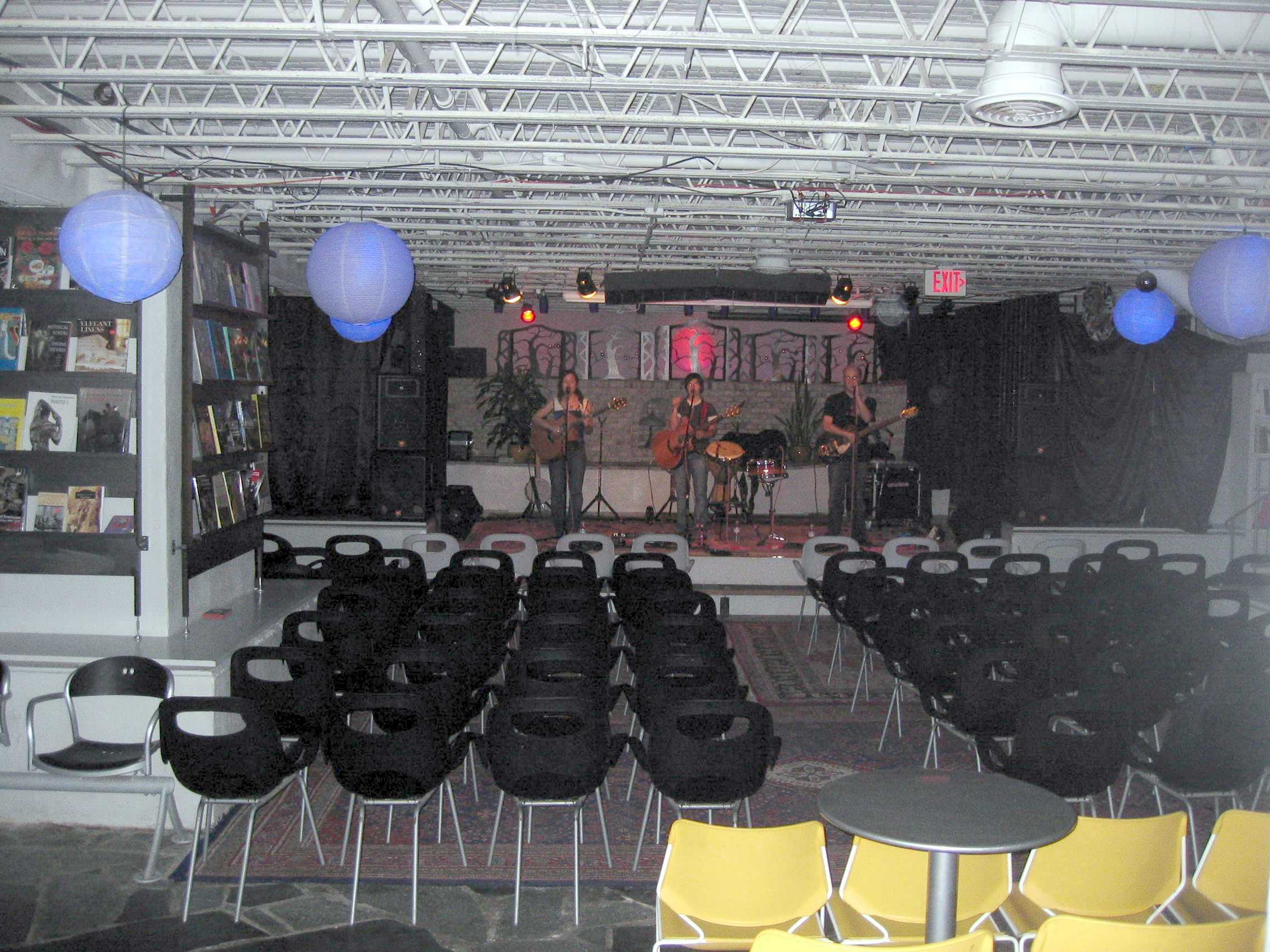 At 6:30 he opened the door and we went back in and snagged seats in the front and second rows. Lois and I sat front and center, and couldn't have loved our seats or the show any more! We ordered dinner at the club as well. The food took forever to come out of the kitchen, but was superb and very value priced. The chef came out to apologize to Lois (her food came out dead last, by a long measure). It turns out it was her first night working there. So, she's not fast, but she's really good.
Because we were so early, we got to schmooze a bit with each of the Girlypeople, separately. That was a real treat. One of the innovations at this show (and apparently all of them on this tour) is that they record the entire show, and offer the CD for sale afterwards. I have written about this before, when we purchased the CD for a live show of California Guitar Trio at BB King. This is slightly different. Girlyman doesn't burn the CDs on the spot (like CGT did), but mails them to you later. We trust them, and are looking forward to our CD in a few weeks.
Here's a shot of Doris and me, proving the above schmoozing claim: 😉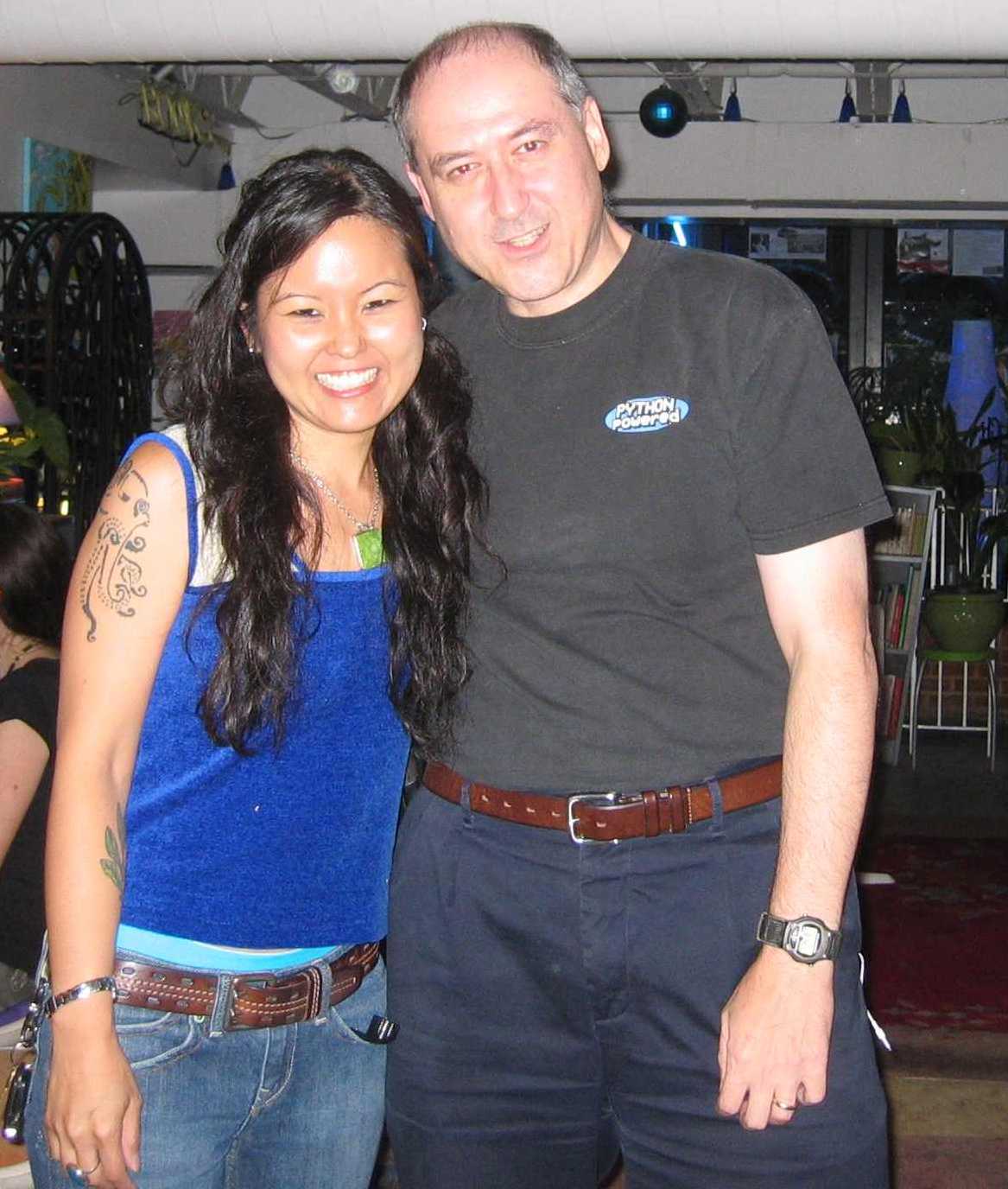 After saying our goodbyes (to our friends, and later to Girlyman), we didn't need to feel badly about how long it would take us to see them again. We're heading in exactly the opposite direction from Fredericksburg tonight, to Alexandria, VA, to see them at the Birchmere. Tonight, we're bringing 13 people with us (total of 15), and again only two of those have seen them before (with us). So, we continue to do our part in spreading the word.
Now, the rest of you, get on the stick and spread the word!!! 🙂