Send to Kindle
For the past six years (2002-2007) we've spent New Year's Eve in Richmond, VA. There are four couples there who get together each year and cook a very special (and sumptuous) dinner at each others houses (rotates each year), and we hitched our wagon to their tradition back in 2002. Of course, we were invited this year as well, and had originally accepted the invitation.
Unfortunately, our good friends in Leesburg, VA are going through a very rough time. The Dad has an aggressive form of cancer, and this week was undergoing a particularly aggressive round of chemotherapy. He was being treated daily, for a minimum of six hours of the life-extending poison being pushed (their term, not mine) through his veins.
As much as we knew we'd enjoy our annual New Year's Eve get-together in Richmond, we also knew that helping our friends-in-need was the right thing to do, and we had no hesitation in offering our help. There were two things we could do directly:
logistics (driving the Dad to/from the hospital)
entertaining the boys, who clearly feel stressed worrying about their Dad
They have three kids, two boys ages 10 and eight and a girl, 2.8 years old. All three are adopted. We met the family when the 10-year-old was 18 months old, and they lived two doors down from Lois' Mom's apartment in NYC. We've remained very close to them even after they moved to VA seven years ago. So, we know the boys really well, and their various likes and dislikes.
We headed there Tuesday after working all day at Zope in Fredericksburg. On a whim, we stopped for dinner at Five Guys in Warrenton, VA. We've eaten at this Five Guys a number of times, because it's roughly half way between Fredericksburg and Leesburg, and we occasionally meet our friends there on a weekend when we're working at Zope. On Tuesday, it was just a convenient (and delicious) stopping point for us.
In an incredible small world story, a few bites into our meal, both Lois and I recognized a 10-year-old boy going over to fill up his drink. It turns out that really good friends of the friends that we were headed to visit had also stopped at Five Guys on their way to spend New Year's in the Outer Banks! We were headed in opposite directions, with neither of us having planned to stop for dinner there. In another irony, they had visited our friends earlier that day!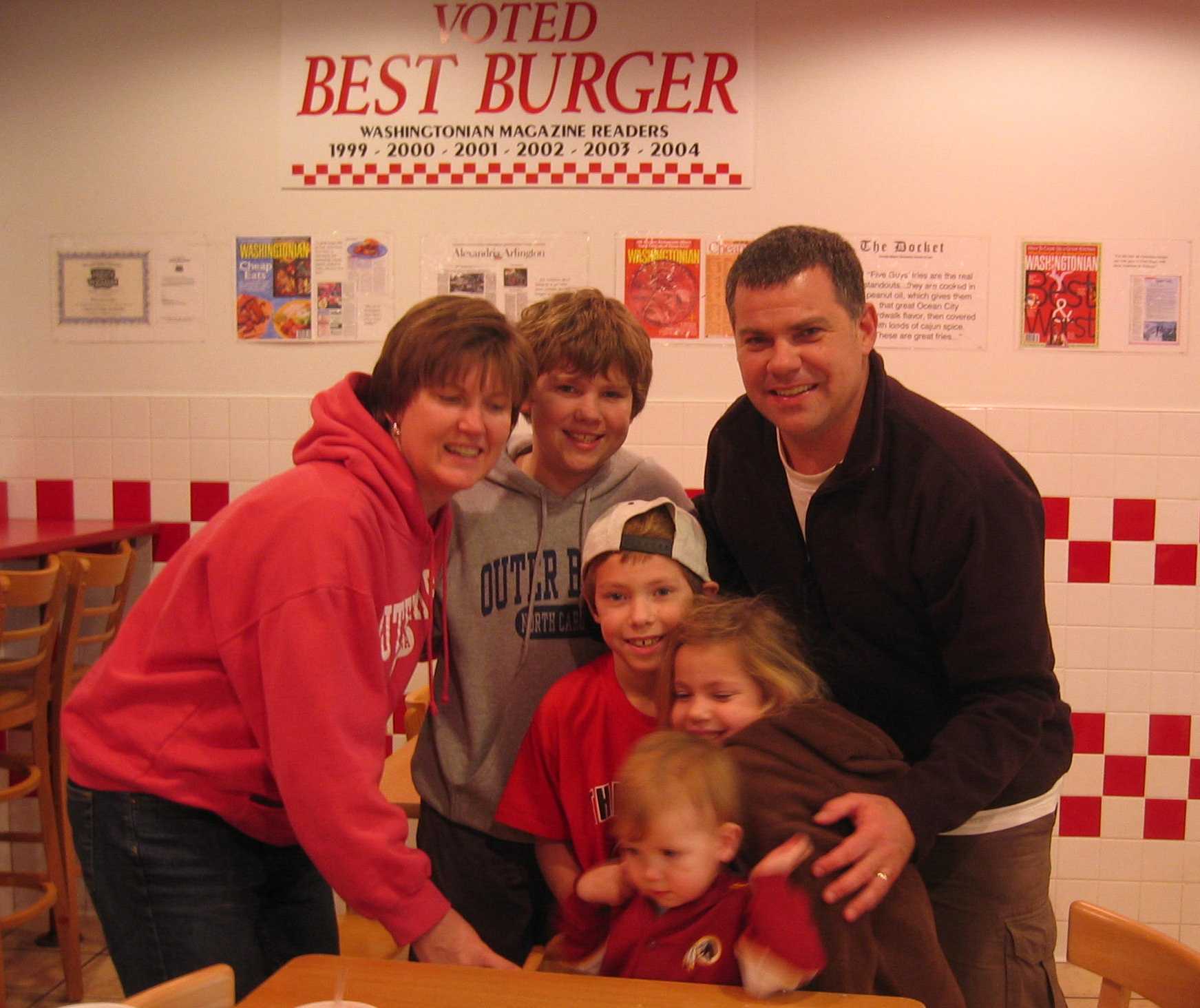 On Wednesday morning, I drove the Dad to the hospital, and spent three hours keeping him company while he was undergoing the chemo. That turned out to be beneficial for him in another way. The hospital has free WiFi, but his work laptop needed to be coaxed to connect to it. In his condition, he was unable to get it going on Monday or Tuesday, but I was able to connect him, and he felt better about getting some work done on Wednesday.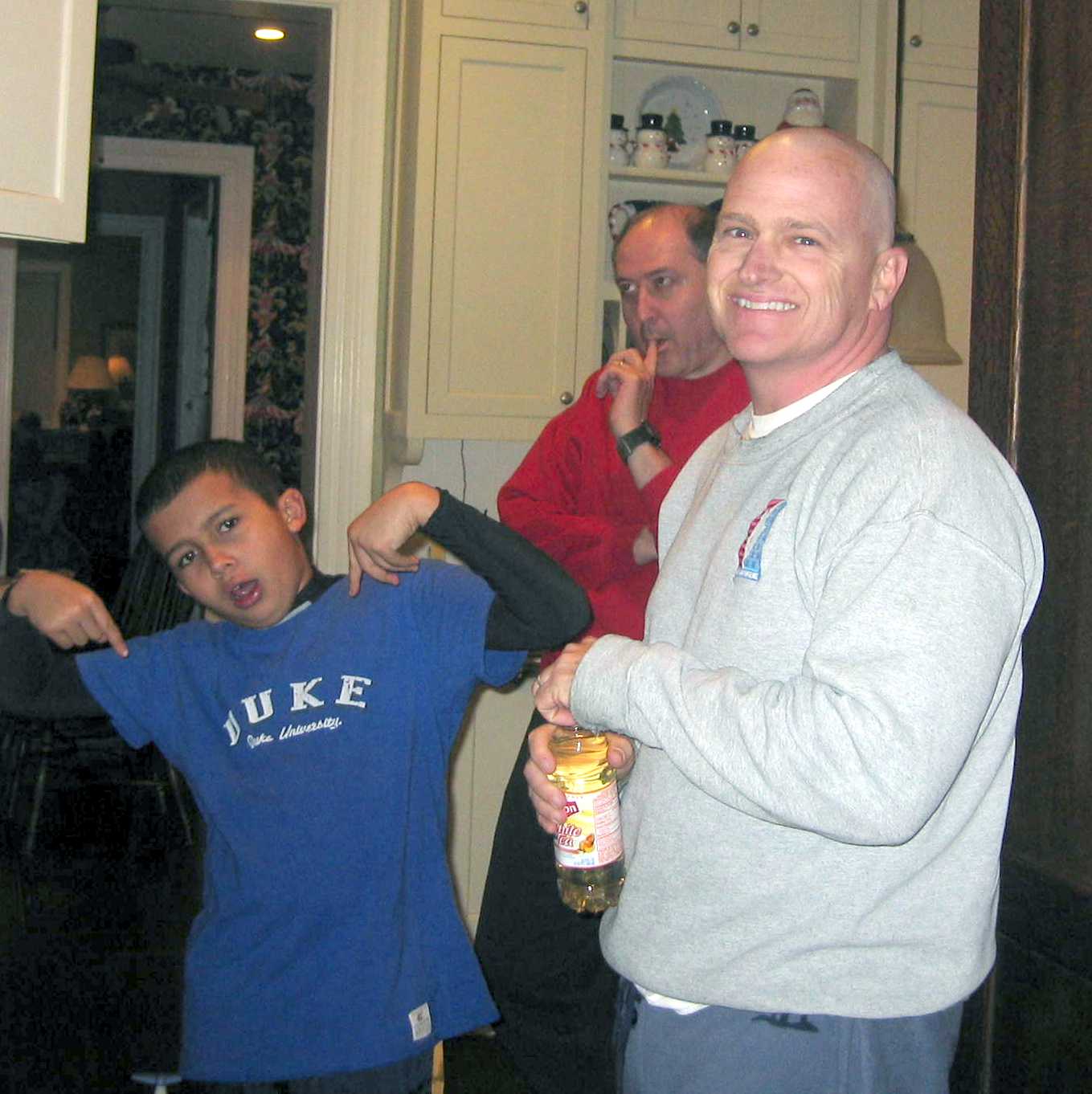 At lunch time, I left him to join the rest of the family (Lois included) at our favorite local Chinese restaurant where we all enjoyed a buffet lunch. After lunch, Lois and I took the boys bowling. I haven't bowled in years, but I love it every time I go. They had each bowled only once before (at a birthday party I think), and really liked it. We all had a blast and the boys played some video games afterward.
As you can see, all three boys had perfect form. Of course, my form is also over-flowing. I guess I need to get serious about that in 2009. So far, not so much…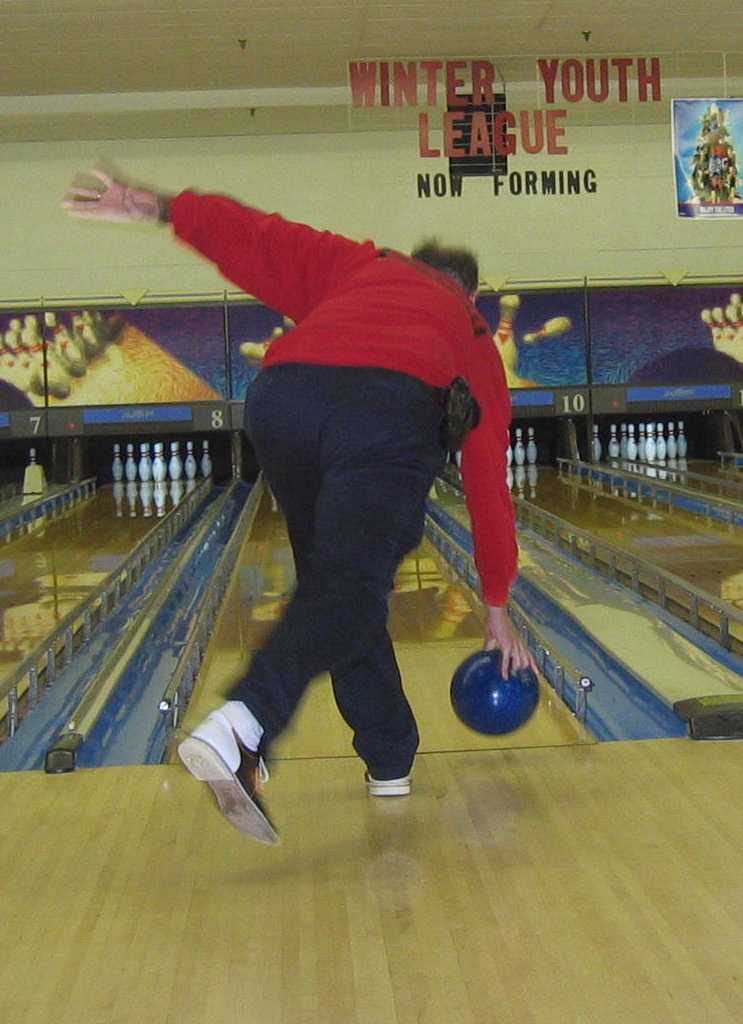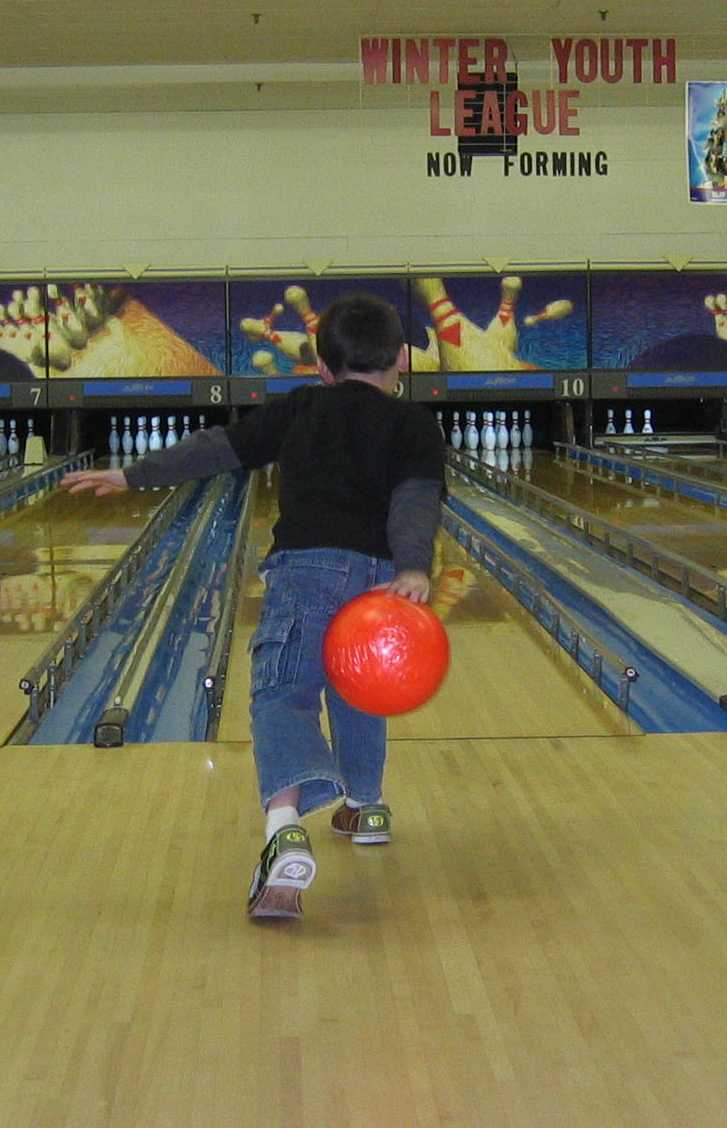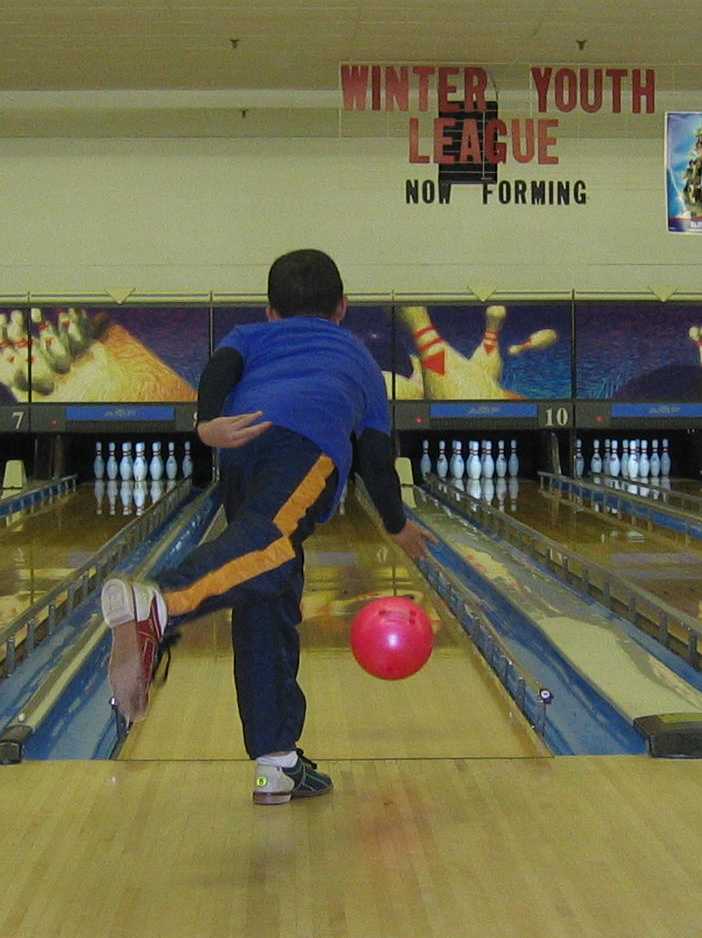 A typical moment between me and the 8-year-old (this one, at the Bowling Alley):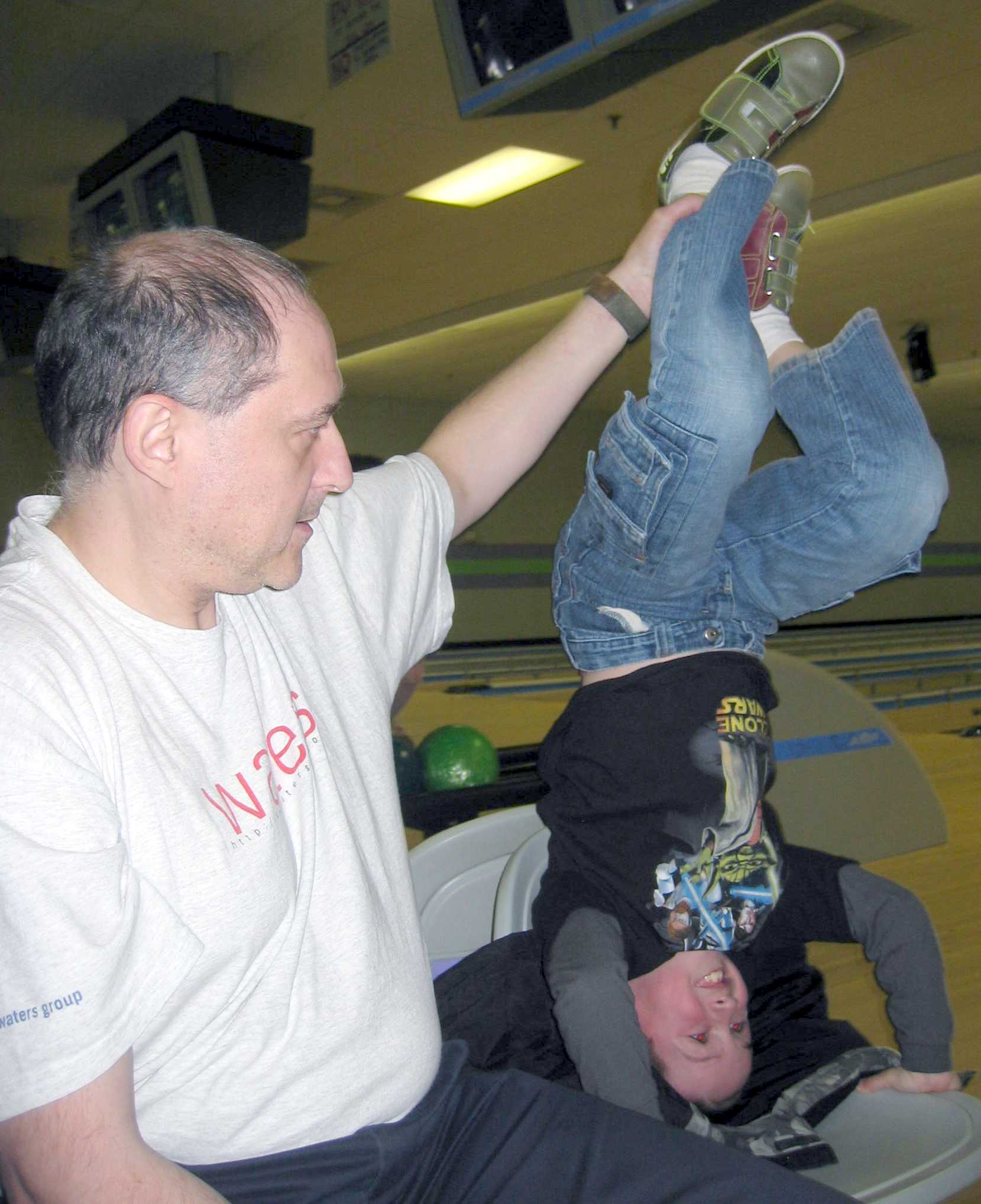 Two best friends, sharing a moment: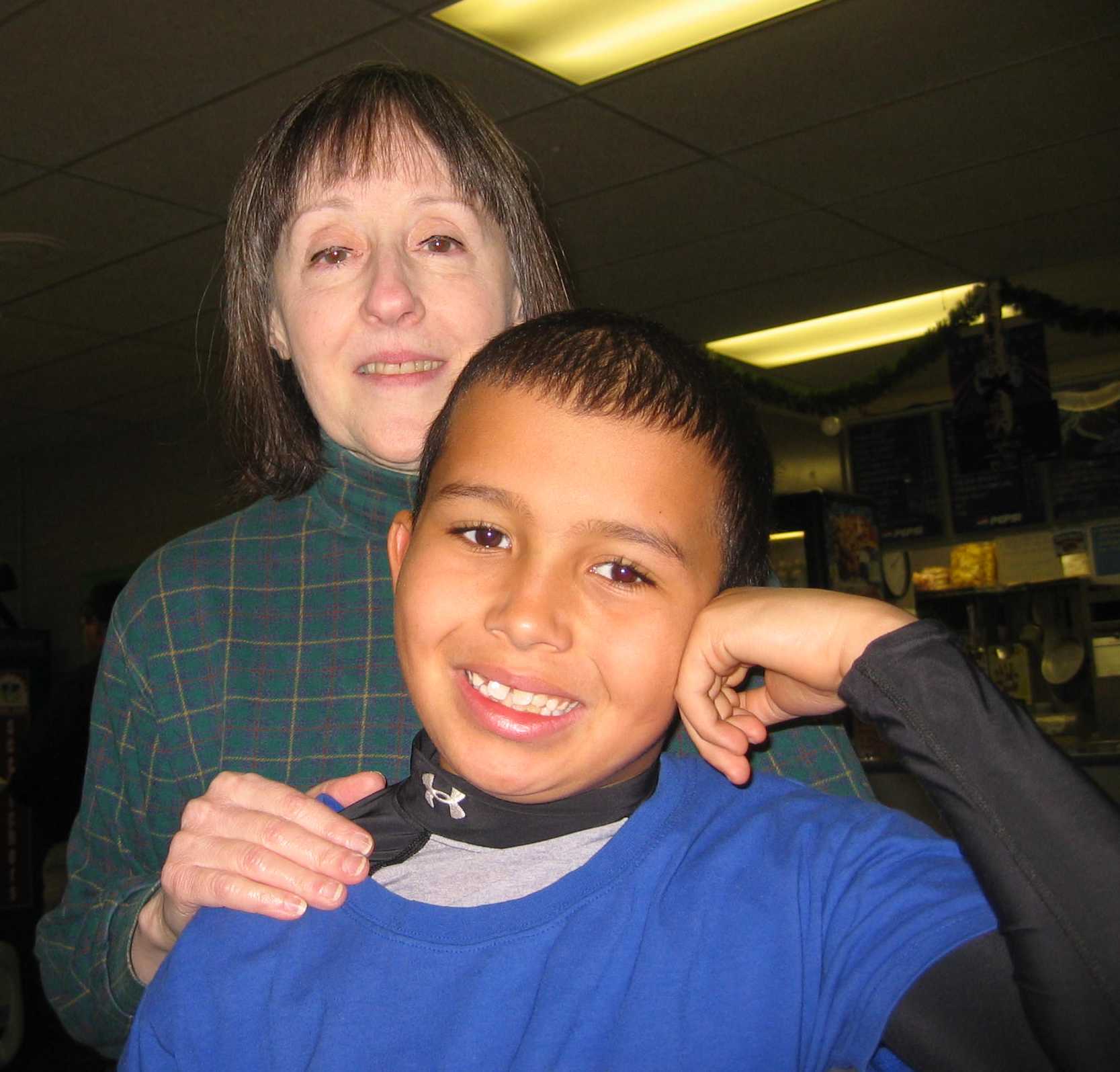 We are prone to spoiling them over the years (often to the consternation of their parents), but we weren't about to deny them much this week. So, after bowling and video games, we drove to Baskin Robbins (which is housed inside a Dunkin Donuts), and got them ice cream (well, one of them got ice cream, and the other one a smoothie). I had an excellent Lite Latte, quite delicious.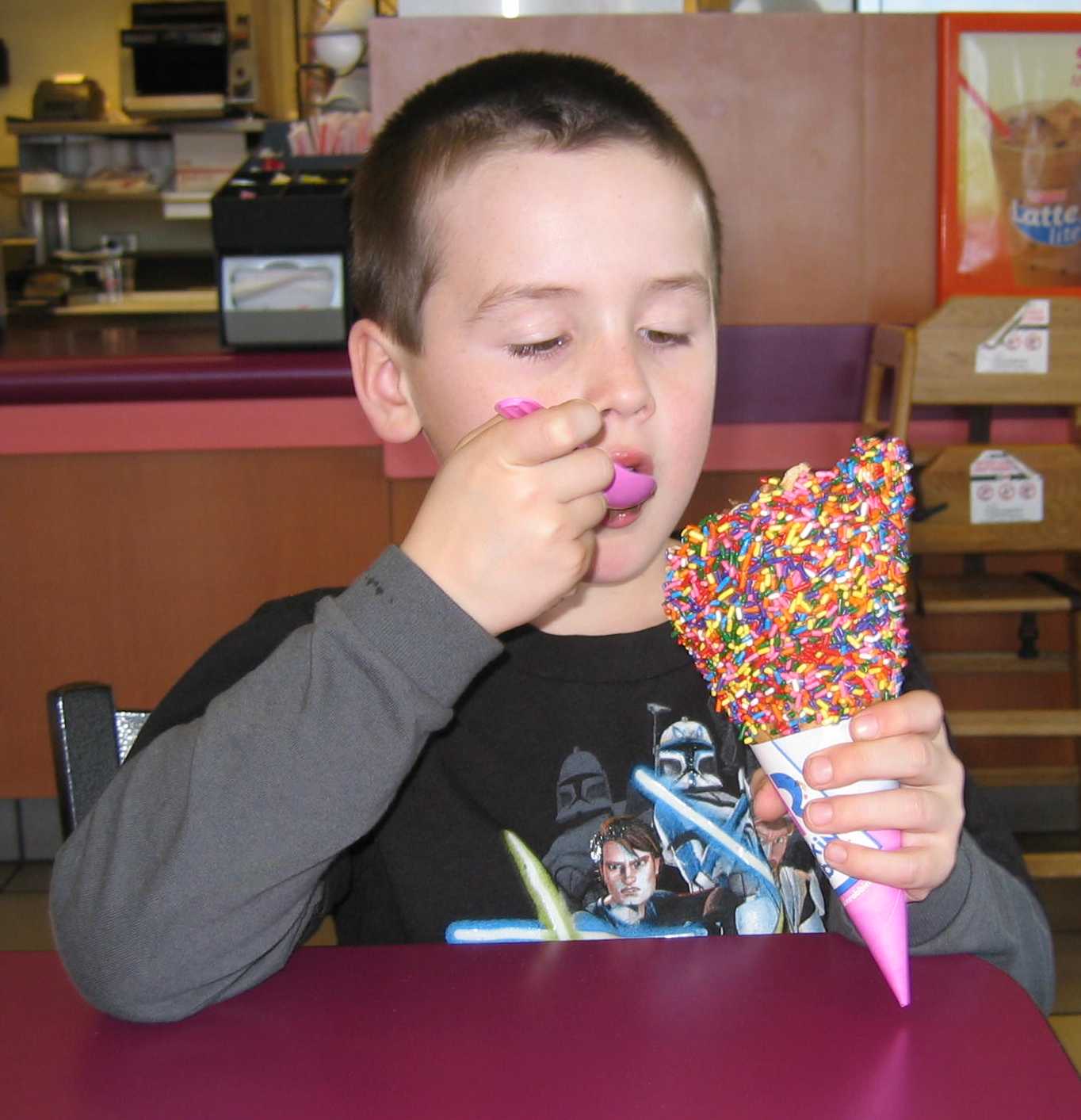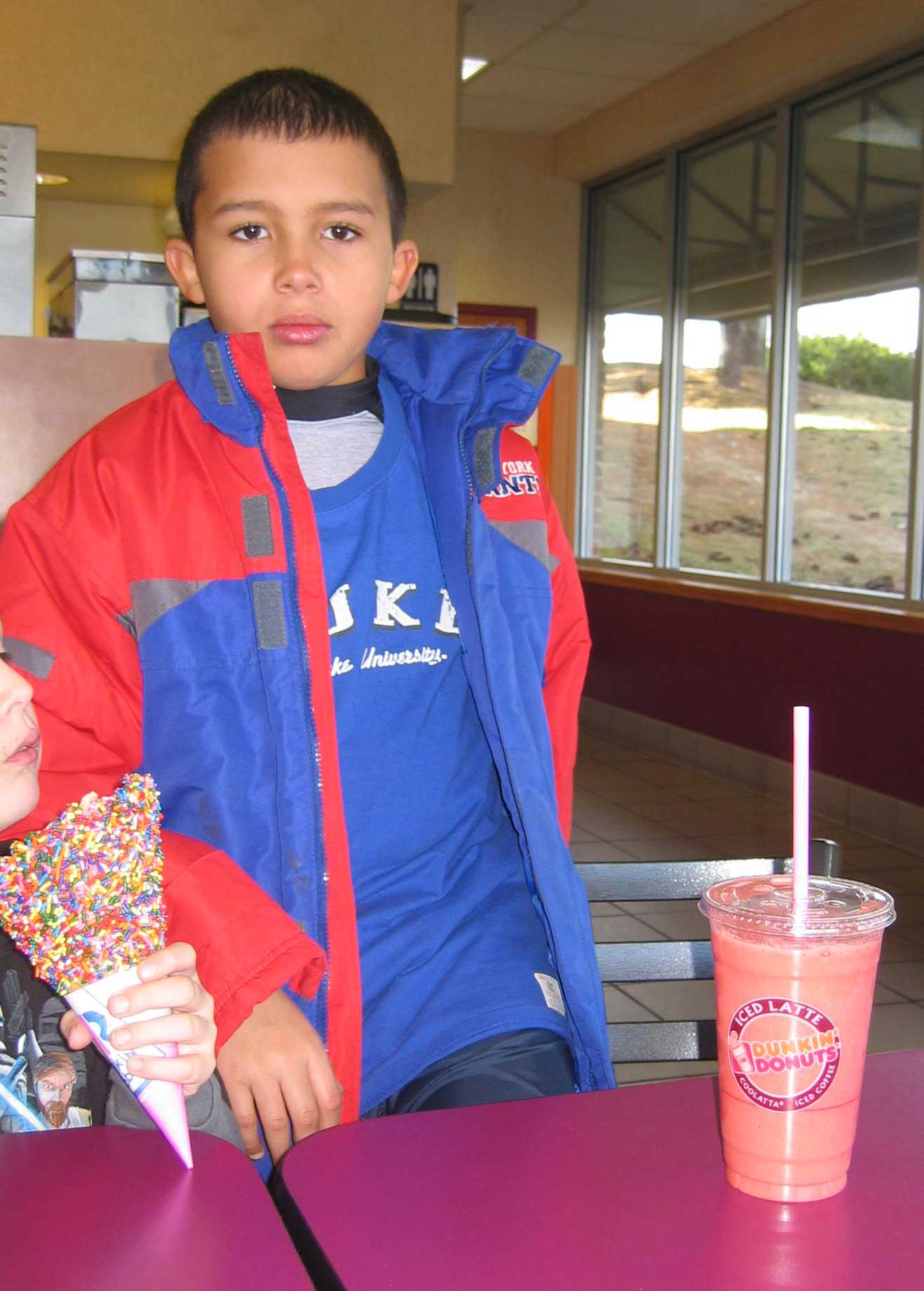 You'd think that this would be a jam-packed day, but you'd be wrong! From Baskin Robbins, we headed to the local movie theater to see Bedtime Stories. Of course, the four of us had to split a large popcorn. You gotta do what you gotta do. 😉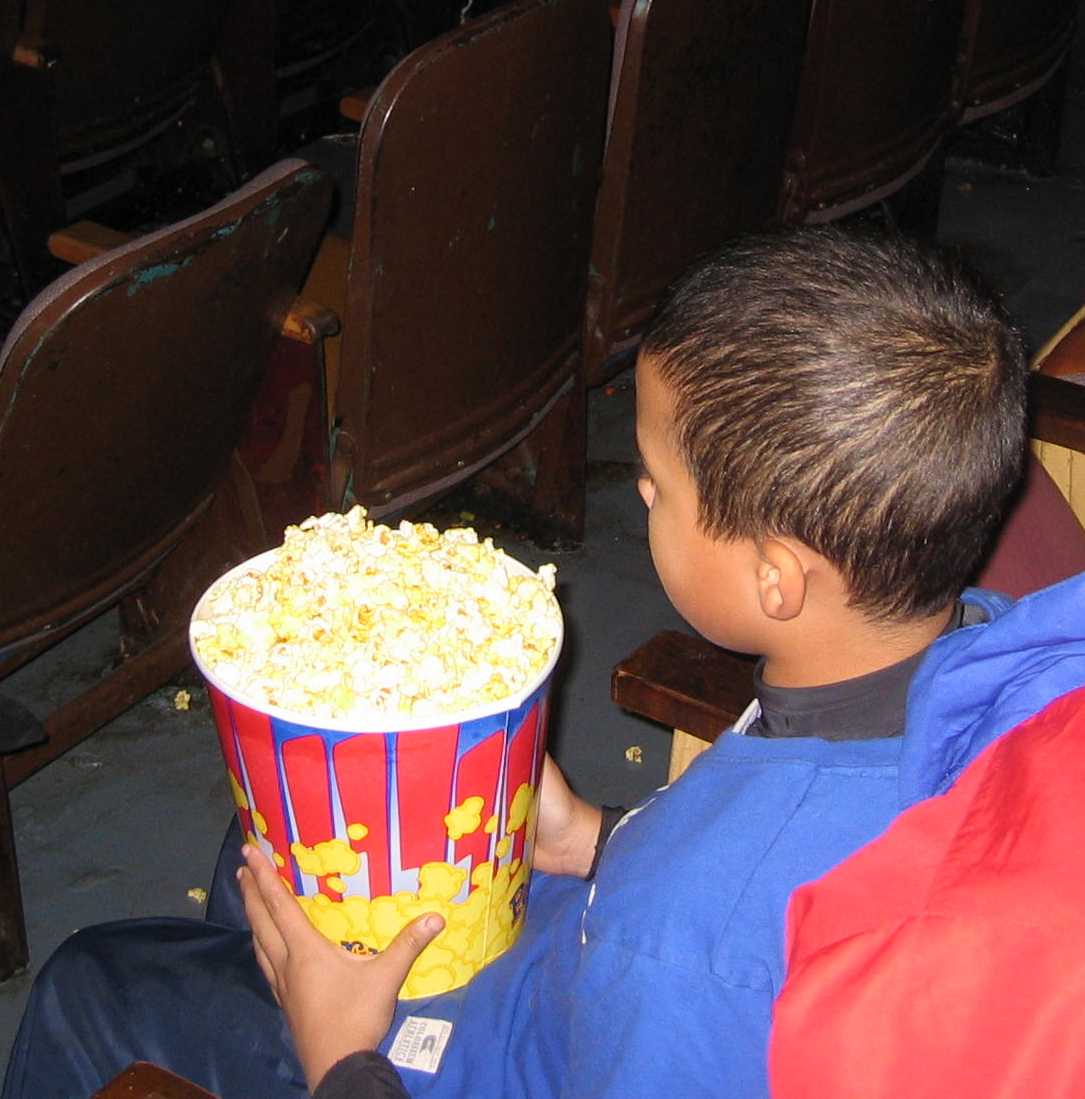 The movie is excellent. I highly recommend it. What sets it apart from most movies (including other kid-friendly ones) is that no one tries to sabotage anyone else. There is a nemesis (and you might even consider him an evil nemesis), but he doesn't do underhanded things directly to Adam Sandler (our hero). It's refreshing. The story itself is creative, while still being predictably formulaic. A very sweet movie. The boys loved it, so did we.
When we got home, we found out that another of the Dad's friends stopped by to visit him in the afternoon, and was kind enough to bring him home. We had a lovely dinner together, followed by a little too much rough-housing between me and the eight-year-old (he loves to wrestle). I also played a ton with the little girl (more on that later).
Even though it was New Year's Eve, we all went up to our rooms by 9:15, and Lois and I watched TV for 45 minutes, and hit the sack (completely exhausted)  at 10pm. No complaints about not ringing in the new year at midnight!
The clinic (attached to the hospital) was closed on New Year's Day, so the Dad had to be checked in to the main hospital. I drove him in and watched in amazement as they couldn't find him in the system, even though he was told in advance what room he would be in. The normal registration desk was closed so we had to navigate a maze to find the ER registration, which likely explains why they didn't know how to do a normal admission.
I stayed with the Dad for two hours and then picked up Lois and the boys and we went bowling again! Everyone improved their scores from the day before, so it was a satisfying outing. We then headed to Cici's Pizza Buffet. It was our first time (the boys love it) and we thoroughly enjoyed it (very tasty in addition to being a very good value!).
From there, we headed to the movies again. This time, we went to the giant multi-plex to see The Tale of Despereaux. On the way there, in the middle of a conversation, both boys excitedly starting yelling look over there. It took us a second, but when we looked at the divider, there was a hawk sitting on top of the wrong way sign. Very cool!

Of course, another round of popcorn for the four of us. We all enjoyed this movie as well, but all four heartily agreed that Bedtime Stories was significantly better. In fact, the 10-year-old claimed that Bedtime Stories was his favorite movie.
After the movie, we dropped Lois and the eight-year-old back at home, and the 10-year-old and I headed to the hospital. Originally, we were told that the Dad would have to stay in the hospital for two nights, not getting out until Saturday morning. During the day, they changed their mind and decided he could come home each night. So, we headed there to keep him company until they released him, and watch some bowl games in his room. Shortly after the Rose Bowl started, he was released, and we brought him home.
We had another excellent dinner together, followed by watching the second half of the Rose Bowl. It didn't get exciting until the last seven minutes, but it was a good distraction nonetheless. I was strong and successfully resisted all attempts to wrestle again. I was quite sore from the bowling and the wrestling up to that point. I did end up playing a bunch with the little girl again.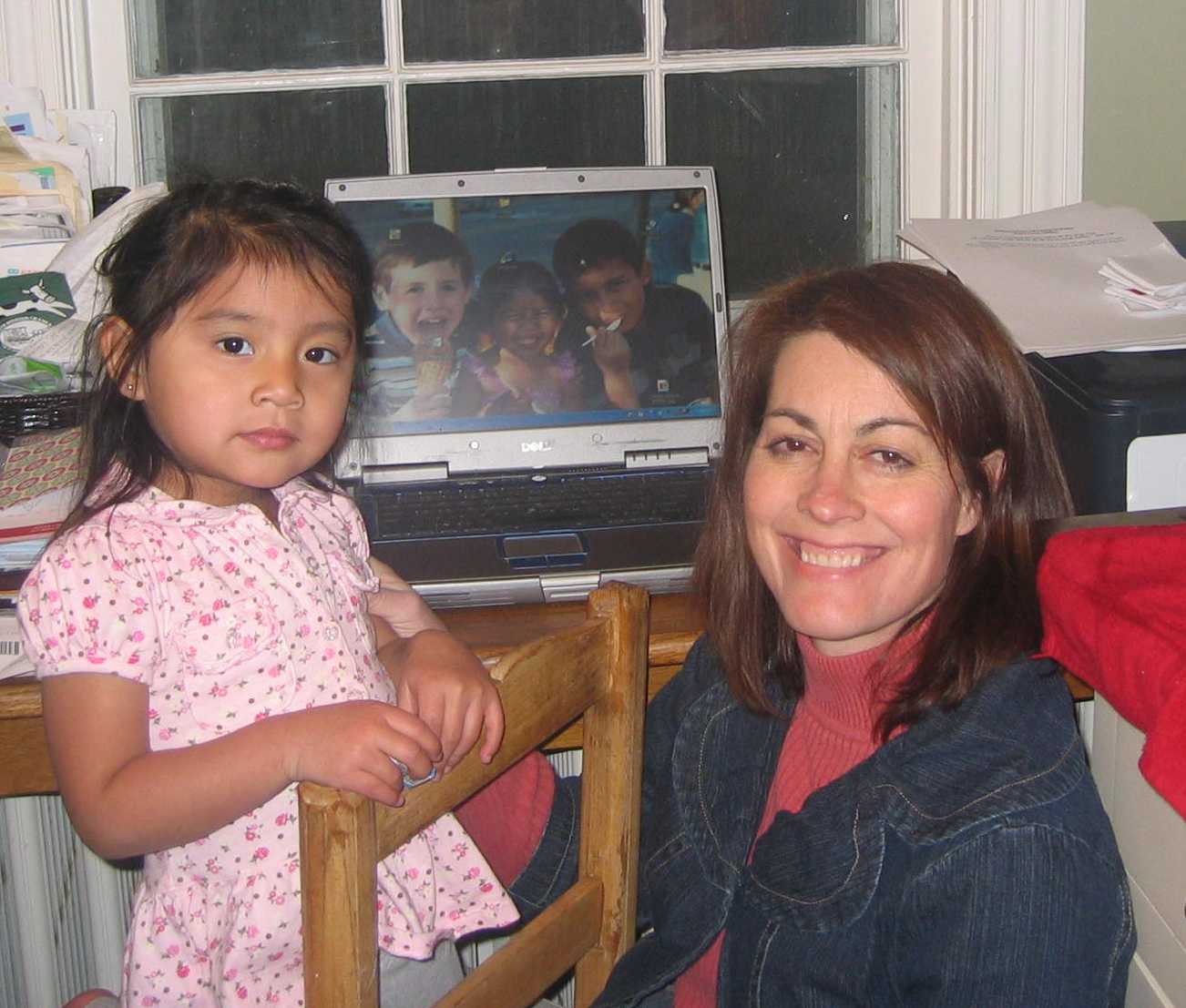 Previous to this trip, she hadn't been all that verbal. While we've spent a reasonable amount of time around her, she was more of a remote cutie (like a doll) than like a real person. I was completely blown away this trip by how verbal she is. Not only does she talk up a storm, but her vocabulary is extensive (it's almost frightening, seriously). If she pronounced all of the words better, I would swear she had the conversational skills of a 13-year-old, no kidding!
How many nearly-three-year-olds do you know who can form the following sentence (I'm not changing a single word!)?
Ho-dar, can you come to the family room and play with me and my toys?
OK, so she doesn't always pronounce my name perfectly, but otherwise, pretty incredible. Here's one other example of an actual conversation between us:
her: Ho-dar, I have my own telephone!

me: Really? Do you talk to people on the phone?

her: No, it doesn't have any batteries in it, so I can't!
Wow. Pretty cool to watch a personality come to life between one visit and the next!
Here I am with the kids, right after breakfast: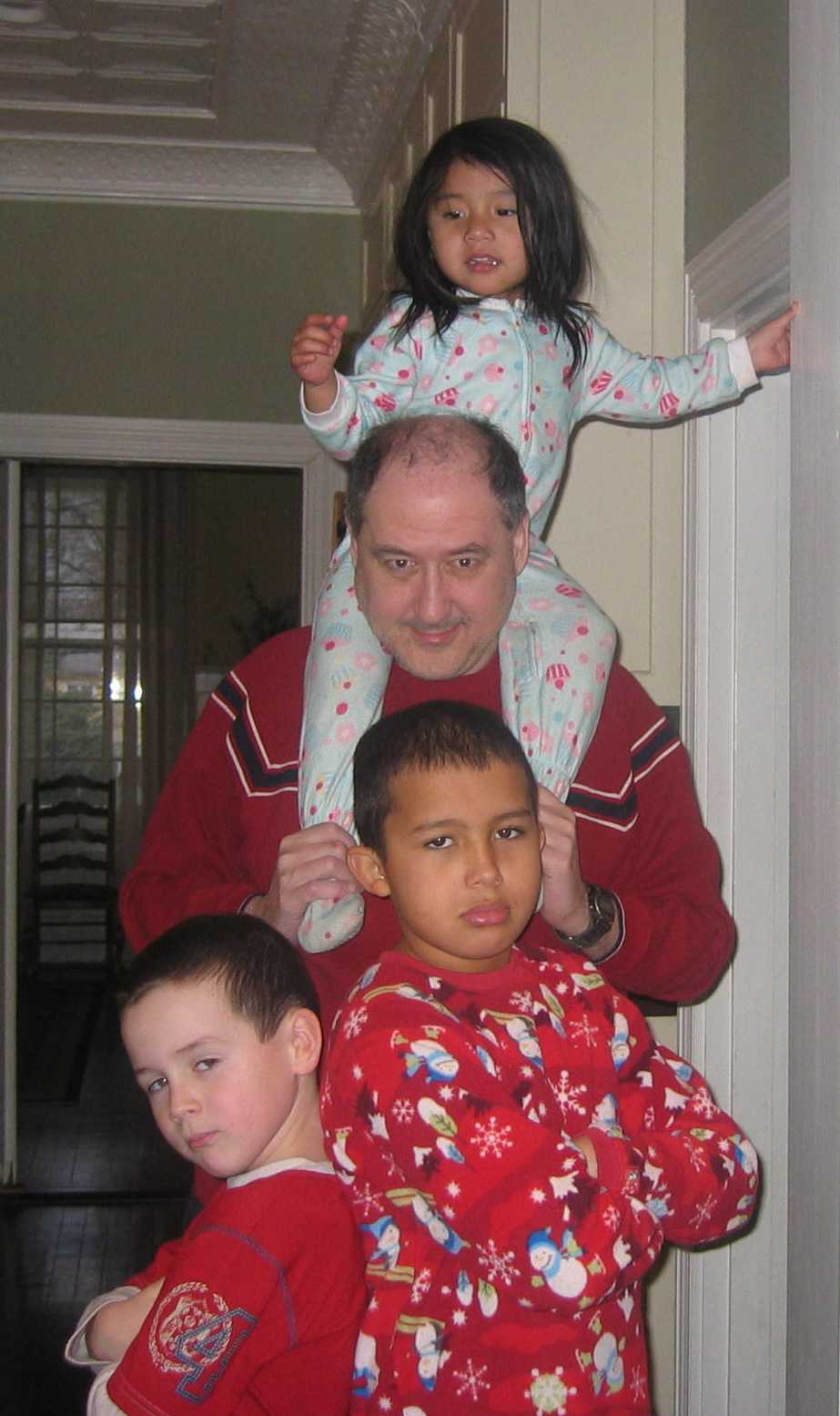 This morning, I took the Dad back to the clinic. I stayed with him for a few hours again and then headed back to pick up Lois and the boys. We had lunch at Chuck E. Cheese (a first for the two of us). We had no idea what we were in for (of course, the boys knew exactly what the deal was). We were surprised that they wanted pizza two days in a row. As you all probably know (and we didn't), it wasn't about the pizza at all. Chuck E. Cheese is all about the games.
They had a blast playing a ton of games and won roughly 300 tickets between them. Still, they couldn't find a single prize that they wanted, so they saved their ticket receipt for the next time. We had hoped to see Madagascar 2 after lunch, but it was no longer playing in any theater near them. So, we headed to Walmart and let each of them pick out a DVD to watch at home.
When we got home, the Mom told us that she was going to pick up her husband when he was done. We already knew we would be leaving today, since the boys had Tae Kwan Do tonight and tomorrow morning again. Given the updated schedule, we decided to hit the road while it was still light, and we stopped by the Zope office before heading to the hotel to settle in for the night.
All-in-all, a very successful visit in every respect. In addition to accomplishing our mission, our friend also received very good news that his tumors appear to be responding to the chemo. He is incredibly nauseous all the time, and he is weak as can be, but hopefully, he'll start feeling substantially better soon. He's completely bald as well, but we both think it looks pretty good on him. We'll see if he chooses to keep it that way. 🙂
For us, ringing in the new year with such good friends is as good as it gets! Thanks for hosting us. 🙂