Send to Kindle
Lois and I have been, and continue to be blessed, in many ways. At or near the top of that list is the amazing group of friends that we have. Individually and collectively, they bring us immeasurable joy, and expand our horizons with each interaction.
I know that many people lead busy, complicated lives. We do too. Ours are a tad more complicated than most, because of our hectic travel schedule. Even that is subject to last-minute changes. That makes pinning social dates down somewhat tricky. When you factor in the jam-packed schedules of most of our friends, finding dates we can all agree to, and then sticking to them, is often a major hassle.
There's one couple in particular where the scheduling conflict rears its ugly head more often than not.  Because of that, we don't end up even trying as freqently as we should, so we end up seeing them every 18 months or so on average. That's a major shame, as we always have a fantastic time, whenever we pull off a drive-by get-together.
Last night was one of those lucky evenings. As busy as they are (and folks, they qualify on a number of levels for leading pretty hectic, but productive lives), more often than not, they do the classy thing and come to our side of the river (to the apartment or the house), which we appreciate to no end (though we promised last night that next time, we'll come to their house!).
They also came early (6pm), which us old folk appreciate beyond measure as well. It permits a long and relaxed evening, without having to be falling asleep at the height of the festivities. We had a simply amazing sushi meal.
Among the many topics we discussed all night was blogging, and Twitter. Both of them (claim they) are too busy to blog (though both have been encouraged to, for a numer of reasons), and neither sees the point of Twitter (something you hear a lot from non-Twitterers nowadays). I doubt I made a dent in either direction, but we'll see.
One of the things we had some fun with was coming up with blog titles that were provocative (often already iconic cultural phrases) that might stand alone (content would be interesting, but unnecessary). 😉 In fact, I explained that this could be one reason to be Tweeting instead of blogging!
There were some obvious ones:
Not that there's anything wrong with that…
Do the Right Thing
I'm Not Judging, but…
To Get Through Work, Only Two Decisions are Required: What to Wear and What to Eat
If I'm the Typical User, then it Should Be Designed for Me!
There were many more. Some were inspired by specific stories that had long philosophical discussions. For example, "Do the Right Thing" was about a situation where an older male colleague, fumbled over whether and how to handle the situation of walking a younger female colleague back to her hotel after a business function. There are lots of nuances in that situation, and in our opinion, our friend ended up on the wrong end of an overthought dilemma.
That spurred me to title this post in a similar vein, though it didn't come up in our long list last night: Make the Time.
Every time that we make the time to get together with this particular couple, but in general with any of our friends, we feel enriched by the experience. So, we (and they) need to continue to pursue each other, even when scheduling appears to be impossible, and just Do the Right Thing. 😉
I'm including a photo of our friends without naming them. As you can plainly see, I don't dress up for company. 😉 Also, as you might be able to tell by my glassy eyes, we enjoyed some nice wine as well.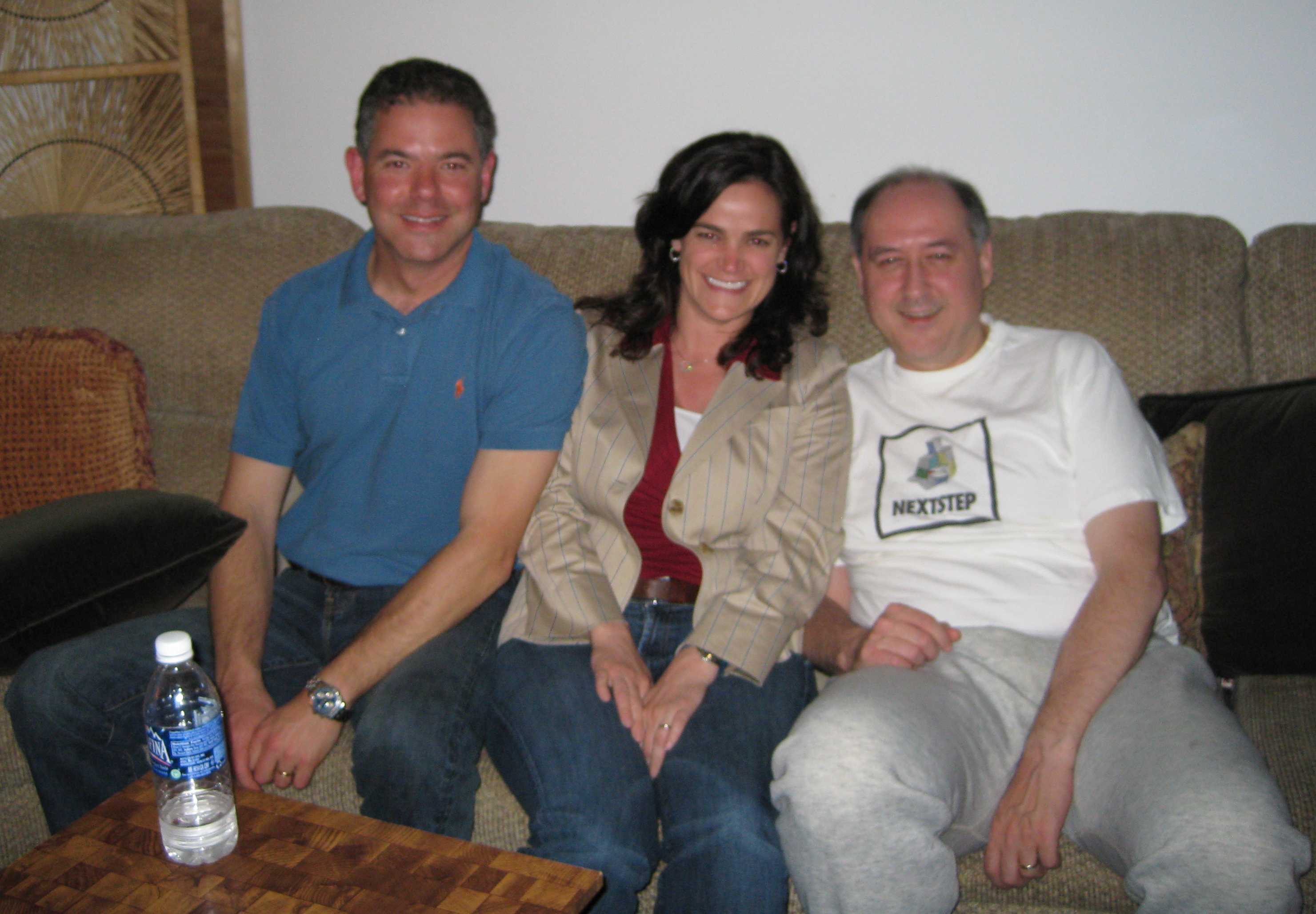 I met the husband when I hired him in 1986 (give or take a year). I knew in the interview that he was a very special person. I was wrong, he was and is an exceptionally special person. He was as good an employee as I could have hoped for, and went on to a very long and successful Wall Street career in a number of top firms.
A number of years ago he started his own software company, and has made a wonderful success of that as well, and will continue to, I'm sure.
His wife is equally extraordinary in too many ways to list in this small space. To call either of them smart would be to insult them. They are also interesting, conversational, good listeners, etc. In other words, everything you could hope for in a friend.
Here's to not letting as much time go by before the next visit (which will be at their place!). 🙂