Send to Kindle
Lois and I rarely exchange gifts or cards on any occasion, including birthdays. The main exception is that Lois has gone out of her way to make some of my milestone birthdays very special affairs. That included my 30th, 35th and 50th.
This was not a milestone birthday for Lois, but I decided to give her a small surprise nonetheless. Surprising Lois is no easy feat. She's curious about lots of things, and not shy to ask questions, so some outright lying is required, something I am normally loathe to do. C'est la vie! 😉
We spend a lot of time working in Fredericksburg, VA, and often spend the intervening weekend in Richmond, VA, where we have more good friends than you can shake a stick at (always a fun thing to do). I noticed that there was a Bluegrass Festival (specifically, the City Slickers Bluegrass Festival) on Lois' actual birthday. I knew that this would be a cool thing to do, with as many of our friends as could make it.
I already covered the event itself in a post yesterday. This post will cover the details leading up to it, and a bit of the rest of the weekend after as well.
Once I decided on this event, I wrote to a bunch of people and invited them to join us. One after another, I got back regrets that people would be out of town. Of course, it turned out that this was Mothers Day Weekend, and our closest friends were coupling that by attending a Law School Graduation for the son of another friend.
For a couple of days, it looked like it might just be Lois and me. Not that it wouldn't be fun, but it wouldn't be a party. 😉
Then I got one yes, followed by one maybe. That's where the count stood for a few weeks. I bought four tickets, and figured at least we were set for a good time, and put it out of my mind.
A week out, I got another two tentative attendees, and they asked me not to purchase tickets in advance, in case they couldn't make it. Thankfully, they were able to make it. In a wonderful surprise, someone else who was planning on being out of town ended up staying in Richmond, partially to help celebrate Lois' birthday, so seven of us all enjoyed the show together!
Along the way, there were some twists and turns. Lois reached out to a number of friends independently, knowing that we would have more time to run around than usual, given that we would be house sitting (and dog sitting) for our friends. Behind her back, I was telling people that they should respond however they want (make plans, don't make plans, etc., but not to reveal the surprise!).
In fact, I asked one of the confirmed people to suggest coming to see Lois at 2pm on Saturday (the gates for the Festival opened at 2:30pm) so that I could be sure Lois would want to be at the house at the correct hour. That worked out perfectly (or so I thought it would).
One of the women that Lois reached out to invited us for dinner on Friday evening to spend some time with them and their now-crawling baby girl. We were delighted and accepted right away. An hour later, she emailed again (to Lois) asking if we could move it to Saturday night. Lois instantly accepted and (thankfully!) informed me after the fact.
I wrote to our friend and said that I didn't intend to officially cancel, which would make Lois suspicious, but that we would not be able to make dinner on Saturday because of the concert. At this point I was pretty sure that the surprise would be revealed sooner rather than later, purely for logistics reasons, or from being caught in a silly lie.
On Friday, we had lunch with our attorney in Richmond. We bumped into our hostess for Saturday night waiting for the elevator (she works for a consulting firm which is part of the same law firm). Later that afternoon, I emailed her and asked her to write to Lois and move our meal up to lunch. She did.
Lois became suspicious immediately. This was now the second time that the meal had been rescheduled. I did my best to downplay the changes. Lois was now nervous that we wouldn't get back in time for the 2pm meeting at the house. I assured her we would.
Then Lois wrote to another person who was coming to the concert, and asked to get together for breakfast on Saturday. That person wrote to me and asked what she should do. 😉 I told her that breakfast would be fine, as long as it didn't interfere with her ability to join us for the concert. She said it wouldn't, and she showed up at 9:30am at the house on Saturday.
We ended up at our appointed lunch at exactly noon, perfect. We had a wonderful time catching up with our friends, and playing with the baby (a complete delight!). When it got close to 2pm, Lois was getting nervous about the person who was coming to the house. Of course, I had already redirected her to where we were (she's the sister of the husband of the couple we were visiting). I pretended to email her, and pretended that she said she would come there instead. 🙂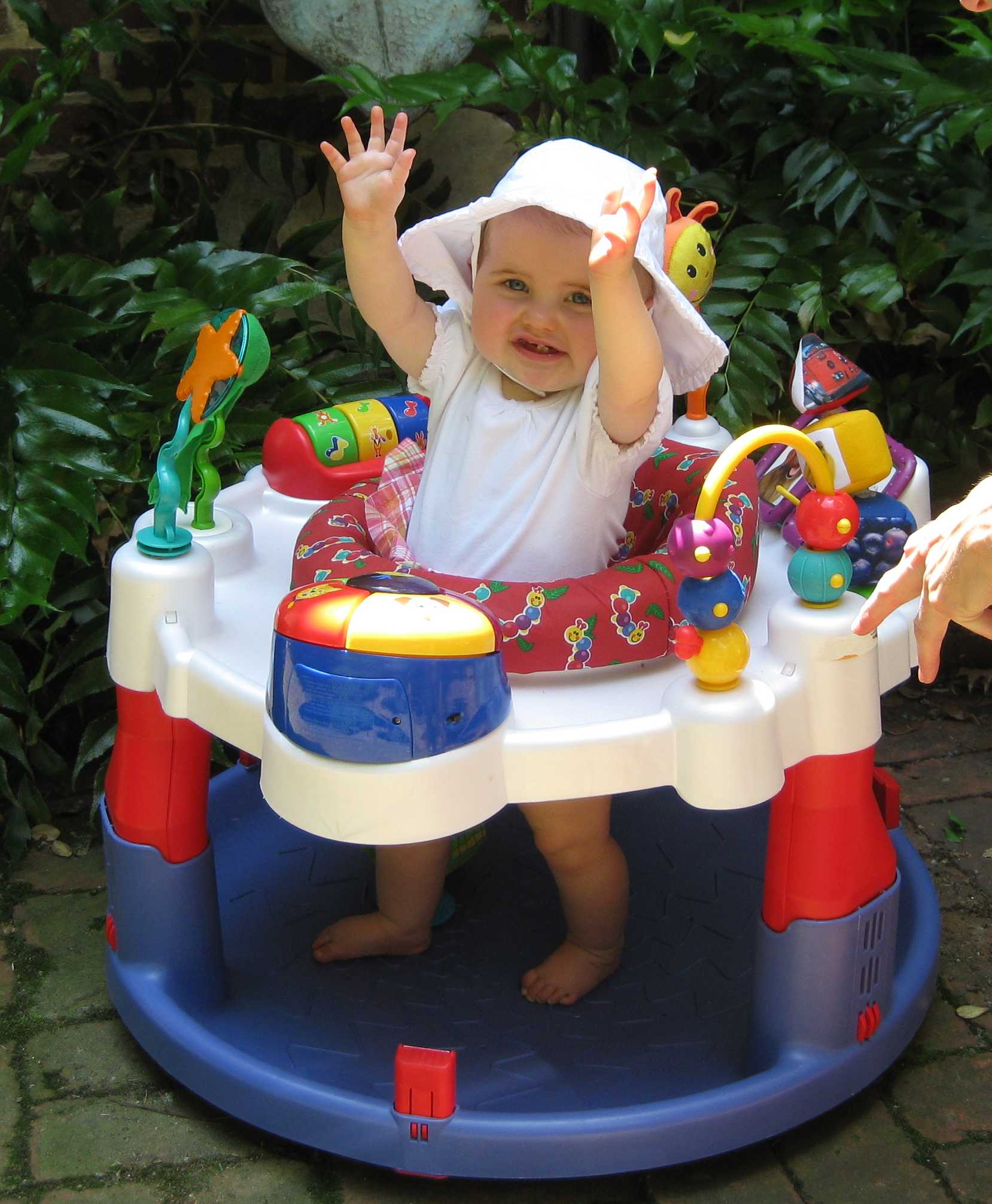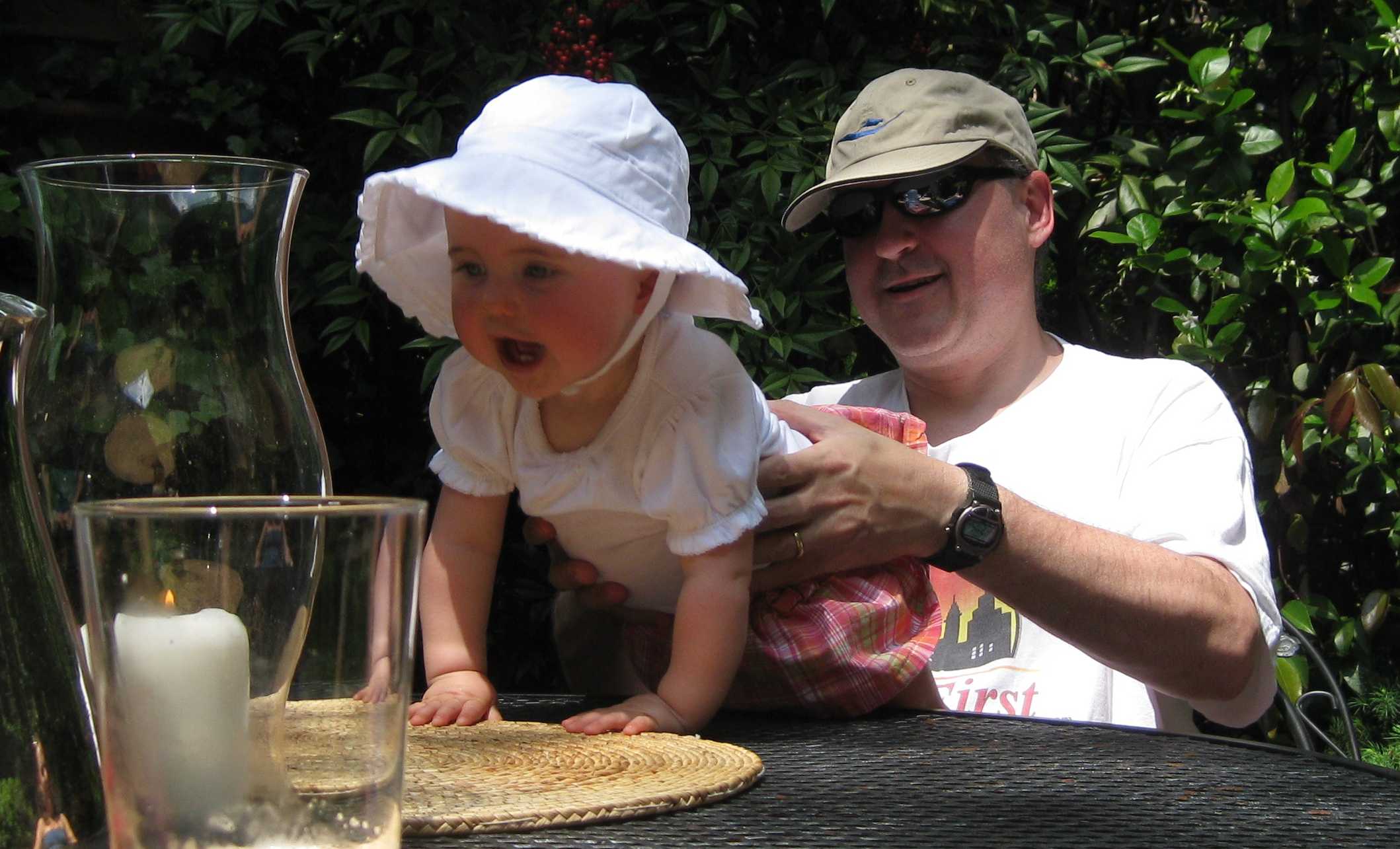 We had a fantastic meal (home cooked) outside in the garden behind their house. It's now three days later, and Lois and I are still talking about it.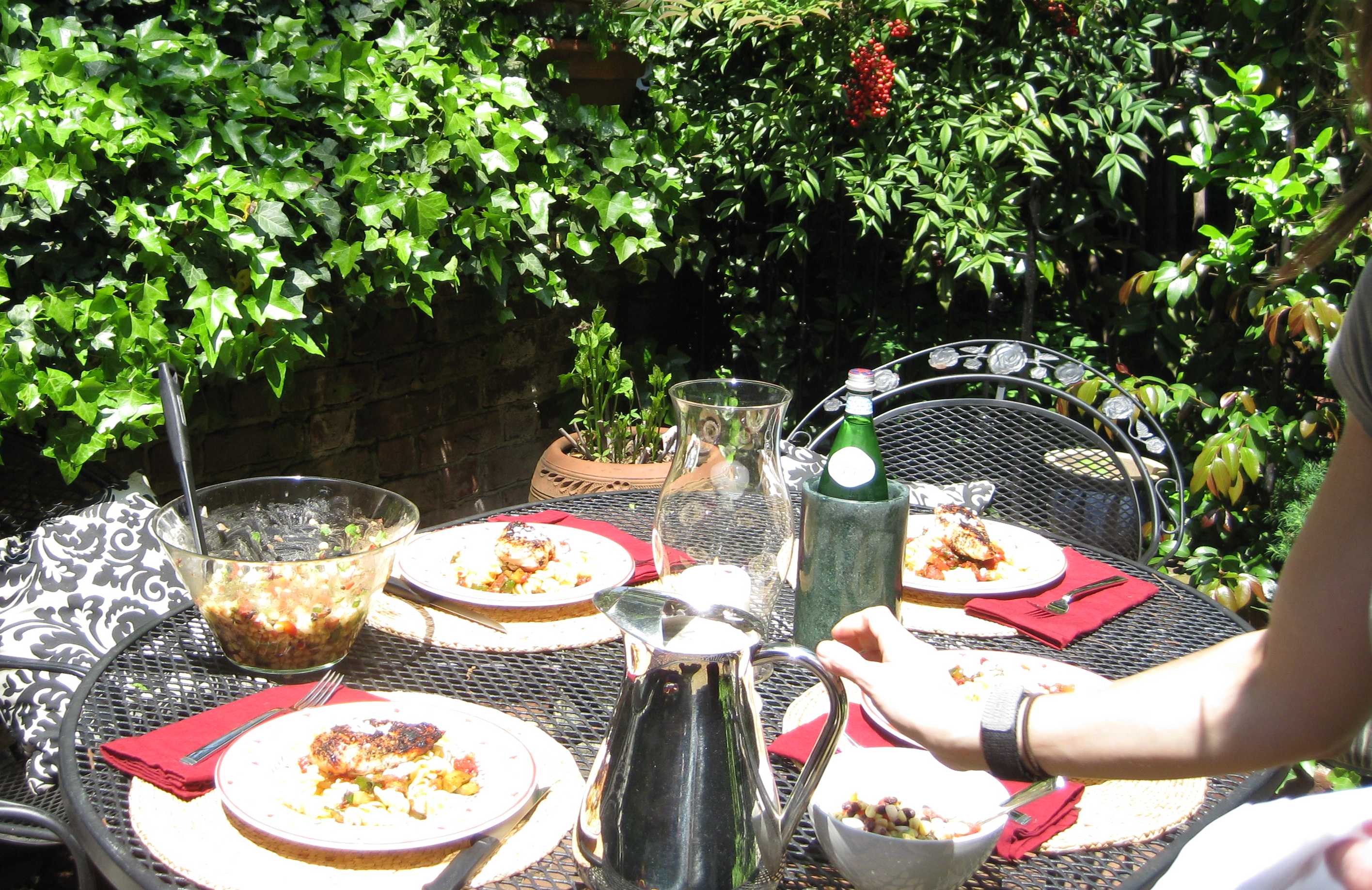 At 2:30, I excused myself to go back to the house to walk the dog and feed the fish. Half an hour later, Lois showed up, and the other couple was already there. Now she finally knew something was up, but she still thought it was just going to be a get-together at the house, to say Happy Birthday.
I told her not to sit down, that we were heading to the Science Museum. She didn't believe me. It was the truth, as the Festival was held on the grounds of the Science Museum of VA, in the Garner Pavilion. I joked that there were 6,000 strangers waiting there to sing Happy Birthday to her (and she was a little more than nervous that perhaps I was telling the truth!).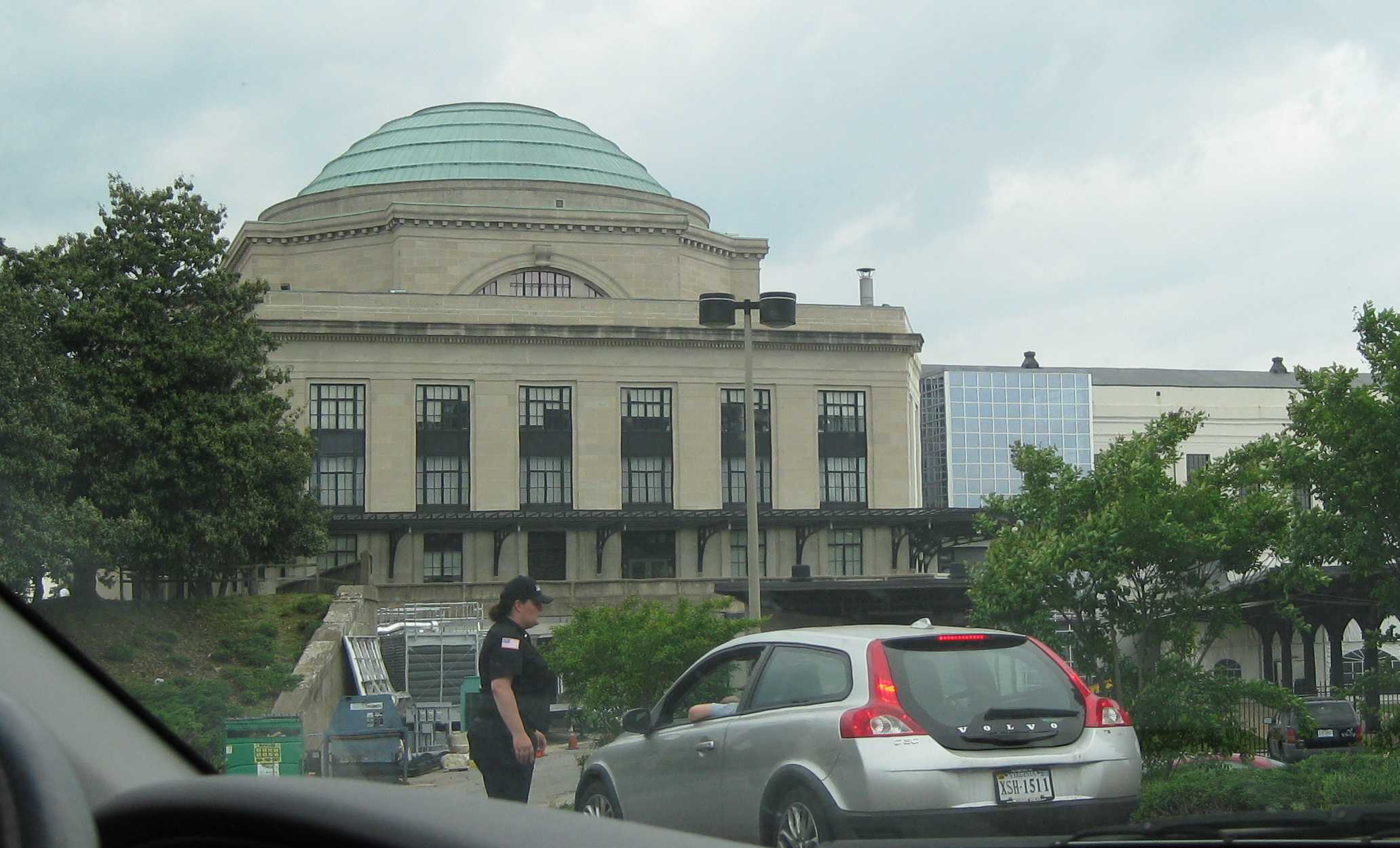 Until we were in the parking lot, she had no idea what we were about to do. Thankfully, she loved the idea, and the actual show, beyond my hopeful expectations. So, I done good! 🙂
After the show, we went to one of the couples' house for home made birthday cake (chocolate-chocolate, which was beyond awesome!), and ice cream. The next day we joined most of the people who joined us for the show for an incredible Mothers Day celebration at the local country club. It was magical, with three generations of mothers in attendance, all mothers-in-law to each other.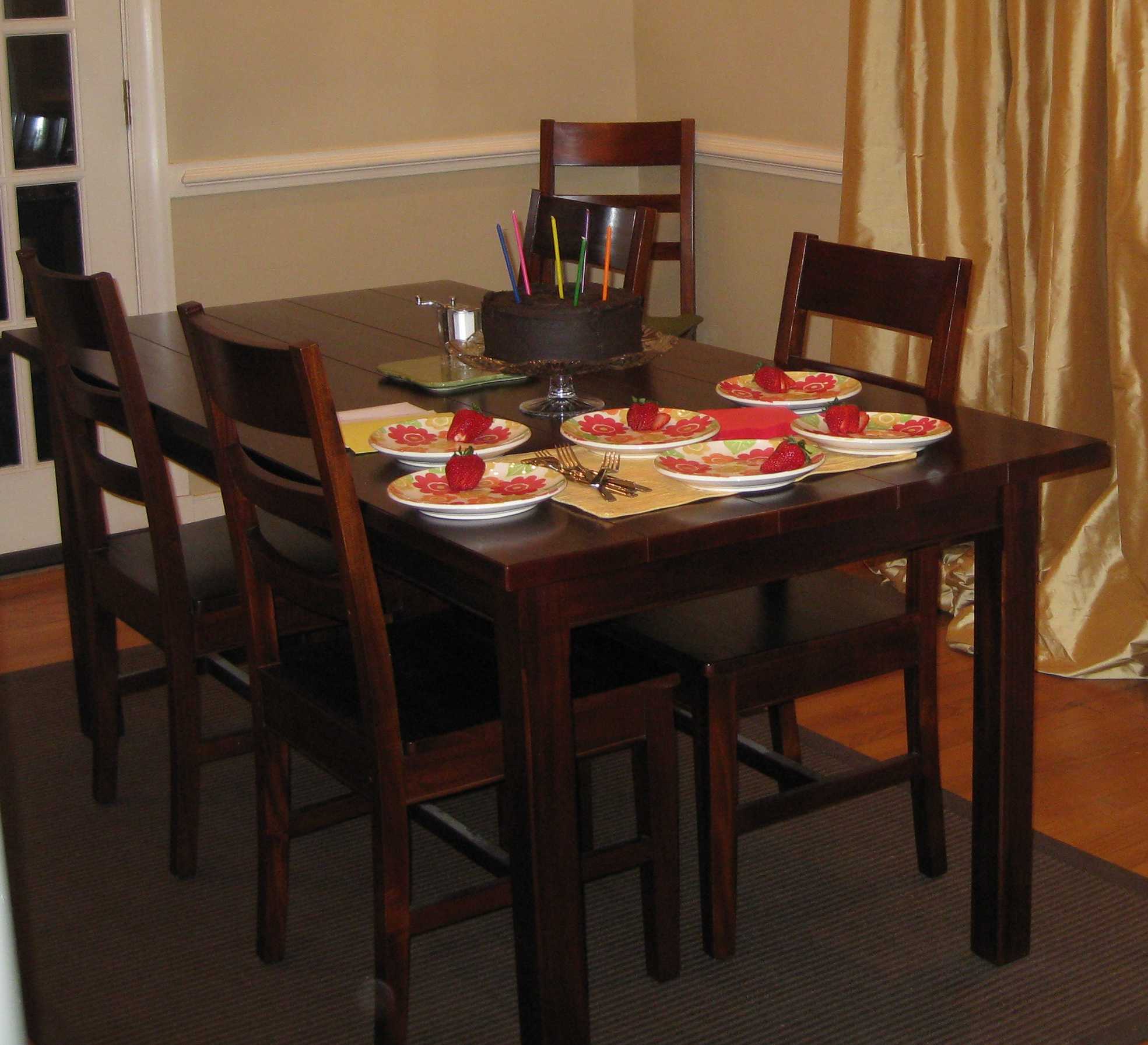 A fantastic weekend that will not be forgotten soon. Happy Birthday Lois! 🙂
P.S. We have a ton of good looking friends. Here is one tiny bit of proof of that fact!