Send to Kindle
Last night was our ninth CMA Writers Series at Joe's Pub. Yes, we already have our tickets for the next one, which will be #10. 🙂
They started at 6:35pm. This time, there were only four people on the stage, rather than the more typical five. There was a qualitative difference as well. As I've pointed out in the past, many of the songwriters are less-than-spectacular performers. On occasion, there's a real full-time performer (e.g., Craig Morgan), or someone who could be if they wanted to be (e.g., Hillary Lindsey).
Aside from those exceptions (they were just examples, there are other professional performers on occasion), the talent level varies, pretty dramatically.
Last night saw three people, plus the ever-present Bob DiPiero, who were all excellent performers in their own right. In addition, they were every bit as interesting and entertaining in their story-telling as the more typical songwriters who are the backbone of this series.
From left-to-right on the stage:
Jimmy Wayne played the guitar and sang. He's a singer-songwriter, meaning, he performs his own work, and cuts his own CDs, and tours. He's opening for Brad Paisley this summer! He plays a superb finger-picking style on the guitar, and doesn't need any further accompaniment to create an excellent sound to complement his singing.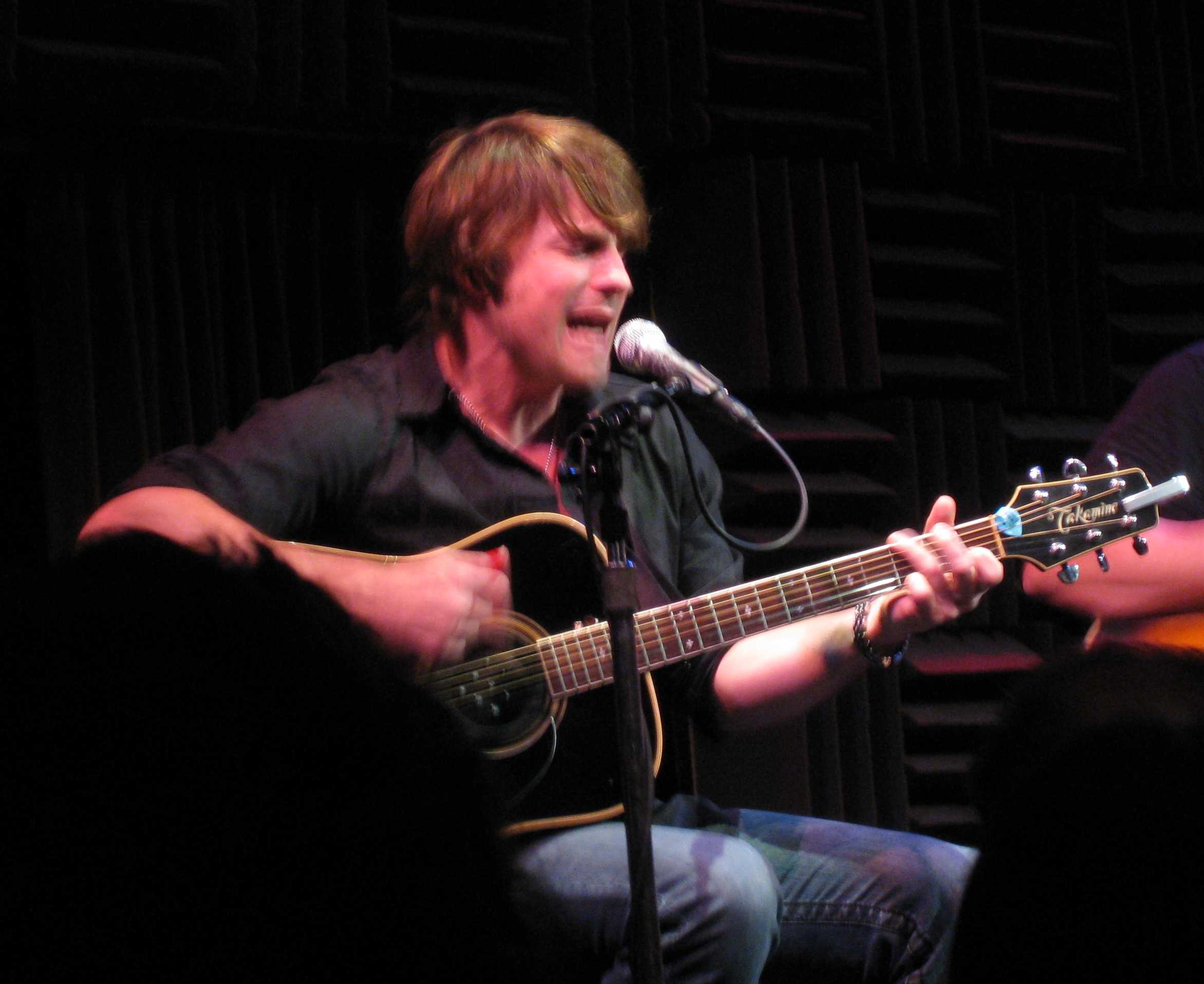 Jimmy had a very rough childhood, and overcame more than most of us have to experience (thankfully so, on both fronts!). I thought he looked 25, but he's 37. Because of his difficult upbringing, many of his songs are filled with those stories, including all of the anguish, but with hopeful or uplifting endings. In other words, he sings from the heart!
We enjoyed every one of Jimmy's numbers, and his stories were touching and much appreciated as well. He has a winning smile. For the first time in our nine appearances at this series, we experienced women screaming to Jimmy about him, rather than just about the songs. If he wanted to go home with someone, he could have had his pick. 😉
Bob DiPiero played the guitar and sang. Bob did his usual giant hits, and also introduced a brand new one that was just cut by Brooks and Dunn. Nice to know that when you hit the CMA Writers Hall of Fame, you don't stop writing new ones. 😉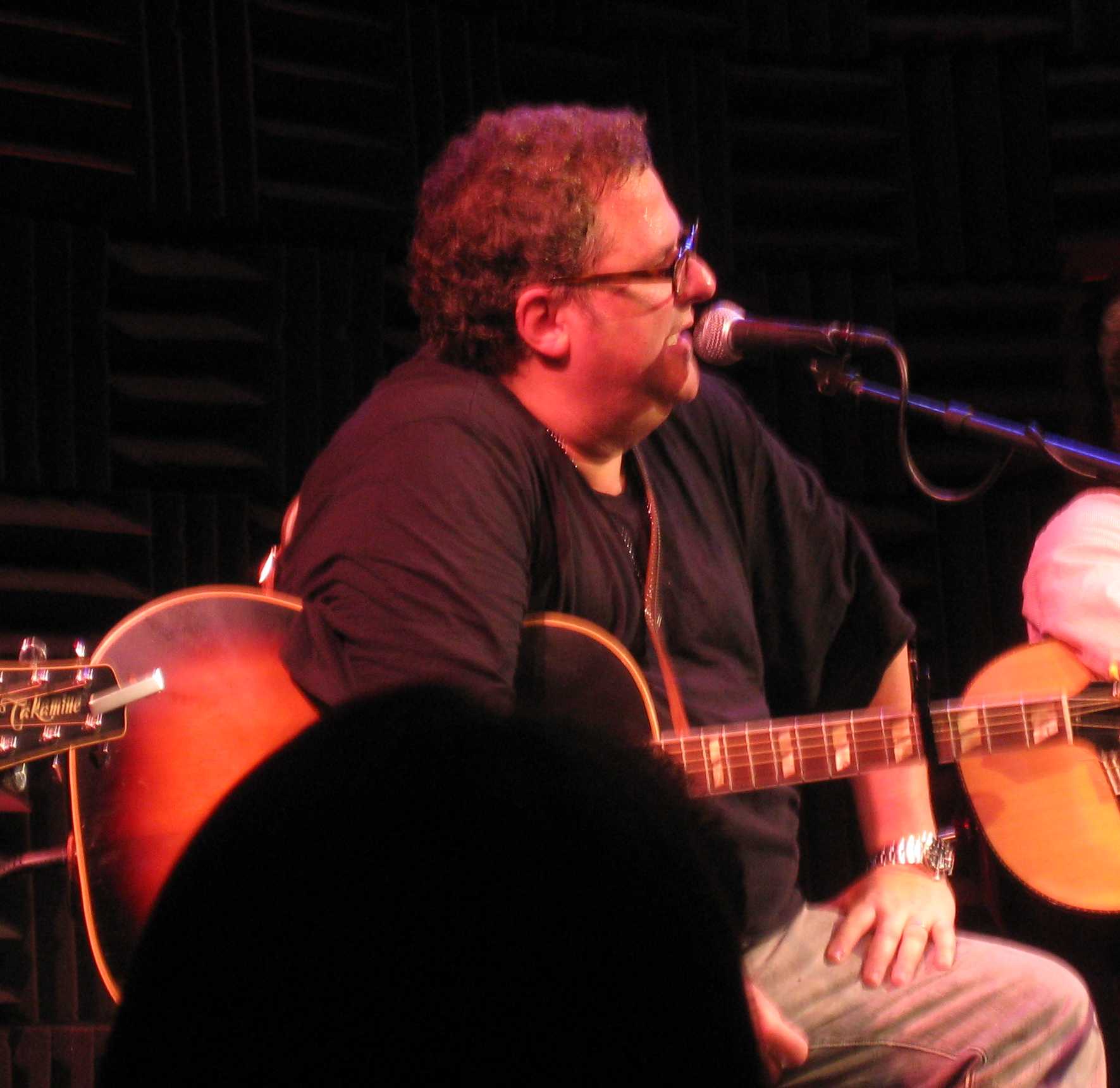 Scotty Emerick played the guitar and sang. Scotty is a master guitarist (again, an anomaly for this kind of show, but not unheard of). Jimmy Wayne is excellent, but Scotty is better, exhibiting more styles. Scotty often writes with/for Toby Keith, which meant we got to hear a couple of our favorite Country songs, Beer for My Horses and I Love this Bar (both huge Toby Keith hits!).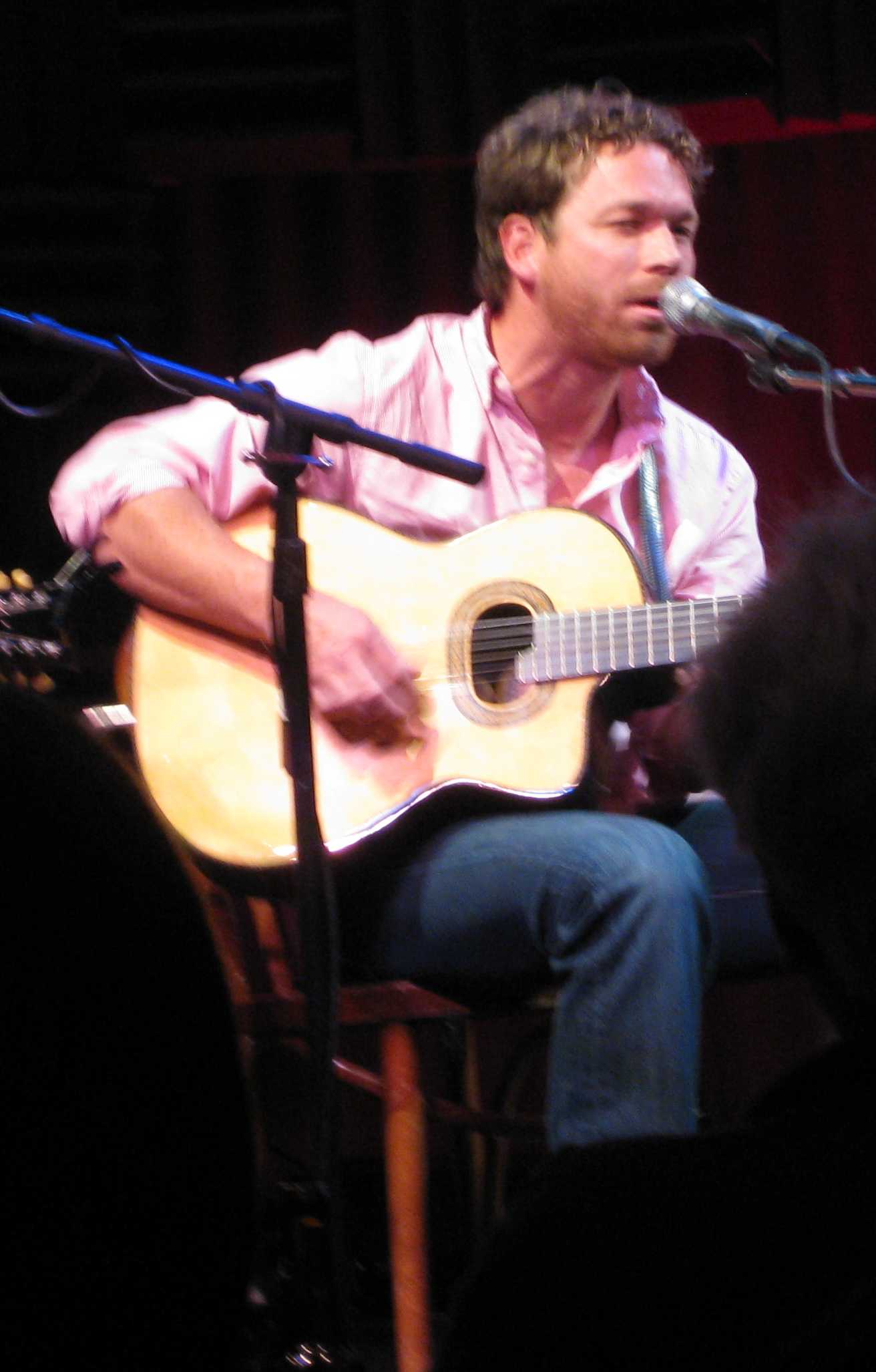 Scotty has a gorgeous voice (click from the above site to his MySpace page to hear four of his songs). Couple that with his guitar playing, and he could be a full-time performer. Unlike Jimmy, he concentrates more on song-writing. That said, he does have a CD out, and Lois bought it last night (signed, of course).
Aside from getting to hear the Toby Keith songs, Scotty also played some hysterical songs, including the first cut from his CD (also available for you to listen to on MySpace) called Love Me Like My Dog! I laughed out loud at each and every line in the song. Aside from being funny, it's also a good song musically. He's a real talent!
He sang another song that broke up the crowd on every verse as well, I'll Never Smoke Weed with Willie Again. If you want to see Scotty sing and play the guitar for yourself, then enjoy this YouTube version yourself:
httpv://www.youtube.com/watch?v=wDQANmQO2g0
Dean Dillon played guitar and sang. Dean was a professional performer for many years, so it was no surprise that he was excellent last night as well. However, he concentrates more nowadays on his writing, and it has more than paid off for him. George Strait has cut more than 30 of Dean's songs!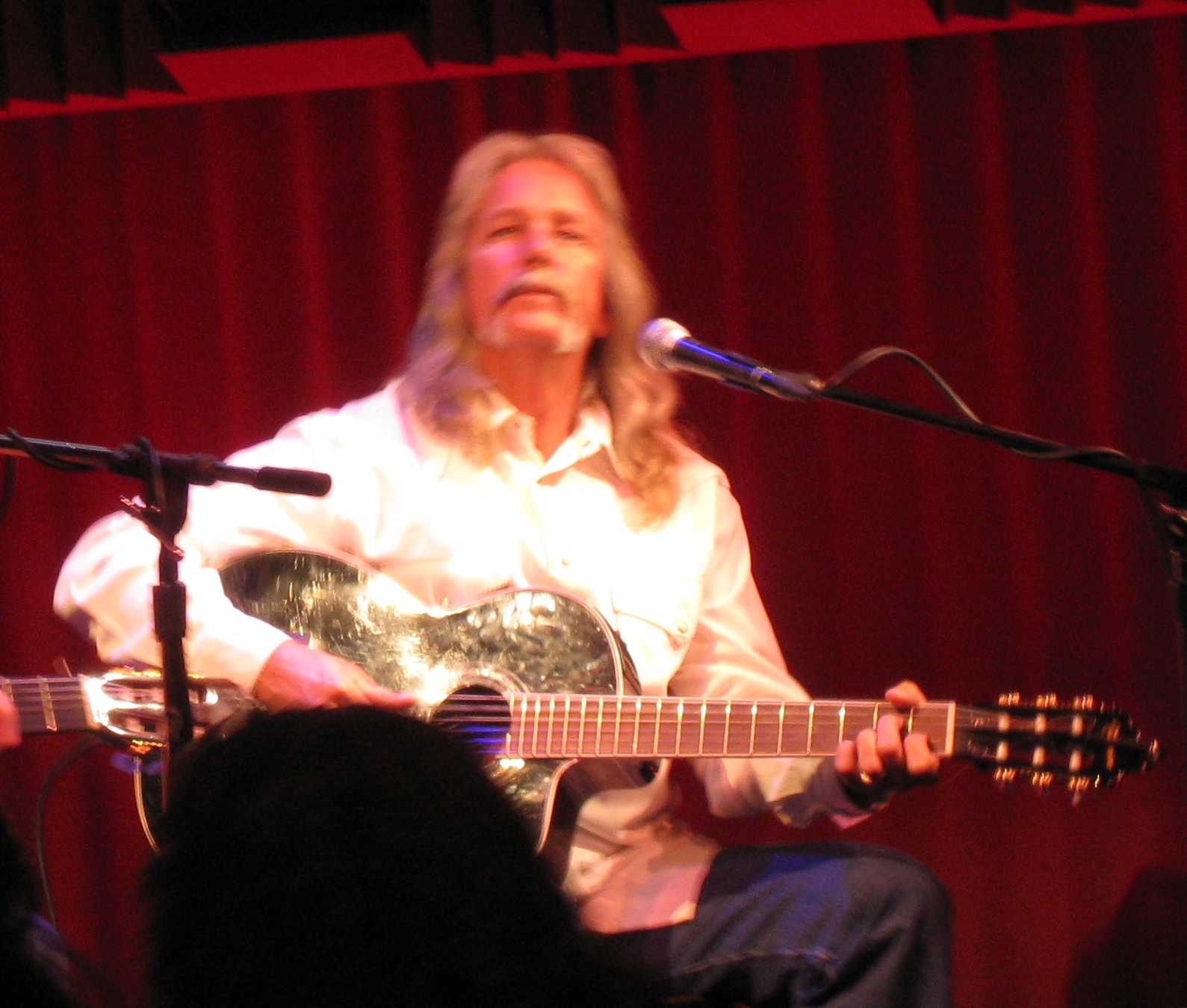 I am sure that Dean and Scotty are good friends, and I think I heard them say that they have written together as well. That came across last night when they each sang harmony on the other's songs. For example, in the video above, Scotty and Toby Keith sing harmony, and Dean played the Toby part last night (just for the harmony, as Scotty sang each of the verses).
In addition, Scotty played lead guitar on many of Dean's numbers, enriching Dean's performance very nicely. Well done by both of them.
As much as the crowd always goes nuts for anything/everything that Bob DiPiero sings or says, surrounding himself with three people who can all sing and play so much better than him is a testament to his committment to bring extrmeley talented people for us New Yorker's to enjoy! Bravo Bob!
That's it for the show. We had a little adventure that worked out in the end…
We walked to Joe's Pub last night, something we haven't done before. We got there in plenty of time, and were probably 20th on line. When we finally got in, for the first time ever, our name was not in the computer for a dinner reservation. Aside from being hungry, you need a dinner reservation if you want to sit. No reservation? You might end up standing, especially if the show sells out (which the CMA does nearly every time).
We're super-regulars at Joe's and were treated extremely curteously by the staff, who never accused us of lying about not having a dinner reservation, etc. They put us in a roped-off VIP area (communal seating) while they sorted it out. As they started putting other people in there with us, we heard the same story over and over, that these people also had reservations which were lost.
This was a first, and we've been to Joe's so many times, so we'll definitely forgive them.
10 minutes into the show (so two songs were played already), they came and got us and gave us a table. Well, not just a table, but rather our table, meaning, the exact table that we request in advance every time we call for a reservation. So, no harm no foul.
I got to eat my Tuna Steak, which was cooked to perfection! I also had a perfect Chocolate Martini (they make them so well there, it's a crime not to order one!). 😉
Next CMA show is July 30th. See you there! 🙂