Send to Kindle
We saw the Indigo Girls for the first time this summer, in VA, covered in this post. When I saw that they were coming to Tarrytown Music Hall (which we found out last night was their first time there ever), I was so excited that I used it as the excuse to finally become a member of The Hall so that I could purchase tickets early. That worked out, as we got second row seats, center orchestra!
Much of what I said in that post could be repeated verbatim here, since I was just as impressed last night, and we're still not experts in their music. That made us anomalies (again), as the overwhelming majority of the audience were serious Indigo Girls fans (nearly all were wonderfully respectful, even though they were loudly adoring as well).
Both Amy Ray and Emily Saliers are brilliant songwriters. Both have very strong voices. While Emily's vocal range is probably a little wider, I was impressed the few times that Amy took the high notes in songs where Emily was singing lead.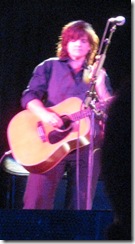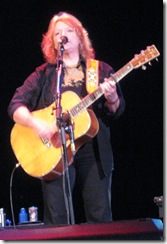 Both are solid on all of the stringed instruments that they play. Emily really shines on the guitar and banjo, playing extremely sophisticated leads and picks. I would happily attend a show where Emily did nothing but play solo guitar! Of course, I would miss out on her voice, songwriting and harmonizing with Amy, but she would still be fantastic!
Once again, Julie Wolf joined them for the majority of their numbers. She played electric keyboards, accordion and grand piano, all wonderfully. She also harmonized with them on a number of songs (and with their guests as well), and she has a lovely voice, that blends perfectly with the Girls.
They played an eclectic mix of songs last night. Huge crowd favorites (where they have to let the audience sing along, including typically having the audience sing an entire verse by themselves!), a nice selection from their new CD (Poseidon and the Bitter Bug), and some more obscure older numbers (Amy's word!), that weren't obscure at all from the crowd's perspective, as they were shouting out for them!
What is impressive (to me) about them is the incredible energy and power they deliver, even in large venues, even though they are just using two stringed acoustic instruments. Julie adds a beautiful depth with the keyboards, but Amy and Emily achieve the same energy even when it's just the two of them on stage.
About 2/3's of the way through their set they introduced a special guest star. They turned over the stage to her for one song all by herself. That guest was Jill Hennessy, one of our favorite actresses who is now launching a musical career with her debut album, Ghost In My Head. We loved her in Law and Order, and even more so in Crossing Jordan, which we were addicted to.
She sang 10,000 Miles from her new CD. She has a fantastic voice, and accompanied herself very well on an acoustic guitar. Later in the show, she joined them for a few more numbers (sans guitar) to sing harmony, to close out the show. She was terrific and it was a real treat for both of us to get to see her perform!
The Girls had another guest on stage for at least four numbers, Michelle Malone, who was also the opening act before the Girls came on. She complemented the harmonies very well, and played solid guitar with them (more on her guitar playing when I cover her as the opening act).
In both shows that we've attended, we found the Indigo Girls to be incredibly generous of spirit, to the opening act, to their guests, to each other, to Julie Wolf, and to the crowd. They are simply delightful human beings who radiate warmth and love. That they can write, sing and play instruments so well is just icing on the cake. 🙂
They closed the show with Closer to Fine (one of my all-time favorite songs, not just their songs!). Both Jill and Michelle came out to sing it with them. The second they started playing, people rushed the stage, and nearly everyone stood up (including us old fogies). It was magic (as it always is, I'm sure). Then they left the stage.
No one sat, and no one stopped clapping and cheering. Amy came out alone, with a mandolin, and played a gorgeous song that had all of the energy of all of them on stage at once, even though she was doing it all herself. She popped a mandolin string 2/3's of the way through the song, and never missed a beat (at least there were seven strings still on there).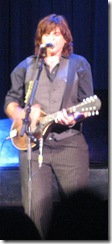 Sully, possibly the hardest-working roadie in the business (I mentioned her in my previous post as well), noticed instantly and had a replacement mandolin waiting in the wings, in case Amy gave her the slightest nod. Amy just played on with the broken one.

Then Emily, Julie and Michelle joined Amy and performed an amazing rendition of Wild Horses (an old Rolling Stones hit for you who are too young). Then Jill joined them as well for the final number, which tore down the house (as it always does), Galileo.
Including the three song encore, and Jill's solo number, their set lasted just under two hours. Incredible, considering that they had an opening act as well. Bravo all around, on every level!
The Michelle Malone band opened the show. Michelle is an extremely good guitarist. In addition to incredible technique (she plays lead, slide, finger picking and rhythm!), she has a really interesting style. She has a very powerful voice, with a pretty wide range. That's all the good stuff.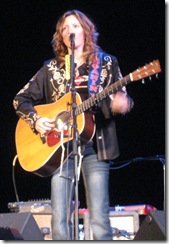 For me, they played too loud, in particular in support of a group like Indigo Girls. Michelle Malone is hard rock, through and through, and the sound system was cranked up (to a nearly uncomfortable level for my personal taste). She also emotes quite a bit in her vocals (also not atypical for loud rock), and I had trouble discerning sentences (though a word or two, here and there, would make its way to my ears).
That meant that her voice was purely another instrument, as I couldn't really make out what the lyrics were. As I said before, she has a good voice, so that could have been OK, except for the elevated volume, and the fact that she spends a lot of time in the upper registers (which she can hit well), which was just less-than-pleasant for me.
Still, she's multi-talented, and most the of crowd seemed to thoroughly enjoy her set, and I'm sure that if she's headlining, so people are showing up for a rock show, not an Indigo Girls show, then she could really appeal in a very big way!
To repeat, when she was on with the Indigo Girls (without her band), she was exceptional at fitting in perfectly with their sound, volume and vibe. At no point did Michelle detract from the Indigo Girls performance, and when she sang five part harmony with the Girls, Julie and Jill, it was fantastic!
Jason Rogers played bass and sang a bit of harmony. He was fine on the bass throughout the set, until he took a solo, where he lost my interest for the most part, with one small part that struck me as well done. He sang very little, but it could have been not at all, since you could barely hear his voice over the rest of the instruments and Michelle's very powerful voice.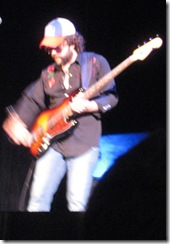 Katie Herron played the drums, and nearly pretended to sing on a few lines, before pushing the microphone away from her. Sorry, no good individual links for her, even though she's played in a number of bands who have gotten reasonable press. For the most part, she was a solid, straight-up drummer, doing nothing particularly interesting.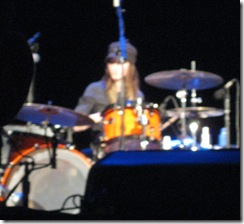 During the last two numbers, Michelle cranked it up a lot, and Katie finally let loose a bit, giving me a glimpse of what she's got. She followed that up with a nice solo effort in the last song. After drumming a bit, she handed the sticks to Jason, and used her hands on the drums like they were bongos. It was cool, and she was very good doing it.
Michelle Malone was on for nearly 50 minutes, so when you add the length of the Indigo Girls set to that, this was a long, healthy show, with a 20 minute intermission between the sets.
We had a great time, and look forward to catching the Girls again, soon!