Send to Kindle
The title of this post is as big a surprise to me as it is to you. 😉
When we planned our evening last night (a couple of weeks ago), I was unaware that Ian Axel was scheduled to play at Rockwood Music Hall, and was unaware of his music. Our plan was to see Greg Holden at 8pm (our first time seeing him) and then running a few blocks away to Arlene's Grocery to see Atomic Tom for the first time as well. The best laid plans…
The night before (Thursday), we were also at Rockwood, to see ambeR Rubarth and we caught most of the set before her, Chris Kasper and Ross Bellenoit. Adam Christgau, who was drumming for ambeR, mentioned that he would be drumming for Greg Holden the next night (we knew that, which is why we were interested in seeing Greg's show to begin with), but he also mentioned that he'd be drumming for Ian Axel immediately thereafter.
Hmmm, that made me listen to Ian Axel's MySpace page and I liked what I heard. We were now leaning toward hanging at Rockwood, especially if we had one of the few seats in the place, rather than chance being shut out at Arlene's Grocery.
I'll come back and describe the rest of the evening's musicians and logistics after covering our experience of Ian's set.
Wow!
OK, I covered it! Seriously! We were both blown away by Ian in every respect. He's an absolutely phenomenal piano player. He has an excellent voice (more on that in a bit). He writes interesting songs (melody, lyrics, arrangements). He delivers them with tremendous energy and showmanship. He connects with the crowd. He's funny.
On his up-beat pop numbers he was accompanied by Adam Christgau on  the drums and Chris Anderson on electric bass. Both were excellent, and both sang harmony a bit.
Adam has always impressed me (as I've written a number of times) but even more so last night, after seeing him play with Greg and Ian, adding more styles than is required to support The Paper Raincoat and ambeR's music. He's a super talented drummer (and singer) that adds to any artist he's supporting!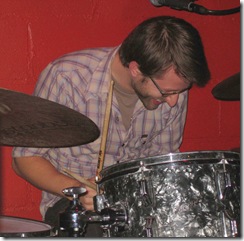 In addition to those high energy numbers, Ian also played a few solos on the piano, ballads, and he played one solo on the ukulele, which was more mellow.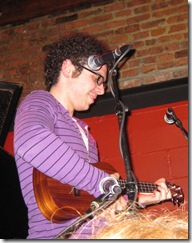 He told a story that when he started out, he really didn't consider singing. A friend of his, Chad Vaccarino kept pressing him to sing, telling him that he was destined to be a singer. Obviously, Chad got to him, and we are all grateful that he did!
Apparently, roughly the same time that Ian started singing, Chad stopped performing (Ian didn't explain why). Until earlier this week, when Chad performed at Rockwood (on Monday), and according to Ian, killed it! After telling the story, Ian invited Chad up on the stage to sing a song with him. Excellent!
Ian's a definite follow around whenever we can.
Toward the end of the set, Ian mentioned that he hopes to get his new CD out by the end of the year. In the meantime, he had a 6-song EP that he offered to give away to anyone who came to find him at the end of the show. He allowed for the fact that some people might wish to donate instead of just taking it for free. 🙂
In addition to being generous in the Tip Jar that was passed around for Ian, Lois found him after the show, and donated $20 for two copies of the EP. We enjoyed it on the ride back to the house this morning.
Working backwards musically, appearing before Ian was Greg Holden, the primary reason we were at Rockwood to begin with. I mentioned Greg in a post about Cardboard Bikini (a.k.a. The Paper Raincoat), where he stood right behind me at Rockwood for one of their shows. After that show, both Adam Christgau and Alex Berger told me that I really needed to catch Greg's show.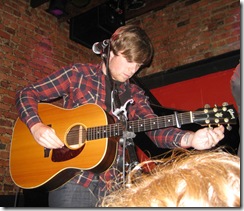 The next morning, he left on a six-week tour opening for Ingrid Michaelson, all over the country. I started following him on Twitter right away, and I enjoyed his snarky updates and got a feel for the tour through his eyes.
He also has a song that will be featured on this week's episode of Private Practice on ABC, so he's well on his way to a career in the music biz.
I thoroughly enjoyed his set, though clearly not enough to have bumped Ian from the title of the post, hence my own surprise.
Greg played the acoustic guitar well. On his more energetic numbers, he was accompanied by Adam Christgau on the drums, a bassist whose name I didn't catch and Ian Axel on the piano.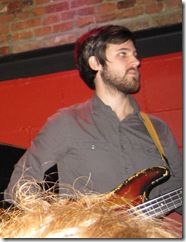 You already know how I feel about Adam and Ian, so I'll just mention that the bassist was really good too. It was even more impressive when Greg mentioned that he was pressed into duty at the last minute, and had to learn the three songs (perhaps even that day!). I tweeted Greg last night asking his name, but haven't heard back yet.
Update: Greg just tweeted that the bassist was Jon Estes! Thanks Greg.
He has a very relaxed style on stage, with good audience rapport. He played a cover of Walking on Sunshine, where he easily got the entire crowd to sing along, loudly. He's also very funny (both on Twitter and in person).
Greg also played a few solo numbers (including Walking on Sunshine). He has a really good voice, and writes interesting songs. If I had to tweak him a bit, I'd say that a number of songs achieve their length by being a little too repetitive. They're still good, but I have no doubt that he can do better, and I'm sure he will.
According to him, he took a major gamble this past January and moved to the US from the UK to launch a music career from scratch. Obviously, he's achieved so much in so little time. Still, I have a feeling that he will continue to grow dramatically, likely at a rapid pace as well, so I look forward to tracking his career.
As with the night before, when we discovered Chris Kasper, I checked out who would be on before Greg, in the hopes that if it were someone good, we'd have a better chance of having a seat for Greg, while still enjoying the set. This week is the CMJ Showcase all over NYC, so many shows are more crowded than they might otherwise be, due to the extra publicity and press.
Edie Carey was on from 7-8pm. I listened to a few of the songs on her website and liked what I heard. Also, I noticed that she was on the last Cayamo cruise (she's going again in March 2010), and in addition to all of the major stars that perform on that, our very own Girlyman went on last year's cruise as well. So, I was officially intrigued.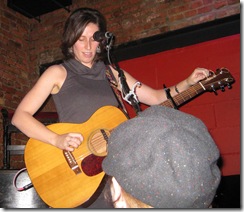 We walked in at 6:43pm to a jam-packed crowd listening to the group that was on from 6-7pm (I'll describe our brief encounter with them after saying a bit more about Edie).
With a ton of luck, and some very nice people, when the set before Edie ended, Lois was able to get a seat, and a few minutes later, I was able to snag one right next to her (absolutely incredible given how crowded the place was).
Edie has a wonderful voice, which she controls really well, delivering power when she wants, and whispers at other times. She accompanies herself well on the guitar, mostly rhythm, with occasional finger-picking thrown in.
She describes her song-writing style as overwhelmingly dark (she's right). She has an incredibly devoted fan base. Most of the people in the crowd for her set were there specifically for her. When she asked for requests, I was amazed at how many people started yelling, and how many different songs they were trying to get her to play!
One guy, standing in the very far corner, whom she called Vincent, yelled "Nice!" as she finished each song, cueing the exuberant clapping.
All of that is to say that for a large number of folks, Edie Carey is magic. She moves their souls. Unfortunately, we didn't have that reaction. While both of us thought her voice was excellent, and her stage presence was good, the songs did very little for us. The comment that I used above saying that Greg was a bit repetitive could be multiplied for Edie.
Both of us felt that every song was overly repetitive, but since she's singing mostly extremely slow, dark, dirges, the effect is worse than in a catchy up-beat song, where at least the repeating hook is fun.
There was nothing unpleasant about the set, and the plan to find a seat during her show and be settled in for Greg and Ian worked out better than I could have hoped, but she's not someone that we would seek out in the future.
She told one story about writing a song for her wedding (she was married in May 2009, and her husband sat a few feet away from us). The story was warm and engaging, and it was the only time during her set that I was 100% captivated and attentive. Unfortunately, the song itself, not so much…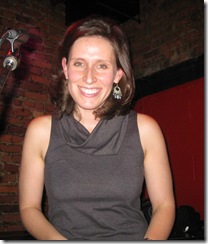 Since we walked in at 6:43pm, we got to hear the last two songs of the set before Edie.
The Uglysuit had a packed crowd (as I mentioned before), and from what we heard, fully deserved! Three electric guitars, one electric bass, grand piano, and drums. That's about as many people as you can cram on to the tiny Rockwood stage. In fact, they couldn't! The drummer never sits on stage, and in this case, the bassist was in the crowd too, taking up the space where two people would normally be sitting.
They have a gorgeous, rich sound. They sing well too, but they jam for much longer stretches than they sing. I would have been extremely happy to catch the rest of their set, and will look out for them in the future, though they hail from OK and tour all around. They're playing today at 3:30pm at Kenny's Castaways, but we're already at the house.
I'll use them as a specific example of a point I want to make about Rockwood in general.
At a number of venues, including some of our favorites, Sound Engineering can be hit-or-miss. Even at our favorite club, Joe's Pub, on occasion (thankfully not too often), the sound can be downright bad.
Rockwood has nailed it for every set we've seen so far. What's more impressive is the range of instruments and styles and number of people on stage, etc., that they consistently nail it for.
Using The Uglysuit as an example, three electric guitars, an electric bass, grand piano, drums, and two people singing, typically, something is too loud, or something can't be heard. Simply not the case at Rockwood. Even with all of that music going on, the volume was appropriate, and each instrument was clear. It's a crying shame that this isn't the case for every show at every venue.
I stand in awe of the two people who run the sound for the sets we've seen at Rockwood, one of whom we believe is the owner. Absolutely incredible.
If we could be assured of always getting a seat, I hazard to guess that it might even surpass Joe's Pub as a favorite destination for us, though some of the groups that we see at Joe's wouldn't play a place as small (or free!) as Rockwood.