Send to Kindle
This one is gonna be long (surprise!), so let's bottom line it for the impatient:
Ian Axel – Crazy good!
Greg Holden – Very good, would have been nice if some in the crowd were more attentive.
Katie Costello – Very good, need to hear more and I want to.
Honey Larochelle – Delightful surprise.
Kenny Muhammad – was a guest on one Honey Larochelle number. He's incredible.
Band Members – See below, if you have patience. 🙂
OK, I formally give you permission to bail on the rest of this, here's your hall pass. 🙂
We saw Ian Axel once before at Rockwood Music Hall, and I covered that show in this post. We were so blown away that night that we've been eagerly awaiting another opportunity to see Ian perform. It turned out to be a 56 day wait, an eternity from our perspective.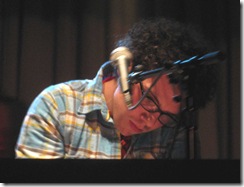 Ian has a new CD coming out on January 5th, and we are impatiently waiting for that as well. Ian Axel is an extraordinary singer, songwriter, keyboard player, and he isn't half-bad on the ukulele either.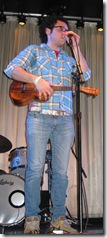 There were a few differences last night. At Rockwood, Ian played a grand piano, last night, electric keyboards. Who cares, he's brilliant on both. He added an electric guitar to the mix, nice. Rockwood is tiny. While they can pack it in for a popular show (I guess between 80-100 people can become good friends quickly), it's still a super-intimate place, generally filled with super-fans only. Canal Room is a bit more spacious (still pretty intimate) but audiences can be a bit more distracting, not there purely for the music.
From a selfish perspective, I'm glad Ian is still playing intimate clubs (our favorite experience). He has the talent to fill and captivate venues like the Beacon Theatre, Radio City Music Hall, etc. I know he's not well known enough to fill them yet, and that's a shame (for him and his eventual fans), but a short-term win for his existing fans. That big-venue day is coming, mark my words.
Backing up Ian, from left-to-right:
Chris Kuffner on electric guitar and some vocal backup. Chris is better known for his bass playing than his guitar. I didn't know that, but some people pointed out to me after the show that he's a bass god, and listening to the pieces on his MySpace page convince me that's dead on. I really couldn't make out his guitar or vocals too well last night. It's clear that his fellow musicians have enormous respect for him, and that's more than good enough for me!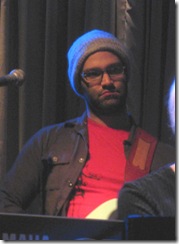 Adam Christgau on the drums and some vocal backup. I've written about Adam numerous times. I loved his drumming from the first time we saw him, at the Canal Room (like last night), playing with The Paper Raincoat. My respect for him has only grown since then.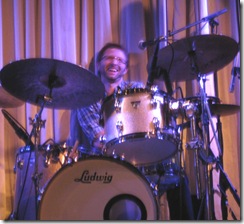 I mentioned in the last Ian post that Adam changes styles to match the artist/music, and that Ian brings out a much more dramatic flair in Adam. As much as I love the sophistication of the drumming for The Paper Raincoat, on many Ian numbers Adam can really let loose (power, speed, etc.), and it's delightful (visually and aurally).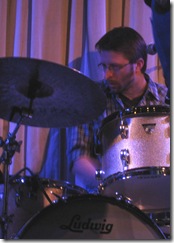 Also, as mentioned in the last post, the only reason we discovered Ian is because Adam was playing with him, and we made the assumption that if Adam was bothering, Ian had to be worth listening to. For that alone we'll forever be grateful to Adam!
Chris Anderson played electric bass and some vocal backup. Chris also played bass for Ian at Rockwood. Chris impressed me at Rockwood, but the stage was super tight there and Ian played half the numbers without the band. Last night Chris got to stretch out a bit more (he has a ton of infectious energy on stage) and we both enjoyed every note he played.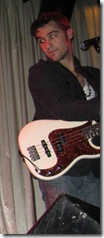 Ian brought Greg Holden out toward the end of the set to sing with him (Ian sat in a bit on Greg's set as well). The two of them work well together and I'm sure they'll be appearing on the same bill in the future, as they were the two times we've seen them so far.
Ian also played one number on his ukulele accompanied by Michael Campbell (sorry, couldn't find a link for him) on the guitar and harmony vocals. Excellent!
Greg Holden did a roughly 40 minute set before he turned the stage over to Ian. When he came out, backing him were Chris Kuffner, Ian Axel, Adam Christgau, and a different bassist, Kyle McCammon (no decent photo). Kyle was very good on the bass, and was replaced by Chris Anderson for Ian's set. He had another gig at 11pm at The National Underground, so he had a busy night. 🙂
Greg was quite good playing the guitar and singing. His voice is somewhere between a light raspiness and a bit of smokiness (now you know exactly what he sounds like). He writes good songs.
If I had to pick a slight nit, a number of his songs tend to repeat the hook a few times too many. They're good hooks, but he could work a bit to flesh the song out. I said that last time too, and he obviously has rewritten his songs just yet. 😉
Greg opened the set solo, even though all of the band members were on stage and in position. He played an untitled song that he debuted on YouTube, a song co-written with Joey Ryan. Lois has suggested that they name the song Nothing But a Memory (we'll see if they listen to her!). Greg did a great job solo, but I was marginally surprised that he didn't enlist Ian to sing the Joey part. We love the song, and listen to it many times.
As much as we love the song, and as excellent a job as Greg did with it last night, I'll digress here to make two separate points, both regarding this song.
I'll cover the opening act shortly, but as I've said in the past, the art of booking an opening act can be hit or miss in general. I'm of the opinion that the genre should be a match so that fans of the headliner will at least be hearing music that is likely to please, or at worst, not displease. Others might argue that it's an opportunity to broaden your horizon, because you'll still get to hear what you specifically came for.
Last night, Honey Larochelle opened, and the genre was quite different. It was very high energy and very loud, and ended on a very high note, with the crowd rising to their feet.
Even though there were 15 minutes between sets, the buzz was still swirling throughout the room when Greg took the stage. The first point is that Greg probably should have started with a full-band song, not a solo acoustic guitar effort, because a good portion of the audience wasn't prepared for such a mellow opening, especially with the full band just sitting there. To repeat, we love the song he played, and we loved his version of it, it just should have been further down the setlist in my opinion.
A separate but related point is that there were way too many people in the crowd who used the discordant mellowness as an excuse to talk quite loudly. I've faulted many people in the past when it's an isolated couple or few people who talk during a performance, but this was perhaps a quarter to a third of the people, so I think they all thought that it was OK to do so, and that Greg was just background music. It was rude, and Greg didn't deserve it.
Of course, when the full band played, people's attention was drawn to the stage. That's another reason why I think Greg could have controlled that situation a bit better by ordering his set differently.
Back to the main action. After playing a few songs with the full band, Greg invited Katie Costello on stage (and the band left, except for Chris who played one song with them). They played two songs together, with Katie playing a bit of keyboards but mostly singing with Greg.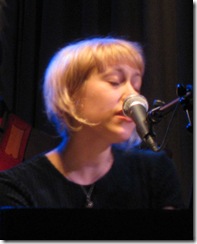 On the first number, Katie seemed to be straining during the first verse. Greg did a very classy thing. He stopped the song mid-stream and apologized for starting it in the wrong key! He slid the capo down two frets and started again. This time Katie hit every note beautifully, and they pulled the song off without another hitch.
I've been listening to her streaming from her site (linked above) for quite a while now. I like her a lot. She's playing tomorrow (Sunday, December 20th) at Rockwood Music Hall at 11pm. We already have tickets to see the amazing Cherish the Ladies in Pawling, NY tomorrow night, so we won't get to see Katie just yet, but if you're in NYC tomorrow, and you're a night owl, do yourself a favor and get over to Rockwood.
Greg played a bit more with the band, and a few more solos as well. Over all, a very nice set.
Opening the show was Honey Larochelle, backed by a four piece band and two backup singers. On her MySpace page she describes her music as Soul / Folk Rock / R&B. Yes, she's all that, and more.
Excellent voice, wide range, bubbly spirit, showmanship. All four band members are very good, as are the backup singers, so the whole ensemble works well together.
Honey announced that she would be doing a bunch of Christmas songs (and I'll explain in a minute why I believed her). She opened the show with one, but I don't think she played a second one for the remainder of the 35-minute set (though perhaps I'm addled after the rest of the great show).
The rest of the set was a romp that covered the above-mentioned genres and added a closing Hip Hop number with Kenny Muhammad called I Love a Human Beat Box (or it should be if it isn't). Kenny truly is a human beat box. In fact, he sounds like a full drum set in addition to other DJ like sounds. Pretty amazing.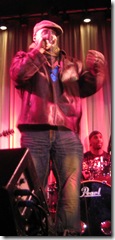 Honey also did a wonderful number as a tribute to her mother's common sense advice when she was growing up, which she now appreciates even though she ignored it at the time, called Hold You Down. She had the audience sing during the chorus. We did a better job than the audience in this YouTube version of the song. 🙂
Backing her up, left-to-right:
Devory Pugh on keyboards (sorry, no good standalone link). He was solid, highlighted on one number. We chatted with him for a minute after the show. He also manages artists. Very nice guy! One of his guys, Charles Perry, will be appearing at Gospel Uptown on 1/19/2010.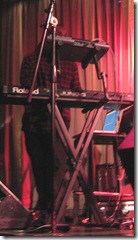 Playing the electric guitar was a new member to the band (this was the second time he appeared with them). He has a Polish name that I didn't catch. I'll update the post if someone fills in his name for me. He was quite tasty, playing a jazz/blues style. Clearly a superior talent.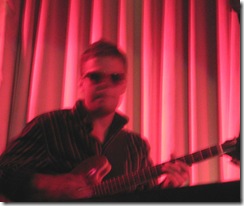 Greg Norwood (AKA G the Backbone) on drums (also no good links). He was absolutely incredible throughout the set.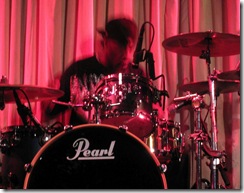 Jesse Singer on bass (again, no good links). He was solid throughout the set.

Regine Roy and Cole Williams sang backup and did a great job. They both had good stage presence.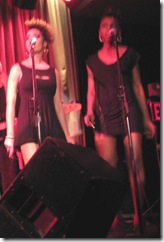 While I can appreciate R&B, it's not the typical music we go to see, so it was a treat to see someone that we enjoyed as much as we did. Even though I still think that the genre was not well matched to the headliners, it worked for two reasons: 1) all of the performers were top notch; 2) Honey is good friends with Ian (and possibly Greg), so there were quite a number of overlapping fans.
The Canal Room website listed the show as starting at 7:30pm, with doors opening at 7pm. We like to get to General Admission shows early so that we can sit as close to the stage as possible (preferably the front row). While the sound isn't the best that close up, the view is. Lois is very near-sighted, so if we're not right near the stage, the entire show is a blur to her.
We showed up early, as usual, and found out that everything was shifted back 1/2 an hour. It was cold out, but we were fine braving it to be first in. After a bit, management took pity on us (we were the only ones in line!), and told us that we could wait in the lobby inside. We were grateful, it's quite an unusual move (we know from long experience).
After waiting 15 minutes inside, still long before the doors were supposed to open, another member of management also took pity on us, and told us that we could go in, but that it was still sound check time, so we should be respectful of that. Of course, we were.
It turned out to be quite special. We sat in the front row and watched Honey and the band warm up and play a number of songs they didn't do in the set (mostly Christmas numbers that I guess they intended to do). Really good! But, in addition to just enjoying the music, I got a much better look at the guitar player, who played a lot of interesting riffs throughout the sound check.
We also chatted with Honey very briefly after sound check, and she's as lovely as could be.
After the show we talked to Ian for a minute and got him to sign one of his EPs that we purchased at the Rockwood show. I always implore my readers to support the artists that they like, and we do whatever we can ourselves.
We bought an Ian Axel T-Shirt from Chad Vaccarino who was working Ian's merch table. Chad did a great job singing with Ian at Rockwood and is credited with convincing Ian to start singing. Thank you Chad!
We also purchased three Greg Holden CDs and an unmixed, unmastered, unreleased CD of Honey's, pressed just for fans that come to these types of shows.
Greg signed one of his CDs as well, and we got to tell him directly how much we love Nothing But a Memory (perhaps if I write it often, he and Joey will decide to make Lois happy and stick with that name!). 😉
We also ran into two of our favorite Alexes, Alex Berger and Alex Wong. We got to spend a bit more time with Alex Berger because we talked to him before Honey took the stage, and then after the show as well. Seeing Alex Wong was a treat too. I knew that he had a show in SF tonight and tomorrow, so we didn't think he was still in town. His flight just made it out of NYC minutes ago, so hopefully he'll hit the stage in time for the show…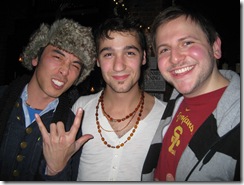 We know that the next time, we'll be as likely to be told to wait outside until the doors officially open, but for last night, we'll be forever grateful on all accounts. 🙂