Send to Kindle
I've been listening to Smooth Jazz for 30 years. I own nearly all of the CDs/LPs from my favorite performers. Until a few years ago, the only two that I had seen live were Earl Klugh, who I saw in 1981 in Carnegie Hall, and Chuck Mangione at Radio City Music Hall around the same time.
I've corrected that by catching shows with Bob James, Acoustic Alchemy, Dave Koz, and others. A few were still missing. At the top of that list were Spyro Gyra and The Rippingtons. I scratched Spyro Gyra off that list last night!
Spyro Gyra played 12 shows on six consecutive nights at the Blue Note Jazz Club in NYC, with the last two shows performed last night. We invited three friends along and the five of us had a fantastic meal at the club before the show.
Spyro Gyra consists of five outstanding musicians, each of whom can carry a show on their own. Their fearless leader is the great Jay Beckenstein, one of the great saxophone players of our time. I also own a solo CD of Jay's and it too is awesome.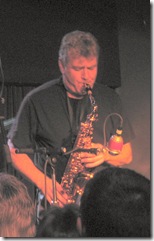 Julio Fernandez played the guitar and sang a bit (Spyro Gyra is mostly an instrumental group). He was incredible on the guitar, and quite good singing.
Bobby B played the drums, sang a bit and scatted a bit. While I'm writing this, the link to his bio is blank, but I'll leave the link in, in case they ever update the page. He was unreal last night. Aside from superb drumming the entire evening, he was a real showman, cracking the crowd up and keeping people on their toes.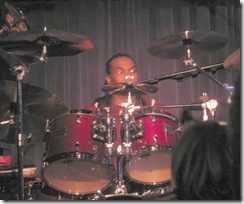 He sang harmony with Julio on one number (gorgeous), and sang solo and scatted on another. He played one entire song solo (the other four guys left the stage) and he enthralled the crowd with one of the longest drum solos (plus some commentary and scatting) I've seen in a long while. Simply fantastic.
Scott Ambush played the electric bass. He was great all night. In the second number, he took a brief solo, and I was extremely impressed. I should have waited to gauge him though. A few numbers later, they played the title cut from their newest album Down the Wire (which I don't own yet, but will shortly!). Scott wrote the song.
It starts off with an amazing bass solo. Even that wasn't the peak of Scott's talent. Late in the song, after all of the other guys have their incredible solos, Scott takes over again, and he just smokes the house down. Seriously, this is one awesome bass player. Totally captivating.
Tom Schuman played electric keyboards. Tom was excellent the entire set and took a number of extraordinary solos. He and Scott are the glue that keeps the background going for Jay and Julio to wail their leads on.
All together, they were magic, and any nervousness I had in advance of seeing them live for the first time was completely misplaced. They were and are awesome in every respect. They were on stage for exactly 80 minutes. Not the longest set in history, but every note picture perfect.