Send to Kindle
Vienna Teng and The Paper Raincoat are up there among our favorite performers, both live and their CDs. Recently, Vienna announced that she's taking a break from touring and returning to school this fall.
While I'm sure that The Paper Raincoat (TPR) will continue to perform (in fact, we have tickets to see them on May 6th a Mercury Lounge in NYC), both Alex Wong and ambeR Rubarth have so much going on individually and with other projects that they don't play together all that regularly.
So, having a chance to see both acts perform on the same stage on the same night was going to be hard to pass up. They played last night at The Attucks Theatre in Norfolk, VA.
We wouldn't likely have gone from NYC, but luckily, we were a little closer, in Fredericksburg, VA. Still 2.5 hours away, but that's a walk in the park for us.
I've written about Vienna and TPR many times. You can search for either on the top right of this page if you want to see how consistently amazing both are.
Last night Vienna was the headliner, so I'll cover her performance first. Vienna performed one song solo, standing at ambeR Rubarth's electronic keyboards. That was the first time we've seen her stand and play the keyboards. She also performed one song with ambeR Rubarth alone, a new song they co-wrote on a writers retreat in January. Gorgeous!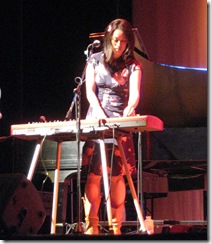 For all of her other numbers, Vienna was accompanied by Alex Wong and Ward Williams. I can never say enough about Alex, and he was as wonderful again last night as he always is.
We've seen Ward Williams briefly, twice before. Last night he was on stage for the entire TPR set, and for all but the two songs mentioned above with Vienna. He's a delight as a musician (cello and electric guitar) and as a personality with a humorous on-stage presence.
Reconstructing the set list from memory (a few of Vienna's fans have asked me to do this whenever I see her):
Whatever You Want, Blue Caravan, Gravity, Kansas (solo), In Another Life, Stray Italian Greyhound, Everything's Fine (with ambeR), Homecoming, Antebellum, Augustine, The Last Snowfall, St. Stephen's Cross, Harbor, Grandmother Song, Keep The Customer Satisfied (Simon and Garfunkel cover)
It was a 90-minute set, capped off with Grandmother Song. For the first time in our experience, Vienna suggested that the audience might want to stand (in order to better participate) during the song. I was impressed at how fast everyone stood up. The energy was incredible.
They came out for an encore (no one sat down after Grandmother song, so it was a standing ovation) and played a wonderful version of Keep The Customer Satisfied, a Simon and Garfunkel cover.
The Paper Raincoat opened the show (which surprisingly, started 15 minutes earlier than announced). Everything about the performance last night was different (still awesome) because for the first time in our experience, TPR had no full-time drummer.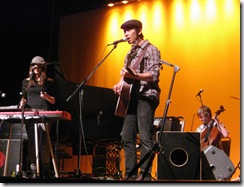 Instead, Ward Williams joined them mostly on the cello. Alex multi-tasked more than usual (which is saying a lot!) because he did play some percussion, which he rarely does for a TPR show.
I would describe the difference as mellowing out their sound quite a bit. It was gorgeous, and the crowd loved every note, but it didn't have the feel of a typical TPR show.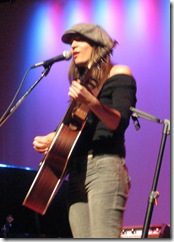 They closed the show with the always crowd-pleasing Rewind, this time joined by Vienna Teng (where Adam Christgau or Kevin Rice typically are). The crowd went nuts and shot to their feet at the end of the song, sending TPR off the stage to a roaring standing ovation.
This was the last show in this year's Discovery Series at The Attucks Theatre. Most of the people in the audience were unfamiliar with either Vienna or TPR, and I would say that it was one of the better audiences we've been part of, and both picked up hundreds of new fans. There was brisk business at the Merch table selling CDs, and all four artists came out to meet, greet and sign the CDs.
I already mentioned that we drove 2.5 hours to see the show. What I didn't mention is that I caught a horrible cold a day or two earlier, and we were very close to not making the effort. Our original intention was to drive the 2.5 hours back after the show, but given my condition, our compromise was to stay in Norfolk for the night.
We got to our hotel at 3pm and I napped for a couple of hours. After saying hello/goodbye to the artists, we headed back to the hotel for the night, returning to Fredericksburg this morning. More than worth it, even though my condition hasn't improved one iota…