Send to Kindle
Many (most?) of our favorite performers (superstars and up-and-comers alike!) count Patty Griffin among their hero singer/songwriters. This includes Girlyman, whose cover of Patty's Mary is haunting and stunning.
We are familiar with many of her songs mostly because our favorites play them (both covers and cuts). We hadn't had the pleasure of seeing her perform.
I was aware that she was playing two nights in a row at Town Hall but didn't purchase tickets in advance because we weren't planning to be in NYC this week. On Monday, I checked ticket availability on a whim. I was flabbergasted when I saw two tickets available in the front row, center orchestra! Lois instantly agreed to change our plans and head to the city for the show.
Sweetening the deal for me was Buddy Miller, who was opening for and playing with Patty. We saw Buddy play with Alison Krauss and Robert Plant on their Raising Sand tour and he was outstanding on the guitar.
I normally cover the headliner first, but since they were on stage together for the majority of show, I'll quickly mention Buddy's opening set first.
Buddy Miller opened with a solo acoustic number. I already mentioned above what a terrific guitar player he is. What we found out a few seconds into the song is that he's an incredible singer as well. Clear and powerful. We were both extremely impressed.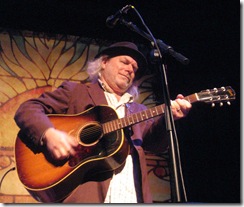 The minute the song was over, he was joined by a drummer and bass player (more on them shortly) as well as Patty. The four of them played together for all but Buddy's last song, which was again an acoustic solo. In total, a 45-minute set that was fantastic, enhanced by Patty's harmonies. Buddy played most of those songs on a couple of electric guitars, and of course, sang lead on every number.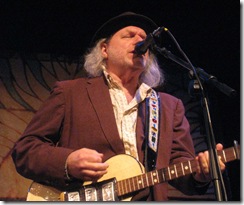 After a 15-minute break, Patty Griffin came back on stage with her full band, which included Buddy, the drummer and bassist mentioned above, a keyboard player, and another guitar player (all detailed below).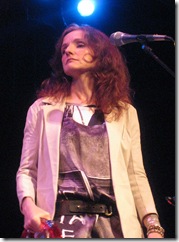 Let's get the basics out of the way:
She is a great songwriter.
She has a phenomenal voice.
She plays guitar well enough to accompany herself solo, though the full band sound was a wonderful complement.
She's a wonderful storyteller.
Bottom line: Patty Griffin is an exceptional performer. It's very hard for me to imagine that anyone would be disappointed at one of her shows.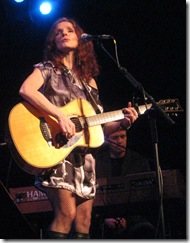 This tour is largely in support of her latest CD, Downtown Church, put out on January 26th, 2010, produced by Buddy Miller. It's mostly a gospel CD. Given her voice, she's extremely well suited to this style (as she is to many other styles!).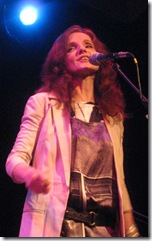 I would estimate that roughly 70% of the songs she performed last night were in the gospel tradition, including at least 11 of the 14 songs from the new CD.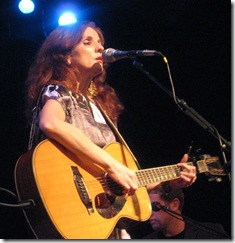 On at least three numbers, she brought out a surprise special guest star to sing harmony with her, Shawn Colvin. She was excellent as well, just not enough of her. We've seen Shawn at BB King before, and I play her soundtrack of Providence more times than I care to admit.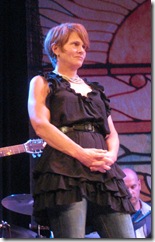 The two of them performed Mary (mentioned in the opening paragraph) without the rest of the band on stage. It was fantastic. Now we need to get Patty to invite Girlyman on stage so that all four of them can sing it together. I'll chip in to make that happen if anyone is paying attention!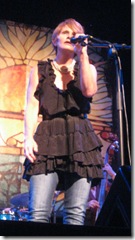 Appearing left-to-right on stage supporting Patty were:
Doug Lancio played electric guitar and sang harmony. He is also Patty's band leader.
Buddy Miller played electric and acoustic guitar and sang harmony. On one number, he played what appeared to be some kind of an electric mandolin, but it also appeared to me to have 12 strings, so I don't really know what it was, though I'm sure it made a cool sound. 🙂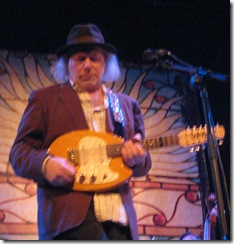 Marco Giovino played drums and sang harmony on one number. The link is to him giving a drum lesson, I couldn't find a more interesting one with a bio.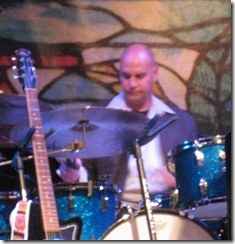 Frank Swart played the upright bass and was the only one on stage to not sing harmony with Patty. I thoroughly enjoyed his play throughout both sets.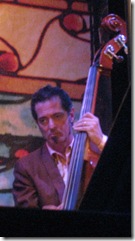 John Deaderick played keyboards (electric and a grand piano) and sang harmony. Excluding Buddy Miller, I thought that John Deaderick was the strongest musician in Patty's band.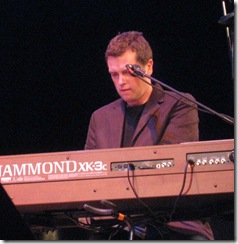 Patty was on stage for 105 minutes (including a very nice encore). A wonderful night out, as well as an opportunity to finally tick off seeing Patty Griffin perform on our list of things to do. 🙂