Send to Kindle
Rebel Spirit Music is a wonderful organization. Created to help musicians navigate the new world order, they put on a showcase of talent every month. Many (most/all?) are also benefits for very worthy causes. Last night was for the benefit of Doctors Without Borders, for Haiti relief.
While Rebel Spirit Music has done a number of showcases at Rockwood Music Hall, they are currently partnering with Flux Studios to put on the monthly shows, including last night's performances.
Because Flux is small (at least the recording studio itself is small) these events are now RSVP only (even though they are still free). We were thankful and lucky to respond early enough to be included in last night's guest list.
We went to see Ian Axel, so I'll cover him first, even though he was sandwiched in the middle of the lineup.
I've written about Ian so many times, that you might think I'd run out of things to say, and simply point you to my past reviews. Wrong. 🙂
Flux Studios has an intimate feel that even teeny tiny Rockwood can't create (though it comes close). We've seen Ian do an acoustic set (no band) at Rockwood, but this was even more special. The room is barely bigger than a suburban living room (actually, many suburban living rooms are larger). Everyone stood (with one exception), in reasonably tight quarters, but you could hear a pin drop whenever Ian had a dramatic pause in any song.
Different than being in someone's living room, surrounded by respectful music lovers, this is a professional studio, with professional equipment. I'd hazard a guess that the microphone Ian was singing into is way higher quality than most clubs use for their vocals. The difference didn't stop just at the electronics.
Ian commented that the grand piano he was playing was built in 1895! He has a personal affinity for pianos with storied histories. The sound was gorgeous even though the outside of the piano was beyond weathered.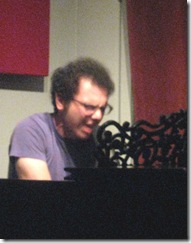 He opened with Waltz, and played Gone, Girl I Got a Thing and Afterglow, solo on the piano (perhaps one or two more, just trying to give his fans a sense).
When he played Girl I Got a Thing, his buddy Chocky came up to "do his thing" (including the tambourine part, which he's so expert at!). The only thing missing was Chocky's drink. We need to get him back to Rockwood for the full experience! 😉
Then he performed a very special number, Say Something on the ukulele. In fact, on a new ukulele.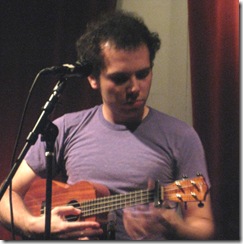 Sorry that @HappyBee3 missed it, she was forced to spend a hapless night listening to Wide Spread Panic at Radio City Music Hall (poor HappyBee). 😉 I've written before that both HappyBee and I love Say Something on the piano, but since we heard it first on the ukulele, it always tugs at our heartstrings a bit more and it's been a while since Ian has played it on the uke. Thanks Ian! 🙂
Chad Vaccarino joined Ian for two numbers. First their brand new You'll Be OK. Awesome! Next was the never-get-enough-of This is the New Year!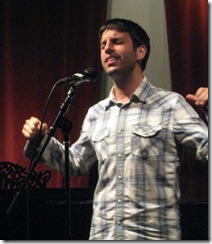 If you've watched the video of that song then you know that there's a big dog in it. That dog attended Ian's show last night, and was leaning on my leg during this song. There's no doubt that he recognized it as the one he starred in. As an aside, he's an awesome dog. 🙂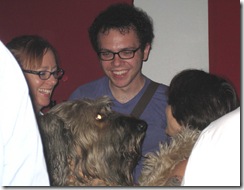 I was secretly hoping that Ian would go one song over his limit, and invite Mike Campbell to join he and Chad for an acoustic version of Shorty Don't Wait (Mike was in the audience, and I chatted with him briefly before the show started). Unfortunately, the evening was run extremely professionally (something I always appreciate, so I'm not complaining!), and everyone started and ended on time!
Derek James closed the show. I know that Lois would have loved to leave before he started, given that it was already 10:30pm. I had heard of Derek (but was completely unfamiliar with his music), recalling that I had an interest in checking out one of his shows at Joe's Pub (still our favorite venue). Lois could feel how badly I wanted to hang around, so she readily agreed.
I mentioned above that there was only one exception to the "everyone was standing" comment. Thankfully, that was Lois, who spotted the one engineer's stool early on. That made it slightly easier to convince her to stay.
We were both blown away by Derek James (and his band). I can't believe that we could have easily walked out and missed his incredible set.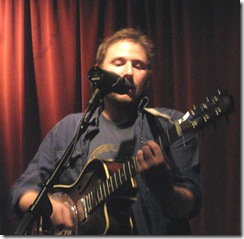 It's probably easy (for some) to describe Derek's style, but I am having trouble finding the right words. It's some kind of blend of up-tempo bluesy/rock, tinged with some cajun-infused country, all delivered with gusto. There's a super-charged energy that had me swaying throughout the set, even though it was sleepy time for us.
Derek sings wonderfully (and writes really cool songs) and plays the guitar very well. He also played the ukulele on two songs, which immediately endeared him even more to us, for obvious reasons. 😉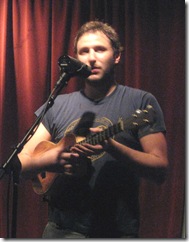 He has a relaxed style and banters well, making me chuckle quite a number of times. He was accompanied by two very talented people:
Roy Gurel (no good individual links, but you can easily find him as a band member on a few MySpace profiles). He played acoustic guitar, mostly lead and sang harmony. He is a fantastic guitarist and had all of us itching to hear more, even after long leads. Derek highlights Roy a lot, all well deserved. Harmonies were spot on as well.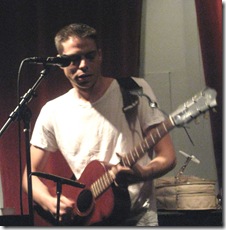 Assaf Spector (Assie) on the electric bass and harmony. Excellent bass playing (including one very tasty lead). His high-energy bass playing reminded me of one of our favorites, Chris Anderson. He sang excellent harmony as well.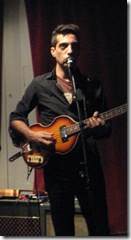 One of the things that stood out for me was that their harmonies were fun and fit in with the spirit of the song, rather than just being "beautiful" (not that there's anything wrong with that!). 😉
We are now instant fans of Derek James (and his band) and encourage all of you to check him out. He's playing in Brooklyn this coming Tuesday evening (7/27/2010) at the Brooklyn Bowl, but unfortunately for us, I don't think we can swing it.
Not announced on the bill, but sandwiched in-between Ian and Derek were two guys who played one incredibly fun new song. I'm waiting to hear back on their names. I heard them introduced as "Solo and Shakespeare" and referred to as "Solo and Shake". But, both words in any combination yield useless searches on Google, even if I heard it correctly.
Update: I just heard back. They're known as "Shakespeare and Solo". Solo is Jon Solo.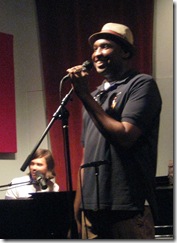 Jon Solo played the piano and sang. He is excellent on the piano and sings terrifically. Shakespeare sang a bit with him, but mostly rapped in-between verses/chorus that Jon sang. The entire song was wonderful, fun, upbeat, delivered really well. I look forward to catching them (individually and together) in the near future.
Findlay Brown opened the show. He played the acoustic guitar and sang. He finger-picks really well and has a very nice voice. The crowd liked him a lot.
For his last number, Findlay brought up Rob Gentry to accompany him on the piano.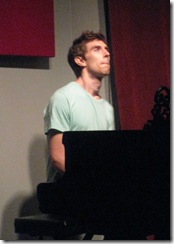 While it's clear he's very talented, I found his songs a little too similar to one another, and super-mellow as well. For a crowd that was standing shoulder-to-shoulder, it didn't feel like a good fit of music/style/space (though from their reaction, I could have been the only one thinking that).
That said, people whose musical taste I respect, really like him a ton, so I'd give him another shot in another setting without hesitation.
Another great night out, already looking forward to the next one!