Send to Kindle
The first time I heard the name Delta Rae was on April 2nd 2010, in an email from a good friend. He forwarded a note from a friend of his (who I've never met). Ever since then, I've formed an email friendship with our mutual friend and he's been promoting Delta Rae to me.
I don't begrudge him one bit, he's the very proud uncle of 3/4's of the group, the Holljes siblings, Ian, Eric and Brittany. Their childhood friend, Elizabeth Hopkins rounds out this extremely talented band.
I'll end with a back story as to how we finally got to see them last night, but first, on to the show!
Delta Rae is two guys and two girls. All four sing really well individually, but in any combination (two, three or four of them) the magic comes to life.
The women, Brittany Holljes and Elizabeth Hopkins sing and on occasion play a tambourine and shaker. Ian Holljes sings and plays the guitar (mostly rhythm). Eric Holljes sings, plays the piano and the guitar.
Instrumentally, Eric carries the day on the piano, he's very good. The guitars are mostly background, with the exception of one song that was finger-picked by Eric.
Delta Rae writes their own songs. All of the ones they performed last night were excellent. They write in a variety of genres (they list themselves as pop/soul/folk, I'd add country as well). They also performed a wonderful cover of Go Your Own Way by Fleetwood Mac (one of their big influences).
They performed a gospel song a cappella with Brittany singing the lead. Breathtaking.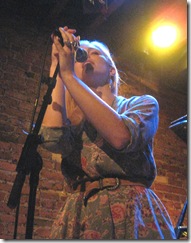 During one number, Elizabeth was hitting the tambourine so hard with the shaker, that one of the little cymbals came flying off. A few seconds later, a second one flew off. Thankfully, the song ended before more of them had a chance to escape. 😉
When all four sing together (not often enough for my taste!), they remind me of One Flew South, Love and Theft, Little Big Town, Lady Antebellum, all at their best!
What separates Delta Rae from the above is the incredible bands (musicians) that back the others, giving them a much richer sound. Clearly, Delta Rae can't afford a bunch of professional musicians to back them, but I'm betting that day is not far away and they will break out in a big way.
We bought two copies of their new EP (buy it, you won't be disappointed!) and I listened to it this morning. It's gorgeous and is produced well, with drums, bass and even a cello (viola, etc) on one number. It gives a hint of what they can sound like on a big stage with a full band.
If you still need your arm twisted, go listen to their MySpace page, but then, after you like it, support them and buy the EP!
Very impressively, Rockwood was packed with very enthusiastic fans. This is nice to see for a band that is based in NC. When their set was over, the crowd was demonstrably upset, wanting to hear more. Eric announced something that was cool and highly unusual (and potentially fraught with a number of problems).
He told us that they would do a one-song acoustic encore outside, while the next act was setting up. Nearly every person rushed outside, and indeed, they played a stunning number with the boys on guitar and all four singing. There was quite a crowd listening to them.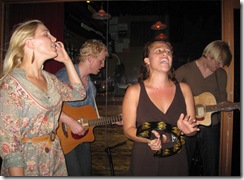 When the song was over, Eric dealt with the biggest potential problem, siphoning off the next act's audience. He implored people to go right back in and listen to people he described as awesome. Nicely done, and I hope enough people took his advice. We were so wiped that we weren't going to stay either way.
A more minor problem could have been the embarrassment of only a handful of people going out to hear them. Thankfully, they didn't have that problem! 🙂
Delta Rae actively suffers for their art. They drove from NC to NY yesterday, just to play a one hour set. After playing the outdoor encore, they hit the road for an 11-hour drive back to Asheville, NC, where they are opening for Hanson tonight. That's dedication, and that's one of the things it takes to make it in the crazy music business. Bravo!
Jason Adamo performed the set before Delta Rae, another NC-based band. We listened to their MySpace page earlier in the day, and liked it a lot, and decided to catch Jason and his band as well.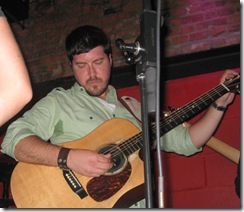 Unfortunately, while they are all talented, the live performance didn't work for me the way it did recorded. It's possible that it was entirely due to bad sound levels, but I'm not sure. The entire band was loud (but distinguishable). That caused Jason to literally yell into the microphone, and most of his words still couldn't be made out.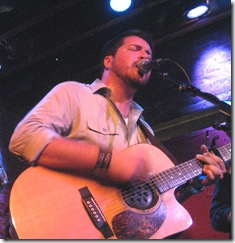 On a few songs, the intro was much softer and Jason didn't have to yell. It was clear he has a very nice voice. Each of the band members was good in their own right, so I'll give them each a quick shout out:
Doug Casteen on the electric guitar (and a drop of harmony). Doug was excellent on the guitar on every song, taking some really nice leads. He co-wrote many of the songs that the band performed last night.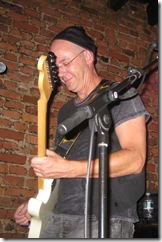 Fabio Consani on the harmonica, a bit of acoustic guitar (and a drop of harmony). Fabio was very good on the harmonica.
John Briggs on electric bass and harmony. John was solid on the bass throughout. He co-wrote at least one song, and produces some of the Jason Adamo band songs.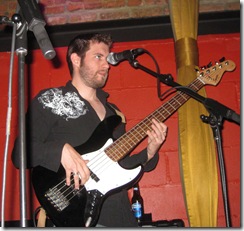 Shedrick Williams on drums. Shedrick was solid as well. On two occasions he took short but very nice solos. The second was during their last number and helped end the set on a very high note with tons of energy. Shedrick is also a master of flipping and spinning his sticks, without missing a beat during the song. He's an understated but excellent showman. Here's a YouTube video of him playing along to a soundtrack.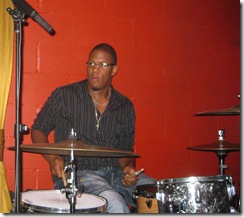 Finally, our back story. 😉
We have friends who live in Durham (where Delta Rae are based!). They have a 13-month-old whom I haven't met yet, though Lois did in December. They are here in NY for the weekend. A few months ago, we set Friday night to have dinner together. A few weeks later, City Winery announced a benefit for the Gulf Coast with a few of our favorite performers. We were disappointed that we would miss the show, but we happily choose good friends over an evening of music out.
Last week our friends called to ask whether we could move dinner to Thursday. We immediately said sure, and purchased tickets for Friday night. The music gods were looking out for us. 🙂
Then, a day or two later, I got an announcement that Delta Rae would be playing at Rockwood on Thursday (last night), the same night we just agreed to have dinner with our friends. Once again, we would have to miss Delta Rae. It seemed like the musical gods giveth, and then taketh away. 🙁
Oh me of little faith… Our friends got into town at 4:30pm and we hung out with them until 7pm, when they had to leave for a number of reasons. We had a lovely visit with them and still had plenty of time to catch Jason Adamo at 8pm and Delta Rae at 9pm. Thanks musical gods for setting everything straight again! 🙂