Send to Kindle
Last night was very special on many levels. At the top of the list was seeing Vienna Teng perform in NYC (at the Highline Ballroom) for the last time in a while (she's off to grad school later this month!).
Even though Vienna tours the US and Europe regularly, we have come to rely on the fact that NYC was her (temporary) adopted home and we had so many opportunities to see her here over the last year. (We also saw her perform in Atlanta, Birmingham and Norfolk.)
We're thankful that we made the time to do it, without taking for granted that we could see her whenever we wanted. Her shows will be few and far between over the next three years, but they will happen, and anyone who gets the chance to catch one better do it!
Vienna's voice and piano playing are magical and last night was no exception. She can soothe the savage beast or impassion the near lifeless.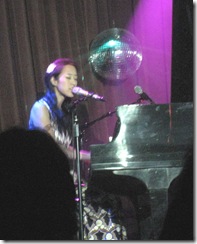 In addition to a few typical songs that Vienna invites the crowd to join in on (more on that later), she added Antebellum to the list, inviting us to join her or Alex in their respective parts. I could swear that the majority of the crowd selected Alex's part (perhaps because it's easier, or perhaps because Alex admonished us to "Choose Wisely"). 🙂
While Vienna often introduces songs, last night felt different. She knew she wouldn't have many more opportunities to connect with the very large crowd so she introduced nearly every song and shared stories with great warmth. (Highline seats roughly 450 people, and there were very few empty seats. It was the first show we've been at where people were sitting in the Highline balcony as well!)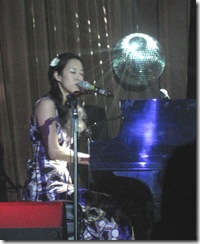 One story that she shared was going to a Karaoke night with a group of non-musician friends. She and her friend sang A Whole New World from Aladdin. She described the inevitable Karaoke Key Nightmare, where the music is simultaneously too high and too low for your vocal range.
Many songs later (I think it was during 1BR / 1BA, but don't quote me), 2/3's of the way through the song, she and Alex broke into a full-on rendition of A Whole New World! Their harmony was fantastic and the entire bit was both wonderful and funny at the same time. Of course, after the song, Alex complained that Vienna chose his Karaoke key. Actually, to quote him more accurately, he said she chose his coming into puberty range. 🙂
Alex Wong (the Alex in the above paragraph) joined her as he has for nearly all of the performances we've been to. In addition to being Vienna's touring partner, co-writer on a few of her songs and producer of her amazing CD Inland Territory, Alex is also 1/2 of The Paper Raincoat.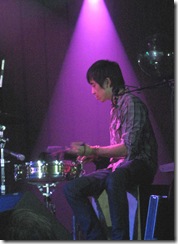 On the set list, which I reproduce below for Vienna's many fans, there is an entry labeled (Alex). Vienna lamented that she would really miss seeing The Paper Raincoat and asked Alex to pick one of their songs to play. People shouted out many songs. Probably the one most loudly requested was In the Creases. Technically, not a Paper Raincoat song, but co-written by Alex Wong and ambeR Rubarth (who are The Paper Raincoat), so it qualifies.
Alex chose to do Don't Be Afraid. He too introduced the song with a short, but meaningful anecdote. Vienna sang perfect harmony with Alex.
Toward the end of the show Vienna said that she wanted to deviate from the set list and get Alex to play another song. Once again, lots of requests from the audience. Alex chose a song of his that he performed with his original group, The Animators, Help is on the Way. We'll all need it for the withdrawal we'll be feeling from Vienna's absence. 🙁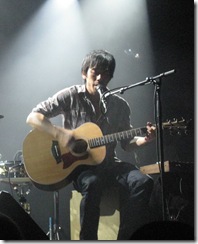 Ward Williams joined them for the entire show (as he does on most of their tours). Ward sang beautifully with Vienna on a few numbers and played cello or electric guitar on all the numbers. As I've said before, Ward is a top-notch musician who always enhances any show he's a part of!
Update: Lois asked me to say how funny (and quick) Ward is, so here goes. For one song, Vienna asked us to take our keys out. She directed us when to jingle our keys and when to stop (like wind chimes). Alex used his Harry Potter Wand (aka: Waterphone bow) to direct people to make whooshing sounds like the wind itself.
Vienna joked that Ward was left out of the directing. Without missing a beat, he offered that when he put his right arm over his head (in a ballet-like pose), the audience should let out a blood-curdling scream! After testing us once before the song, he sprung the actual arm movement late in the song, and the audience did indeed scream on cue (good paying attention folks!). Vienna definitely got a kick out of it, as did the rest of us. 🙂
I've never seen a weak Vienna performance, so raving about last night shouldn't be taken to imply that other shows weren't incredible (they all have been!). That said, perhaps it was the poignancy of knowing that it would be a while, making me listen even more acutely, Vienna was in perfect voice last night. The clarity and power were mesmerizing.
As promised, here is the set list:

As you can see, she ended the set (a long and satisfying one) with Grandmother song. She asked the entire audience to stand for it and we turned the song into a 400+ person party! When they left the stage, we all remained standing until she came back out, this time solo.
Vienna dedicated the song, 1000 Oceans by Tori Amos, to us. We were both choked up. I am still speechless this many hours later, but thankfully, I can still type! 😉
All I can say in return/response is that the amount of joy and personal/spiritual growth that Vienna and the too-many-to-mention other Indie artists that we have come to know and love have given us, fuels us daily! Thank you Vienna, and all of you (you know who you are!).
After 1000 Oceans, both Alex and Ward returned to the stage and they performed two more numbers. The last one was Soon Love Soon, sung by the entire audience in three-part harmony! Here is Vienna directing the right side of the audience: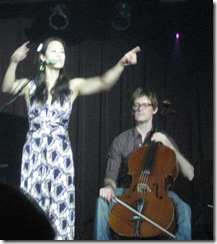 Including the encore, they were on stage for 100 minutes. As vivid as the memory is at the moment, I miss it already.
When we bought the tickets (many moons ago, when the show was first announced) there was no opening act listed. What a phenomenal surprise to found out it was another of our favorites.
Joey Ryan performed solo, singing and playing acoustic guitar. In addition to always nailing his sets (with and without accompaniment) he was even funnier (and more self-deprecating) than he usually is (and he's always funny!). He had everyone in the crowd laughing and chuckling, within seconds of stepping on the stage.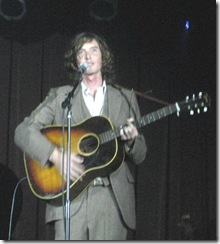 Personally, I can't imagine how terrifying it must be to come out to an un-warmed-up crowd who is eating, drinking and conversing loudly. To do that solo, acoustically and not be the headliner, even more so.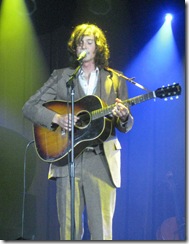 Yet, like I noted above, within seconds, Joey had the place whisper quiet, with everyone hanging on his every word. He owned not only the stage, but the entire place. I'm humbled by that ability, and enjoy being a part of it each time I experience it.
Lois asked me if I'd call out for Broken Headlights. I didn't need to. Joey invited Vienna and Alex on stage to sing it with him. Gorgeous, both the song (always) and their arrangement and harmonies.
The Highline Ballroom is a wonderful venue. Doors open two hours before show time and they have excellent food (and drinks). Because of that, we wanted to celebrate with friends and share the great music. We bought seven tickets and squeezed all of us in to a table for six.
We had an excellent meal, including way too many desserts (that Lois forced on us, and of course didn't partake in). Here is a photo of a very small portion of the desserts we all shared: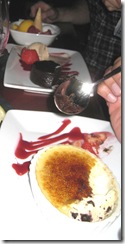 In what had to be the universe speaking to us (though I didn't find this out until this morning!), I ordered a glass of Shiraz. Then someone else in our party ordered the same thing. The waitress asked if we wanted a bottle instead and I said yes. Then she said that they had a special on a different bottle of Shiraz, one that wasn't available by the glass. I ordered that. It was really good!
This morning, when I looked at the bill, I saw the name of the wine:
Flying Piano
A totally fitting thing to be drinking during a Vienna Teng show, no doubt! 😉
We all hung around after the show to tell Vienna, Alex, Ward and Joey how amazing they were and what a special night it was. The same group (including Joey) will be performing tonight in Fairfield, CT, tomorrow at the Philadelphia Folk Festival and Saturday in Silver Spring, MD. Do yourself a favor and go to one of these shows, time is running out…