Send to Kindle
I haven't been to Rockwood Music Hall (the original, Stage 1) in quite a while. In fact, I had to look it up (I knew there was a reason that I bother to blog!). It was 7/29/2010 to see Delta Rae. I've been to Rockwood Music Hall Stage 2 a bunch of times since then, so Rockwood is still getting the majority of my NYC music business.

Alex Wong is reason enough to show up wherever he is. He's an extraordinarily talented individual (note, I didn't just say musician). He's a singer/songwriter, songwriting collaborator, multi-instrument musician, amazing producer and all around nice guy.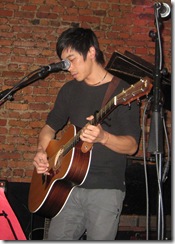 While Alex was reason enough to come out, he had a number of guests announced (not all played) and I have long wanted to see the person who was on at 9pm before Alex.
First the bottom line, then some color commentary. Last night's set was fantastic.
Alex played 2/3's of the set solo, mostly on the acoustic guitar. He played two songs at the grand piano. He opened solo with The Same Old Things.
Melissa Tong on the violin joined Alex for the next number, one of my favorites, Brooklyn Blurs, which they knocked out of the park. I've said it so many times, Melissa is an incredible musician, we can't get enough of her. I look forward to seeing her play with a symphony, her specialty.
David Fallo on the viola joined both Alex and Melissa. David is a star (as are all of the musicians who play with Alex). In addition to sitting in on these types of shows, David is currently part of the orchestra in the Radio City Music Hall Christmas Spectacular. That's no shabby gig!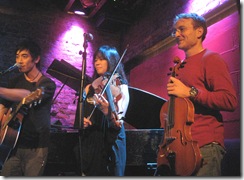 The three of them played a fun and energetic version of Motion Sickness. Alex divided the audience in half. I was in the Na-na-na-na-na-na-na-na-na-na-na-na-na section (yes, those were the exact number of Na's we sang at a clip, over and over).

Martin Rivas on acoustic guitar and harmony joined Alex for another favorite of mine, A Girl Like You, from Alex's previous group, The Animators. I've said this before, I'll say it again. Martin is an excellent guitar player who always defers to his plethora of guest star guitar players in his own sets. When playing with Alex, he's the guest and therefore featured on the guitar. Such a wonderful thing to hear. Do more of it in your sets too Martin!
Alex finished the show by playing three consecutive new songs, all co-written with other wonderful singer/songwriters. If you weren't there last night, you wouldn't know that I just lied to you. Alex announced on Facebook that he would play three new songs in a row, but he actually threw in an existing song after the first new one, before completing the new trilogy.
The first new song was a Christmas song co-written with Rachel Platten. Alex told a long story about the derivation of the song. It was his first Christmas in NYC (2004), which wasn't supposed to be a Christmas in NYC. The story was incredible, funny and touching. Alex doesn't usually talk this much on stage. I vote that he talk more, it was a very nice addition to the set.
The second new song was played on the piano. It was co-written with Paul Freeman. Alex is producing Paul's new CD. A very moving song.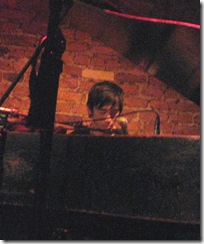 Finally, also on the piano, Alex played a song he co-wrote with Nate Campany. Nate was supposed to be there to sing harmony with Alex, but he didn't show up (I saw him tweet today, so there's no reason for concern). Excellent song. I told Alex after the show that when he produces it, he needs to have a full choir singing the "Yeah, yeah, yeah" part. I heard it as clear as a bell in my head even though Alex was singing alone.
Alex offered that I produce it instead. I told him I'll happily produce those three words, he can work his usual magic on the rest.

Jesse Ruben played the set before Alex. I have wanted to see Jesse for a long time. He tours with some other people that I like and I like his MySpace stuff (linked to his name). Not only didn't Jesse disappoint me, he surprised me in a number of positive ways.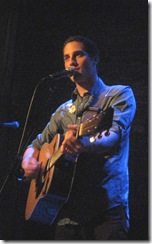 Jesse is a very good songwriter (wide range of topics). He sings extremely well. He plays the acoustic guitar solidly, mostly rhythm, but beautiful finger picking on a song I'll cover in a minute.
The biggest surprise was Jesse's general stage presence, in particular his wit. There was a ton of laughter throughout the set. It came both from his stories and from his very quick responses to things that audience members shouted out.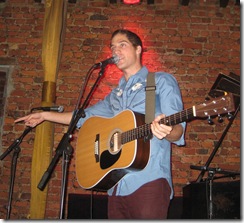 Jesse introduced practically every song with a story. It was extremely well delivered and enhanced my enjoyment of each song.
Kyle Patrick joined Jesse for two songs. We've seen Kyle once before at the Livestrong fundraiser. I thoroughly enjoyed his 2-song set that night and I have tried hard to arrange my schedule to catch Kyle again, unsuccessfully. He sang lead on one of the songs last night harmony on another. There was a good bit of na-na-na-na on the song that Kyle sang lead, with much of the audience joining in.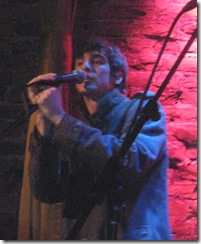 Karly Jurgensen toured with Kyle and Jesse all summer. Jesse invited her up to perform one of her songs, accompanied by Jesse and Kyle. Karly has a wonderful voice and plays the piano solidly. The song was beautiful, a slower bluesy number. Jesse and Kyle harmonized during the chorus. Very nicely done.
Back to the song that Jesse finger picked. If you know me, or read this blog regularly, then you know that Lois and I are obsessed with Wicked and The Wizard of Oz in general. Not that this is too small-worldish (given how huge Wicked and The Wizard of Oz are), but we always get signs from one or the other that connect us more deeply to things we already like.
Out of the blue, without even announcing a cover song, Jesse played If I Only Had a Heart. Absolutely gorgeous rendition. The only thing missing was not having Lois there to look at knowingly and hold hands with. That Jesse also chose that song to show off a bit of his guitar skills is the kind of thing I was talking about in the paragraph above.

Rockwood was packed for Jesse's set, dominated by people who were obviously huge Jesse Ruben fans. That always makes the sets more fun even though Jesse was new to me.
One of the people in the audience was Sam Teichman. Sam, Jesse and a bunch of other people in the audience are running in the NYC Marathon this Sunday, raising money for cancer care. Last Thursday, Sam was involved in putting together a charity concert at The Bitter End, called the "Born to Run" show, featuring Bruce Springsteen covers.
I would have loved to attend that show and a number of my friends did. I was already committed to a house concert featuring ambeR Rubarth and I too had an amazing evening.
Jesse mentioned that Sam was still raising money for the cause and that he was offering a DVD filled with music from 22 different artists that participated in the Born to Run show. Donations greater than $1 would get you the DVD. I was sitting across the table from Sam (whom I have met once before at a Rockwood 2 show) and I donated in exchange for the DVD right after Jesse's set.
After Alex Wong's set, I made a quick tour of Rockwood to say hi/bye to a number of friends. We've been away for a long time and it was really good to see everyone (performers and audience members alike). I wish Lois could have been with me, but she's been sick ever since we returned. Today is day 12. Let's hope it's one of the last. This isn't the type of streak anyone is proud of.
Given that Lois wasn't in attendance, any complaints about photo quality land squarely on my shoulders.