Send to Kindle
Ask and ye shall receive (no, seriously!). On Thursday I saw Alex Wong perform at Rockwood Music Hall. One of his guests was the wonderful Melissa Tong on violin. Here's what I wrote about her in my post about that show:
Melissa Tong on the violin joined Alex for the next number, one of my favorites, Brooklyn Blurs, which they knocked out of the park. I've said it so many times, Melissa is an incredible musician, we can't get enough of her. I look forward to seeing her play with a symphony, her specialty.
While that last line wasn't rhetorical, I didn't expect it to bear fruit so quickly. This morning I woke up to a wonderful surprise. Melissa updated her Facebook status to say that she was playing at Holy Family Church in New Rochelle at 2pm. We were already at the house, so there was no way we were going to miss this one.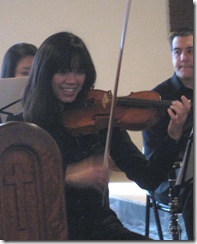 The Artemis Chamber Ensemble and the Choirs of Holy Family and St. Frances de Chantal Churches performed Mozart's Requiem. (Note: you can click on any image to see a larger version.)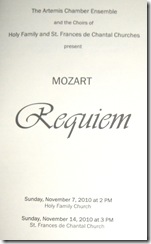 Artemis and the choirs were conducted by Matthew Oberstein (Executive Director of Artemis). Monsignor Ferdinando D. Berardi of Holy Family introduced the program, describing Matthew Oberstein as Energetic. He's that, and much more.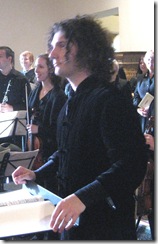 Lois and I sat in the first pew near the center aisle. I have never been so close to a conductor. My vantage, five feet to his right, gave me a view of his technique that I have never experienced. From behind, we all see the arms moving up/down and in/out to the music. From a distance, you might see them point toward a particular section of the orchestra as well.
I could see so much more. Matthew uses many subtle cues to extract the sound that he wants. Tiny finger movements, things that would be difficult to detect from a distance, even if you had the correct angle. I was extremely impressed. Lois noted how riveted most of the choir was on his every movement.
There were four Solo singers (who also sang together):
Wendy Baker, soprano. Absolutely stunning voice.
Elizabeth Mondragon, mezzo-soprano. Beautiful voice, not quite as highlighted in this piece as the others were.
Steven L. Nanni, tenor. Amazing voice. He really moved me whenever he sang.
Kevin Burdette, bass. Looks can be deceiving. Kevin is tall and thin, not a body type I associate with a deep bass voice. Wrong. Kevin has an incredible voice and he easily (or at least apparently easily) reaches extremely deep notes.
Each sings wonderfully on their own. When the four sang together in any combination, it was mesmerizing. When they all sang with the choir, it was heavenly.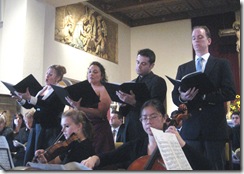 Artemis configures themselves depending on the material. They range from a quartet to a full chamber orchestra. Today, they were 19 pieces, 18 right in front of us, and one on the organ on the side of the Church. They were all awesome. I was inches away from Flavio Gaete on Viola. Watching him so close up was wonderful.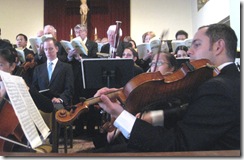 We came to hear Melissa (President of Artemis, something I didn't know prior to the performance) and I am so thankful that we made the effort. She's as good as I imagined (as are the rest of Artemis). Requiem is quite complex, in particular the starting sequences right after the long pauses. Melissa and Heidi Schaul-Yoder were like Siamese Twins nailing those flying measures.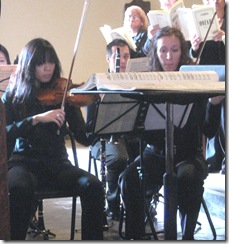 The other person I'd like to call out is the cellist, Christine Chu McGovern (Artemis' Artistic Director). Wow. I could name every person in Artemis, so please don't assume I think less of the others.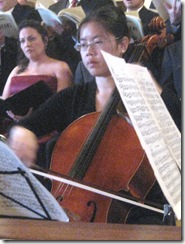 We didn't have a great view of the right side of the orchestra during the performance. Here are two shots of them afterward:
Everyone mentioned above are professionals, in every sense of the word. On to the so-called amateurs. The choir was large, made up of the combination of both Holy Family and St. Francis de Chantal Church choirs.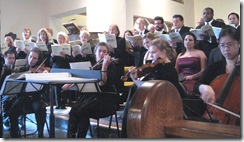 They were absolutely amazing. As I mentioned above, they were riveted on Matthew's every little movement and they responded perfectly to those instructions. They sang softly when called for, and filled the entire Church with their power when that was requested of them.
Here are the names of everyone who performed from Artemis and the Choirs: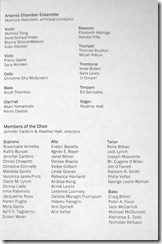 After the performance I asked Melissa how many times they rehearsed with the choir. Twice! Amateurs indeed (not!).
I challenge those of you who don't believe me to go see this exact performance next Sunday (November 14th, 2010) at St. Francis de Chantal in the Bronx, 3pm. I urge those that do believe me to go and enjoy next week's performance as well.
If you would like to support this amazing group of musicians, please send contributions to:
Artemis Chamber Ensemble
P.O. Box 813
Croton-on-Hudson, NY 10520