Send to Kindle
What happens when a nice, smart, funny, talented musician tweets that he is performing his first-ever solo show? Wait, before you answer, what if I tell you that he only has 49 followers on Twitter (I'm one of them)? OK, time's up, I'll just give you the correct answer:
People fill up Rockwood Music Hall to support him and enjoy the once-in-a-lifetime experience (unless he lied to us, or to a future audience!).

Seriously, the place was jammed, so the word spread much faster and further than his Twitter follower count would suggest.
There's little doubt that Mike Campbell was nervous. Is there any artist in the world that wasn't when they debuted? The test (of course) is how they handle that nervousness. Mike passed with flying colors.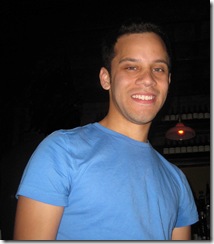 He took control of the room with his conversation, not just his music. He turned little slips into funny and memorable moments. For example, he gave an intro to a song, then played the song. Immediately afterward, he asked the crowd if they noticed that the song didn't match the intro? Oops, he intro'ed a song he was going to play later in the set list.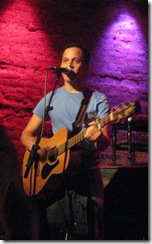 Let's answer the most important question of the night: was the music good?
Yes!
Mike is a very good songwriter. I was impressed that the songs varied as much from each other. Mike is stretching early in trying to say different things, but also say them in different ways. He also has the ability to write songs that grab you the first time you hear them (not as easy as you might think).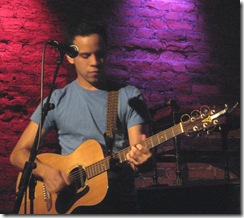 After he played Paper Heart, Lois turned to me and said "Amazing! I love that song!". The second the show was over, a friend who was standing 10 feet away during the show walked up to me and said "Wow, Paper Heart is a real winner, don't you think?". Yes, I think.

Of course, it wasn't a flawless performance, but it proved to me (hopefully to Mike too) that he made the right decision to do a solo show. I imagine (actually, I'm sure) that with a few more performances under his belt, his delivery will become polished very quickly. He has all of the ingredients.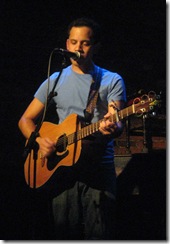 He has one song where he scats while playing the identical notes high up on the guitar. It's awesome (the guitar playing and the perfectly matched scatting). That said, here's a public suggestion that I think will make it even awesomer (yes, it's a word, or needs to be!). Mike, you should scat in harmony with the guitar leads. I personally guarantee that it will blow people's minds!
Mike, if you take my suggestion, I hereby legally forego my co-writing/producing credits and royalties. (Disclaimer: that only goes for that one song, I'll take full credit and royalties on all of your other songs!)

We're very glad we got to see Mike's first solo show and look forward to catching more of Mike Campbell!
Going back to my first sentence, I said that Mike was nice, smart and funny (traits that are independent of his artistic talent). I had no doubt that some/all of it had to come from his parents. After the show, Lois and I met Mike's parents and now I know for sure that he got a lot of it from them. Absolutely lovely people. Good job raising your son!