Send to Kindle
Joey Ryan comes to NYC a few times a year. If we're here too, you can bet we'll make it to one of his shows. Even though we love seeing him solo, this time he was touring with Kenneth Pattengale as well. The two of them make magic together, so we run rather than jog to see them whenever we can.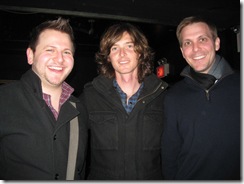 Last night included an interesting first, one I completely support and was impressed by. For many of the shows we go to, it's hit or miss whether an artist (even the headliner) will actually get an introduction. Most times, the lights dim and people start to clap when they notice the band coming on stage. Occasionally, there might be an announcement over the PA. Rarely, someone from the club will come on stage and make a more formal introduction.
At 8pm (show time), Dia, of Meg and Dia came on stage. She introduced Joey Ryan and Kenneth Pattengale. She did it in a completely humorous, sarcastic manner, which might have confused (or offended) people who misunderstood or don't get that kind of humor. I don't think there were many in the audience who missed the real meaning.
The more important thing here is that the headliner bothered to come on stage, to let their fans know how highly they thought of the opener. I haven't seen that before and I'd love to see It happen more often. Occasionally, a great opening group gets little respect from a crowd who is there primarily to see the headliner. Perhaps they would pay more attention if they realized that the headliner chose the opener for a reason! Bravo Meg and Dia!
Joey and Kenneth performed seven songs, alternating their material with each singing lead on the songs they wrote. Joey started and ended the set with Kenneth performing the even numbered songs.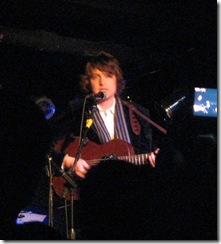 Both are very good guitar players. Joey mostly finger picks and Kenneth is a masterful flat-picker. They blend beautifully. The same is true of their voices. Harmonies are gorgeous. Each has a wide range. Each tends to sing very high when they're harmonizing for the other, and lower when they're singing lead.
In his signature style (making it worth coming to a show even if you listen to their CDs and EPs constantly), Joey (and Kenneth as well) is just plain funny. Completely deadpan delivery (and soft-spoken to the point of having to strain to hear him at times). I believe that Joey could have a career in comedy if he wanted it. He was most definitely on last night (not that I recall ever seeing him off).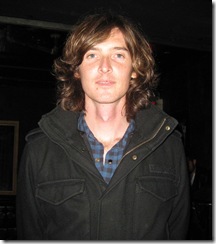 The crowd was extremely enthusiastic for them. There's no doubt that we weren't the only people there who know and love Joey and Kenneth's music, but I also suspect that aside from them being able to win people over on their own, having Dia come out to give her fans the word had to nudge some to pay more attention. Their set lasted around 35 minutes.
After a pretty quick turnaround (a little less than 10 minutes), the second of the three groups took the stage.
The Spring Standards have been on my list for nearly a year and it just hasn't worked out in my schedule to catch them. We saw them perform at the New York Sings for Haiti Benefit in January. They did two songs and had a minimal setup. I was extremely impressed and I wanted to see/hear more.
Last night was nothing like the Haiti Benefit. The fact that they were able to set up in under 10 minutes was quite impressive given all the gear that they had on stage. Nothing minimal about their set this time.
Standing left-to-right on the stage (for the most part, though the two James' switched sides a number of times):
James Cleare played the acoustic guitar, electric bass, drums, harmonica and sang (lead and harmony). Excellent all around.
Heather Robb (apparently an actor as well as a member of this group). Heather played the drums, double-decker electric keyboards, glockenspiel and sang (lead and harmony). She also had a melodica out, but if she played it, I missed it. She too was excellent all around, though her voice sounded a bit strained at times (markedly different from the Haiti benefit, where her voice was the highlight).
James Smith (no good individual link, so I linked to a good but old photo of him) played electric bass, acoustic guitar, trumpet, drums and sang (lead and harmony). Another excellent performance all around.
Updated: I had the two James reversed originally, even I was pretty sure I was wrong. The photos at ContactMusic are mislabeled and I incorrectly followed their lead. 🙁 Thanks to the commenter who pointed out my error!
All three are talented multi-instrumentalists. They all drum standing up, playing other instruments during the same song. Typically, two of them are drumming on the same song (e.g., James Cleare will be using the kick drum while playing the electric bass, as Heather plays the snare, bass drum and cymbals while mixing in the keyboards or glock).
Joining them for at least half of their numbers (standing/sitting behind them) was their Tour Manager, Noah Goldman. Noah played pedal steel guitar, bass, acoustic and electric guitars (possibly something else).
The energy level they put out is incredible. Everything about their performance is fun. Due to the big sound (loud, but clear) and the amazing amount of visual distractions (eye candy) to pay attention to on stage, I can't say that I registered more than a handful of their lyrics, here and there. As such, their songs aren't (yet) memorable to me.
They finished up their set in a big way. First they invited Joey and Kenneth to join them. They performed I Shall Be Released by Bob Dylan. Joey sang the first verse, followed by each of The Spring Standards singing a verse. Kenneth played electric guitar (first time I've seen him do that). Many people in the audience (myself included) sang the chorus with them (we were invited to). Gorgeous version of an old-time favorite song!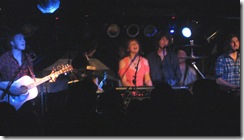 Immediately after, they invited up the entire Meg and Dia band (five members) to sing a high-energy song. There were 11 people on stage for this number. The Spring Standards did all the singing, with everyone else banging away at something (part of the drum set, a tambourine, etc.), making a big sound.
They were on stage for roughly 45 minutes.
I was more intrigued by the initial (mellower) Haiti performance, but there's little doubt in my mind that this group is filled to the brim with incredibly talented people who mesh really well together. I want/need to explore them more.
Roughly 20 minutes later, the headliners came on stage.
We were really wiped out and would have loved to have just bolted, but I really wanted to get a sense of Meg and Dia.
We stayed for two songs. I'm impressed with their voices. I was impressed with their musicianship as well, but in general, it was just a bit too loud. Great energy and rhythm. I would see them again, but I was glad to get off my feet and hit the sack before midnight.
Speaking of getting off my feet, this was a standing-only show (yes, there are a handful of seats along the side and back). I stood the entire time. Standing for people like Joey and Kenneth is simply ridiculous. That kind of a mellow sound should be savored from the comfort of a chair.
The Spring Standards have the energy and sound to drive people to their feet, but I know that I would prefer to see them in a seated show as well. Meg and Dia can definitely generate the more dance-crowd kind of feel, so I'm not surprised that they would play a room that is standing only. Independent of whether the music fits, we will always prefer venues that are seated.
We attended with three other people (and unexpectedly met two other friends at the show). Before the show, the five of us had a lovely dinner around the corner from Webster Hall (our first time there) at Apiary (also a first for us). Another winning night out!

P.S. Lois dropped her camera on Saturday night and it was acting up a lot last night. Given that today is Cyber Monday, there is a new camera in her very near future. So, the shots above are the last ones you're likely to ever see from her old, trusty Canon PowerShot 1100 IS. May it rest in peace. This, plus Lois' vantage point in the few seats in the back, explain the lack of photos.