Send to Kindle
Scratch another one off my music bucket list, Bess Rogers. We've been aware of her for a long time, having seen her husband, Chris Kuffner perform at least a dozen times. Even though we were hoping to stay in last night and catch up on some much-needed rest, when I found out Bess was playing at Rockwood Music Hall Stage 2, neither of us hesitated to add it to our schedule.
Bess is part of Ingrid Michaelson's band, tours as a solo artist and is also a member of The Flux Capacitors. Last night was a solo show (with full band), opening for Lelia Broussard (they've been touring together). Bess and Lelia shared the same band, so when I say something about a member of Bess' band, the same goes for their performance when Lelia was on stage.
Bess played a mix of catchy pop songs and up-tempo rock numbers. Both styles worked well. Her voice was excellent, even though she noted that she had been sick all day and was chugging DayQuil. She opened on the ukulele, mostly played an acoustic guitar and finger-picked when she played the electric guitar.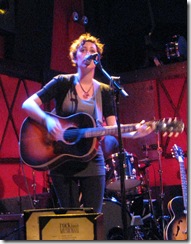 Bess just recently released a 5-song EP called Bess Rogers Presents Bess Rogers. She played all of the songs from the EP last night, along with five others (one called out from the crowd that isn't on the set list).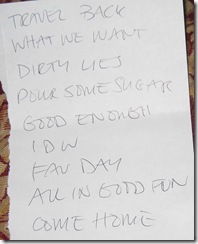 One of the songs on the EP was put up on YouTube and all of the band members (that I'm about to cover) appear in the video. The song is Favorite Day. There are two additional musicians in the video that were not on stage last night, Dan Romer and Saul Simon-MacWilliams, both playing brass:
Favorite Day by Bess Rogers
On to the band, left-to-right on stage:
Chris Kuffner on electric guitar and harmony. Chris is excellent on electric guitar and on bass (which he didn't play last night). I've heard him sing before (well), but last night, harmonizing with Bess (his wife), was even better. Clearly, they get some quality practice time.

In general, their interaction on stage is fun and fresh.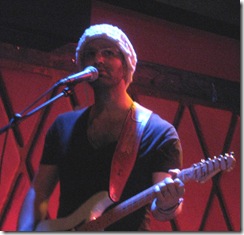 Elliot Jacobson on drums. I've heard about Elliot for a while now. He too plays in Ingrid Michaelson's band. In 2010, Elliot was voted as #1 Up and Coming Drummer in the Modern Drummer Magazine's Readers Poll. I was very impressed with Elliot's performance last night. Both Bess and Lelia had a ton of very up-tempo songs. It's easy to over-drum them, or under-drum them. Elliot did neither. He was really interesting and extremely fast, time and again. I'm officially a fan now!
Tony Maceli on electric bass. Tony is such a solid musician, on electric and upright bass, as well as trumpet. Last night was no exception as the combination of Tony and Elliot created such a solid bottom, giving both Bess and Lelia a very big sound.
Bess called Lelia up twice to join her on stage. The first time was to play ukulele (no singing). The second time Bess also called up Allison Weiss. Lelia played the electric guitar and Allison harmonized with Bess. Very well done.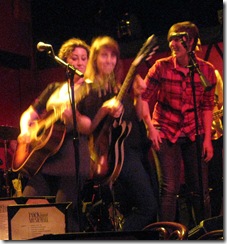 Bess' set lasted 45 minutes. I look forward to the next time!
Immediately after Bess left the stage, Lelia's set began. Since they were sharing the band, no additional setup was required. Except, the band reminded her that the first song on her set list was solo, so they all walked off the stage.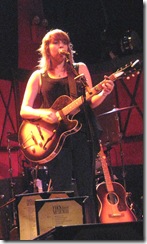 In retrospect, that was the one mistake Lelia made in arranging her set (IMO). She's a fine solo performer, but that one song was nothing like the rest of the set, so it set the wrong expectation for newcomers like us.
Once the band rejoined, the rest of the numbers were up-tempo rock. The music was totally engaging and I found my foot tapping (and stomping) throughout the set. The only downside is that for me, Lelia's voice (excellent) was another instrument, not a lyrics delivery system. The music was loud (not annoying, just really full) that I could hardly make out more than a few words/lyrics in a row. Musically, I still enjoyed every number.
Lelia sang, played the ukulele, electric and acoustic guitars. Late in the set she too called up Bess and Allison Weiss. Bess played the tambourine and both Bess and Allison sang harmony with Lelia. I thoroughly enjoyed Lelia's set. There was a bit more musical variety in Bess' set, but every song in Lelia's set was well executed.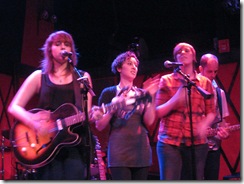 Lelia's set also lasted roughly 45 minutes.
After the show, Lois went over to buy a T-Shirt from Bess. Bess announced on stage that if you bought a T-Shirt, she'd throw in the new EP. Cool! I listened to the EP while writing this post. Wonderful!
We also ran into Tony and Chris afterward: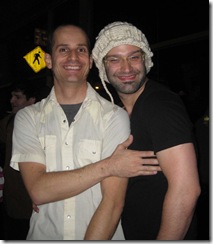 The show was called for 7:30pm. We arrived at 7:10pm. I noticed that Karly Jurgensen was playing next door at Rockwood Music Hall Stage 1 from 7-8pm. I have seen her perform one song when I saw Jesse Ruben there and he called her up as a guest.
I was impressed with that number. Lois was sick that night so she missed Jesse and Karly. I suggested that Lois go next door to catch at least one Karly song before the Bess/Lelia show started. She did.
When she returned, she couldn't stop raving about how great Karly's voice is! Whew, I didn't steer her wrong.

You can listen to her on her MySpace page. We'll be looking out for Karly's upcoming shows!