Send to Kindle
This is my first post for 2011. It's 24 hours late because I also just upgraded the disk and OS on my laptop, which caused me to be down all day yesterday.
We love bluegrass music and we love all things Melissa Tong. We've seen Melissa perform a number of violin styles, but had not seen her perform bluegrass, which she does regularly in her role as a member of Pork Chop Willie (PCW). PCW has a residency at Banjo Jim's on the first Friday of every other month, with a full (electrified) band.
To be more exact, PCW plays North Mississippi Hill Country music, which is a little more raw, rootsy (I know, not a real word).
The core of PCW is Bill Hammer and Melissa Tong. Beginning this past Friday (the night we went), they are performing on the alternate first Fridays purely acoustic, just the two of them.
As with many neighborhood bars, there is no stage at Banjo Jim's, just an area of the bar set aside for music. We were sitting in the center of the bar (essentially, the front row), on bar stools at a round table. That made for a strange (but interesting) experience, since we were looking down at the performers (slightly), who were both sitting.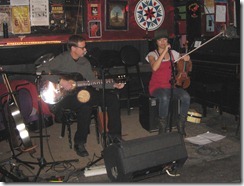 Given that intimacy, it felt more like sitting on a friend's porch listening to them sing and pick a bit, rather than a show. That's cool, we like that.
Bill Hammer played three different guitars, starting off on a cigar-box, 4-string guitar. He played with and without a slide on all three guitars. He sang most of the leads with Melissa providing harmony. They switched on roughly three songs where Melissa took the lead vocals.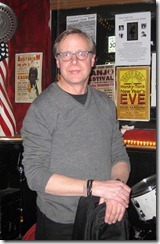 Melissa was her usual incredible self on the violin (now officially called a fiddle).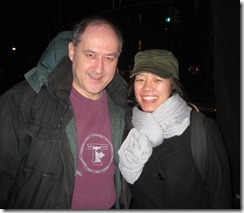 We were very glad to have come out for the evening and even happier that the predicted snow was afraid of PCW and mostly stayed away.

For those who want to know what they played, here's the set list: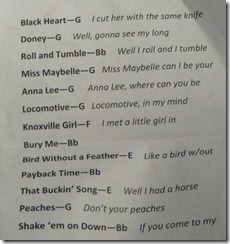 Looking forward to catching the full-band PCW experience.