Send to Kindle
This post is really a continuation of the previous one, but I was so blown away by my experience that I felt it needed to stand on its own. They link to each other at the appropriate head and tail ends for those that want to read through the night as a single event.
Melissa Tong won the gentle arm twist and we grabbed a cab over to Mona's.
First, as life-long New Yorkers, it never ceases to amaze me how many facets of the city are not only undiscovered by us, but are actually invisible to us. Mona's is one such place, but I'll bet a lot more than $1.75 that it's one of dozens of such places.
It's a neighborhood bar, and a very crowded one at that. It feels like two railroad cars. The front room is the bar itself (long and narrow room) and the back room has a pool table and a bit more space to sit. Next to the end of the bar, right where the two rooms meet, is an upright piano (ancient looking). In that tiny space, where you might expect to fit one or two other musicians, an entire music scene is in full gear.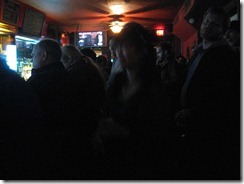 At one point eight people were jamming at the same time (trumpet, trombone, clarinet, piano, upright bass, two banjos and an instrument I never saw before, some kind of finger steel drum, played brilliantly). There were as few as four playing (when we first walked in) comprised of piano, guitar, upright bass and clarinet. People (musicians) kept coming and going with their instruments strapped on their backs, waiting for their turn to jump in.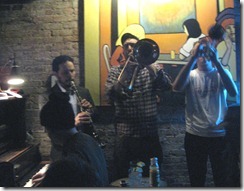 Here's a fuzzy photo of the finger steel drum thingy. Feel free to comment if you know what it's called.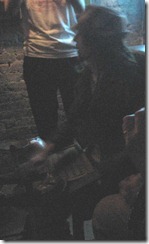 Most of the music was ragtime/Dixieland, with a bit of more mellow jazz thrown in for good measure. To say it was awesome would be to understate it dramatically. The clarinet player was killing me he was so good.
Dennis Lichtman was that clarinet player. When I mentioned that to Melissa, she told me that he doesn't consider the clarinet to be his strongest instrument. Say what? Now I have to find him and watch him play every other instrument, first ensuring that my seat belt is on and my tray table is locked in its upright position!
Now I have to blow my own mind (and yours, if you are open to that kind of stuff). When I went to dennislichtman.com to link it to his name, I saw that he has a few projects. In addition to his regular jam at Mona's, he has a group called Brain Cloud. That name sounded familiar. I looked at my open tabs in Firefox and saw that a week ago I opened a tab to the Brain Cloud section of dennislichtman.com, but I haven't had a chance to read it yet.
Someone (Melissa, Kevin, Alex?, I'm thinking Kevin!) told me that I had to check out Brain Cloud. I dutifully opened a tab with the intent of doing so, then got so busy with shows every night (you can read my thoughts on each one) that I haven't gotten to it yet. I was clearly destined to know about Dennis and at least one of my friends (sorry that I can't even remember who told me about him!) knew that was the case.
Here's a second thing that amazed me about the scene at Mona's. We normally get really annoyed if people even whisper at the shows we attend. We're there to enjoy the music and respect the artists. At Mona's, the context seems different. Yes, there's a show of sorts going on, and yes, it's specifically about the music, but no, it's not a concert, it's a jam, in a local bar.
The social scene is loud (very loud) and buzzing/humming non-stop. People who really prefer to hear more of the music than hang out naturally gravitate as close to the musicians as they can get, and somehow tune everyone/everything else out. Don't get the mistaken impression that people who are talking loudly aren't simultaneously enjoying the music. We too were part of a loud four-way conversation for the first 45 minutes that we were there, but I was also soaking in every note.
Then, when the steel-finger-drum thingy joined the jam, Melissa suggested we get a closer look. I stood in the door-jam between the rooms for the next 30 minutes, away even from the people I came with and soaked up the music for another 30 minutes. At 12:30am, Lois and I decided that we had pretended to be young long enough and we called it a night, though it was really hard to walk away from that music!
We'll be back at Mona's, count on it!