Send to Kindle
I started the first of four posts tonight (this being the 4th and final one) with a question as to whether this night would turn out to be as epic as I expected. If you read posts #2 and #3, you'll know that there were enough frustrations to make that highly unlikely.
That said, there was the promise that this final set would put the night over the top. After all, it was a similar setup to The Narwhals who completely blew me away just a few nights earlier. If you only want to hear glowing things about these musicians, read that post and stop now!
The two main people in The Narwhals are Josh Dion and Greg Mayo, both extraordinary musicians (multi-instrumentalists and vocalists). Both are equally highlighted in The Big Apple Singers (TBAS). In this configuration, Josh moves from the keyboards to the drums and Greg moves from guitar to the keyboards.
Another main person (likely the leader of TBAS) is Evan Watson on the electric guitar and vocals. Rounding out the group is one of our favorite bassists (and people), Chris Anderson.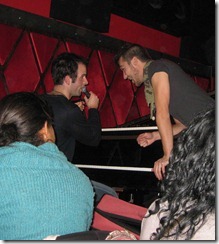 A disclaimer is necessary, for people who don't regularly read my blog. I write this blog for 1.5 reasons. The main reason is simply to document the things we do that we want to remember for as long as we live. We know memories are fleeting (in the sense of accuracy). The minor one is to promote the musicians that we have fallen in love with, but that's really secondary.
The few negative things I have to say about last night's set are for me to remember how I felt, not to knock people who have more talent in their pinkie than I have in my whole body. Also, I might be the only person in the overwhelmingly crowded Rockwood Music Hall stage 2 that felt this way. The joint was jumping and everyone there appeared to be enjoying one of the best sets they'd ever seen (including the friends we were there with!).
So, how could the same basic set of people that thrilled me on Wednesday, just have me enjoying myself a few nights later.
First, everything was so loud (probably to compensate for the huge crowd) that it was all a bit fuzzy. Of course I could make out all the leads, but they were drowned out by the other instruments that were wailing along rather than subtly accompanying the leads. On Wed, due to the blizzard keeping the audience smaller, everything was a more reasonable volume and the clarity of every note was outstanding.
Second, while The Narwhals played a set of only covers, TBAS played both covers and originals. Some of the originals had excellent musicianship, but were hardly stellar songs (IMO). There was also one direct comparison. Both groups played The Shape I'm In by The Band (TBAS opened with it). TBAS did it well, The Narwhals were awesome. I guess that set the tone for me early on and TBAS never overcame it for me (with one notable exception).
Left-to-right on the stage:
Greg Mayo on grand piano, electronic keyboards and vocals. Wonderful on everything.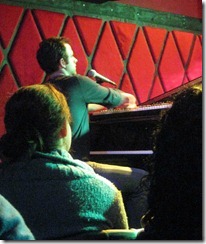 Evan Watson on electric guitar and vocals. Evan is a very good guitarist, but a little too heavy handed for my taste. It's possible that it was this particular show or set list. I'm already planning on catching him with his other band, The Headless Horesemen, on February 17th, so I'll get a second look. He has a very good voice and classic hard-rock theatrics.
Josh Dion on drums and vocals. Awesome on the drums, great vocals. He took one very long drum solo. When he was done, Evan challenged him to crank it up. He did. The second solo was dramatically faster than the first. I still don't know how his arms didn't fly off. That said, just like my comment about Vinnie Sperrazza from Wednesday, Josh is even better in his drumming on every single song than his solos.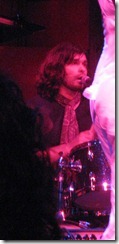 Chris Anderson on electric bass and vocals. In the past, we've only heard Chris sing harmony, mostly when he's playing with Ian Axel. Last night, during one song, Chris took an entire verse himself. He was great and the audience let him know it.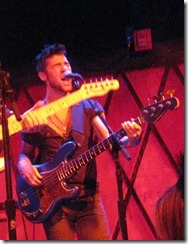 Robbie Gil was brought up as a special guest singer for one song. Robbie performed the set before TBAS and Josh Dion and Greg Mayo played in his band. I was sorry to miss that set (and will correct that as soon as possible), but we were next door at stage 1 seeing Derek James.
Robbie kicked off another The Band song but insisted that each of the other band members sing at least one verse (that's the song that Chris took a lead on). Robbie's voice was wonderful as was his spirit on the stage. It's the one exception I noted above to nearing the feeling I had on Wednesday.
Another thing that we rarely see, which we applaud, was Evan Watson squatting (Chris as well) whenever Josh Dion was singing lead. How rare to get a peek at the drummer, tucked way in the far corner at Rockwood 2. A wonderful touch.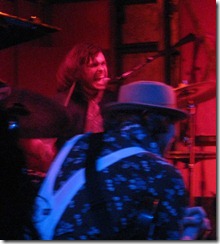 When they were done, even though they had passed their allotted time, people wanted more (remember, nearly every person there appeared to me to have loved every single second of the set!). After getting permission (which seemed to take longer than usual), the band reconfigured themselves.
Josh Dion took the keyboards, Greg Mayo the guitar and Evan Watson the drums. They did a Josh Dion original. Very nice and a little twist to end the evening.