Send to Kindle
Any Chris Thile show in NYC sells out, whether it's with the Punch Brothers or with Michael Daves. Add a little special sauce, say a CD Release Show and you can be sure that the sellout will happen even more quickly.
Chris Thile and Michael Daves just released a new CD, Sleep With One Eye Open, on Tuesday this week. To celebrate, they scheduled three shows on consecutive nights (Tue/Wed/Thu) at Rockwood Music Hall Stage 2. We were lucky enough to have a friend who alerted me to the impending ticket sales a day before they were available. We bought ours for the Wednesday night show (last night) as did a number of our friends.
There were two problems last night:
Rockwood 2 had a problem with the air conditioner for about an hour and the place was hot (they worked feverishly and got it working roughly 30 minutes after the show started)
Before they started playing, Chris announced that Michael had been stricken by The Pollen (something I'm familiar with because Lois has been similarly stricken for over a week, almost debilitatingly so!)
#2 couldn't be solved by having a crew climb up and down through a tiny open tile in the ceiling (which is how they solved #1). Instead, 100% of the vocals were handled by Chris last night. While he made a very few flubs (all turned into highlight reel moments!), it was a qualitatively different experience. It was impressive to know that Chris paid attention to Michael's parts when they were rehearsing, rather than dozing off.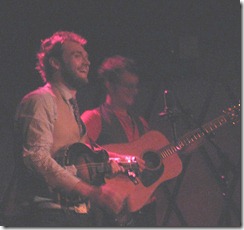 Apologies for the photo quality. The lighting is never good for compact cameras, but it was darker than usual last night (which fit the mood just right, but made it worse for the camera), plus we were further from the stage than usual. All photos can be clicked on for larger sizes (that's always true, even though I mention it every once in a while…)
I mentioned to a friend before the show started that I had never seen the Rockwood 2 stage as barren as it was last night, even when there was only a solo singer/songwriter performing. All instruments were removed. There were no amplifiers. No electrical chords of any kind. Just a single microphone (with a shock mount, not the typical mic's they use in these types of shows).
Chris and Michael did not plug in their instruments (mandolin and guitar, respectively). They shared the one mic on stage for the vocals and the instruments. As intimate a setup as you can imagine, even though there were roughly 200 people getting to know each other really well (come to think of it, that's pretty intimate in its own way).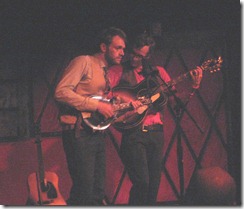 Both Chris and Michael were simply amazing. Aside from the fact that Chris was forced to sing all of the vocals, the two of them are a 50/50 team on this project. Even though Chris is an international superstar (perhaps the best mandolin player in the world, in my opinion), Michael gets as many leads on the guitar. At no time during a Michael Daves lead do you find yourself thinking "When will Chris take the reins again?", that's how lightning fast and interesting Michael is on the guitar.
They didn't just play material from the new CD. In fact, Chris joked after the third song that they still hadn't gotten to one that was on the new CD. No one was complaining, though I admit to still being curious as to what was on it. In the end, they did play quite a number of the songs (there are 16 on the CD) and I knew I would love the CD when I got my hands on it.
The show was split into two sets with a 12-minute intermission. Each set was over 50 minutes. Including the encore, they played for nearly 115 minutes (that excludes the intermission!).
During each set, there was a request portion that was obvious to many in the crowd (we've seen Chris and Michael separately, but never together, so we didn't know what was coming). Even before Chris could get the words out: "You know what's coming, it's time for Fiddle Tunes!", people were yelling out a dozen Fiddle Tunes for them to play.
During the first set, after conferring, Chris and Michael settled on three Fiddle Tunes, which they played consecutively, morphing one into the next, with no breaks. Awesome! The only thing missing was that Melissa Tong was sitting right near us and they could have forced her on the stage to have an actual fiddle player up there with them! But, given how blazingly fast both Chris and Michael are on their instruments, you could almost imagine a hard-sawing fiddle player up there.
During the second set, they agreed to do four consecutive tunes. Afterward, Chris joked that someone famousHoudini (of course, my old-man brain is blanking on exactly who now, sorry!Thanks Melissa!) died because theyhe tried to do five consecutive Fiddle Tunes. That's why they had to stop at four. It would simply be too dangerous.

(In case you can't easily see it, in the next photo, Chris is holding up four fingers as the crowd is going wild, literally!)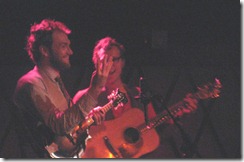 During intermission, Lois ran up to the merch table and bought the CD. This morning, I listened to it two times straight through.
It's an absolutely fantastic collection of traditional Bluegrass (Hill Country) music. As amazing as last night's performance was, the CD is better (musically, not experientially). Michael's voice is very distinctive and the two of them sing harmony really well. The mixer has their vocals and instruments at exactly the right levels throughout. There isn't a weak song in the 16 and there are enough leads on both the mandolin and guitar to blow your mind multiple times.
Well done, both live and in the studio!