Send to Kindle
What do you do when an extremely talented group of musicians doesn't blow you away, then announces a new show? You go, without hesitation. No two shows are alike and the likelihood of a repeat experience is low.
When I noticed that The Big Apple Singers (TBAS) were playing last night at Rockwood Music Hall Stage 2 at 10:15pm, I admit to a second's hesitation (making my second sentence above a bit of a white lie). However, when I also noticed that it would be a night of songs exclusively by The Band and would likely be TBAS last show for a while (ever?), I really had no hesitation.
It was a fantastic set. The only complaint was that much of it was too loud, but not in exactly the same way as the last time.
TBAS is four people and they brought up four guests as well. I'll get to the guests after I mention the main guys. Left-to-right on the stage:
Greg Mayo on keyboards (grand piano and organ) and vocals. Greg has an excellent voice and he put it to good use last night on leads and harmonizing with the others. Greg is my favorite local guitarist, but he doesn't play guitar in TBAS. Greg is an excellent keyboardist (aside from seeing him with TBAS before, that's his instrument of choice in his own band, the Greg Mayo Band).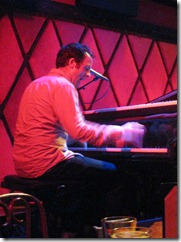 I have always enjoyed Greg's keyboard play (at every show), but last night he took it up a notch. He played some parts with both hands on the grand, others with both hands on the organ and many with his left on the organ and right on the grand. All were tingle-worthy.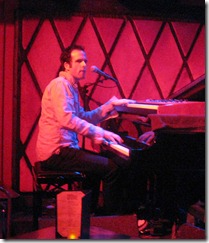 All three of the lead vocalists (including Greg) took one very long solo (without any accompaniment whatsoever) to start off one song each. Greg's was entirely on the organ. He played for somewhere between 3-5 minutes while everyone on stage and in the audience stared at him and his fingers in amazement.
Evan Watson on electric guitar and vocals. Evan is an excellent guitarist and has a powerful voice. As I mentioned in my last post about TBAS, he's very generous on stage. When Josh sings or does a drum solo, Evan squats on the stage so that the audience can see Josh. I didn't mention it in the last post, but this is the second time that Evan broke a string on his primary guitar. Just like last show, rather than string a new one, he grabbed a spare electric guitar on the next number.
Just like Greg above, Evan took a 3-5 minute solo on the electric guitar to kick off a song. It wasn't too flashy, more like a building melody that kept the crowd interested, with their pulse (or at least mine) rising slowly but surely throughout, so that we were primed for the full band to kick in when the solo was done.
On the last number, Evan wailed on the harmonica quite well. I knew he wasn't going to play it again that set, because when he was done with the harmonica, he tossed it (unceremoniously) on the floor and immediately switched to a guitar lead.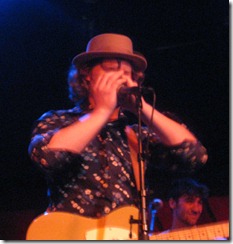 Josh Dion on drums and vocals. I was late to the party on hearing about and seeing Josh. He's a favorite of many people whom I respect and that goes for me as well now that I've seen him a number of times (on drums and on keyboards). He's an excellent singer and an amazing drummer.
Just like Greg and Evan, Josh took a 3-5 minute solo. He's soulful when he's drumming slowly and blazingly fast when the sticks are just a blur. At either speed, he's tasty and captivating. The looks on the band's faces (let alone the crowd's) were priceless!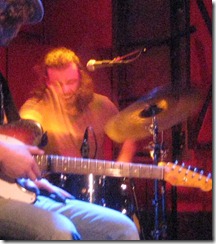 Chris Anderson on electric bass and vocals. Chris did a great job on the bass. In addition to singing harmony, Chris took the lead on a verse in at least two separate songs. The only other time I've heard Chris sing lead was at the last TBAS show. He does it quite well.
Rebecca Haviland on vocals. Rebecca jumped up on stage a number of times. Twice by herself and two other times with the ladies I will mention next. What can I say about Rebecca's voice that I haven't said before? Well, I've mentioned how powerful it is (coming from a tiny person), but not how easily she was able to be heard over the too-loud music. Such a force. Rebecca has her own set at Rockwood 1 on Thursday at 8pm. We'll be there. Join us and experience this dynamo first hand!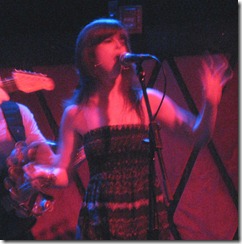 The first time Rebecca came up, three other women joined. Two of them are the leads in a group called The Vanity Belles. Carrie Welling (no good individual link) and Jessi Rae Waltz (also no good link) both added to the vocals and dancing, standing on either side of Rebecca. Both Carrie and Jessi joined Rebecca on a second song later in the set.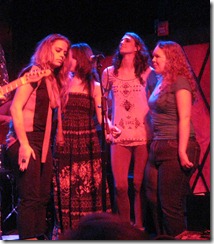 Ashley Lehmann joined Rebecca and The Vanity Belles the first time they were all up on stage. Considering that all four members of TBAS sing (well!), that made eight voices rockin' it out on that number. Fantastic!
I am very glad to went to see TBAS again.

Before going to a show at Rockwood, I always check to see who's playing the set before. Aside from the opportunity to discover good music serendipitously, I do it because Rockwood has limited seating and we prefer to sit. Back in January, when doing exactly that, the set before was Mighty Kate (Katy Pfaffl).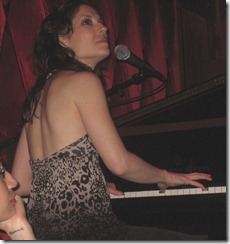 If you visit the site I linked above, at the time I'm typing this, the song Better Days starts playing automatically. That's all I needed to hear to know we'd be attending the earlier set independent of the desire to sit. Unfortunately, Katy (or should I call her Kate, or Mighty?) got very sick and canceled that set back in January. I admit that I forgot to track her, but it turned out she didn't reschedule until last night anyway (I'll explain later!).
Imagine my surprise when I checked who was on before TBAS and immediately recognized the site and song. This was a no-brainer, we weren't going to miss a second chance to see Kate/Katy/Mighty (OK, I'll stop now).

The set before Katy was a paid show, so even though we arrived way too early for her set, we had to wait outside. Thankfully, the weather was nice (it ended up pouring at some point while we were enjoying the two sets and was nice when we left again!).
Even though we were the first two to line up for Katy, the line got long pretty quickly. It was amusing to see how many people showed up claiming to be performing with Katy. It felt like a cast of thousands (it ended up being seven people in total).
Kate (see what I did there, I switched to her performing name) started the set off solo, playing the grand piano and singing. A very mellow, jazzy number that highlighted both her incredible voice and her excellent piano skills. Not the greatest song to grab a somewhat noisy crowd by the throat, but for those who listened, a well executed opener.
For the most of the remaining numbers (very few exceptions), Kate was joined by a drummer and bassist (electric). I'll get to them shortly.
In addition to having such a great voice, Kate is also a mutli-instrumentalist. In addition to her piano play (most of the songs), she played an acoustic guitar (mostly picking, a little strumming) and a violin (on one number). She's good on all three, but the piano play was the strongest (and most consistent).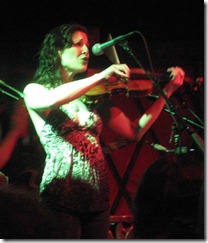 Not every song grabbed me, but all were very pleasant to listen to. Some were great. Many of the lyrics were deep, sophisticated and flowed very naturally. She's a very talented woman (more on that in a bit).
Rich Mercurio on drums. I can't find a good individual link for him, but here's a summary on a band page (a little outdated, but wildly impressive nonetheless):
Manhattan based producer/musician/songwriter, has produced and written for various record and television projects. Rich has recorded and/or performed with artists including Enrique Iglesias, Jewel, Chris Whitley, Vitamin C, Jonatha Brooke, Michael Bolton, and Ronan Tynan. Appearances include The Tonight Show, The Late Show and Late Night with Conan O'Brian. He can currently be seen in the broadway production, Martin Short, Fame Becomes Me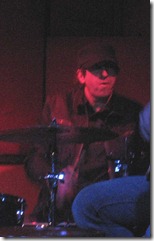 Richard Hammond on electric bass. Read his performances and discography. Be prepared to have your mouth agape while you're doing it.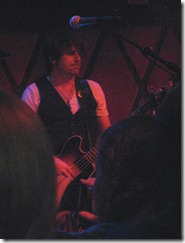 That accounts for two of the seven people that performed with Kate, the two Rich's (as she called them) forming the core band members.
Matt Doyle joined Kate to sing a cover, Thin Air by Aqualung. Kate played acoustic guitar and they sang harmony throughout. They were amazing together. Matt's voice was buttery smooth.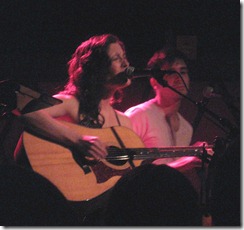 This is as good a time as any to fill in why Kate waited five months to reschedule at Rockwood. Both she and Matt are currently appearing in War Horse at Lincoln Center. While Kate was on stage entertaining us, War Horse was winning the Drama Desk Award for Outstanding Play! Nicely done, Kate, Matt and all involved in the play.
Kate brought out two women to sing harmony with her on two numbers. Morgan Paige and Nisha Asnani. Very nicely done ladies.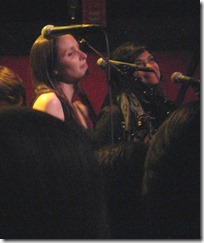 Jody Shelton joined Kate toward the end of the set for another duet with Kate on acoustic guitar. Another winning combo. In other words, in addition to singing so well alone, Kate is masterful at singing harmony with others and at choosing the right people to sing with.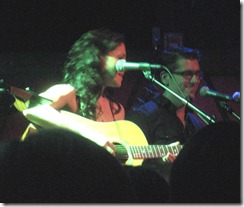 OK, we're down to one last (very special) guest. Kate brought out Scott Chasolen to accompany her on piano while she sang a gospel song (the only song that Kate did not play an instrument on). Scott wowed us the only other time we've seen him, at a recent Rockwood-based Backscratch show. I found out after the show that Scott is Kate's husband. They too were well matched, but Scott, who has an excellent voice himself, didn't sing on this number.
Kate closed the set with Morgan and Nisha singing harmony. She explained that she tries really hard to sing at least one new song every time she performs. Given her current schedule, she hasn't had much time to write. She performed a song that she said she wrote mostly in her head, Bright Star. It was awesome, truly, so perhaps we need to lock her in her loft bed (I think that's where she said she wrote it) more often.

There was quite a large crowd there for Kate and they wouldn't let her get off the stage when her set was over. She was given permission to play one more. She performed it solo on the piano. It was another brand new song, that she begged forgiveness for in advance if we didn't like it. This was the first time anyone was hearing it in public.
Kate, no need to worry, it too was beautiful. Lois was particularly drawn to that last number, so you left us on a high note.