Send to Kindle
This is the second of five posts today, but it's out of order, deal with it. 😉
We had just seen three consecutive sets at Rockwood Music Hall. We were tired and had planned to head home to rest, mostly because we were intending to come back to Rockwood for the midnight set (which will be the last post today).
We stood up from our seats and started to say goodbye to everyone (we've become friends with many of the Rockwood regulars). While we were still mingling, the group from the next set started to sound check.
Both Lois and I did a double take, even though we were only hearing a few seconds of flat picking guitar and mandolin. We are bluegrass fanatics, so we stopped chatting and started paying attention (even though they weren't actually playing yet).
The Third Wheel Band was a complete joy to listen to from their first note. In addition to playing and singing well, all three are charming on stage. There is a drummer listed on their website, but he wasn't there last night.
Standing left-to-right on the stage:
Greg Barresi on acoustic guitar (flat picking style) and vocals. Excellent on both.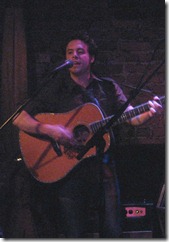 Steph Allen on upright bass and vocals (we joked that the bass was bigger than Steph, but it wasn't really a joke!).

She too was excellent on both.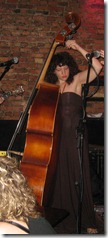 Ryan Langlois on mandolin and vocals (I couldn't find a good link). Let's complete the circle, Ryan was also excellent on both.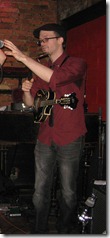 More important, the three of them complement each other wonderfully, vocally and instrumentally and they all have an easy, relaxed manner on stage.
We kept thinking "we'll leave right after this song is over", and then, the next one would start, and we decided "just one more". Before you know it, we stayed for 1/2 their set. At that point, we wanted to stay for the rest, but had a commitment that was about to hit a wall, so we reluctantly left.
I'm now following the band on Twitter, so we'll be sure to hear about upcoming shows and plan to catch one as soon as we can.
Excellent surprise find, proving yet again, keep your eyes and ears open and you can continue to discover amazing talent practically every night in NYC.